Visualized: The World Leaders In Positions of Power (1970-Today)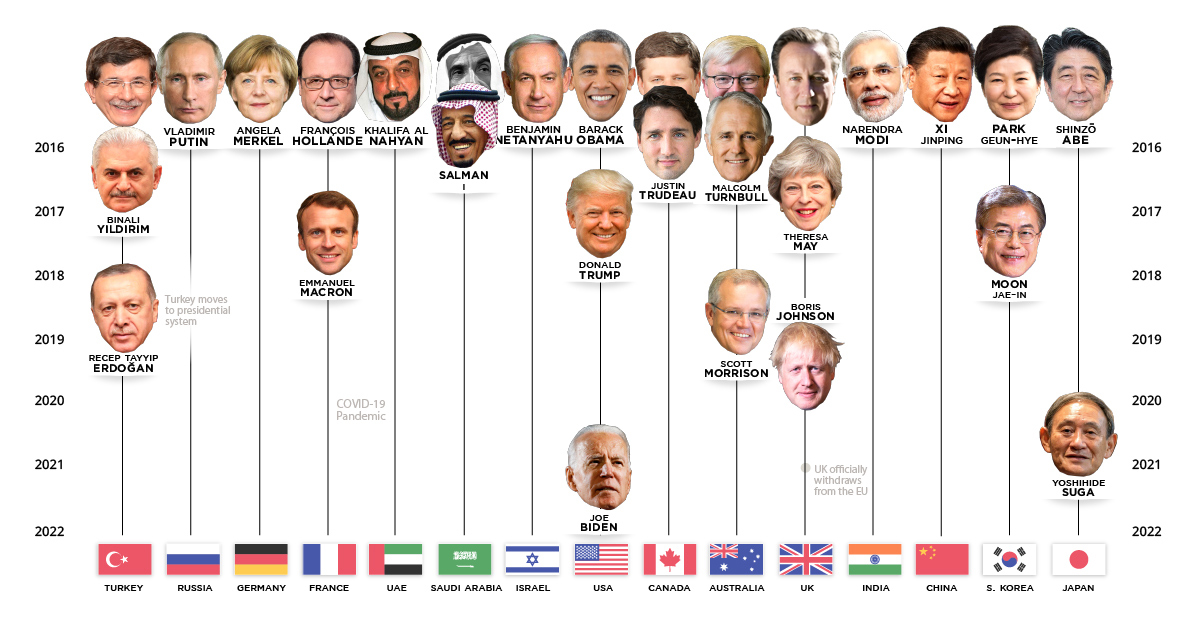 Visualized: The World Leaders In Positions of Power
Who were the world leaders when the Berlin Wall fell? How many women have been heads of state in prominent governments? And who are the newest additions to the list of world leaders?
This graphic reveals the leaders of the most influential global powers since 1970. Countries were selected based on the 2020 Most Powerful Countries ranking from the U.S. News & World Report.
Note: Switzerland has been omitted due to the swiftly changing nature of their national leadership.
The 1970s: Economic Revolutions
Our graphic starts in 1970, a year in which Leonid Brezhnev ruled the Soviet Union, while on the other side of the Iron Curtain, Willy Brandt was presiding over West Germany.
In the U.S., Richard Nixon implemented a series of economic shocks to stimulate the economy, but resigned in scandal due to the Watergate tapes in 1974. In the same time period, China was undergoing rapid industrialization and economic hardship under the final years of rule of communist revolutionary Mao Zedong, until his death in 1976.
In 1975, the King of Saudi Arabia, Faisal bin Abdulaziz Al Saud was assassinated by his nephew. The decade also marked the end of Park Chung-Hee's dictatorship in South Korea when he was assassinated in 1979.
To cap off the decade, Margaret Thatcher became the first female prime minister of the United Kingdom in 1979, transforming the British economy using a laissez-faire economic policy that would come to be known as Thatcherism.
The 1980s: Reaganomics and the Fall of the Wall
The 1980s saw Ronald Reagan elected in the U.S., beginning an era of deregulation and economic growth. Reagan would actually meet the Soviet Union's president, Mikhail Gorbachev in 1985 to discuss human rights and nuclear arms control amid the tensions of the Cold War.
The 1984 assassination of the Indian prime minister, Indira Gandhi was also a defining event of the decade. She was succeeded by her son, Rajiv Gandhi for only seven years before his own assassination in 1991.
The '80s were clearly turbulent times for world leaders, especially towards the end of the decade. In 1989, the Berlin Wall fell and Germany was reunified under chancellor Helmut Kohl. 1989 was also the year when the devastating events occurred at the Tiananmen Square protests in China, under president Deng Xiaoping. The event left a lasting mark on China's history and politics.
The 1990s: War 2.0 and the Promise of the EU
The beginning of a new decade marked the end of the Cold War and the fall of the Soviet Union, leading to Boris Yeltsin's position as the first president of the Russian Federation. A sense of peace, or at least the knowledge that a finger wasn't floating above a nuclear launch button at any given moment, brought a sense of global calm.
However, this does not mean the decade was without conflict. The Gulf War began in 1990, led by the U.S. military's Commander-in-Chief George H.W. Bush. In the mid-90s, prime minister Yitzhak Rabin of Israel was assassinated by Jewish extremists.
In spite of this, the '90s were a time of optimism for many. In 1993, the European project began. The European Union was founded with the support European leaders like the UK's prime minister John Major, France's president Francois Mitterrand, and chancellor Helmut Kohl of Germany.
The 2000s: Historic Firsts and Power Shifts
The dawn of a new century had people feeling both hopeful and scared. While Y2K didn't end the world, many transformative events did occur, such as the 9/11 attacks in New York and the subsequent war on terror led by U.S. president George W. Bush.
On the other hand, Angela Merkel made history becoming the first female chancellor of Germany in 2005. A few years later, Barack Obama also achieved a momentous 'first' as the first African-American president in the United States.
The 2000s to early 2010s also revealed rapidly changing power shifts in Japan. Shinzō Abe rose to power in 2006, and after five leadership changes in seven years, he eventually circled back, ending up as prime minister again by 2013—a position he held until late 2020.
| Country | Number of Leaders Since 1970 |
| --- | --- |
| 🇯🇵 Japan | 25 |
| 🇹🇷 Turkey | 18 |
| 🇮🇳 India | 12 |
| 🇦🇺 Australia | 12 |
| 🇬🇧 UK | 10 |
| 🇺🇸 USA | 10 |
| 🇰🇷 South Korea | 10 |
| 🇮🇱 Israel | 9 |
| 🇨🇦 Canada | 9 |
| 🇷🇺 Russia | 7 |
| 🇫🇷 France | 7 |
| 🇨🇳 China | 6 |
| 🇩🇪 Germany | 5 |
| 🇸🇦 Saudi Arabia | 5 |
| 🇦🇪 UAE | 2 |
The 2010s: World Leaders Face Uncertainty
The 2010s were more than eventful. The Hong Kong protests under Chinese president Xi Jinping, and the annexation of Crimea led by Vladimir Putin, uncovered the wavering dominance of democracy and international law.
UK Prime Minister David Cameron's move to introduce a Brexit referendum, resulted in just over half of the British population voting to leave the EU in 2016. This vote led to a rising feeling of protectionism and a shift away from globalization and multilateral cooperation.
Donald Trump's U.S. presidential election was a shocking political longshot in the same year. Trump's stint as president will likely have a longstanding impact on the course of American politics.
Two countries elected their first female leaders in this decade: president Park Geun-Hye in South Korea, and prime minister Julia Gillard in Australia. Here's a look at which global powers have been led by women in the last 50 years.
| Country | Female Leader |
| --- | --- |
| 🇦🇺 Australia | Julia Gillard |
| 🇨🇦 Canada | Kim Campbell |
| 🇩🇪 Germany | Angela Merkel |
| 🇮🇳 India | Indira Gandhi |
| 🇮🇱 Israel | Golda Meir |
| 🇰🇷 South Korea | Park Geun-Hye |
| 🇹🇷 Turkey | Tansu Ciller |
| 🇬🇧 UK | Margaret Thatcher |
| 🇬🇧 UK | Theresa May |
2020 to Today
No one can avoid talking about 2020 without talking about COVID-19. Many world leaders have been praised for their positive handling of the pandemic, such as Angela Merkel in Germany. Others on the other hand, like Boris Johnson, have received critiques for slow responses and mismanagement.
The year 2020 packed about as much punch on its own as an entire decade does, from geopolitical tensions to a nail-biting 2020 U.S. election. The world is on high alert as the now twice-impeached Trump prepares his transfer of power following the riot at the U.S. Capitol.
The newest addition to the ranks of world leaders, Joe Biden, has recently taken his place as the 46th president of the United States on January 20, 2021.
Editor's note: We'll continue to update this graphic on world leaders as time goes on. Unfortunately, we were unable to include world leaders from more countries, as we were limited by the graphic format and user experience.
Which Generation Has the Most Influence Over U.S. Politics?
Visual Capitalist's inaugural Generational Power Index (GPI) examines the political power held by each generation and their influence on society.
Measuring Influence in U.S. Politics, by Generation
Generations are a widely recognized and discussed concept, and it's assumed people all understand what they refer to. But the true extent of each generation's clout has remained undetermined—until now.
In our inaugural Generational Power Index (GPI) 2021, we examine the power and influence each generation currently holds on American society, and its potential to evolve in the future.
Political power by generation was one of three key categories we used to quantify the current landscape. Before we dive into the results, here's how the Political Power category was calculated.
Measuring Generational Power
To begin with, here's how we categorized each generation:
| Generation | Age range (years) | Birth year range |
| --- | --- | --- |
| The Silent Generation | 76 and over | 1928-1945 |
| Baby Boomers | 57-75 | 1946-1964 |
| Gen X | 41-56 | 1965-1980 |
| Millennials | 25-40 | 1981-1996 |
| Gen Z | 9-24 | 1997-2012 |
| Gen Alpha | 8 and below | 2013-present |
Using these age groups as a framework, we then calculated the Political Power category using these distinct equally-weighted variables:
With this methodology in mind, here's how the Political Power category shakes out, using insights from the GPI.
Share of Political Power by Generation
Baby Boomers dominated with over 47% of the total political power by generation. This cohort has particular strength in the judicial system and in Congress.
| Generation | Political Power Share |
| --- | --- |
| Baby Boomers | 47.4% |
| Gen X | 29.0% |
| Millennials | 10.0% |
| Silent | 12.1% |
| Gen Z | 1.6% |
Baby Boomers, along with the Silent Generation also control 80% of political spending. Meanwhile, Gen X accounts for nearly half (46%) of local government positions.
Both voters and politicians play key roles in shaping American society. Thus, two variables worth looking closer at are the evolving electoral base and the composition of Congress.
The Changing Face of the U.S. Voter
Younger generations have very different perceptions on everything from cannabis to climate change. This is starting to be reflected in legislation.
2016 was a watershed moment for politicians vying for the vote—it was the last election in which Baby Boomers made up over a third of U.S. voters. Collectively, Boomers' voting power will decline from here on out.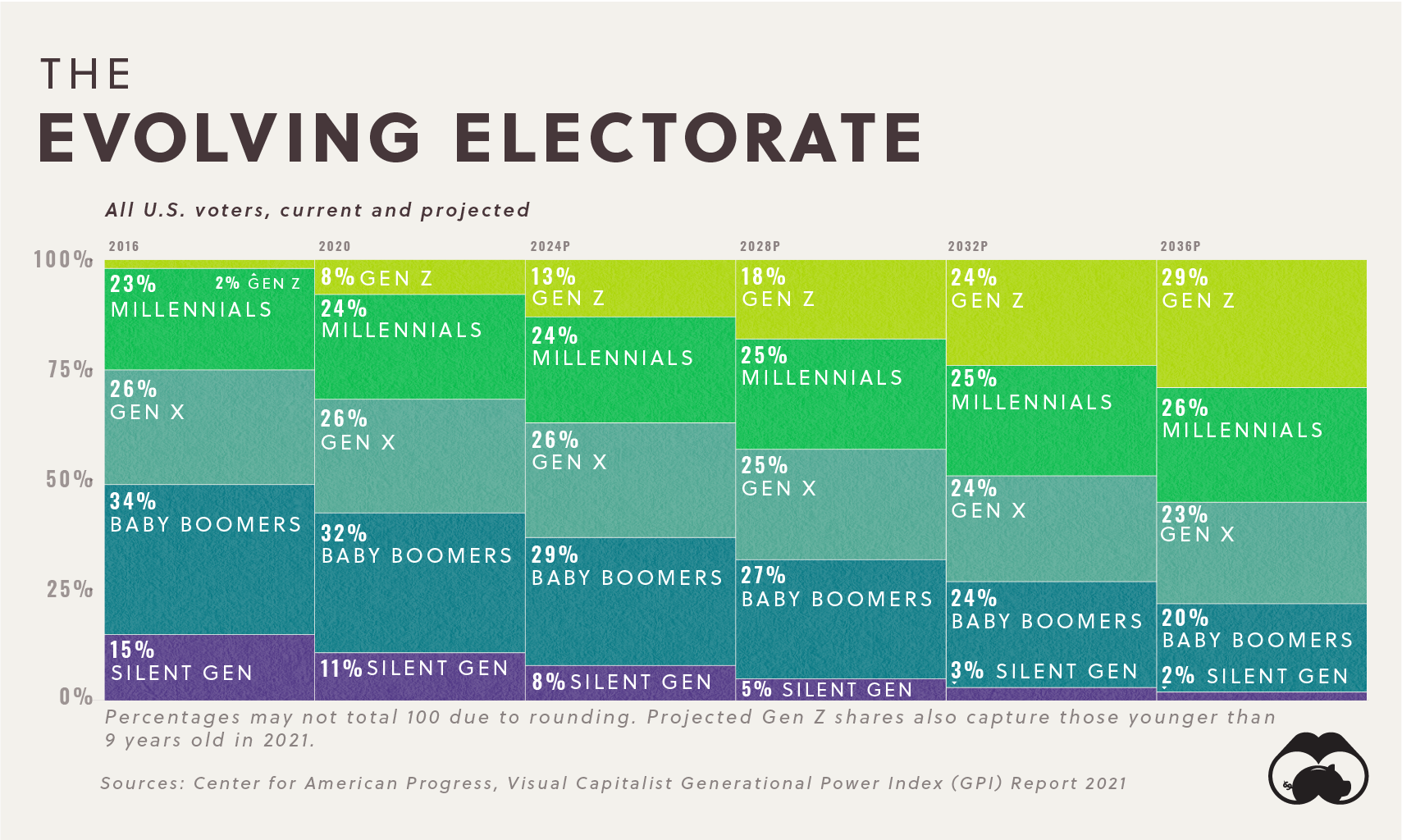 Within the next two decades, the combined voting power of Millennials and Gen Z will skyrocket from 32% in 2020 up to 55% by 2036.
Meanwhile, a decade from now, the oldest members of Gen Alpha (those born in 2013 and later) will enter the playing field and become eligible to vote in 2031.
The View from the Top
Having examined generational power in the electorate, we now turn our attention to the people on the other side of the democratic equation—the politicians.
In most cases, it takes many decades of experience and reputation building to reach the highest offices in the land. That's why the median age of Congress (61.2) is much higher than the median age of the U.S. population at large (38.1).
At this point in time, Baby Boomers are in the sweet spot, and it shows in the numbers. Boomers represent 298 of 532 Congressional seats (56% of all seats), and Gen X's growing contingent of members represents 31%.
On one end of the spectrum, the Silent Generation still occupies 7% of seats, which roughly reflects the group's share of the U.S. population. California's Democratic Senator Dianne Feinstein and Republican Don Young are both 87 years old, the latter having represented Alaska for 25 terms.
On the other end of the spectrum, Millennials currently claim 32 seats, just 6% of the total. As of 2021, this entire cohort now meets the minimum age requirement (25) to serve in the House of Representatives. The youngest member of Congress is Republican Madison Cawthorn, a representative for North Carolina at just 25 years old. Meanwhile, Senator Jon Ossoff is the youngest Senator in the country, serving Georgia at 36 years old.
This difference in political power by generation is stark considering that both Boomers and Millennials both make up similar proportions of the U.S. population at large. In that sense, Millennials are greatly underrepresented in Congress compared to Boomers.
Gen Z Waiting Patiently in the Wings
Gen Z's current age range is a natural reason why they don't yet have a foothold in government. But by 2022, the oldest members of Gen Z will turn 25, meeting the minimum age requirement to get elected into the House of Representatives.
With the oldest members of this generation soon turning 25, how long will it be before a representative from Gen Z occupies a seat in the Capitol Building?
Download the Generational Power Report (.pdf)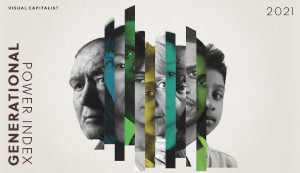 Visualizing Biden's $1.52 Trillion Budget Proposal for 2022
A breakdown of President Biden's budget proposal for 2022. Climate change initiatives, cybersecurity, and additional social programs are key areas of focus.
Visualizing Biden's Budget Proposal for 2022
On April 9th, President Joe Biden released his first budget proposal plan for the 2022 fiscal year.
The $1.52 trillion discretionary budget proposes boosts in funding that would help combat climate change, support disease control, and subsidize social programs.
This graphic outlines some key takeaways from Biden's budget proposal plan and highlights how funds could be allocated in the next fiscal year.
U.S. Federal Budget 101
Before diving into the proposal's key takeaways, it's worth taking a step back to cover the basics around the U.S. federal budget process, for those who aren't familiar.
Each year, the president of the U.S. is required to present a federal budget proposal to Congress. It's usually submitted each February, but this year's proposal has been delayed due to alleged issues with the previous administration during the handover of office.
Biden's publicized budget only includes discretionary spending for now—a full budget that includes mandatory spending is expected to be released in the next few months.
Key Takeaways From Biden's Budget Proposal
Overall, Biden's proposed budget would increase funds for a majority of cabinet departments. This is a drastic pivot from last year's proposal, which was focused on budget cuts.
Here's a look at some of the biggest departmental changes, and their proposed spending for 2022:
| Department | 2022 Proposed Spending (Billions) | % Change from 2021 |
| --- | --- | --- |
| Education | $29.8 | 41% |
| Commerce | $11.4 | 28% |
| Health and Human Services | $131.7 | 24% |
| Environmental Protection Agency | $11.2 | 21% |
| Interior | $17.4 | 16% |
| Agriculture | $27.8 | 16% |
| Housing and Urban Development | $68.7 | 15% |
| Transportation | $25.6 | 14% |
| Labor | $14.2 | 14% |
| State and International Aid | $63.5 | 12% |
| Treasury | $14.9 | 11% |
| Energy | $46.1 | 10% |
| Small Business Administration | $0.9 | 9% |
| Veteran Affairs | $113.1 | 8% |
| Justice | $17.4 | 5% |
| Defense | $715.0 | 2% |
One of the biggest boosts in spending is for education. The proposed $29.8 billion would be a 41% increase from 2021. The extra funds would support students in high-poverty schools, as well as children with disabilities.
Health and human services is also a top priority in Biden's budget, perhaps unsurprisingly given the global pandemic. But the boost in funds extends beyond disease control. Biden's budget allocates $1.6 billion towards mental health grants and $10.7 billion to help stop the opioid crisis.
There are increases across all major budget categories, but defense will see the smallest increase from 2021 spending, at 2%. It's worth noting that defense is also the biggest budget category by far, and with a total of $715 billion allocated, the budget lists deterring threats from China and Russia as a major goal.
Which Bills Will Make it Through?
It's important to reiterate that this plan is just a proposal. Each bill needs to get passed through Congress before it becomes official.
Considering the slim majority held by Democrats, it's unlikely that Biden's budget will make it through Congress without any changes. Over the next few months, it'll be interesting to see what makes it through the wringer.