Visualizing the UK and EU Trade Relationship
Visualizing the UK and EU Trade Relationship
With Brexit solidified and a new trade deal having been struck between the UK and the EU, it appears that a sense of normalcy has returned to the European continent.
The Trade and Cooperation Agreement (TCA) between the two entities came into effect on January 1st, 2021, corresponding with the UK officially leaving the EU Single Market and Customs Union on the same day. The new deal will help the status quo of trade continue, but how important is trade between the EU and the UK?
This visualization, using data from the British House of Commons' Statistics on UK-EU Trade Briefing Paper, reveals the significance of trade between the UK and EU member states.
Who Does the UK Trade With in the EU?
The EU is the UK's biggest global trading partner, representing 47% of the country's total trade.
To break it down further, the EU is the buyer of 42.6% of the UK's total exports, while also being the source of 51.8% of their total imports. Here's a closer look at exports and imports by country.
| Country  | % of UK's Exports to the EU | % of UK Imports from the EU |
| --- | --- | --- |
| 🇩🇪 Germany | 18.9% | 20.9% |
| 🇳🇱 Netherlands | 14.2% | 13.8% |
| 🇫🇷 France | 13.7% | 12.1% |
| 🇮🇪 Ireland | 13.6% | 8.0% |
| 🇮🇹 Italy | 6.9% | 6.8% |
| 🇪🇸 Spain | 6.8% | 8.6% |
| 🇧🇪 Belgium | 6.1% | 7.7% |
| 🇸🇪 Sweden | 3.4% | 3.3% |
| 🇵🇱 Poland | 2.6% | 3.9% |
| 🇩🇰 Denmark | 2.2% | 2.2% |
| 🇱🇺 Luxembourg | 1.8% | 1.0% |
| 🇦🇹 Austria | 1.1% | 1.4% |
| 🇨🇿 Czech Repbulic | 1.1% | 1.8% |
| 🇫🇮 Finland  | 1.1% | 0.8% |
| 🇵🇹 Portugal | 1.1% | 1.5% |
| 🇬🇷 Greece | 0.9% | 1.0% |
| 🇷🇴 Romania | 0.9% | 1.1% |
| 🇭🇺 Hungary | 0.7% | 1.3% |
| 🇲🇹 Malta | 0.7% | 0.2% |
| 🇨🇾 Cyprus | 0.6% | 0.3% |
| 🇸🇰 Slovakia | 0.5% | 0.9% |
| 🇧🇬 Bulgaria | 0.3% | 0.4% |
| 🇱🇹 Lithuania | 0.3% | 0.4% |
| 🇱🇻 Latvia  | 0.2% | 0.3% |
| 🇸🇮 Slovenia | 0.2% | 0.1% |
| 🇭🇷 Croatia | 0.1% | 0.2% |
| 🇪🇪 Estonia | 0.1% | 0.1% |
| 🇪🇺 Total EU 28 | 100% | 100% |
The UK's biggest trading partners within the EU are Ireland, Germany, the Netherlands, and France. Germany comes in at number one, making up nearly 21% of the UK's imports and receiving almost 19% of the country's exports.
Here's a breakdown of the trade balances between the UK and the individual EU member states.
What's in the Bag?
In any trade relationship, it's also worth examining what types of products and services are switching hands.
Top Imports
The UK's top three goods imports from the EU (in terms of percentage of total imports) are:
Motor vehicles (18%)
Pharmaceuticals (7%)
Electric machinery and appliances (4%)
Without the new agreement, goods would face tariffs based on the World Trade Organization's standards. For example, motor vehicles, would have an average tariff of 10% imposed on them, without the provisions of the agreement.
The UK's top three service imports from the EU are:
Travel (33%)
Business services (27%)
Transportation (18%)
Looking at services, the main import from the EU is travel, followed closely by business services and transportation. Travel makes the top three, as many countries in the EU make attractive vacation spots for UK citizens.
Top Exports
The UK's top three goods exports to the EU (in terms of percentage of total exports to the EU) are:
Petroleum and petroleum products (12%)
Motor vehicles (10%)
Transport equipment (6%)
In terms of exports, petroleum is the UK's largest export to the EU, representing 68% of the country's total petroleum exports.
The UK's top three service exports to the EU are:
Business services (33%)
Financial services (21%)
Travel (14%)
The main service export is business services, such as accounting, legal, advertising, R&D, engineering, and so on. Travel to the UK is a significant revenue generator as London is one of the top tourist destinations in the world.
EU vs. Global Trade
The UK's relationship with other countries has remained steady. China is one of the country's most important export destinations, growing 7% per year from 2010-2019.
At the same time, the UK's exports to the United States have grown just over 4% per year over the same period, continuing to increase at a similar rate up to 2030.
While the UK currently has a £79 billion ($108 billion) trade deficit with the EU, they have a surplus of £49 billion ($67 billion) with non-EU countries. Additionally, the share of the UK's exports going to the EU has been consistently falling over the last number of years. Foreign direct investment flows between the two entities have also been drastically reduced.
However, the UK and EU trade relationship is still highly intertwined and significant. Not only are the two connected through intangible flows but physically as well via pipelines, transport highways, and cables. In a typical year, 210 million passengers and 230 million tonnes of cargo are transported between the two entities.
The TCA will help to regulate these flows and continue a sense of status quo, however, it's worth noting that if EU regulations are not met, tariffs could be imposed.
The Economist Intelligence Unit recently determined risk and resilience factors for different UK industries based on the agreement. The report found that the food & agriculture, automotive, and financial services industries are most at risk, due to interconnected supply chains and the risk of tariffs being imposed. The life sciences and tech industries stand to do the best.
The Trade and Cooperation Agreement
Overall, Brexit has had significant ramifications for all nations involved. Ireland, for example, is now geographically cut off from the EU, creating potential obstacles for both the movement of people and goods.
Now, after years of discussions, the UK and the EU have finally agreed to the terms for their new relationship, with a focus on sustainable trade, citizens' security, and governance for long-standing cooperation, in order to guarantee a level playing field. The TCA has helped ease the transition, and while they're no longer in a union, the UK and the EU have created a strong base for trade to continue normally.

Visualizing Biden's $1.52 Trillion Budget Proposal for 2022
A breakdown of President Biden's budget proposal for 2022. Climate change initiatives, cybersecurity, and additional social programs are key areas of focus.
Visualizing Biden's Budget Proposal for 2022
On April 9th, President Joe Biden released his first budget proposal plan for the 2022 fiscal year.
The $1.52 trillion discretionary budget proposes boosts in funding that would help combat climate change, support disease control, and subsidize social programs.
This graphic outlines some key takeaways from Biden's budget proposal plan and highlights how funds could be allocated in the next fiscal year.
U.S. Federal Budget 101
Before diving into the proposal's key takeaways, it's worth taking a step back to cover the basics around the U.S. federal budget process, for those who aren't familiar.
Each year, the president of the U.S. is required to present a federal budget proposal to Congress. It's usually submitted each February, but this year's proposal has been delayed due to alleged issues with the previous administration during the handover of office.
Biden's publicized budget only includes discretionary spending for now—a full budget that includes mandatory spending is expected to be released in the next few months.
Key Takeaways From Biden's Budget Proposal
Overall, Biden's proposed budget would increase funds for a majority of cabinet departments. This is a drastic pivot from last year's proposal, which was focused on budget cuts.
Here's a look at some of the biggest departmental changes, and their proposed spending for 2022:
| Department | 2022 Proposed Spending (Billions) | % Change from 2021 |
| --- | --- | --- |
| Education | $29.8 | 41% |
| Commerce | $11.4 | 28% |
| Health and Human Services | $131.7 | 24% |
| Environmental Protection Agency | $11.2 | 21% |
| Interior | $17.4 | 16% |
| Agriculture | $27.8 | 16% |
| Housing and Urban Development | $68.7 | 15% |
| Transportation | $25.6 | 14% |
| Labor | $14.2 | 14% |
| State and International Aid | $63.5 | 12% |
| Treasury | $14.9 | 11% |
| Energy | $46.1 | 10% |
| Small Business Administration | $0.9 | 9% |
| Veteran Affairs | $113.1 | 8% |
| Justice | $17.4 | 5% |
| Defense | $715.0 | 2% |
One of the biggest boosts in spending is for education. The proposed $29.8 billion would be a 41% increase from 2021. The extra funds would support students in high-poverty schools, as well as children with disabilities.
Health and human services is also a top priority in Biden's budget, perhaps unsurprisingly given the global pandemic. But the boost in funds extends beyond disease control. Biden's budget allocates $1.6 billion towards mental health grants and $10.7 billion to help stop the opioid crisis.
There are increases across all major budget categories, but defense will see the smallest increase from 2021 spending, at 2%. It's worth noting that defense is also the biggest budget category by far, and with a total of $715 billion allocated, the budget lists deterring threats from China and Russia as a major goal.
Which Bills Will Make it Through?
It's important to reiterate that this plan is just a proposal. Each bill needs to get passed through Congress before it becomes official.
Considering the slim majority held by Democrats, it's unlikely that Biden's budget will make it through Congress without any changes. Over the next few months, it'll be interesting to see what makes it through the wringer.

Mapping the World's Key Maritime Choke Points
Ocean shipping is the primary mode of international trade. This map identifies maritime choke points that pose a risk to this complex logistic network.
Mapping the World's Key Maritime Choke Points
Maritime transport is an essential part of international trade—approximately 80% of global merchandise is shipped via sea.
Because of its importance, commercial shipping relies on strategic trade routes to move goods efficiently. These waterways are used by thousands of vessels a year—but it's not always smooth sailing. In fact, there are certain points along these routes that pose a risk to the whole system.
Here's a look at the world's most vulnerable maritime bottlenecks—also known as choke points—as identified by GIS.
What's a Choke Point?
Choke points are strategic, narrow passages that connect two larger areas to one another. When it comes to maritime trade, these are typically straits or canals that see high volumes of traffic because of their optimal location.
Despite their convenience, these vital points pose several risks:
Structural risks: As demonstrated in the recent Suez Canal blockage, ships can crash along the shore of a canal if the passage is too narrow, causing traffic jams that can last for days.
Geopolitical risks: Because of their high traffic, choke points are particularly vulnerable to blockades or deliberate disruptions during times of political unrest.
The type and degree of risk varies, depending on location. Here's a look at some of the biggest threats, at eight of the world's major choke points.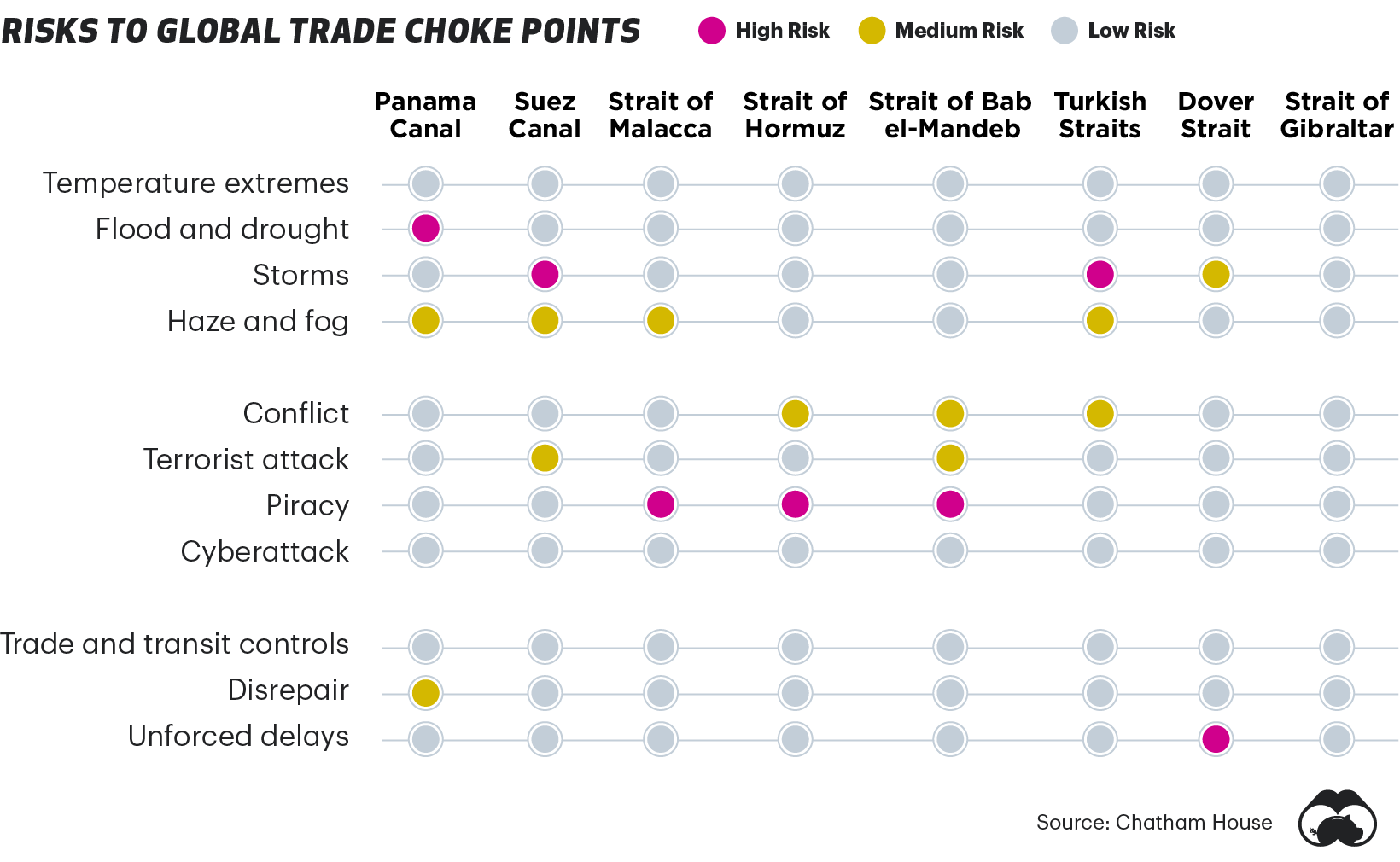 Because of their high risk, alternatives for some of these key routes have been proposed in the past—for instance, in 2013 Nicaraguan Congress approved a $40 billion dollar project proposal to build a canal that was meant to rival the Panama Canal.
As of today, it has yet to materialize.
A Closer Look: Key Maritime Choke Points
Despite their vulnerabilities, these choke points remain critical waterways that facilitate international trade. Below, we dive into a few of the key areas to provide some context on just how important they are to global trade.
The Panama Canal
The Panama Canal is a lock-type canal that provides a shortcut for ships traveling between the Pacific and Atlantic oceans. Ships sailing between the east and west coasts of the U.S. save over 8,000 nautical miles by using the canal—which roughly shortens their trip by 21 days.
In 2019, 252 million long tons of goods were transported through the Panama Canal, which generated over $2.6 billion in tolls.
The Suez Canal
The Suez Canal is an Egyptian waterway that connects Europe to Asia. Without this route, ships would need to sail around Africa, which would add approximately seven days to their trips. In 2019, nearly 19,000 vessels, and 1 billion tons of cargo, traveled through the Suez Canal.
In an effort to mitigate risk, the Egyptian government embarked on a major expansion project for the canal back in 2015. But, given the recent blockage caused by a Taiwanese container ship, it's clear that the waterway is still vulnerable to obstruction.
The Strait of Malacca
At its smallest point, the Strait of Malacca is approximately 1.5 nautical miles, making it one of the world's narrowest choke points. Despite its size, it's one of Asia's most critical waterways, since it provides a critical connection between China, India, and Southeast Asia. This choke point creates a risky situation for the 130,000 or so ships that visit the Port of Singapore each year.
The area is also known to have problems with piracy—in 2019, there were 30 piracy incidents, according to private information group ReCAAP ISC.
The Strait of Hormuz
Controlled by Iran, the Strait of Hormuz links the Persian Gulf to the Gulf of Oman, ultimately draining into the Arabian Sea. It's a primary vein for the world's oil supply, transporting approximately 21 million barrels per day.
Historically, it's also been a site of regional conflict. For instance, tankers and commercial ships were attacked in that area during the Iran-Iraq war in the 1980s.
The Bab el-Mandeb Strait
The Bab el-Mandeb Strait is another primary waterway for the world's oil and natural gas. Nestled between Africa and the Middle East, the critical route connects the Mediterranean Sea (via the Suez Canal) to the Indian Ocean.
Like the Strait of Malacca, it's well known as a high-risk area for pirate attacks. In May 2020, a UK chemical tanker was attacked off the coast of Yemen–the ninth pirate attack in the area that year.
Due to the strategic nature of the region, there is a strong military presence in nearby Djibouti, including China's first ever foreign military base.