How To Spot Fake News
How To Spot Fake News
"Fake news" used to be a relatively uncommon problem, but over the last decade, and especially during the COVID-19 pandemic, increasing consumption of news and articles has caused misinformation to run wild.
Far from a new concept, misinformation and cherry-picked stories have been used throughout history as a form of propaganda or information warfare. However, the rise of social media as a hub for sharing articles has spread "fake news"—false or misleading information presented as legitimate news—all over the internet.
Fueled further by increasing polarization, as well as the use of the term by former U.S. President Donald Trump to also refer to negative coverage (whether legitimate or misinformed), it seems more difficult than ever to separate trustworthy from misleading sources.
With this in mind, we combined guidance from non-profit journalism project First Draft News and the International Federation of Library Associations and Institutions (IFLA) to create this guide for understanding "fake news" and how to spot it.
The Different Types of "Fake News"
In order to spot fake news, you have to know the many forms misinformation can take.
Not all fake news is created equal, or even with the intent to deceive. Some start as opinions or jokes that become misunderstood, twisted over time, and eventually turn into misinformation. Others begin with the sole purpose of deception.
Online Misinformation From Least Intentional to Most
Satire/Parody
Articles or videos created to mock or laugh at an issue. If created without being an obvious parody, these types of articles can still fool readers and be shared as "real."
False Connection
Stories with headlines, visuals, and captions that don't support the content. Sometimes the cause is an honest mistake or poor journalism, but other times the false connections are deliberate to draw more attention.
Misleading Content
Misleading use of information to frame an issue or individual, especially one not involved in the story. This can be caused by poor journalism or political influence, but is also caused by opinions being shared as news and the increasingly blurring line between the two.
False Context
Genuine content that is shared with false contextual information, such as an incorrect date or a misattributed quote. This type of misinformation can still appear on news sites with poor fact-checking or opinion-based reporting, but is clearly driven by an agenda with an attempt to influence.
Imposter Content
When genuine sources are impersonated in order to deceive the audience. Though this type of misinformation is used in parody, it is also used for profit and propaganda purposes, such as by sites disguised to look like news organizations or using fake credentials.
Manipulated Content
The deliberate manipulation of information, such as digitally altering an image or making up quotes. This type of misinformation is easily proven fake with some research, but can spread too far before it is fact-checked.
Fabricated Content
Newly created false content designed to deceive and do harm. These include deepfake videos and sites posing as legitimate news organizations.
Despite many types of misinformation appearing to be obvious at a glance, it's harder to discern when browsing online. In a 2019 global survey on social media by Ipsos, 44% of people admitted to being duped by fake news at least once, while others may have been duped unwittingly.
And one reason is that fake or provocative news are simply being spread further, and more maliciously. A recent study of one Facebook bot farm found close to 14 thousand bots published around 200 thousand posts each month.
How To Tell If An Article is "Fake News"
With many types of misinformation to contend with, and trust in media organizations falling in the U.S. and around the world, it might seem like you're surrounded by "fake news," but there are a few things you can check to be sure.
The Source
Investigate the site to make sure it's legitimate, and check its mission and its contact info to understand if it's news, satire, or opinion.
The URL
Be wary of unusual top-level domain names, like ".com.co" that are designed to appear legitimate, such as ABCnews.com.co.
The Text
Does the article have spelling errors or dramatic punctuation? This can be an easy find for simple fabricated content, as most reputable sources have high proofreading and grammatical standards.
The Information
Read past click-baity headlines, note who is (or isn't) quoted, and verify the information on other sites. This is also a good way to separate opinion pieces from news.
The Author
Check the author's bio and do a quick search on them. Are they credible to write about their story? Are they real?
Supporting Sources
Click on the supporting links, and perform reverse searches on images. Do they actually support the story, or are they irrelevant (or worse, manipulated).
The Date
Sometimes older news stories are shared again and gain traction because of current events, but that doesn't mean they're relevant or accurate.
Your Bias
Especially with the rise of opinionated journalism and websites profiting from polarization, consider the intended audience for this story and if your own beliefs could affect your judgement.
The Experts
If a story feels flimsy, or doesn't seem to be properly cited, consider asking an expert in the field or consulting a fact-checking site.
More than anything, consider that outrageous misinformation has an easier time spreading on the internet than boring real news. An MIT study found that false stories on Twitter were 70% more likely to get retweeted than accurate news.
But armed with knowledge about what "fake news" looks like, and with increased pressure on news organizations, the tide can be turned back in the favor of accurate news.
Interactive Map: Tracking Global Hunger and Food Insecurity
Every day, hunger affects more than 700 million people. This live map from the UN highlights where hunger is hitting hardest around the world.
Interactive Map: Tracking Global Hunger and Food Insecurity
Hunger is still one the biggest—and most solvable—problems in the world.
Every day, more than 700 million people (8.8% of the world's population) go to bed on an empty stomach, according to the UN World Food Programme (WFP).
The WFP's HungerMap LIVE displayed here tracks core indicators of acute hunger like household food consumption, livelihoods, child nutritional status, mortality, and access to clean water in order to rank countries.
After sitting closer to 600 million from 2014 to 2019, the number of people in the world affected by hunger increased during the COVID-19 pandemic.
In 2020, 155 million people (2% of the world's population) experienced acute hunger, requiring urgent assistance.
The Fight to Feed the World
The problem of global hunger isn't new, and attempts to solve it have making headlines for decades.
On July 13, 1985, at Wembley Stadium in London, Prince Charles and Princess Diana officially opened Live Aid, a worldwide rock concert organized to raise money for the relief of famine-stricken Africans.
The event was followed by similar concerts at other arenas around the world, globally linked by satellite to more than a billion viewers in 110 nations, raising more than $125 million ($309 million in today's dollars) in famine relief for Africa.
But 35+ years later, the continent still struggles. According to the UN, from 12 countries with the highest prevalence of insufficient food consumption in the world, nine are in Africa.
| Country | % Population Affected by Hunger | Population (millions) | Region |
| --- | --- | --- | --- |
| Afghanistan 🇦🇫 | 93% | 40.4 | Asia |
| Somalia 🇸🇴 | 68% | 12.3 | Africa |
| Burkina Faso 🇧🇫 | 61% | 19.8 | Africa |
| South Sudan 🇸🇸 | 60% | 11.0 | Africa |
| Mali 🇲🇱 | 60% | 19.1 | Africa |
| Sierra Leone 🇸🇱 | 55% | 8.2 | Africa |
| Syria 🇸🇾 | 55% | 18.0 | Middle East |
| Niger 🇳🇪 | 55% | 22.4 | Africa |
| Lesotho 🇱🇸 | 50% | 2.1 | Africa |
| Guinea 🇬🇳 | 48% | 12.2 | Africa |
| Benin 🇧🇯 | 47% | 11.5 | Africa |
| Yemen 🇾🇪 | 44% | 30.0 | Middle East |
Approximately 30 million people in Africa face the effects of severe food insecurity, including malnutrition, starvation, and poverty.
Wasted Leftovers
Although many of the reasons for the food crisis around the globe involve conflicts or environmental challenges, one of the big contributors is food waste.
According to the United Nations, one-third of food produced for human consumption is lost or wasted globally. This amounts to about 1.3 billion tons of wasted food per year, worth approximately $1 trillion.
All the food produced but never eaten would be sufficient to feed two billion people. That's more than twice the number of undernourished people across the globe. Consumers in rich countries waste almost as much food as the entire net food production of sub-Saharan Africa each year.
Solving Global Hunger
While many people may not be "hungry" in the sense that they are suffering physical discomfort, they may still be food insecure, lacking regular access to enough safe and nutritious food for normal growth and development.
Estimates of how much money it would take to end world hunger range from $7 billion to $265 billion per year.
But to tackle the problem, investments must be utilized in the right places. Specialists say that governments and organizations need to provide food and humanitarian relief to the most at-risk regions, increase agricultural productivity, and invest in more efficient supply chains.
Mapped: Where are the World's Ongoing Conflicts Today?
In 2021, we live in a time of relative peace, however, as this map reveals, that does not mean there are no conflicts in the world today.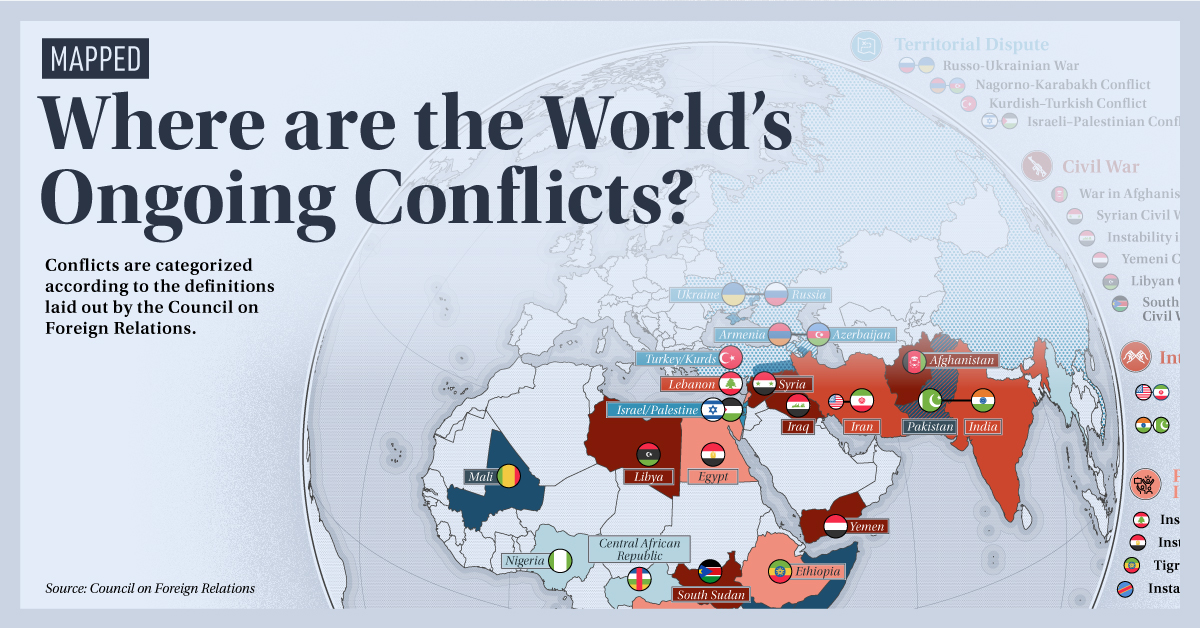 Where are the World's Ongoing Conflicts Today?
We live in an era of relative peace compared to most of history, however, this does not mean that there are no conflicts in the world today.
This map using data from the Council on Foreign Relations (CFR) reveals where the world's 27 ongoing conflicts are today, and what type of conflicts they are.
Note: conflicts are categorized by definitions laid out by the CFR.
Detailing the Conflicts
Many people alive today have never lived through a war on their country's soil, especially those in the West. But conflict, wars, and violence are by no means things of the past.
According to the Armed Conflict Location & Event Data Project (ACLED), as of Q2'2021 alone:
Violence against civilians resulted in over 5,000 deaths worldwide
Battle related deaths numbered over 18,000
Explosion/remote violence led to more than 4,000 deaths
Riots resulted in over 600 fatalities
Most of the world's conflicts are concentrated in Asia and Africa and the most common forms are territorial disputes and civil wars. While terrorism often strikes fear in people, only three of the world's ongoing conflicts are linked to terrorism, according to the CFR.
Conflict Name
Type
Countries Involved
Civil War in South Sudan
Civil War
🇸🇸 South Sudan
War in Yemen
Civil War
🇾🇪 Yemen
Civil War in Libya
Civil War
🇱🇾 Libya
War in Afghanistan
Civil War
🇦🇫 Afghanistan
Civil War in Syria
Civil War
🇸🇾 Syria
Instability in Iraq
Civil War
🇮🇶 Iraq
Criminal Violence in Mexico
Criminal
🇲🇽 Mexico
Confrontation of U.S. & Iran
Interstates
🇺🇸 United States
🇮🇷 Iran
Conflict of India & Pakistan
Interstates
🇮🇳 India
🇵🇰 Pakistan
North Korea Crisis
Interstates
🇺🇸 United States
🇰🇵 North Korea
Violence in the DRC
Political Instability
🇨🇩 DRC
Instability in Egypt
Political Instability
🇪🇬 Egypt
Political Instability in Lebanon
Political Instability
🇱🇧 Lebanon
Instability in Venezuela
Political Instability
🇻🇪 Venezuela
Tigray War in Ethiopia
Political Instability
🇪🇹 Ethiopia
Boko Haram in Nigeria
Sectarian
🇳🇬 Nigeria
Violence in Central African Republic
Sectarian
🇨🇫 Central African Republic
Rohingya Crisis in Myanmar
Sectarian
🇲🇲 Myanmar
Nagorno-Karabakh Conflict
Territorial Disputes
🇦🇲 Armenia
🇦🇿 Azerbaijan
Conflict in Ukraine
Territorial Disputes
🇺🇦 Ukraine
🇷🇺 Russia
Israeli-Palestine Conflict
Territorial Disputes
🇮🇱 Israel
🇵🇸 Palestine
Turkey & Armed Kurdish Groups
Territorial Disputes
🇹🇷 Turkey
South China Sea Disputes
Territorial Disputes
🇨🇳 China
🇻🇳 Vietnam
🇵🇭 Philippines
Tensions in East China Sea
Territorial Disputes
🇨🇳 China
🇯🇵 Japan
Destabilization in Mali
Terrorism
🇲🇱 Mali
Al-Shabab in Somalia
Terrorism
🇸🇴 Somalia
Islamist Militancy in Pakistan
Terrorism
🇵🇰 Pakistan
As an example of a more typical conflict, Myanmar's civil unrest began in February 2020 when the military overthrew the democratically elected government and arrested the country's leader Aung San Suu Kyi. The civilian population has been protesting heavily but to no avail. According to a BBC report, more than 860 people have been killed and around 5,000 have been detained.
This is just one of the many examples of persistent violence today including recent events like Mexico's midterm election violence, Ethiopia's fighting in the country's Tigray region, and the fighting between Israel and Palestine over the Sheikh Jarrah evictions.
Finally, though the United States military has now withdrawn from Afghanistan, and the Taliban has taken control of the country, the outlook for the country remains uncertain.
War and Peace
While there are conflicts today, deaths from violence and wars have and wars have decreased over time. For example, battle death rates in state-based conflicts have reduced significantly in a period from 1946 to 2016.
However, according to the UN, although battle related deaths have been decreasing, the number of conflicts occurring in the last few years has actually been on the rise (they have simply remained less deadly). Most conflicts have been waged by non-state actors, like organized criminal groups and political militias.
The UN found that the most common causes of conflict today are:
Regional tensions
Breakdowns in the rule of law
Co-opted or absent state institutions
Illicit economic gain
Scarcity of resources exacerbated by climate change
Traditional war between countries and war-related deaths may be becoming a thing of the past, but the threat of violence is still very real. Many countries know this as they continue to build up armies and spend significant amounts on military and defense.
The Future of Warfare
War and conflict are still extremely relevant in the 21st century and impact millions of people. However, traditional warfare may be changing its shape and may become less deadly as a result.
For instance, issues like climate change will create further exacerbations on conflicts, and new forms of technological and cyber warfare could threaten countries' elections and manipulate populations.