How To Spot Fake News
How To Spot Fake News
"Fake news" used to be a relatively uncommon problem, but over the last decade, and especially during the COVID-19 pandemic, increasing consumption of news and articles has caused misinformation to run wild.
Far from a new concept, misinformation and cherry-picked stories have been used throughout history as a form of propaganda or information warfare. However, the rise of social media as a hub for sharing articles has spread "fake news"—false or misleading information presented as legitimate news—all over the internet.
Fueled further by increasing polarization, as well as the use of the term by former U.S. President Donald Trump to also refer to negative coverage (whether legitimate or misinformed), it seems more difficult than ever to separate trustworthy from misleading sources.
With this in mind, we combined guidance from non-profit journalism project First Draft News and the International Federation of Library Associations and Institutions (IFLA) to create this guide for understanding "fake news" and how to spot it.
The Different Types of "Fake News"
In order to spot fake news, you have to know the many forms misinformation can take.
Not all fake news is created equal, or even with the intent to deceive. Some start as opinions or jokes that become misunderstood, twisted over time, and eventually turn into misinformation. Others begin with the sole purpose of deception.
Online Misinformation From Least Intentional to Most
Satire/Parody
Articles or videos created to mock or laugh at an issue. If created without being an obvious parody, these types of articles can still fool readers and be shared as "real."
False Connection
Stories with headlines, visuals, and captions that don't support the content. Sometimes the cause is an honest mistake or poor journalism, but other times the false connections are deliberate to draw more attention.
Misleading Content
Misleading use of information to frame an issue or individual, especially one not involved in the story. This can be caused by poor journalism or political influence, but is also caused by opinions being shared as news and the increasingly blurring line between the two.
False Context
Genuine content that is shared with false contextual information, such as an incorrect date or a misattributed quote. This type of misinformation can still appear on news sites with poor fact-checking or opinion-based reporting, but is clearly driven by an agenda with an attempt to influence.
Imposter Content
When genuine sources are impersonated in order to deceive the audience. Though this type of misinformation is used in parody, it is also used for profit and propaganda purposes, such as by sites disguised to look like news organizations or using fake credentials.
Manipulated Content
The deliberate manipulation of information, such as digitally altering an image or making up quotes. This type of misinformation is easily proven fake with some research, but can spread too far before it is fact-checked.
Fabricated Content
Newly created false content designed to deceive and do harm. These include deepfake videos and sites posing as legitimate news organizations.
Despite many types of misinformation appearing to be obvious at a glance, it's harder to discern when browsing online. In a 2019 global survey on social media by Ipsos, 44% of people admitted to being duped by fake news at least once, while others may have been duped unwittingly.
How To Tell If An Article is "Fake News"
With many types of misinformation to contend with, and trust in media organizations falling in the U.S. and around the world, it might seem like you're surrounded by "fake news," but there are a few things you can check to be sure.
The Source
Investigate the site to make sure it's legitimate, and check its mission and its contact info to understand if it's news, satire, or opinion.
The URL
Be wary of unusual top-level domain names, like ".com.co" that are designed to appear legitimate, such as ABCnews.com.co.
The Text
Does the article have spelling errors or dramatic punctuation? This can be an easy find for simple fabricated content, as most reputable sources have high proofreading and grammatical standards.
The Information
Read past click-baity headlines, note who is (or isn't) quoted, and verify the information on other sites. This is also a good way to separate opinion pieces from news.
The Author
Check the author's bio and do a quick search on them. Are they credible to write about their story? Are they real?
Supporting Sources
Click on the supporting links, and perform reverse searches on images. Do they actually support the story, or are they irrelevant (or worse, manipulated).
The Date
Sometimes older news stories are shared again and gain traction because of current events, but that doesn't mean they're relevant or accurate.
Your Bias
Especially with the rise of opinionated journalism and websites profiting from polarization, consider the intended audience for this story and if your own beliefs could affect your judgement.
The Experts
If a story feels flimsy, or doesn't seem to be properly cited, consider asking an expert in the field or consulting a fact-checking site.
More than anything, consider that outrageous misinformation has an easier time spreading on the internet than boring real news. An MIT study found that false stories on Twitter were 70% more likely to get retweeted than accurate news.
But armed with knowledge about what "fake news" looks like, and with increased pressure on news organizations, the tide can be turned back in the favor of accurate news.
Which Generation Has the Most Influence Over U.S. Politics?
Visual Capitalist's inaugural Generational Power Index (GPI) examines the political power held by each generation and their influence on society.
Measuring Influence in U.S. Politics, by Generation
Generations are a widely recognized and discussed concept, and it's assumed people all understand what they refer to. But the true extent of each generation's clout has remained undetermined—until now.
In our inaugural Generational Power Index (GPI) 2021, we examine the power and influence each generation currently holds on American society, and its potential to evolve in the future.
Political power by generation was one of three key categories we used to quantify the current landscape. Before we dive into the results, here's how the Political Power category was calculated.
Measuring Generational Power
To begin with, here's how we categorized each generation:
| Generation | Age range (years) | Birth year range |
| --- | --- | --- |
| The Silent Generation | 76 and over | 1928-1945 |
| Baby Boomers | 57-75 | 1946-1964 |
| Gen X | 41-56 | 1965-1980 |
| Millennials | 25-40 | 1981-1996 |
| Gen Z | 9-24 | 1997-2012 |
| Gen Alpha | 8 and below | 2013-present |
Using these age groups as a framework, we then calculated the Political Power category using these distinct equally-weighted variables:
With this methodology in mind, here's how the Political Power category shakes out, using insights from the GPI.
Share of Political Power by Generation
Baby Boomers dominated with over 47% of the total political power by generation. This cohort has particular strength in the judicial system and in Congress.
| Generation | Political Power Share |
| --- | --- |
| Baby Boomers | 47.4% |
| Gen X | 29.0% |
| Millennials | 10.0% |
| Silent | 12.1% |
| Gen Z | 1.6% |
Baby Boomers, along with the Silent Generation also control 80% of political spending. Meanwhile, Gen X accounts for nearly half (46%) of local government positions.
Both voters and politicians play key roles in shaping American society. Thus, two variables worth looking closer at are the evolving electoral base and the composition of Congress.
The Changing Face of the U.S. Voter
Younger generations have very different perceptions on everything from cannabis to climate change. This is starting to be reflected in legislation.
2016 was a watershed moment for politicians vying for the vote—it was the last election in which Baby Boomers made up over a third of U.S. voters. Collectively, Boomers' voting power will decline from here on out.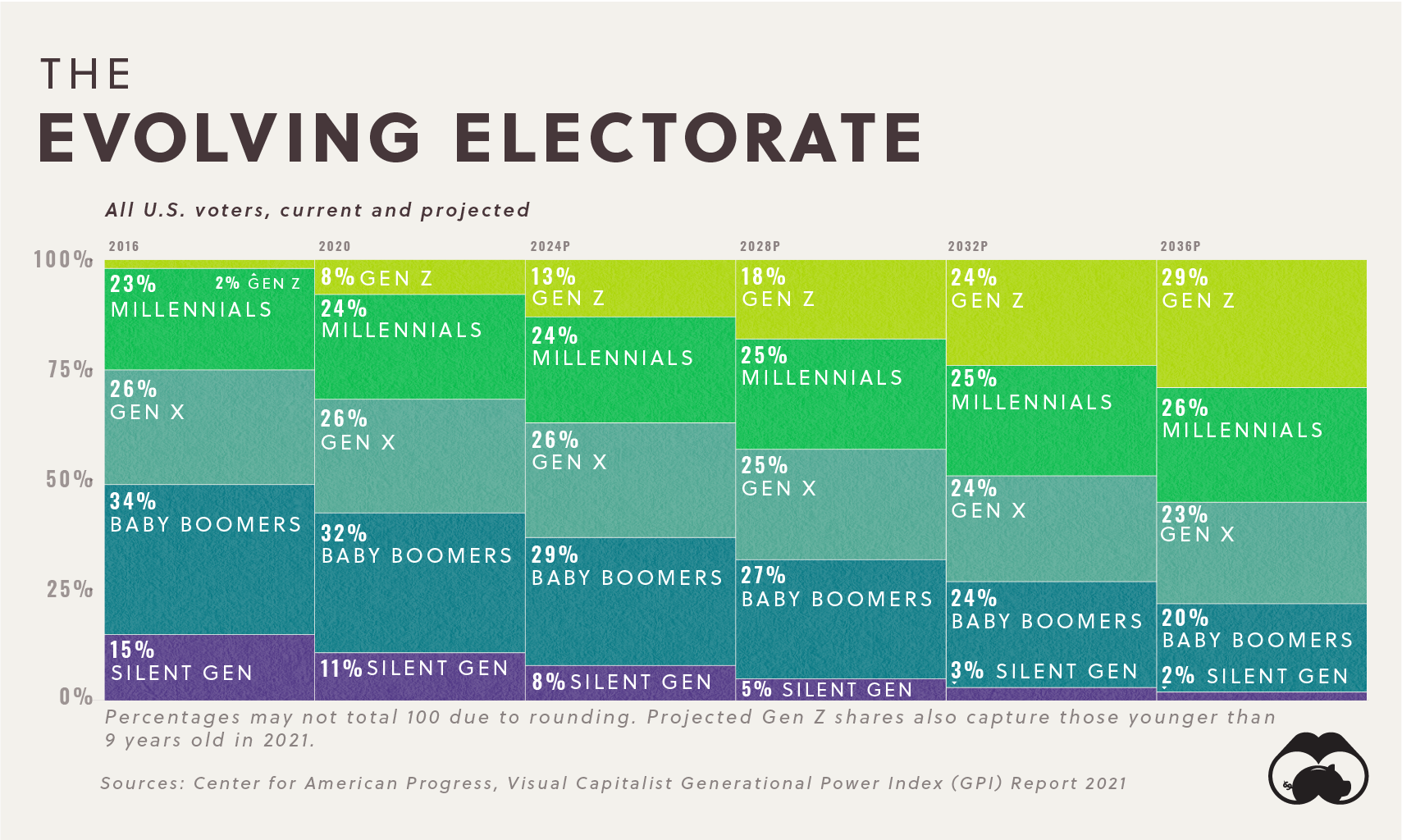 Within the next two decades, the combined voting power of Millennials and Gen Z will skyrocket from 32% in 2020 up to 55% by 2036.
Meanwhile, a decade from now, the oldest members of Gen Alpha (those born in 2013 and later) will enter the playing field and become eligible to vote in 2031.
The View from the Top
Having examined generational power in the electorate, we now turn our attention to the people on the other side of the democratic equation—the politicians.
In most cases, it takes many decades of experience and reputation building to reach the highest offices in the land. That's why the median age of Congress (61.2) is much higher than the median age of the U.S. population at large (38.1).
At this point in time, Baby Boomers are in the sweet spot, and it shows in the numbers. Boomers represent 298 of 532 Congressional seats (56% of all seats), and Gen X's growing contingent of members represents 31%.
On one end of the spectrum, the Silent Generation still occupies 7% of seats, which roughly reflects the group's share of the U.S. population. California's Democratic Senator Dianne Feinstein and Republican Don Young are both 87 years old, the latter having represented Alaska for 25 terms.
On the other end of the spectrum, Millennials currently claim 32 seats, just 6% of the total. As of 2021, this entire cohort now meets the minimum age requirement (25) to serve in the House of Representatives. The youngest member of Congress is Republican Madison Cawthorn, a representative for North Carolina at just 25 years old. Meanwhile, Senator Jon Ossoff is the youngest Senator in the country, serving Georgia at 36 years old.
This difference in political power by generation is stark considering that both Boomers and Millennials both make up similar proportions of the U.S. population at large. In that sense, Millennials are greatly underrepresented in Congress compared to Boomers.
Gen Z Waiting Patiently in the Wings
Gen Z's current age range is a natural reason why they don't yet have a foothold in government. But by 2022, the oldest members of Gen Z will turn 25, meeting the minimum age requirement to get elected into the House of Representatives.
With the oldest members of this generation soon turning 25, how long will it be before a representative from Gen Z occupies a seat in the Capitol Building?
Download the Generational Power Report (.pdf)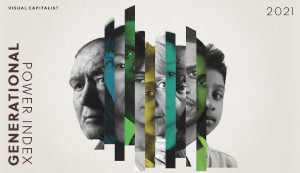 Visualizing Biden's $1.52 Trillion Budget Proposal for 2022
A breakdown of President Biden's budget proposal for 2022. Climate change initiatives, cybersecurity, and additional social programs are key areas of focus.
Visualizing Biden's Budget Proposal for 2022
On April 9th, President Joe Biden released his first budget proposal plan for the 2022 fiscal year.
The $1.52 trillion discretionary budget proposes boosts in funding that would help combat climate change, support disease control, and subsidize social programs.
This graphic outlines some key takeaways from Biden's budget proposal plan and highlights how funds could be allocated in the next fiscal year.
U.S. Federal Budget 101
Before diving into the proposal's key takeaways, it's worth taking a step back to cover the basics around the U.S. federal budget process, for those who aren't familiar.
Each year, the president of the U.S. is required to present a federal budget proposal to Congress. It's usually submitted each February, but this year's proposal has been delayed due to alleged issues with the previous administration during the handover of office.
Biden's publicized budget only includes discretionary spending for now—a full budget that includes mandatory spending is expected to be released in the next few months.
Key Takeaways From Biden's Budget Proposal
Overall, Biden's proposed budget would increase funds for a majority of cabinet departments. This is a drastic pivot from last year's proposal, which was focused on budget cuts.
Here's a look at some of the biggest departmental changes, and their proposed spending for 2022:
| Department | 2022 Proposed Spending (Billions) | % Change from 2021 |
| --- | --- | --- |
| Education | $29.8 | 41% |
| Commerce | $11.4 | 28% |
| Health and Human Services | $131.7 | 24% |
| Environmental Protection Agency | $11.2 | 21% |
| Interior | $17.4 | 16% |
| Agriculture | $27.8 | 16% |
| Housing and Urban Development | $68.7 | 15% |
| Transportation | $25.6 | 14% |
| Labor | $14.2 | 14% |
| State and International Aid | $63.5 | 12% |
| Treasury | $14.9 | 11% |
| Energy | $46.1 | 10% |
| Small Business Administration | $0.9 | 9% |
| Veteran Affairs | $113.1 | 8% |
| Justice | $17.4 | 5% |
| Defense | $715.0 | 2% |
One of the biggest boosts in spending is for education. The proposed $29.8 billion would be a 41% increase from 2021. The extra funds would support students in high-poverty schools, as well as children with disabilities.
Health and human services is also a top priority in Biden's budget, perhaps unsurprisingly given the global pandemic. But the boost in funds extends beyond disease control. Biden's budget allocates $1.6 billion towards mental health grants and $10.7 billion to help stop the opioid crisis.
There are increases across all major budget categories, but defense will see the smallest increase from 2021 spending, at 2%. It's worth noting that defense is also the biggest budget category by far, and with a total of $715 billion allocated, the budget lists deterring threats from China and Russia as a major goal.
Which Bills Will Make it Through?
It's important to reiterate that this plan is just a proposal. Each bill needs to get passed through Congress before it becomes official.
Considering the slim majority held by Democrats, it's unlikely that Biden's budget will make it through Congress without any changes. Over the next few months, it'll be interesting to see what makes it through the wringer.