The World's Most Searched Consumer Brands
View the full-size version of this infographic.
The World's Most Searched Consumer Brands
View the high resolution of this infographic by clicking here.
Strong brands create an emotional link with consumers, and tech brands are no exception.
In fact, Google, Amazon, Netflix, and even eBay rank as some of the most searched consumer brands worldwide. It's hard to imagine life without these household names, but how do brand preferences shift and change across internet searches worldwide?
This graphic from Business Financing compiles 12 months of data from the Google Keyword Planner and other sources, to uncover the world's most searched consumer brands.
Note: Due to data constraints, a number of countries on the map do not have sufficient information available.
In Tech We Trust
By far, the world's most searched consumer brand is Google, which seems very convenient.
It ranks at the top in 100 countries—that's nearly half of all countries on the planet. With over 90 billion visits monthly, Google has unparalleled dominance in brand loyalty and website traffic.
Top 3 Most Searched Consumer Brands
Google: 100 countries
Netflix: 45 countries
Amazon: 30 countries
Netflix, falling in second, ranks highest in 45 countries including Turkey, Brazil, and South Korea. In third, Amazon is the most popular in 30 countries. The only non-tech company in the top five is IKEA, in fifth place, after eBay.
Gaming the System
When it comes to sub-sectors of consumer brands, the gaming space tells an interesting story.
Namely, it is Epic Games—creator of Fortnite and Grand Theft Auto—that dominates global charts by a considerable margin. Founded in Potomac, Maryland, the company ranks at the top for 141 countries globally.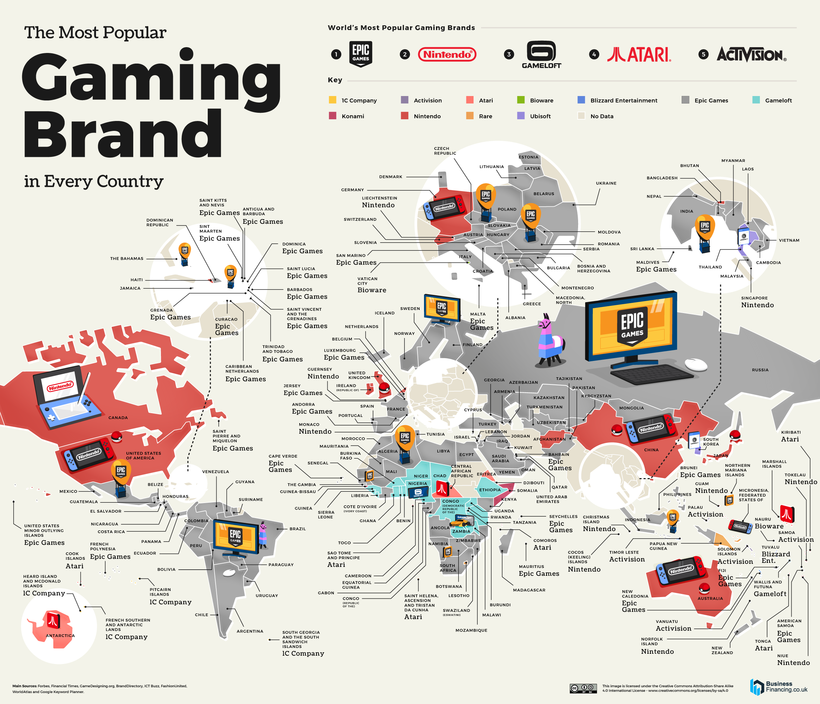 View the high resolution of this infographic by clicking here.
Additionally, Nintendo tops the list of 24 countries including Japan, Haiti, and Canada, while Paris-based Gameloft comes next in line.
Fast Fashion: Shoe Dog At the Top
Since its founding in 1964, Nike has become a remarkable brand builder. In fact, Nike is the most searched fashion brand among 49 countries.
Interestingly, founder Phil Knight only began to fully understand branding power after the company reached $1 billion in revenues. After a series of failures and missteps in the mid-1980s, Nike switched its focus from marketing and manufacturing, to instead, zeroing in on the consumer.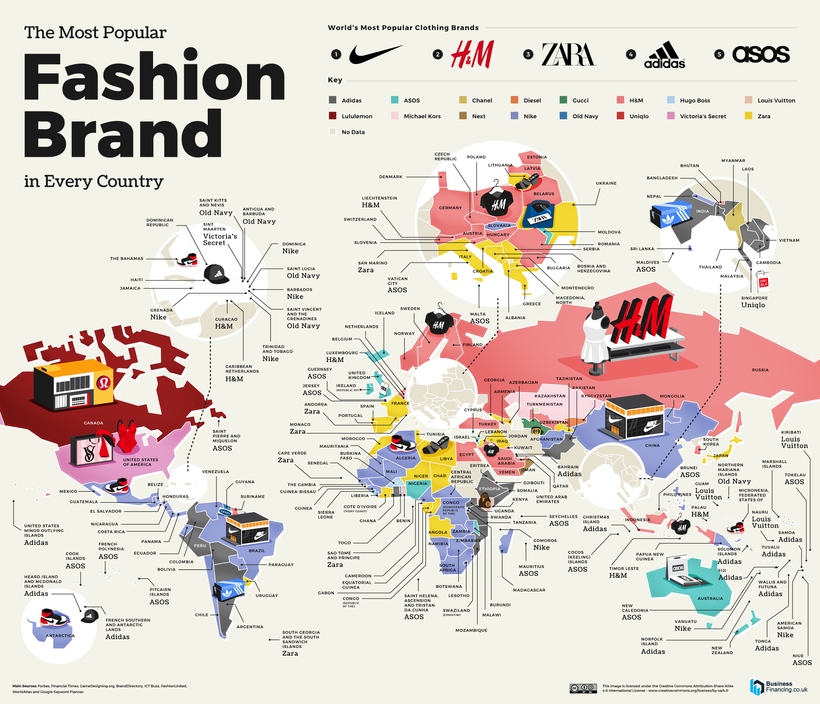 View the high resolution of this infographic by clicking here.
Like Nike, Swedish retailer H&M has a long history dating back to 1947. Prior to the pandemic, the fast-fashion retailer operated 5,000 stores globally. Since pandemic tailwinds, however, H&M plans to close 250 physical stores in 2021 and focus more on online sales.
Big Macs are Here to Stay
When you look closer at the most searched fast food chains, McDonald's ranks highest on a global level, but not by far.
KFC comes in second, topping the list of 65 countries including Russia, Peru, and Thailand. Meanwhile, Pizza Hut, which is owned by the same parent company as KFC, attracted the highest number of searches in America.

View the high resolution of this infographic by clicking here
On the other hand, Antarctica curiously ranks Baskin Robbins at the top, but this could be influenced from a low volume of searches in the region.
Consumer Brand Outliers
If there's one recurring trend across the top consumer brands, it's that they are unsurprisingly dominated by big players concentrated in America.
However, notable outliers are present. In China, search engine Baidu ranks as the top consumer brand on the internet. On the other hand, the Vatican's most-searched gaming company is Canada-based BioWare, which developed the Mass Effect series (no pun intended).
Meanwhile, in Saint Helena—the island where Napoleon was exiled and later died—has Burger King as its most searched fast food brand. As it happens, the remote island appears to have no Burger King, or any other fast food chains. Kenya's top fashion brand is Louis Vuitton, while Turkmenistan's is Gucci.
Despite these differences, many consumer preferences, at least according to search volume, appear strikingly similar on global levels. As many of these multinational brands continue to gain even greater market share, the implications for the global consumer will be interesting to watch in the next year, or even decade.
Support the Future of Data Storytelling
Sorry to interrupt your reading, but we have a favor to ask. At Visual Capitalist we believe in a world where data can be understood by everyone. That's why we want to build the VC App - the first app of its kind combining verifiable and transparent data with beautiful, memorable visuals. All available for free.
As a small, independent media company we don't have the expertise in-house or the funds to build an app like this. So we're asking our community to help us raise funds on Kickstarter.
If you believe in data-driven storytelling, join the movement and back us on Kickstarter!
Thank you.
33 Problems With Media in One Chart
In this infographic, we catalog 33 problems with the social and mass media ecosystem.
33 Problems With Media in One Chart
One of the hallmarks of democratic society is a healthy, free-flowing media ecosystem.
In times past, that media ecosystem would include various mass media outlets, from newspapers to cable TV networks. Today, the internet and social media platforms have greatly expanded the scope and reach of communication within society.
Of course, journalism plays a key role within that ecosystem. High quality journalism and the unprecedented transparency of social media keeps power structures in check—and sometimes, these forces can drive genuine societal change. Reporters bring us news from the front lines of conflict, and uncover hard truths through investigative journalism.
That said, these positive impacts are sometimes overshadowed by harmful practices and negative externalities occurring in the media ecosystem.
The graphic above is an attempt to catalog problems within the media ecosystem as a basis for discussion. Many of the problems are easy to understand once they're identified. However, in some cases, there is an interplay between these issues that is worth digging into. Below are a few of those instances.
Editor's note: For a full list of sources, please go to the end of this article. If we missed a problem, let us know!
Explicit Bias vs. Implicit Bias
Broadly speaking, bias in media breaks down into two types: explicit and implicit.
Publishers with explicit biases will overtly dictate the types of stories that are covered in their publications and control the framing of those stories. They usually have a political or ideological leaning, and these outlets will use narrative fallacies or false balance in an effort to push their own agenda.
Unintentional filtering or skewing of information is referred to as implicit bias, and this can manifest in a few different ways. For example, a publication may turn a blind eye to a topic or issue because it would paint an advertiser in a bad light. These are called no fly zones, and given the financial struggles of the news industry, these no fly zones are becoming increasingly treacherous territory.
Misinformation vs. Disinformation
Both of these terms imply that information being shared is not factually sound. The key difference is that misinformation is unintentional, and disinformation is deliberately created to deceive people.
Fake news stories, and concepts like deepfakes, fall into the latter category. We broke down the entire spectrum of fake news and how to spot it, in a previous infographic.
Simplify, Simplify
Mass media and social feeds are the ultimate Darwinistic scenario for ideas.
Through social media, stories are shared widely by many participants, and the most compelling framing usually wins out. More often than not, it's the pithy, provocative posts that spread the furthest. This process strips context away from an idea, potentially warping its meaning.
Video clips shared on social platforms are a prime example of context stripping in action. An (often shocking) event occurs, and it generates a massive amount of discussion despite the complete lack of context.
This unintentionally encourages viewers to stereotype the persons in the video and bring our own preconceived ideas to the table to help fill in the gaps.
Members of the media are also looking for punchy story angles to capture attention and prove the point they're making in an article. This can lead to cherrypicking facts and ideas. Cherrypicking is especially problematic because the facts are often correct, so they make sense at face value, however, they lack important context.
Simplified models of the world make for compelling narratives, like good-vs-evil, but situations are often far more complex than what meets the eye.
The News Media Squeeze
It's no secret that journalism is facing lean times. Newsrooms are operating with much smaller teams and budgets, and one result is 'churnalism'. This term refers to the practice of publishing articles directly from wire services and public relations releases.
Churnalism not only replaces more rigorous forms of reporting—but also acts as an avenue for advertising and propaganda that is harder to distinguish from the news.
The increased sense of urgency to drive revenue is causing other problems as well. High-quality content is increasingly being hidden behind paywalls.
The end result is a two-tiered system, with subscribers receiving thoughtful, high-quality news, and everyone else accessing shallow or sensationalized content. That everyone else isn't just people with lower incomes, it also largely includes younger people. The average age of today's paid news subscriber is 50 years old, raising questions about the future of the subscription business model.
For outlets that rely on advertising, desperate times have called for desperate measures. User experience has taken a backseat to ad impressions, with ad clutter (e.g. auto-play videos, pop-ups, and prompts) interrupting content at every turn. Meanwhile, in the background, third-party trackers are still watching your every digital move, despite all the privacy opt-in prompts.
How Can We Fix the Problems with Media?
With great influence comes great responsibility. There is no easy fix to the issues that plague news and social media. But the first step is identifying these issues, and talking about them.
The more media literate we collectively become, the better equipped we will be to reform these broken systems, and push for accuracy and transparency in the communication channels that bind society together.
Sources and further reading:
Veils of Distortion: How the News Media Warps our Minds by John Zada
Hate Inc. by Matt Taibbi
The Truth Matters: A Citizen's Guide to Separating Facts from Lies and Stopping Fake News in its Tracks by Bruce Bartlett
Active Measures: The Secret History of Disinformation and Political Warfare by Thomas Rid
The Twittering Machine by Richard Seymour
After the Fact by Nathan Bomey
Ten Arguments for Deleting Your Social Media Accounts Right Now by Jaron Lanier
Zucked by Roger McNamee
Antisocial: Online Extremists, Techno-Utopians, and the Highjacking of the American Conversation by Andrew Marantz
Social media is broken by Sara Brown
The U.S. Media's Problems Are Much Bigger than Fake News and Filter Bubbles by Bharat N. Anand
What's Wrong With the News? by FAIR
Is the Media Doomed? by Politico
The Implied Truth Effect by Gordon Pennycook, Adam Bear, Evan T. Collins, David G. Rand
Visualizing the Current State of the Global Gender Gap
At our current rate of change, it will take up to 136 years to close the global gender gap. Here's a look at gender inequality across regions.

Creator Program
The Current State of the Global Gender Gap
As a global society, we still have a long way to go before we reach gender equality around the world.
According to the World Economic Forum's (WEF) latest Global Gender Gap Report, it could take up to 135.6 years to close the global gender gap, based on the current rate of change.
This graphic by Sebastian Gräff gives a breakdown of gender equality worldwide, showing how long it will take before each region reaches gender parity.
How Gender Gap is Measured
In its 15th edition, the Global Gender Gap Report analyzes gender-based discrepancies across 156 different countries. To gauge each region's gender gap, the report digs into four key areas:
Economic Participation and Opportunity
Educational Attainment
Health and Survival
Political Empowerment
Each subindex is given its own score, then an average across the four pillars is calculated to give each country a final score between zero (exceptionally unequal) and one (completely equal).
Regional Breakdown
Out of all the regions, Western Europe has the smallest gender gap, with a score of 0.78. At this rate, the gender gap in Western Europe could be closed in approximately 52.1 years, more than 83 years faster than the global estimate.
| Rank | Region | Overall Gender Gap Index (2021) |
| --- | --- | --- |
| 1 | Western Europe | 0.77 |
| 2 | North America | 0.76 |
| 3 | Latin America and the Caribbean | 0.71 |
| 4 | Eastern Europe and Central Asia | 0.71 |
| 5 | East Asia and the Pacific | 0.69 |
| 6 | Sub-Saharan Africa | 0.67 |
| 7 | South Asia | 0.62 |
| 8 | Middle East and North Africa | 0.61 |
| | Global Average | 0.69 |
Western Europe scores particularly high in educational attainment (1.0) and health and survival (0.97). Here's a look at the category breakdown for each region:
| Region | Economic Participation and Opportunity | Educational Attainment | Health and Survival | Political Empowerment |
| --- | --- | --- | --- | --- |
| Western Europe | 0.70 | 1.00 | 0.97 | 0.44 |
| North America | 0.75 | 1.00 | 0.97 | 0.33 |
| Latin America and the Caribbean | 0.64 | 1.00 | 0.98 | 0.27 |
| Eastern Europe and Central Asia | 0.74 | 1.00 | 0.98 | 0.14 |
| East Asia and the Pacific | 0.70 | 0.98 | 0.95 | 0.14 |
| Sub-Saharan Africa | 0.66 | 0.85 | 0.97 | 0.21 |
| South Asia | 0.34 | 0.93 | 0.94 | 0.28 |
| Middle East and North Africa | 0.41 | 0.94 | 0.97 | 0.12 |
| Global Average | 0.62 | 0.96 | 0.97 | 0.22 |
But it might be surprising to see that political empowerment in Western Europe received a score of only 0.44. This is higher than the global average for political empowerment of 0.21, but still indicative of a large gender gap in this area.
Globally, political empowerment tended to receive the lowest scores in the report, as women are grossly underrepresented in politics. A study by the Council of Foreign Relations revealed that out of 195 different countries' national cabinets, only 14 countries had at least 50% of their ministerial positions held by women.
Economic participation and opportunity is the second weakest category, with a global average score of 0.58. A good example of how this gap manifests itself is in entrepreneurship and business, where women still struggle to find investors and gain access to venture capital. Further, on average, women continue to make less money than men. According to the UN, women across the globe make approximately 77 cents for every dollar earned by men.
The Economic Benefit of Gender Equality
Research shows that empowering women in the workforce is in everyone's best interest. Closing the gender gap in the global workforce could lead to a boost of more than $28 trillion to the global economy.
Yet across the globe, COVID-19 has created new challenges that have hindered our progress towards gender equality. This is partly because some of the sectors that have been impacted the most by COVID-19 restrictions, such as hospitality, food services, and personal care, are largely dominated by female workers.
As we continue to recover from the impact of COVID-19, world leaders will face numerous policy challenges, including how to build back better, creating more opportunities for women to thrive in the global economy.