How the Nintendo Switch Brought Console Sales Back
Since its 2017 release, the Nintendo Switch has become a household game console for gamers and non-gamers alike.
Few consoles penetrate the mainstream deeply enough to have parents referring to a console by its proper name, instead of their children's "Gameboy" or "Wii". Even fewer come together as a complete package that ties together the ideologies and technical ideas of their preceding consoles like the Nintendo Switch has.
This graphic visualizes the Nintendo Switch sales success story alongside more than 20 years of Nintendo console sales.
The History of Nintendo Console Sales
Nintendo has a long and storied history in gaming—but since the release of the original Game Boy in 1989, the company has favored a two-pronged approach with its game consoles: having both a portable handheld console and a home console which connects to a TV on the market.
The Game Boy and the SNES (1990) were the first iteration of this strategy, and they reached more than 160 million units sold combined while establishing legendary game franchises with revered sequels like Super Mario World and The Legend of Zelda: A Link to the Past.
The Game Boy's variants like the Game Boy Pocket (1996) and Game Boy Color (1998) lengthened the handheld's lifespan enough to accompany another home console, with the Nintendo 64 coming out in 1996 and selling 32.93 million units of its own.
These successes proved that the gaming audience would support two separate Nintendo consoles on the market, and Nintendo kept the strategy going the following generations.
Lifetime Nintendo Console Sales
Console
Release Year
Units Sold
(as of Sept 30, 2020)
NES
1983
61.91 M
Game Boy
1989
118.69 M
SNES
1990
49.1 M
Nintendo 64
1996
32.93 M
Game Boy Advance
2001
81.51 M
Nintendo GameCube
2001
21.74 M
Nintendo DS
2004
154.02 M
Nintendo Wii
2006
101.63 M
Nintendo 3DS
2011
75.94 M
Wii U
2012
13.56 M
Nintendo Switch
2017
68.3 M
Source: Nintendo
The next generation made up of the Game Boy Advance (2001) and Nintendo GameCube (2001) saw slightly lower sales numbers, but was competing against Microsoft's gaming debut with the original Xbox (2001) and Sony's incredibly popular Playstation 2 (2000).
While the GameCube sold 21.7 million total units and the original Xbox sold ~24 million total units, the Playstation 2 dominated this generation and is still the best-selling video game console of all time with 155 million units sold.
The Sales Success of the Wii and Nintendo DS
As Sony and Microsoft pushed HD rendering and higher graphical fidelity in their next generation of consoles, Nintendo focused on how games were played rather than raw power.
This brought about the Nintendo DS (2004), which added a second touch screen for developers to build games around, and the Nintendo Wii (2006), which pioneered motion controls and accessibility with the simpler Wii Remote controller.
Both the Nintendo DS and the Nintendo Wii were runaway successes, dominating their generation with more than 255 million combined consoles sold.
At the same time, Sony had tried to replicate Nintendo's strategy with handheld consoles of their own, the PSP (2004) and PS Vita (2011), and while they sold 80 million units and ~10-15 million units respectively, Sony ultimately abandoned the handheld console market.
The Sales Slump of the Nintendo 3DS and Wii U
Nintendo was clearly the king of the handheld console market. While mobile phones were feared to be a portable console killer, the Nintendo 3DS sold well when it released in 2011 (75.94 million units) and was Nintendo's saving grace for its generation.
What didn't hold up well was Nintendo's home console follow-up to the Wii, the Wii U. The console only reached 13.56 million lifetime sales, and was quickly overshadowed by the Playstation 4 (113.5 million units sold) and Xbox One (~51 million units sold) releases in 2013.
The Wii U's weak sales brought about one of Nintendo's worst periods ever in recent history, with two unprofitable years for the company in 2012 and 2014. While developers previously flocked to create games for the Wii's motion controls, the Wii U's tablet controller didn't attract the same kind of innovative software development.
Nintendo's Net Income Since 2000
| Year | Net Income (USD) |
| --- | --- |
| 2000 | $490 M |
| 2001 | $734 M |
| 2002 | $896 M |
| 2003 | $627 M |
| 2004 | $324 M |
| 2005 | $742 M |
| 2006 | $827 M |
| 2007 | $1,561 M |
| 2008 | $2,838 M |
| 2009 | $3,003 M |
| 2010 | $2,819 M |
| 2011 | $1,010 M |
| 2012 | -$498 M |
| 2013 | $67 M |
| 2014 | -$194 M |
| 2015 | $348 M |
| 2016 | $141 M |
| 2017 | $910 M |
| 2018 | $1,273 M |
| 2019 | $1,787 M |
| 2020 | $2,500 M |
Source: Nintendo
How the Nintendo Switch Unified Nintendo's Strategies
With the Wii U's poor performance leaving Nintendo in a tough spot, the next console release was crucial to the success of the company.
The Nintendo Switch came just in time in 2017 as the Wii U's sales dried up, and the new hybrid home and portable console was an instant success. By the end of 2018's fiscal year, the Switch had already outsold the Wii U with 17 million units sold.
While the Nintendo Switch sales success story came largely from how it unified home and handheld gaming, the console brought to fruition many of Nintendo's strategies and technical decisions over the generations.
Many of the Wii Remote's abilities are still present in the Switch's Joy-Cons, with built-in accelerometers and gyroscopes for motion controls, along with the ability to rotate them sideways for a more classic controller configuration. The Nintendo DS's touch screen permeated many Nintendo consoles and is still present in the Switch, and looking back at the Wii U's tablet controller, it now seems like an early prototype for the Switch's free-form portability.
Combining Physical and Digital Play
Nintendo's foray into physical toys, which started with Amiibo figures, is also gradually developing and merging physical and digital play thanks to the Switch.
In 2018, the company released Nintendo Labo, a custom cardboard building set which integrates with the Switch and its Joy-Cons for a variety of games and experiences. The 2020 release of Mario Kart Live: Home Circuit pushed this further, with players able to build a Mario Kart circuit in their home to race physical karts controlled by the Switch.
The company is continuing to branch out into other realms with the opening of Super Nintendo World theme park in Universal Studios in Osaka, Japan on February 4th, 2021. The theme park will also be combining the digital and physical world, with virtual coin collecting and other prizes tracked on mobile phones, gamifying the experience for visitors.
Broadening Nintendo's Audience to More than Just Gamers
The success of the Nintendo Switch has brought on more experimentation and fresh ideas from the company, and the COVID-19 pandemic made it an essential product of 2020. With many families at home due to lockdowns, being able to slide the console out of its dock and off the TV to play in handheld mode has been a game-changer.
While Nintendo's development team can prepare for their next console with a bit more financial breathing room thanks to the Switch's superb sales, the company has been working hard to broaden its audience. The physical toys for younger audiences help capture a new generation of Nintendo fans, while older generations of fans will be excited to visit Super Nintendo World and indulge in nostalgia while introducing Nintendo to their children.
As the Nintendo Switch's excellent game library continues to expand, new and old fans alike will be excited to see what consoles, games, and other products come next from the legendary game company.
Ranked: The Best Selling Video Games in History
This chart shows the top ten best selling video games, ranked by software units sold. Six of them have been released in the last 12 years.

Creator Program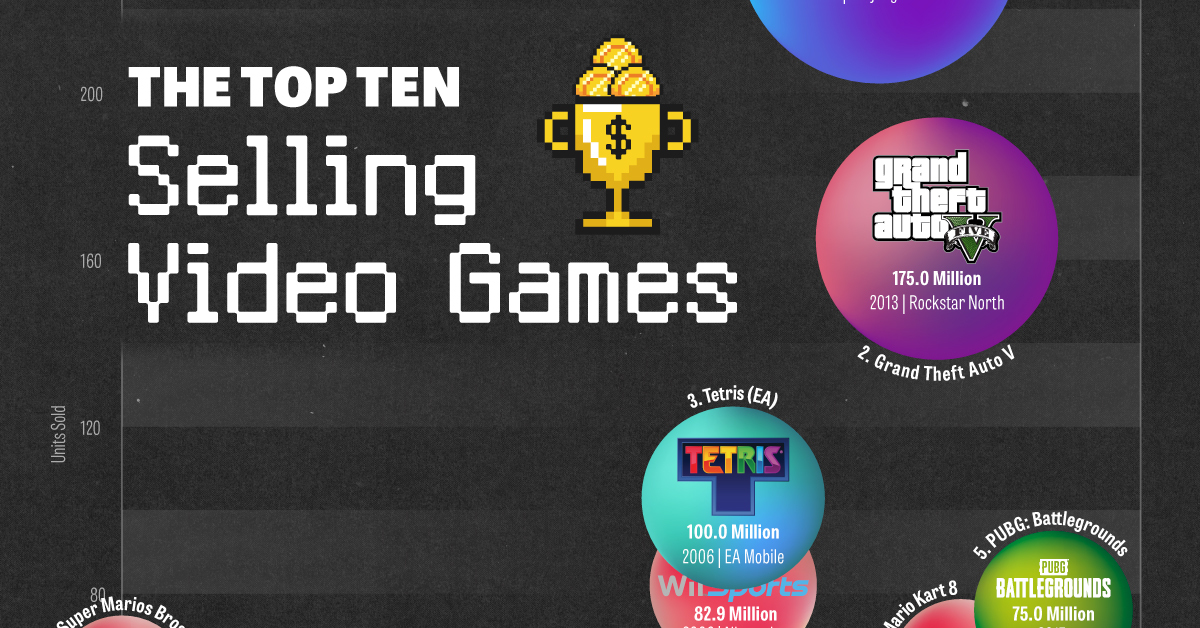 Ranked: The Best Selling Video Games in History
It's a good time to be a video game fan. Not only is the gaming industry booming and projected to grow to $320 billion by 2026, but every year is bringing new evolutions in the medium.
2022 saw massive launches in both games (Elden Ring and God of War Ragnarök) and media based on games (the films Uncharted and Sonic the Hedgehog 2). 2023 has already seen the release of major flagship TV series based on a game, HBO's The Last of Us, and the much-anticipated The Super Mario Bros. Movie is slated to release in April.
But which game is the best, or most successful? That debate may never end, but from company reports and sales data aggregated by Wikipedia, Samuel Parker's chart of the most-sold video games as of March 3, 2023 can at least tell us which ones have been the most popular.
Top Ten Video Games Sold in History
The best selling video game didn't need multimillion dollar budgets, sixty-hour narratives, or celebrity voice actors and ad spots. The independently-developed (indie) Minecraft, with its pixelated blocks, takes the top spot on this list.
| Rank | Game | Sales (units) | Year Released | Developer |
| --- | --- | --- | --- | --- |
| 1 | Minecraft | 238.0M | 2011 | Mojang Studios |
| 2 | GTA 5 | 175.0M | 2013 | Rockstar |
| 3 | Tetris (EA) | 100.0M | 2006 | EA Mobile |
| 4 | Wii Sport | 82.9M | 2006 | Nintendo |
| 5 | PUBG: Battlegrounds | 75.0M | 2017 | PUBG Corp |
| 6 | Mario Kart 8 | 60.5M | 2014 | Nintendo |
| 7 | Super Mario Bros. | 58.0M | 1985 | Nintendo |
| 8 | Read Dead Redemption 2 | 50.0M | 2018 | Rockstar |
| 9 | Pokémon Red/Green/Blue/Yellow | 47.5M | 1996 | GameFreak |
| 10 | Terraria | 44.5M | 2011 | Re-Logic |
Minecraft sold more units than the combined forces of Grand Theft Auto 5 (#2) and Red Dead Redemption 2 (#8), both made by industry giant Rockstar. Its immense popularity has been credited to its simple gameplay (no goals), creative structure (build anything), and engaged community with player-run servers and additional feature creations (known as mods).
Another simple favorite, Tetris, comes in at third place with 100 million units sold of its 2006 re-release. Millennials continue to make up a large chunk of the video game playing demographic which might explain Tetris' sales.
But newer games are making up the majority of sales records. PUBG: Battlegrounds, a battle-royale shooter game which helped popularize the genre (and eventually its competitor Fortnite) asserts its popularity at #5. That puts it well ahead of the better-known shooter Call of Duty, even despite PUBG being banned in a number of countries for the alleged impact on the mental health of gamers.
The oldest game to make the list is Super Mario Bros. (#7), apt considering it is credited with reviving the video game industry after it crashed in 1983. The original staple side-scroller has sold 58 million copies worldwide.
Developer Dominance
Though the top selling games span various series of games, a few developers managed to repeatedly find success.
| Developer | Top 20 Best-Selling Games |
| --- | --- |
| Nintendo | 11 |
| Rockstar | 2 |
| Others | 7 |
Japanese video game titan Nintendo developed three games (Super Mario Bros., Mario Kart, Wii Sport/Fitness) in the top 10 and another eight in the top 20. That's not including its co-ownership of Pokémon, the world's highest-grossing media franchise.
American publisher Rockstar Games also managed to score multiple hits, though its longer development cycle necessary to create cinematic games gives it fewer potential candidates. That might change with the much-anticipated GTA 6 reportedly in production.
Best Selling Genres
The most popular genres in the top 10 give players the freedom to impose their will upon the world and pursue objectives at their leisure:
| Genre | Games |
| --- | --- |
| Sandbox/Open World | 4 |
| Simulation | 2 |
| Others | 4 |
Two games (Minecraft, Terraria) are classic sandbox games, where worlds are procedurally generated and there are no gameplay goals. Another two (GTA 5, Red Dead Redemption 2) are in the adjacent open-world genre, with a combination of sandbox elements and a narrative structure.
However, with new games launching and selling millions of units every year, new entrants to the top 10 list of best selling video games of all-time seems likely. How will these developers, genres, and games fare over time?