The Year in News 2015
Every social media platform has a differentiating factor that determines how it's used. LinkedIn, for example, is best suited for networking and business, while Instagram is designed to share photos.
The key differentiation of Twitter has become clear over time: it allows users to stay on top of news and events that are trending all over the world in real-time. It also gives politicians, media, business leaders, and celebrities a soapbox to get their opinions out to the general public. This creates a natural feedback loop to reinforce what is "trending" at any given time.
Echelon Insights, a market research company, has taken advantage of Twitter's gold mine of data to create a visualization of news in 2015. By analyzing 459.9 million tweets from Americans over the course of the last year, we can now see what topics trended, along with the timing and magnitude of each trending topic.
To ensure that trending news stood out, Echelon Insights removed some of the data outliers related to perennial conversations that get mentions, including President Obama (55 million mentions) and the Republican and Democratic parties. With that filter applied, the most discussed person or issue in the news this year was Donald Trump, with 43 million U.S. mentions, followed by Hillary Clinton, with 31.5 million.
Most Popular News Stories of 2015
| Subject | Number of tweets |
| --- | --- |
| Donald Trump | 43.0 million |
| Hillary Clinton | 31.5 million |
| Iraq & ISIS | 24.0 million |
| Bernie Sanders | 19.2 million |
| #BlackLivesMatter | 15.0 million |
| Iran | 14.8 million |
| Freddie Gray | 13.1 million |
| Jeb Bush | 12.5 million |
| Guns | 11.8 million |
| Planned Parenthood | 11.2 million |
The above trending topics were relatively steady and newsworthy throughout the year. However, Echelon also tried to get an idea of the news stories that "spiked" the most by filtering out some of the more constant topics of conversation. Here are the top five stories along with the mentions they gained in the week that they dominated headlines:
Top 5 News Events of 2015
| Top Events | Number of tweets |
| --- | --- |
| The Paris attacks, Nov. 8–15 | 8.9 million |
| Freddie Gray & Baltimore, Apr. 26-May 3 | 7.1 million |
| Donald Trump & Muslim immigration, Dec. 6: | 5.0 million |
| The Supreme Court legalizes gay marriage nationwide, Jun. 21 | 4.9 million |
| The Charleston shooting, Jun. 14 | 3.2 million |
The terror attacks in Paris dominated all headlines with 8.9 million tweets. Here's a final look at the data, except this time it is the same filtered data visualized by mentions per day.
Ranked: Share of Global Arms Exports in 2022
The U.S. is the biggest weapons exporter in the world, but which other countries take up a significant share of global arms exports in 2022? And how has that share changed over time?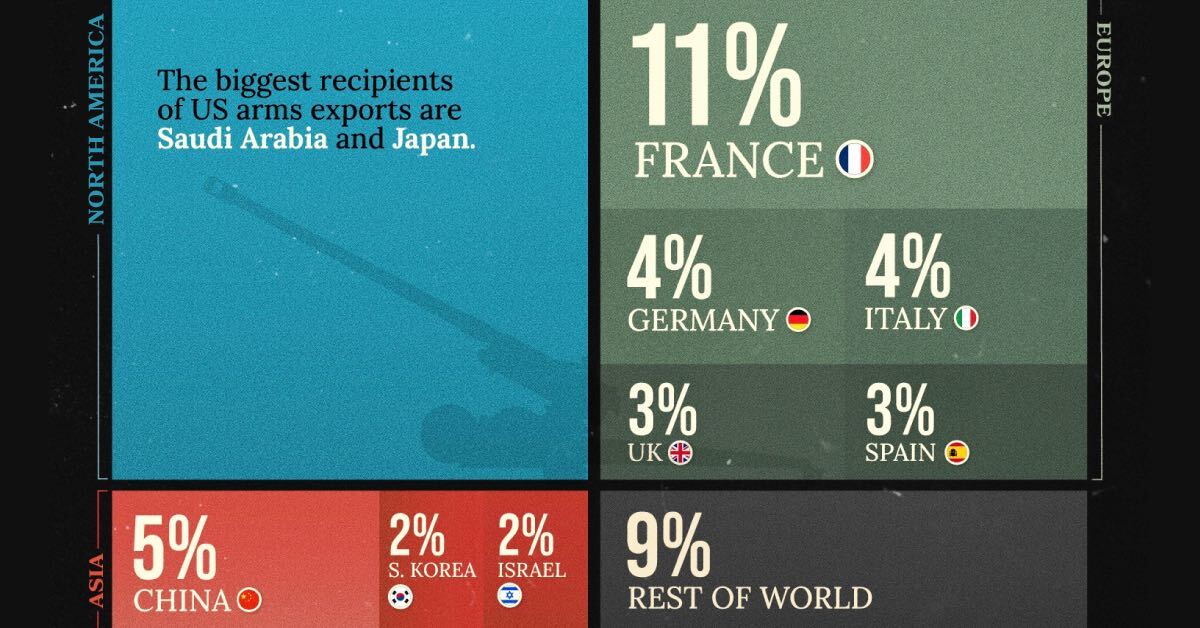 Ranked: Share of Global Arms Exports 2018–2022
In 2022, global military budgets hit $2.2 trillion, an eighth consecutive year of increase.
Part of those budgets were used for the procurement of arms, but which countries are major weapons suppliers, and how do they influence the global arms trade?
We chart out the top 10 countries with the biggest share of global arms exports using data from the Stockholm International Peace Research Institute (SIPRI).
Which Country Exports the Most Weapons?
The U.S. is the biggest weapons exporter, accounting for 40% of the total volume of international arms transfers between 2018–2022. Nearly one-fifth of these exports headed to Saudi Arabia, and other significant amounts went to Japan (8.6%) and Australia (8.4%).
Below we rank the biggest weapons exporters by share of total volume traded in 2018–2022, as well as their growth or decline from trends recorded in 2013–2017.
Rank
Country
% share of global arms exports
(2018-2022)
% change between
2013-17 & 2018-22
1
🇺🇸 U.S.
40%
+14%
2
🇷🇺 Russia
16%
-31%
3
🇫🇷 France
11%
+44%
4
🇨🇳 China
5%
-23%
5
🇩🇪 Germany
4%
-35%
6
🇮🇹 Italy
4%
+45%
7
🇬🇧 UK
3%
-35%
8
🇪🇸 Spain
3%
-4%
9
🇰🇷 South Korea
2%
+74%
10
🇮🇱 Israel
2%
-15%
N/A
🌐 Rest of World
9%
N/A
Russia (16%) and France (11%) rank close together, followed by China (5%) and Germany (4%) to round out the top five major arms exporters.
However France's export volumes grown considerably (+44%) from the previous five-year period, thanks to big sales to India, which included 62 combat aircraft and four submarines, one-third of all French weapons trade. This has resulted in France leapfrogging the U.S. as India's second-largest weapons supplier after Russia.
On the other hand, Russia's exports by volume has decreased (-31%) even before sanctions kicked in after the invasion of Ukraine. Its biggest trade partners, India and China, have prioritized developing their own weapons industries.
South Korea's Surging Weapons Exports
Another country whose arms sales are skyrocketing is South Korea, which ranks 9th in the overall share of global arms exports, but has seen a 74% increase in its export volumes. Key recipients include the Philippines, India, and Thailand.
South Korean president Yoon Suk Yeol has pledged to grow his country into the world's fourth largest arms exporter by 2027.
Interestingly, South Korea is one of three countries which is both a top-10 arms exporter and importer (along with China and the U.S.) as it has many takers for domestically produced military equipment, while simultaneously being reliant on American-produced long-range missiles and advanced combat aircraft.