The Consumer Potential of Retail Cannabis
The Consumer Potential of Retail Cannabis Products
"Eat, drink, and be merry" is becoming an increasingly common mantra for cannabis consumers.
It's also a refrain that speaks the evolving demand picture for cannabis in a post-legalization environment, as it becomes clearer what products consumers want to see coming from the sector.
Today's infographic comes to us from The Green Organic Dutchman, and it dives deeper into the profound investor potential in cannabis retail products, like edibles and concentrates.
The Allure of Retail Products
As the business of cannabis matures, several trends are directing its course. Consumer spending in North America is ballooning overall, but growth largely depends on the product type.
Product type
Flower
Edibles
Concentrates
Other
2017
$4.2B
$1B
$1.9B
$1.3B
2022E
$10.5B
$4.1B
$10.5B
$4.1B
Trend
↓ 14pp total share
(from 50% to 36%)
↑ 2pp total share
(from 12% to 14%)
↑ 13pp total share
(from 23% to 36%)
↓ 1pp total share
(from 15% to 14%)
CAGR
20%
33%
41%
26%
Source: Arcview and BDS Analytics
While seasoned consumers prefer smoking cannabis, other consumers are actually drawn to alternative forms that the plant comes in. Proprietary research from New Frontier Data reveals the products that most appeal to potential U.S. cannabis consumers:
69% solid edibles
54% liquid edibles
44% topicals
36% joints or blunts
32% vaporizers (vapes)
29% tinctures
21% concentrates
19% pipes / water pipes
The rising popularity in retail cannabis-derived products is being directed by consumers – and they're using products for everything from relaxation to pain management.
Variety is the Spice of Life
Food and beverages, along with wellness products, are proving to be a huge draw.
Food & Beverages
Most people are aware of pot brownies, even if they haven't tried them. The best known cannabis edibles are baked goods, and these days they're also found as candy and chocolate.
Cannabis-infused drinks are also growing in popularity, in both alcoholic and non-alcoholic forms. Cannabis-infused water, juice, tea, coffee, and even kombucha are legally making their way onto grocery store shelves.
Of course, before edibles can become fully mainstream, there are a few considerations: stricter regulations for product consistency, not to mention appropriate packaging and labeling to keep them away from children. As an example, Canada will start allowing edibles and other products in October 2019, as they iron out these kinks a year after full legalization.
Health & Wellness
Cannabis has been treasured for its medicinal and therapeutic properties for centuries. In the present, it has re-emerged in an intersection with the wellness industry. In fact, many consumers are already using CBD-infused products in their daily life:
Relieving anxiety
Enhancing sleep
Managing pain
Personal care
Importantly, retail cannabis products are also helping consumers reduce their dependence on medications, and to kick unhealthy habits.
A Consumer-Driven Future
Consumers are not just eating cannabis up, but they are also drinking, vaping, dabbing — and the list goes on.
For these reasons, investors should keep an eye on the fast-changing multitude of products and trends within the sector, as they provide some of the best opportunities going forward.
In the final part of this series, we'll dive into the role that the cannabidiol (CBD) compound plays in the cannabis market.
Mapped: The European CBD Landscape in 2020
This graphic explains the innately complex legal status of CBD products in Europe and highlights the countries leading the CBD charge.
Mapped: The European CBD Landscape in 2020
To say CBD has risen in popularity over the last decade is an understatement.
Not only have CBD consumer products rapidly infiltrated a long list of industries, new research discoveries continue to prove their therapeutic benefits. By 2023, the European CBD market is estimated to reach €1.4 billion.
However, a big problem remains—there is an incredible amount of uncertainty surrounding what is legal, and what isn't. The above infographic from Elements of Green sheds some light on the innately complex legal status of CBD products in Europe.
The Great CBD Debate
CBD—short for cannabidiol—is a non-psychotropic compound produced by cannabis plants.
While most European countries have legalised it in some way, the caveat for many is that it must be extracted from industrial hemp, thus containing less than 0.2% THC—the intoxicating compound also found in cannabis. On the other hand, countries such as France and Norway only permit CBD isolate (the pure form of CBD) with no THC.
In 2019, the European Food Safety Authority (EFSA) designated CBD products as a novel food. This means that companies should seek authorisation to bring products to market, although it is not required by law.
However, the industry has now hit a fork in the road, as the European Commission (EC) recently announced it will be suspending applications for novel foods status while it determines whether or not certain CBD products should be labelled as narcotics instead.
The Legal Landscape in 2020
As the industry flip flops between regulations, consumers and investors need to understand that each country has its own laws surrounding the use of CBD.
| Country | CBD Legal Staus |
| --- | --- |
| 🇦🇱 Albania | Illegal |
| 🇦🇩 Andorra | Illegal |
| 🇦🇲 Armenia | Illegal |
| 🇦🇹 Austria | Legal grey area (legal lean) |
| 🇧🇾 Belarus | Illegal |
| 🇧🇦 Bosnia and Herzegovina | Illegal |
| 🇧🇪 Belgium | Legal grey area (restricted lean) |
| 🇧🇬 Bulgaria | Unrestricted |
| 🇨🇿 Czech Republic | Legal grey area (legal lean) |
| 🇭🇷 Croatia | Legal grey area (legal lean) |
| 🇩🇰 Denmark | Unrestricted |
| 🇪🇪 Estonia | Legal grey area (legal lean) |
| 🇫🇮 Finland | Legal grey area (restricted lean) |
| 🇫🇷 France | Unrestricted |
| 🇬🇪 Georgia | Illegal |
| 🇩🇪 Germany | Unrestricted |
| 🇬🇷 Greece | Unrestricted |
| 🇭🇺 Hungary | Legal grey area (legal lean) |
| 🇮🇸 Iceland | Legal grey area (legal lean) |
| 🇮🇪 Ireland | Legal grey area (restricted lean) |
| 🇮🇹 Italy | Legal grey area (restricted lean/legal for medical use) |
| 🇱🇻 Latvia | Legal grey area |
| 🇱🇮Liechtenstein | Legal grey area |
| 🇱🇹 Lithuania | Illegal |
| 🇱🇺 Luxembourg | Unrestricted |
| 🇲🇹 Malta | Legal grey area/legal for medical use |
| 🇲🇩 Moldova | Illegal |
| 🇲🇨 Monaco | Illegal |
| 🇲🇪 Montenegro | Illegal |
| 🇳🇱 Netherlands | Unrestricted |
| 🇲🇰 North Macedonia | Legal for medical use |
| 🇳🇴 Norway | Legal for medical use |
| 🇵🇱 Poland | Unrestricted |
| 🇵🇹 Portugal | Legal for medical use |
| 🇷🇴 Romania | Unrestricted |
| 🇷🇸 Serbia | Legal grey area (restricted lean) |
| 🇸🇰 Slovakia | Illegal |
| 🇸🇮 Slovenia | Unrestricted |
| 🇪🇸 Spain | Unrestricted |
| 🇸🇪 Sweden | Unrestricted |
| 🇨🇭 Switzerland | Unrestricted |
| 🇺🇦 Ukraine | Unrestricted |
| 🇬🇧 United Kingdom | Unrestricted |
While a handful of European countries have made it illegal to import, buy, or possess CBD, the vast majority have legalised CBD products that either comply with the Novel Foods Act, or can be obtained from a licensed medical practitioner.
Of these countries, Germany and the UK lead the European CBD market, followed by Switzerland, Austria, Spain, and Greece.
A Call For Change
A progessive stance on cannabis legalisation combined with increasing consumer demand has led to several countries showing remarkable growth, such as Poland, Bulgaria, Netherlands, and Luxembourg.
Luxembourg in particular presents a compelling growth story, as it plans to fully legalise adult-use recreational cannabis in 2021, which would make it the first European country to do so.
Despite its small size, Luxembourg could in fact be instrumental in encouraging neighbouring countries to implement similar reforms, also known as the neighbour effect.
Growing Pains of a Nascent Industry
Considering each country has its own unique restrictions in place, CBD consumers should educate themselves on the regulations and laws relevant to them.
Despite these often confusing laws and restrictions, it is clear that demand for CBD products is growing exponentially. As a result, the continent may have the potential to overtake North America as the largest CBD market in the world.

CBD Oil vs. Hemp Oil: What's the Difference?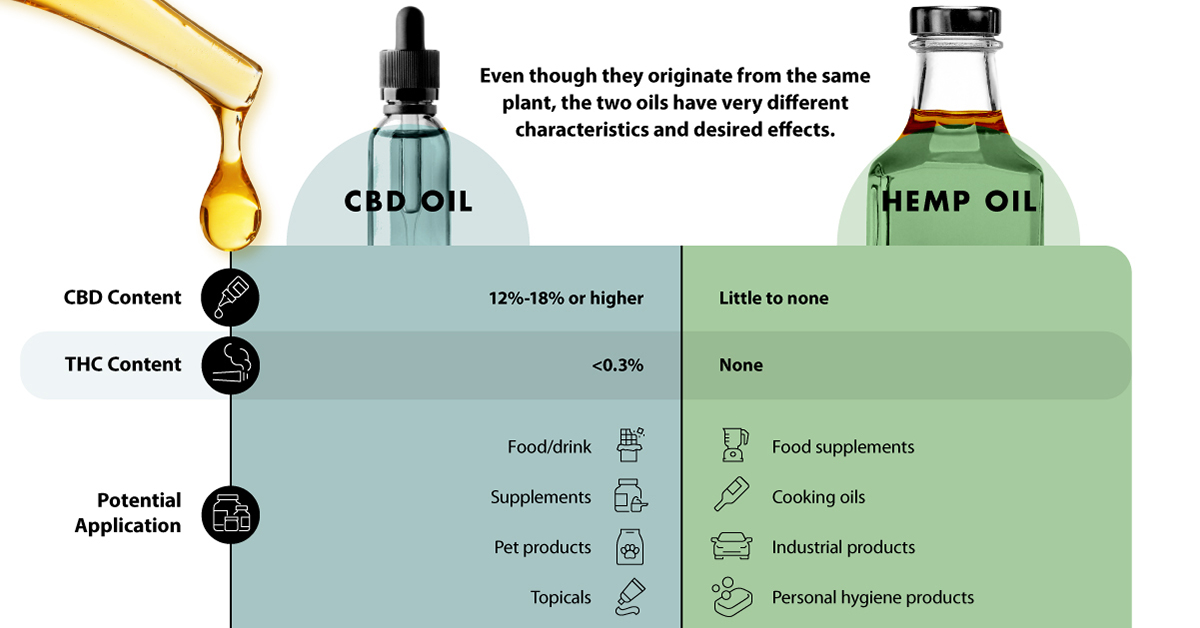 CBD Oil vs. Hemp Oil: What's the Difference?
For many consumers, cannabis plays a significant role in the treatment of medical conditions and managing general well-being. As a result, certain products have seen a rapid increase in popularity in recent years.
But while awareness of these products is at an all-time high, false or misleading information continues to cause confusion, and creates an unnecessary barrier for consumers who want to experiment with, or try different products.
For example, 69% of cannabidiol (CBD) products are reported to have inaccurate labeling, so it's no surprise that some consumers are uncertain about the suitability of these products and are hesitant to invest.
Today's graphic from Elements of Green dives into the differences between popular cannabis products, CBD oil and hemp seed oil—more commonly known as hemp oil— and the common misconceptions that are inhibiting consumers from entering the space en masse.
Same Plant, Difference Characteristics
Typically, both CBD oil and hemp oil originate from the hemp plant, a non-psychoactive cannabis plant. Therefore, it typically does not result in any intoxicating effects. However, many consumers mistakenly believe that CBD or hemp products will get them high, when in fact it is the marijuana plant—hemp's psychoactive cousin—that can induce mind-altering effects.
Even though both oils are extracted from the same plant, they each have very different characteristics and uses that consumers should be aware of.
CBD Oil
CBD oil is extracted from the flowers, leaves, stems, and stalks of hemp plants, and contains high levels of the naturally occurring CBD compound. Various CBD oil formats include tinctures, vape oil, and capsules, which are commonly used for their proven therapeutic benefits, such as:
Pain management
Relaxation
Stress relief
Treatment of medical conditions such as epilepsy, schizophrenia, multiple sclerosis, and arthritis
Reduction in anxiety
Sleep aid
When it comes to product labeling, consumers should be aware that different types of CBD oils exist, depending on the chemical compounds—known as cannabinoids—they contain.
CBD Isolate: Pure CBD, with no other cannabinoids such as THC
Full-spectrum CBD oil: Contains CBD among other cannabinoids, including THC
Broad-spectrum CBD oil: Contains CBD among other cannabinoids, with no THC
These oils are used in a wide variety of consumer products such as beverages, beauty products, and even pet food.
Hemp Oil
Hemp oil, on the other hand, is extracted from hemp seeds and contains no cannabinoids such as CBD and THC. It is used more like a traditional cooking oil, but can also be found in topical creams and lotions.
More recently, hemp oil is being hailed for its use in industrial products such as concrete, bio-plastics and fuel. While it has huge potential for use in both consumer and industrial products, its benefits differ slightly to CBD oil:
Source of plant-based protein and rich in fatty acids and antioxidants
Reduces inflammation
Reduces severity of skin conditions such as acne, eczema, or psoriasis
Anti-bacterial properties
Could reduce PMS or menopause symptoms
Consumers should ensure that hemp oil is listed as the active ingredient on the product's packaging, but it may also be listed as cannabis sativa seed oil.
Busting the Myths
While there is strong scientific evidence to support the efficacy of CBD oil and hemp oil, companies need to commit to both appropriate and safe labeling regarding dosage levels and ingredients.
Following that, previously held stigmas and misconceptions should slowly disintegrate as these products become more widely available and consumers increase their knowledge and understanding of their benefits.
Considering that the popularity of cannabis consumer products has only exploded over the last decade, initial confusion surrounding them is to be expected, and the true potential of these products is yet to be realised.