The Anatomy of a Cannabis Plant, and its Lifecycle

Anatomy of a Cannabis Plant
By 2027, it's projected that the legal cannabis market in the U.S. and Canada could hit $47.3 billion in size.
That will make it bigger than annual global sales for raw metals like nickel and silver put together. It would be a size that even exceeds the North American pork market.
But while almost everyone has a sense of the basic mechanics of mining or ranching, knowledge around the essentials of cannabis are understandably not as well ingrained in our culture.
Cannabis Plants 101
Today's infographic comes to us from The Green Organic Dutchman, and it breaks down the anatomy of a cannabis plant, the differences between types of plants, and also the basics around cannabis cultivation.
Here are some of the more important things you need to know about the plant:
Plant Anatomy
Commercial cannabis comes from the female species, which have long skinny stems and large, iconic fan leaves. The plant is trimmed down into buds, which come together in a cola at the top of the stem.
Trichomes are a blanket of crystal resin coating the cannabis plant, and they contain both terpenes and cannabinoids.
Cannabinoids
The two most well-known cannabinoids are THC and CBD, which also occur in the largest volume.
Delta-9-tetrahydrocannabinol (THC) is known to cause psychoactive effects or the "high" felt from cannabis.
Effects: pain relief, anti-nausea, sleep aid, appetite and mood stimulant.
Cannabidiol (CBD) lacks nearly any psychoactive effect, making it preferred as a medicine.
Effects: pain relief, anti-nausea, anti-inflammatory, anti-anxiety, seizure reduction.
Other cannabinoids such as cannabichromene (CBC), cannbigerol (CBG), and cannabinol (CBN), have similar therapeutic properties. Research is also validating the plant's efficacy in treating medical conditions such as cancer, multiple sclerosis, PTSD, and Alzheimer's.
Terpenes
Terpenes are organic, aromatic compounds found in the oils of all flowers, including cannabis. Interestingly, these oils have their own independent medical potential that is waiting to be unlocked.
Cannabinoids and terpenes work in harmony, resulting in an "entourage effect" and enhances the medical properties of cannabis
Sativa, Indica, Hybrid
There are two common types of cannabis plants: sativa and indica.
Sativa plants have long and thin leaves that are lighter in color. Buds are long and wispy, and feature red or orange coloring. They tend to contain high THC and low CBD levels – optimal for daytime use, described as being energizing, stimulating, and creative.
Indica plants have leaves that are wide, broad, and deep in color. Buds are dense and tightly packed, featuring purple coloring. Indica usually contains medium levels of THC, and a higher amount of CBD. Its effects are often described as being relaxing and calming, which is more optimal for nighttime use.
It's also worth noting that hybrid strains can often bring together the best qualities of both into one plant.
The Lifecycle of a Cannabis Plant
Every stage of growth of a cannabis plant needs different care:
1. Germination (Seed): 1-2 weeks
Seeds ready for germination are dark brown, hard, and dry. Encourage sprouting by watering seeds in a paper towel.
2. Seedling: 2-3 weeks
Move seeds into growing medium. Plants need the maximum light at this stage, and appropriate water levels. Cotyledon (seed leaves) and iconic fan leaves will grow.
Light: 18-24 hours
Humidity: 70%
Temperature: 20-25°C
3. Vegetative: 2-8 weeks
Plants need flowing dry air, fresh warm water, and increased nutrients – especially nitrogen. It's important at this stage to separate male and female plants before pollination to prevent female plants producing seeds instead of trichomes.
Light: 12 hours sunlight (18 hours fluorescent light)
Humidity: 50%
Temperature: 20-24°C
4. Flowering: 6-8 weeks
Gradually reduce light exposure to produce medicinal qualities. Increase phosphorous levels and decrease nitrogen. Fertilizers can help stimulate bud formation.
Light: 12 hours
Humidity: 40-50%
Temperature: 20-28 °C
5. Harvesting
Trim and dry the buds. The plant is ripe when buds turn from milky white to reddish orange. Harvest once 70-90% of pistils are browned for maximized taste and effect.
Humidity: 50%
Temperature: 20-25°C
As the cannabis industry matures, consumers will demand the highest-quality products. Growing cannabis in a natural environment is increasingly vital to create a premium end-product.
In the next part of this series, we will dive into various growing methods and the benefits of organic methods on quality and effects of cannabis.

Cocoa: A Bittersweet Supply Chain
The cocoa supply chain is a bittersweet one. While chocolate is a beloved sweet treat globally, many cocoa farmers are living a bitter reality.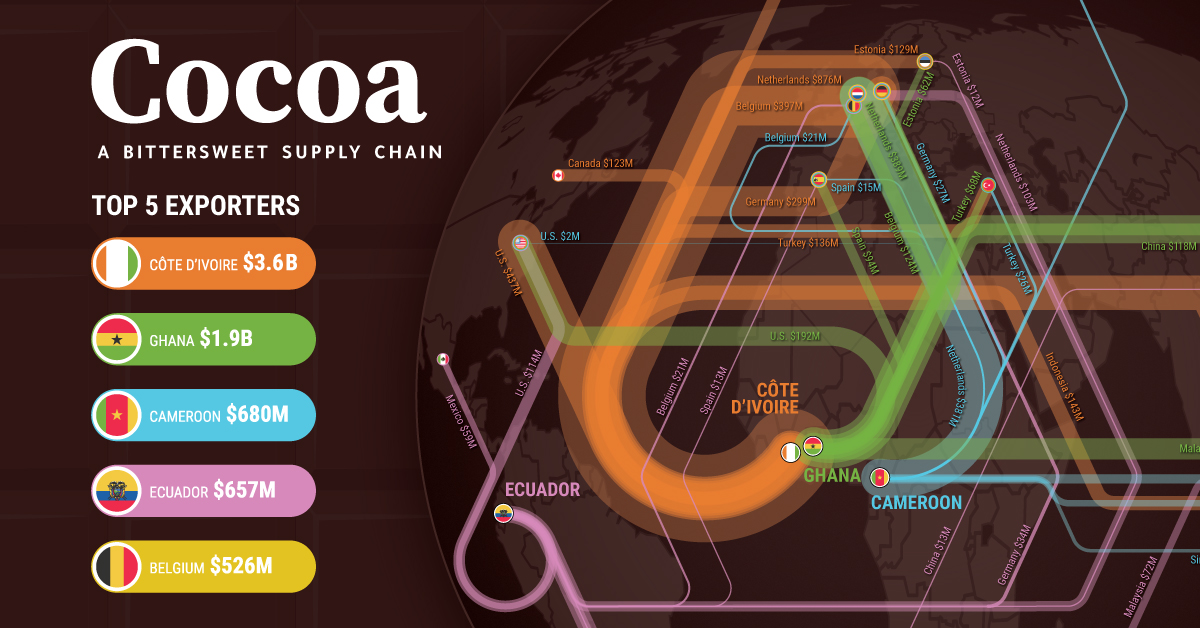 Cocoa: A Bittersweet Supply Chain
From bean to bar, the cocoa supply chain is a bittersweet one. While the end product is something most of us enjoy, this also comes with a human cost.
Based on how much cocoa comes from West Africa, it's likely that most of the chocolates we eat have a little bit of Cote d'Ivoire and Ghana in them. The $130B chocolate industry relies on cocoa farming for supply of chocolate's key ingredient. Yet, many cocoa farmers make less than $1/day.
The above graphic maps the major trade flows of cocoa and allows us to dive deeper into its global supply chain.
From Bean to Bar: Stages in the Cocoa Supply Chain
Cocoa beans go through a number of stages before being used in chocolate products.
Harvesting, Fermenting, and Drying
First, farmers harvest cocoa beans from pods on cacao plants. Next, they are fermented in heaps and covered with banana leaves. Farmers then dry and package the cocoa beans for domestic transportation.
Domestic Transportation, Cleaning, and Exporting
Domestic transporters carry packaged cocoa beans to either cleaning warehouses or processing factories. Cocoa beans are cleaned and prepared for exports to the chocolate production hubs of the world.
Processing and Chocolate Production
Processing companies winnow, roast, and grind cocoa beans and then convert them into cocoa liquor, cocoa butter, or cocoa cakes—which are mixed with other ingredients like sugar and milk to produce chocolate products.
Cocoa farming and trade are at the roots of the chocolate industry, and the consistent supply of cocoa plays a critical role in providing us with reasonably-priced chocolate.
So where exactly does all this cocoa come from?
The Key Nations in Cocoa's Global Supply Chain
Growing cocoa has specific temperature, water, and humidity requirements. As a result, the equatorial regions of Africa, Central and South America, and Asia are optimal for cocoa farming.
These regions host the biggest cocoa exporters by value.
| Rank (2019) | Exporting Country | Value (US$, millions) |
| --- | --- | --- |
| 1 | Côte d'Ivoire 🇨🇮 | $3,575 |
| 2 | Ghana 🇬🇭 | $1,851 |
| 3 | Cameroon 🇨🇲 | $680 |
| 4 | Ecuador 🇪🇨 | $657 |
| 5 | Belgium 🇧🇪 | $526 |
Côte d'Ivoire and Ghana are responsible for 70% of global cocoa production, and cocoa exports play a huge role in their economies. Although the majority of exporters come from equatorial regions, Belgium stands out in fifth place.
On the other hand, most of the top importers are in Europe—the Netherlands and Germany being the top two.
| Rank (2019) | Importing Country | Value (US$, millions) |
| --- | --- | --- |
| 1 | Netherlands 🇳🇱 | $2,283 |
| 2 | Germany 🇩🇪 | $1,182 |
| 3 | U.S. 🇺🇸 | $931 |
| 4 | Malaysia 🇲🇾 | $826 |
| 5 | Belgium 🇧🇪 | $719 |
In third place, the U.S. primarily sources its cocoa from Côte d'Ivoire, Ghana, and Ecuador. Mars, Hershey, Cargill, and Blommer—some of the world's biggest chocolate manufacturers and processors—are headquartered in the U.S.
Finally, it comes as no surprise that the biggest importers of cocoa beans are among the biggest chocolate exporters.
Rank (2019)
Country
Value of Chocolate Exports
(US$, millions)
1
Germany 🇩🇪
$4,924
2
Belgium 🇧🇪
$3,143
3
Italy 🇮🇹
$2,100
4
Netherlands 🇳🇱
$1,992
5
Poland 🇵🇱
$1,834
Not only is the Netherlands the biggest importer of beans, but it's also the biggest processor—grinding 600,000 tons annually—and the fourth largest exporter of chocolate products.
Belgium is another key nation in the supply chain, importing cocoa beans from producing countries and exporting them across Europe. It's also home to the world's largest chocolate factory, supporting its annual chocolate exports worth $3.1 billion.
Breaking Down the Cocoa Supply Chain: Who Gets What
Without farmers, both the cocoa and chocolate industries are likely to suffer from shortages, with domino effects on higher overall costs. Yet, they have little ability to influence prices at present.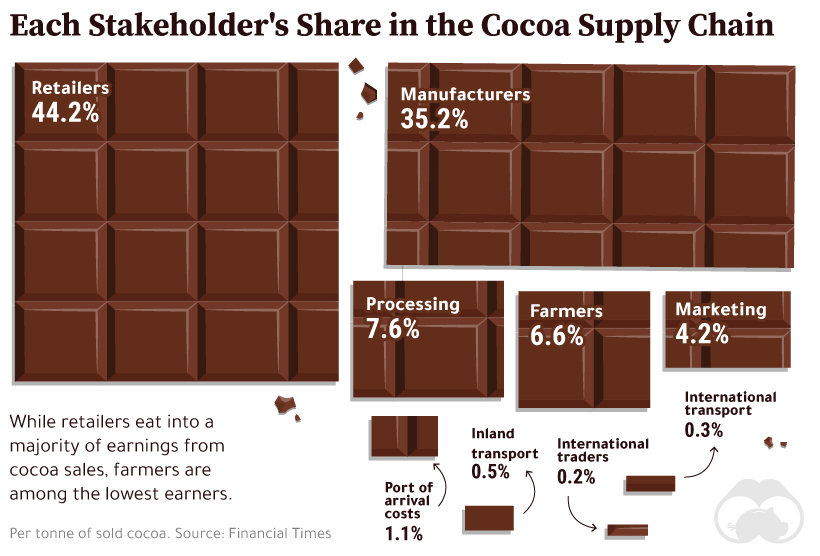 Farmers are among the lowest earners from a tonne of sold cocoa—accounting for just 6.6% of the value of the final sale.
Low incomes also translate into numerous other issues associated with cocoa farming.
The Bitter Side of Cocoa Farming
The World Bank has established the threshold for extreme poverty at $1.90/day. Cocoa farmers in Ghana make $1/day, while those in Côte d'Ivoire make around $0.78/day—both significantly below the extreme poverty line.
Farmers are often unable to bear the costs of cocoa farming as a result of low incomes. In turn, they employ children, who miss out on education, are exposed to hazardous working conditions, and get paid little or no wages.
| Country | Cocoa Farmers Making $1/day or less | Children in Cocoa Agriculture |
| --- | --- | --- |
| Côte d'Ivoire 🇨🇮 | 600,000 | 891,500 |
| Ghana 🇬🇭 | 800,000 | 708,400 |
To make matters worse, cocoa farming is primarily responsible for deforestation and illegal farming in Côte d'Ivoire and Ghana—adding environmental issues to the mix.
These interconnected problems call for action, so what is being done to fight them?
Combating Cocoa's Concerns
Mars, Nestlé, and Hershey—some of the world's biggest chocolate manufacturers—have made several pledges to eradicate child labor in cocoa farming over the last two decades, but haven't reached their targets.
In addition, organizations such as UTZ Certified, Rainforest Alliance, and Fairtrade are working to increase traceability in the supply chain by selling 'certified cocoa', sourced from farms that prohibit child labor.
More recently, Côte d'Ivoire and Ghana announced a fixed premium of US$400/tonne on cocoa futures, aiming to improve farmer livelihoods by creating a union for cocoa, also known colloquially as the "COPEC" for the industry.
While these initiatives have had some positive impacts, more still needs to be done to successfully eradicate large-scale child labor and poverty of those involved in cocoa's bittersweet supply chain.

The Economics of Coffee in One Chart
What makes your cup of coffee possible, and how much does it really cost? Here's how the $200B coffee supply chain breaks down economically.
Breaking Down the Economics of Coffee
What goes into your morning cup of coffee, and what makes it possible?
The obvious answer might be coffee beans, but when you start to account for additional costs, the scope of a massive $200+ billion coffee supply chain becomes clear.
From the labor of growing, exporting, and roasting the coffee plants to the materials like packaging, cups, and even stir sticks, there are many underlying costs that factor into every cup of coffee consumed.
The above graphic breaks down the costs incurred by retail coffee production for one pound of coffee, equivalent to about 15 cups of 16 ounce brewed coffee.
The Difficulty of Pricing Coffee
Measuring and averaging out a global industry is a complicated ordeal.
Not only do global coffee prices constantly fluctuate, but each country also has differences in availability, relative costs, and the final price of a finished product.
That's why a cup of 16 oz brewed coffee in the U.S. doesn't cost the same in the U.K., or Japan, or anywhere else in the world. Even within countries, the differences of a company's access to wholesale beans will dictate the final price.
To counteract these discrepancies, today's infographic above uses figures sourced from the Specialty Coffee Association which are illustrative but based on the organization's Benchmarking Report and Coffee Price Report.
What they end up with is an estimated set price of $2.80 for a brewed cup of coffee at a specialty coffee store. Each store and indeed each country will see a different price, but that gives us the foundation to start backtracking and breaking down the total costs.
From Growing Beans to Exporting Bags
To make coffee, you must have the right conditions to grow it.
The two major types of coffee, Arabica and Robusta, are produced primarily in subequatorial countries. The plants originated in Ethiopia, were first grown in Yemen in the 1600s, then spread around the world by way of European colonialism.
Today, Brazil is far and away the largest producer and exporter of coffee, with Vietnam the only other country accounting for a double-digit percentage of global production.
| Country | Coffee Production (60kg bags) | Share of Global Coffee Production |
| --- | --- | --- |
| Brazil | 64,875,000 | 37.5% |
| Vietnam | 30,024,000 | 17.4% |
| Colombia | 13,858,000 | 8.0% |
| Indonesia | 9,618,000 | 5.6% |
| Ethiopia | 7,541,000 | 4.4% |
| Honduras | 7,328,000 | 4.2% |
| India | 6,002,000 | 3.5% |
| Uganda | 4,704,000 | 2.7% |
| Peru | 4,263,000 | 2.5% |
| Other | 24,629,000 | 14.2% |
How much money do growers make on green coffee beans? With prices constantly fluctuating each year, they can range from below $0.50/lb in 2001 to above $2.10/lb in 2011.
But if you're looking for the money in coffee, you won't find it at the source. Fairtrade estimates that 125 million people worldwide depend on coffee for their livelihoods, but many of them are unable to earn a reliable living from it.
Instead, one of the biggest profit margins is made by the companies exporting the coffee. In 2018 the ICO Composite price (which tracks both Arabica and Robusta coffee prices) averaged $1.09/lb, while the SCA lists exporters as charging a price of $3.24/lb for green coffee.
Roasting Economics
Roasters might be charged $3.24/lb for green coffee beans from exporters, but that's far from the final price they pay.
First, beans have to be imported, adding shipping and importer fees that add $0.31/lb. Once the actual roasting begins, the cost of labor and certification and the inevitable losses along the way add an additional $1.86/lb before general business expenses.
By the end of it, roasters see a total illustrated cost of $8.73/lb.
| Roaster Economics | ($/lb) |
| --- | --- |
| Sales Price | $9.40 |
| Total Cost | $8.73 |
| Pre-tax Profit | $0.67 |
| Taxes | $0.23 |
| Net Profit | $0.44 |
| Net Profit (%) | 7.1% |
When it comes time for their profit margin, roasters quote a selling price of around $9.40/lb. After taxes, roasters see a net profit of roughly $0.44/lb or 7.1%.
Retail Margins
For consumers purchasing quality, roasted coffee beans directly through distributors, seeing a 1lb bag of roasted whole coffee for $14.99 and higher is standard. Retailers, however, are able to access coffee closer to the stated wholesale prices and add their own costs to the equation.
One pound of roasted coffee beans will translate into about 15 cups of 16 ounce (475 ml) brewed coffee for a store. At a price of $2.80/cup, that translates into a yield of $42.00/lb of coffee.
That doesn't sound half bad until you start to factor in the costs. Material costs include the coffee itself, the cups and lids (often charged separately), the stir sticks and even the condiments. After all, containers of half-and-half and ground cinnamon don't pay for themselves.
Factoring them all together equals a retail material cost of $13.00/lb. That still leaves a healthy gross profit of $29.00/lb, but running a retail store is an expensive business. Add to that the costs of operations, including labor, leasing, marketing, and administrative costs, and the total costs quickly ramp up to $35.47/lb.
In fact, when accounting for additional costs for interest and taxes, the SCA figures give retailers a net profit of $2.90/lb or 6.9%, slightly less than that of roasters.
A Massive Global Industry
Coffee production is a big industry for one reason: coffee consumption is truly a universal affair with 2.3 million cups of coffee consumed globally every minute. By total volume sales, coffee is the fourth most-consumed beverage in the world.
That makes the retail side of the market a major factor. Dominated by companies like Nestlé and Jacobs Douwe Egberts, global retail coffee sales in 2017 reached $83 billion, with an average yearly expenditure of $11 per capita globally.
Of course, some countries are bigger coffee drinkers than others. The largest global consumers by tonnage are the U.S. and Brazil (despite also being the largest producer and exporter), but per capita consumption is significantly higher in European countries like Norway and Switzerland.
The next time you sip your coffee, consider the multilayered and vast global supply chain that makes it all possible.