How to Make Quality Cannabis, and the Role of Organic Farming
How to Make Quality Cannabis, and the Role of Organic Farming
The cannabis industry is picking up speed across the continent.
Canada has now become the first G7 country to legalize recreational cannabis nationwide – and across the border, more U.S. states are also entering what could become a $95 billion market by 2026.
As the industry matures, product quality will become a strong differentiator between those competing for market share. But what makes for a top-notch cannabis product, and does organic farming play a role in this?
How Quality Cannabis is Made
Today's infographic from The Green Organic Dutchman explains what goes into making a high quality cannabis product, and why the industry could be gearing towards embracing organic farming.
The first major factor that affects quality is where it is grown.
For most of its 6,000-year history, cannabis was predominantly grown outdoors. In a more modern setting, however, indoor cultivation has increased in popularity.
Here are the pros and cons of both environments:
Indoor

Outdoor

Benefits

A precisely controlled environment, with year-round cultivation

Full spectrum of sunlight in a natural environment


Less labor needed, with lower operating costs

Drawbacks

Climate control systems are expensive to operate


More labor intensive, producing less yield

Cultivation is climate-dependent

Impact on Quality

Cannabis strains are aesthetically more pleasing, with higher average THC percentages

Higher yields of cannabis are produced, with superior flavor and potency
Interestingly, many modern cannabis producers do not rely on soil as a growing medium anymore. Instead, they use the latest technology to improve upon traditional methods:
Aeroponics: Plant roots are sprayed directly with a nutrient-rich mist
Hydroponics: Plant roots are submerged in a nutrient solution
Micro-propagation: Plant samples are multiplied in agar gel
While growing cannabis using innovative methods can result in healthy and high-yield products, this also increases operational and labor costs. At the same time, it's clear that the way cannabis is grown significantly affects the final product and its environmental footprint.
The Issue with Modern Cannabis
Even with all of these other innovations that help in achieving a superior product, many cannabis growers use "super chemicals" or pesticides to achieve rapid growth for their plants. The catch? Cannabis plants are effective at leaching toxins from soil, which means they can easily wind up in the final product.
What's more, commonly used pesticides such as pyrethins can be safe for consumption in trace amounts. But when cannabis is smoked, the heat can make these chemicals much more toxic for humans.
There's also mother nature to consider. In modern farming, leftover byproducts often run off into the groundwater, polluting nearby bodies of water.
Growing cannabis organically in living soil avoids all the above problems.
No pesticides, herbicides, or fertilizers are present in the environment
Cannabis plant and soil microbiology have a symbiotic relationship
Maintains an ecological balance among the plant and its surroundings
The result of this all-natural process? A safe and premium consumer cannabis product.
As the cannabis green rush progresses, we will dive further into the push towards organic products in the agri-food industry, and what this means for the rapidly-maturing cannabis space.
Ranked: World's Biggest Wine Producers by Country
We break down the major wine producers of the world by country and how much they contribute to world wine supply.

Creator Program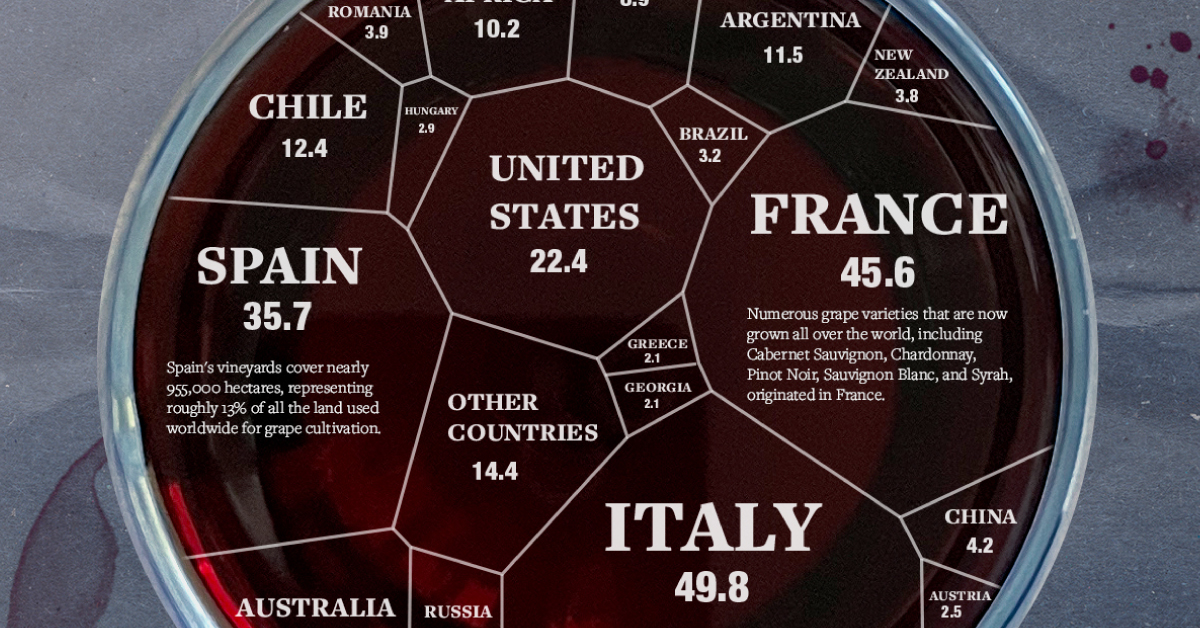 Ranked: World's Biggest Wine Producers By Country
"Wine gives a man fresh strength when he is wearied"—Homer, The Iliad
Wine has been in our cups, in our thoughts, and in our poems for many a millennia, from the antics of Dionysus, the Greek god of wine, to its symbolism in the Last Supper. But breaking down the biggest wine producers by country in the modern era leads to some interesting surprises.
This infographic by Alberto Rojo Moro uses data from the International Organization of Vine and Wine (OIV) to visualize where wine production is concentrated in the world.
We take a quick look below.
The Top Wine Producers By Country in 2022
At the top of the list, Italy produced nearly 50 million hectoliters—or about 1,994 Olympic-sized swimming pools—of wine in 2022, accounting for nearly one-fifth of total production in the year. Less than half of that wine was sent to overseas markets, also making Italy the biggest exporter of the beverage by volume.
ℹ️ One hectoliter is equal to 100 liters and is used as a unit of measure for wine, beer, and other agricultural produce.
The country's long coastline results in a moderate climate, allowing winemaking to occur in 20 different regions in Italy, with Veneto, Apulia, Emilia-Romagna, and Sicily leading in production.
Other known wine connoisseur countries—France (45.6 hectoliters) and Spain (35.8 million hectoliters)—rank second and third in wine production respectively. Together these three countries make up half of the world's wine supply.
Here's a full list of the world's biggest wine producers by country.
Rank
Country
Continent
Quantity
(1,000 hl)
% of Total
Production
1
🇮🇹 Italy
Europe
49,843
19.30%
2
🇫🇷 France
Europe
45,590
17.65%
3
🇪🇸 Spain
Europe
35,703
13.82%
4
🇺🇸 U.S.
America
22,385
8.67%
5
🇦🇺 Australia
Oceania
12,745
4.93%
6
🇨🇱 Chile
America
12,444
4.82%
7
🇦🇷 Argentina
America
11,451
4.43%
8
🇿🇦 South Africa
Africa
10,155
3.93%
9
🇩🇪 Germany
Europe
8,940
3.46%
10
🇵🇹 Portugal
Europe
6,777
2.62%
11
🇷🇺 Russia
Europe
4,700
1.82%
12
🇨🇳 China
Asia
4,182
1.62%
13
🇳🇿 New Zealand
Oceania
3,830
1.48%
14
🇷🇴 Romania
Europe
3,788
1.47%
15
🇧🇷 Brazil
America
3,200
1.24%
16
🇭🇺 Hungary
Europe
2,900
1.12%
17
🇦🇹 Austria
Europe
2,527
0.98%
18
🇬🇪 Georgia
Europe
2,135
0.83%
19
🇬🇷 Greece
Europe
2,127
0.82%
20
🇲🇩 Moldova
Europe
1,400
0.54%
21
🇨🇭 Switzerland
Europe
992
0.38%
22
🇲🇰 North Macedonia
Europe
936
0.36%
23
🇯🇵 Japan
Asia
830
0.32%
24
🇵🇪 Peru
America
810
0.31%
25
🇺🇾 Uruguay
America
756
0.29%
26
🇧🇬 Bulgaria
Europe
747
0.29%
27
🇨🇦 Canada
America
692
0.27%
28
🇺🇦 Ukraine
Europe
660
0.26%
29
🇹🇷 Türkiye
Asia
622
0.24%
30
🇨🇿 Czech Republic
Europe
586
0.23%
31
🇭🇷 Croatia
Europe
561
0.22%
32
🇸🇮 Slovenia
Europe
546
0.21%
33
🇰🇿 Kazakhstan
Asia
445
0.17%
34
🇮🇱 Israel
Asia
430
0.17%
35
🇲🇦 Morocco
Africa
418
0.16%
36
🇹🇲 Turkmenistan
Asia
400
0.15%
37
🇲🇽 Mexico
America
396
0.15%
38
🇹🇳 Tunisia
Africa
370
0.14%
39
🇧🇾 Belarus
Europe
340
0.13%
40
🇸🇰 Slovakia
Europe
334
0.13%
41
🇦🇱 Albania
Europe
228
0.09%
42
🇺🇿 Uzbekistan
Asia
216
0.08%
43
🇩🇿 Algeria
Africa
193
0.07%
44
🇮🇳 India
Asia
180
0.07%
45
🇬🇧 UK
Europe
91
0.04%
46
🇱🇺 Luxembourg
Europe
85
0.03%
47
🇨🇾 Cyprus
Europe
79
0.03%
48
🇱🇹 Lithuania
Europe
32
0.01%
49
🇧🇪 Belgium
Europe
30
0.01%
50
🇲🇹 Malta
Europe
13
0.01%
51
🇳🇱 Netherlands
Europe
10
0.00%
52
🇵🇱 Poland
Europe
5
0.00%
53
🇩🇰 Denmark
Europe
1
0.00%
🌎 World
All
258,265
100%
Note: Percentages may not sum to 100% due to rounding.
The U.S., ranked 4th, is the top wine producer from the Americas, beating out other wine-producing countries like Chile (6th) and Argentina (7th).
South Africa, ranked 8th, is one of only four African countries in the dataset as winemaking isn't as widespread on the continent as other regions in the world.
Meanwhile, China (ranked 12th) is the top wine producer from Asia. The region's preference for other distilled spirits helps explain why the next two biggest Asian wine producers, Japan (23rd) and Türkiye (29th) occupy the middle ranks.
Unsurprisingly, European countries account for two-thirds of the world's wine supply, followed by the Americas (20%) and then Oceania (6%).
Climate Concerns for Future Wine Production
Wine production has stayed relatively stable for the last decade but climate change is coming for this industry as well.
According to the New York Times, warmer temperatures are both a blessing and curse for winemakers. Some areas once deemed too inhospitable for grapevines (like England) are starting to show potential for certain varietals and wines. At the same time, in some traditional regions, prolonged warmer weather is leading to overripening, forcing winemakers to limit the grapes' exposure to sunlight.
And the general weather anomalies caused by climate change—floods, droughts, wildfires—all make wine production just a little more difficult than it already is.
Which prompts a question worth pouring a glass of wine over to ponder: which wine producing countries will survive, adapt, languish or thrive in the coming decades?