How to Make Quality Cannabis, and the Role of Organic Farming
How to Make Quality Cannabis, and the Role of Organic Farming
The cannabis industry is picking up speed across the continent.
Canada has now become the first G7 country to legalize recreational cannabis nationwide – and across the border, more U.S. states are also entering what could become a $95 billion market by 2026.
As the industry matures, product quality will become a strong differentiator between those competing for market share. But what makes for a top-notch cannabis product, and does organic farming play a role in this?
How Quality Cannabis is Made
Today's infographic from The Green Organic Dutchman explains what goes into making a high quality cannabis product, and why the industry could be gearing towards embracing organic farming.
The first major factor that affects quality is where it is grown.
For most of its 6,000-year history, cannabis was predominantly grown outdoors. In a more modern setting, however, indoor cultivation has increased in popularity.
Here are the pros and cons of both environments:
Indoor

Outdoor

Benefits

A precisely controlled environment, with year-round cultivation

Full spectrum of sunlight in a natural environment


Less labor needed, with lower operating costs

Drawbacks

Climate control systems are expensive to operate


More labor intensive, producing less yield

Cultivation is climate-dependent

Impact on Quality

Cannabis strains are aesthetically more pleasing, with higher average THC percentages

Higher yields of cannabis are produced, with superior flavor and potency
Interestingly, many modern cannabis producers do not rely on soil as a growing medium anymore. Instead, they use the latest technology to improve upon traditional methods:
Aeroponics: Plant roots are sprayed directly with a nutrient-rich mist
Hydroponics: Plant roots are submerged in a nutrient solution
Micro-propagation: Plant samples are multiplied in agar gel
While growing cannabis using innovative methods can result in healthy and high-yield products, this also increases operational and labor costs. At the same time, it's clear that the way cannabis is grown significantly affects the final product and its environmental footprint.
The Issue with Modern Cannabis
Even with all of these other innovations that help in achieving a superior product, many cannabis growers use "super chemicals" or pesticides to achieve rapid growth for their plants. The catch? Cannabis plants are effective at leaching toxins from soil, which means they can easily wind up in the final product.
What's more, commonly used pesticides such as pyrethins can be safe for consumption in trace amounts. But when cannabis is smoked, the heat can make these chemicals much more toxic for humans.
There's also mother nature to consider. In modern farming, leftover byproducts often run off into the groundwater, polluting nearby bodies of water.
Growing cannabis organically in living soil avoids all the above problems.
No pesticides, herbicides, or fertilizers are present in the environment
Cannabis plant and soil microbiology have a symbiotic relationship
Maintains an ecological balance among the plant and its surroundings
The result of this all-natural process? A safe and premium consumer cannabis product.
As the cannabis green rush progresses, we will dive further into the push towards organic products in the agri-food industry, and what this means for the rapidly-maturing cannabis space.
Animated Map: U.S. Droughts Over the Last 20 Years
The Western U.S. is no stranger to droughts. But this year's is one of the worst yet. Here's a historical look at U.S. droughts since 1999.
Animated Map: U.S. Droughts Over the Last 20 Years
The Western U.S. is experiencing one of the worst recorded droughts in the last 20 years.
Temperatures from California to the Dakotas are currently hovering around 9-12°F above average—but how bad is the situation compared to past years?
This animated map by reddit user /NothingAbnormalHere provides a historical look at droughts in the U.S. since 1999, using data and graphics from the U.S. Drought Monitor (USDM).
What is the U.S. Drought Monitor?
Over the last two decades, the USDM has been tracking, measuring, and comparing droughts across America.
While droughts can be difficult to classify and standardize, there are various factors that can be used to gauge when a region is experiencing drought. These include measurements of snowpack levels, soil moisture, and recent precipitation.
To track these conditions (and make sense of them), the USDM synthesizes data from a plethora of meteorological sources, including the Palmer Drought Severity Index and the Standardized Precipitation Index.
From there, conditions are broken down into categories, ranging from D0 (abnormally dry) to D4 (Exceptional Drought). A map is released each week that shows which states are experiencing drought, and to what degree.
Where Are The Most Drought-Prone Areas?
According to a map created by climatologist Becky Bolinger (which is published on Drought.gov), Arizona and Nevada are the most historically drought-prone states—the two have experienced drought more than 50% of the time tracked by the USDM.
California is high on the list as well, with the state experiencing drought at least 40% of the time.
As the historical data shows, the West is no stranger to droughts. However, this year's drought has become particularly worrisome because of its intensity and breadth.
Right now, more than a quarter of the West is experiencing a D4 level drought—a new record. To help put things into perspective, here's a look at how much overall land area in the West has been in drought, since 2000:
When a region is experiencing a D4 drought, possible impacts include:
Water Scarcity
Lower reservoirs, combined with decreased snowpack lead to water shortages.
Crop losses
Water shortages mean less water for fields, which can lead to acres of fallow (unused) farmland.
Wildfires
Dry conditions and lack of moisture increase the risk of wildfires.
Is This the New Norm?
This record-breaking drought is wreaking havoc across the West. In California, reservoirs have about half as much water as they usually do, and crop failures are happening across Colorado.
The worst part? Some experts believe that this could be the new normal if human-driven climate change continues to increase average temperatures across the globe.
The Uses of Corn: Industries Affected by High Corn Prices
Corn has many uses that make modern life possible. This infographic breaks down U.S. corn usage in 2020.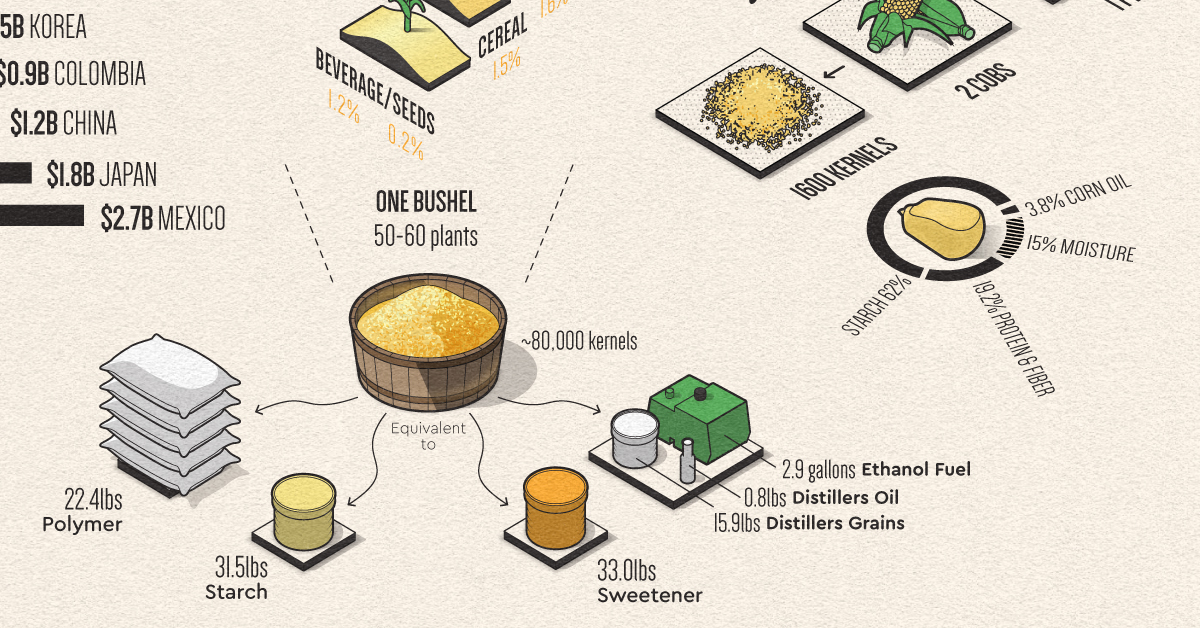 Corn Beyond the Cob
Corn or maize is the second most-produced crop in the world, and it's more than just a staple in our diets.
From the sweetener in our coffees to the ethanol that powers our vehicles, corn has hundreds of uses. Consequently, high corn prices have a domino effect that can affect many supply chains and possibly even increase the cost of our weekly groceries, especially if they include tortilla chips.
This infographic uses data from the National Corn Growers Association to break down U.S. corn use by segment in 2020, and the products that a bushel of corn can produce.
The Uses of Corn in the U.S.
While corn on the cob is quite popular, not all corn is sweet. There are five major types of corn grown around the world, and each one differs in taste and uses. Of these, yellow dent corn or field corn accounts for the majority of commercial U.S. production.
Here's a breakdown of U.S. corn usage in 2020:
| Segment | Bushels Used (millions) | % of Usage (2020) |
| --- | --- | --- |
| Feed | 5,650 | 38.7% |
| Ethanol (Fuel) | 3,875 | 26.6% |
| Exports | 2,550 | 17.5% |
| Ethanol (Animal Feed) | 1,075 | 7.4% |
| Sweeteners | 780 | 5.3% |
| Starch | 230 | 1.6% |
| Cereal/Other | 215 | 1.5% |
| Beverages/Alcohol | 170 | 1.2% |
| Seeds | 30 | 0.2% |
| Total | 14,575 | 100% |
Corn accounts for more than 96% of U.S. feed grain use and production. As a result, animal feed makes up nearly 40% of the country's corn usage. This is because corn is a rich source of carbohydrates, and in combination with protein from soybeans, it can make for an effective diet for livestock.
In the United States, federal mandates require vehicles to use a blend of gasoline and biofuels like ethanol—94% of which is produced from the starch in corn grain. Therefore, a large portion of U.S. corn goes into ethanol production.
Interestingly, the ethanol distillation process produces a co-product known as dried distillers grain, which serves as low-cost, protein-rich animal feed for livestock. On average, the U.S. ethanol industry produces around 90,000 tons of distillers grains each week.
Animal feed and ethanol production collectively make up around 73% of U.S. corn usage. Other uses of corn include the production of sweeteners, starch, cereal, and alcoholic beverages like whiskey.
Breaking Down U.S. Corn Exports
The U.S. is the world's largest producer and exporter of corn and accounted for roughly 36% of exports in 2020.
Up until 2019, the majority of U.S. corn exports went to Mexico, Japan, and Colombia. China wasn't among the top 10 destinations, but this changed in 2020.
Between January 2020 and 2021, U.S. corn exports to China increased exponentially, reaching an all-time high in December. China's massive import appetite is because of a shortage of domestic supplies amid rising demand for feed from its recovering hog-herd, which was hit by the African swine fever in 2018.
Consequently, China became the third-largest importer of U.S. corn in 2020 after Mexico and Brazil. What's more, the U.S. Department of Agriculture projects that China's corn imports in 2021 will be much higher than 2020 levels, and the majority of those will be sourced from the United States.
The Corn Price Boom
In addition to a drought-induced yield cut in Brazil, rising demand from China has driven corn prices to their highest level in the last eight years.
Since the beginning of 2020, corn prices have increased 68% and stand at around $6.50 per bushel as of May 19th.
The rise in corn prices is likely to affect several industries and could translate into higher prices for our groceries, including cereals, taco shells, and corn syrups. Additionally, it could also push up the price of gas due to its key role in ethanol production.
Corn, in a Bushel
In a world where commodities like corn are often taken for granted, it's important to think about how valuable it can be.
A single bushel of corn can provide 33 lbs of sweetener, 31.5 lbs of starch, or 22.4 lbs of polymers. It's also enough to produce around 3 gallons of ethanol fuel and 16 lbs of distillers dried grains for animal feed.
The uses of corn go far beyond the cob, and just like other raw materials, it supports many industries that make modern life possible.