The Future of Battery Technology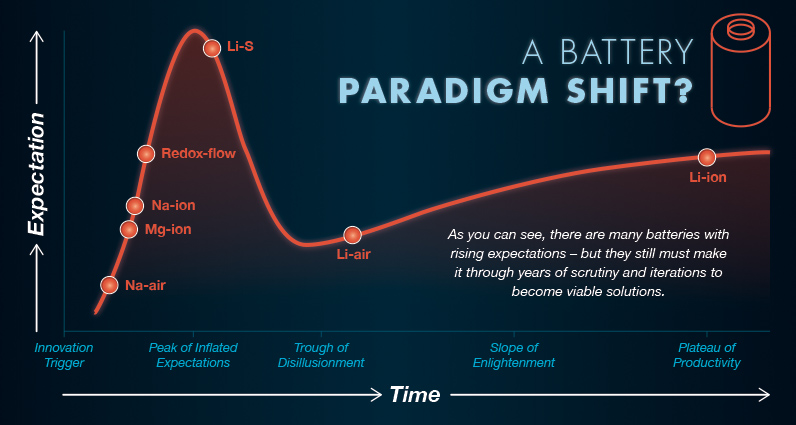 The Battery Series
Part 5: The Future of Battery Technology
The Battery Series is a five-part infographic series that explores what investors need to know about modern battery technology, including raw material supply, demand, and future applications.
Presented by: Nevada Energy Metals, eCobalt Solutions Inc., and Great Lakes Graphite
The Future of Battery Technology
This is the last installment of the Battery Series. For a recap of what has been covered so far, see the evolution of battery technology, the energy problem in context, the reasons behind the surge in lithium-ion demand, and the critical materials needed to make lithium-ion batteries.
There's no doubt that the lithium-ion battery has been an important catalyst for the green revolution, but there is still much work to be done for a full switch to renewable energy.
The battery technology of the future could:
Make electric cars a no-brainer choice for any driver.
Make grid-scale energy storage solutions cheap and efficient.
Make a full switch to renewable energy more feasible.
Right now, scientists see many upcoming battery innovations that have the promise to do this. However, the road to commercialization is long, arduous, and filled with many unexpected obstacles.
The Near-Term: Improving the Li-Ion
For the foreseeable future, the improvement of battery technology relies on modifications being made to already-existing lithium-ion technology. In fact, experts estimate that lithium-ions will continue to increase capacity by 6-7% annually for a number of years.
Here's what's driving those advances:
Efficient Manufacturing
Tesla has already made significant advances in battery design and production through its Gigafactory:
Better engineering and manufacturing processes.
Wider and longer cell design allows more materials packaged into each cell.
New battery cooling system allows to fit more cells into battery pack.
Better Cathodes
Most of the recent advances in lithium-ion energy density have come from manipulating the relative quantities of cobalt, aluminum, manganese, and nickel in the cathodes. By 2020, 75% of batteries are expected to contain cobalt in some capacity.
For scientists, its about finding the materials and crystal structures that can store the maximum amount of ions. The next generation of cathodes may be born from lithium-rich layered oxide materials (LLOs) or similar approaches, such as the nickel-rich variety.
Better Anodes
While most lithium-ion progress to date has come from cathode tinkering, the biggest advances might happen in the anode.
Current graphite anodes can only store one lithium atom for every six carbon atoms – but silicon anodes could store 4.4 lithium atoms for every one silicon atom. That's a theoretical 10x increase in capacity!
However, the problem with this is well-documented. When silicon houses these lithium ions, it ends up bloating in size up to 400%. This volume change can cause irreversible damage to the anode, making the battery unusable.
To get around this, scientists are looking at a few different solutions.
1. Encasing silicon in a graphene "cage" to prevent cracking after expansion.
2. Using silicon nanowires, which can better handle the volume change.
3. Adding silicon in tiny amounts using existing manufacturing processes – Tesla is rumored to already be doing this.
Solid-State Lithium-Ion
Lastly, a final improvement that is being worked on for the lithium-ion battery is to use a solid-state setup, rather than having liquid electrolytes enabling the ion transfer. This design could increase energy density in the future, but it still has some problems to resolve first, such as ions moving too slowing through the solid electrolyte.
The Long-Term: Beyond the Lithium-ion
Here are some new innovations in the pipeline that could help enable the future of battery technology:
Lithium-Air
Anode: Lithium
Cathode: Porous carbon (Oxygen)
Promise: 10x greater energy density than Li-ion
Problems: Air is not pure enough and would need to be filtered. Lithium and oxygen form peroxide films that produce a barrier, ultimately killing storage capacity. Cycle life is only 50 cycles in lab tests.
Variations: Scientists also trying aluminum-air and sodium-air batteries as well.
Lithium-Sulphur
Anode: Lithium
Cathode: Sulphur, Carbon
Promise: Lighter, cheaper, and more powerful than li-ion
Problems: Volume expansion of up to 80%, causing mechanical stress. Unwanted reactions with electrolytes. Poor conductivity and poor stability at higher temperatures.
Variations: Many different variations exist, including using graphite/graphene, and silicon in the chemistry.
Vanadium Flow Batteries
Catholyte: Vanadium
Anolyte: Vanadium
Promise: Using vanadium ions in different oxidation states to store chemical potential energy at scale. Can be expanded simply by using larger electrolyte tanks.
Problems: Poor energy-to-volume ratio. Very heavy; must be used in stationary applications.
Variations: Scientists are experimenting with other flow battery chemistries as well, such as zinc-bromine.
Battery Series: Conclusion
While the future of battery technology is very exciting, for the near and medium terms, scientists are mainly focused on improving the already-commercialized lithium-ion.
What does the battery market look like 15 to 20 years from now? It's ultimately hard to say. However, it's likely that some of these new technologies above will help in leading the charge to a 100% renewable future.
Thanks for taking a look at The Battery Series.
A Global Breakdown of Greenhouse Gas Emissions by Sector
World emissions have reached almost 50 billion tonnes of greenhouse gases (GHGs) and counting. Which major sectors do they originate from?
A Global Breakdown of Greenhouse Gas Emissions by Sector
In a few decades, greenhouse gases (GHGs)—chiefly in the form of CO₂ emissions—have risen at unprecedented rates as a result of global growth and resource consumption.
To uncover the major sectors where these emissions originate, this graphic from Our World in Data pulls the latest data from 2016 courtesy of Climate Watch and the World Resources Institute, when total emissions reached 49.4 billion tonnes of CO₂ equivalents (CO₂e).
Sources of GHG Emissions
Global GHG emissions can be roughly traced back to four broad categories: energy, agriculture, industry, and waste. Overwhelmingly, almost three-quarters of GHG emissions come from our energy consumption.
| Sector | Global GHG Emissions Share |
| --- | --- |
| Energy Use | 73.2% |
| Agriculture, Forestry & Land Use | 18.4% |
| Industrial processes | 5.2% |
| Waste | 3.2% |
Within each category, there are even more granular breakdowns to consider. We'll take a closer look at the top two, which collectively account for over 91% of global GHG emissions.
Energy Use
Within this broad category, we can further break things down into sub-categories like transport, buildings, and industry-related energy consumption, to name a few.
Sub-sector
GHG Emissions Share
Further breakdown
Transport
16.2%
• Road 11.9%
• Aviation 1.9%
• Rail 0.4%
• Pipeline 0.3%
• Ship 1.7%
Buildings
17.5%
• Residential 10.9%
• Commercial 6.6%
Industry energy
24.2%
• Iron & Steel 7.2%
• Non-ferrous metals 0.7%
• Machinery 0.5%
• Food and tobacco 1.0%
• Paper, pulp & printing 0.6%
• Chemical & petrochemical (energy) 3.6%
• Other industry 10.6%
Agriculture & Fishing energy
1.7%
-
Unallocated fuel combustion
7.8%
-
Fugitive emissions from energy production
5.8%
• Coal 1.9%
• Oil & Natural Gas 3.9%
Total
73.2%
Billions of people rely on petrol and diesel-powered vehicles to get around. As a result, they contribute to almost 12% of global emissions.
But this challenge is also an opportunity: the consumer adoption of electric vehicles (EVs) could significantly help shift the world away from fossil fuel use, both for passenger travel and for freight—although there are still speedbumps to overcome.
Meanwhile, buildings contribute 17.5% of energy-related emissions overall—which makes sense when you realize the stunning fact that cities use 60-80% of the world's annual energy needs. With megacities (home to 10+ million people) ballooning every day to house the growing urban population, these shares may rise even further.
Agriculture, Forestry & Land Use
The second biggest category of emissions is the sector that we rely on daily for the food we eat.
Perhaps unsurprisingly, methane from cows and other livestock contribute the most to emissions, at 5.8% total. These foods also have some of the highest carbon footprints, from farm to table.
| Sub-sector | GHG Emissions Share |
| --- | --- |
| Livestock & Manure | 5.8% |
| Agricultural Soils | 4.1% |
| Crop Burning | 3.5% |
| Forest Land | 2.2% |
| Cropland | 1.4% |
| Rice Cultivation | 1.3% |
| Grassland | 0.1% |
| Total | 18.4% |
Another important consideration is just how much land our overall farming requirements take up. When significant areas of forest are cleared for grazing and cropland, there's a clear link between our land use and rising global emissions.
Although many of these energy systems are still status quo, the global energy mix is ripe for change. As the data shows, the potential points of disruption have become increasingly clear as the world moves towards a green energy revolution.
For a different view on global emissions data, see which countries generate the most CO₂ emissions per capita.

Mainstream EV Adoption: 5 Speedbumps to Overcome
The pace of mainstream EV adoption has been slow, but is expected to accelerate as automakers overcome these five critical challenges.
Mainstream EV Adoption: 5 Speedbumps to Overcome
Many would agree that a global shift to electric vehicles (EV) is an important step in achieving a carbon-free future. However, for various reasons, EVs have so far struggled to break into the mainstream, accounting for just 2.5% of global auto sales in 2019.
To understand why, this infographic from Castrol identifies the five critical challenges that EVs will need to overcome. All findings are based on a 2020 survey of 10,000 consumers, fleet managers, and industry specialists across eight significant EV markets.
The Five Challenges to EV Adoption
Cars have relied on the internal combustion engine (ICE) since the early 1900s, and as a result, the ownership experience of an EV can be much more nuanced. This results in the five critical challenges we examine below.
Challenge #1: Price
The top challenge is price, with 63% of consumers believing that EVs are beyond their current budget. Though many cheaper EV models are being introduced, ICE vehicles still have the upper hand in terms of initial affordability. Note the emphasis on "initial", because over the long term, EVs may actually be cheaper to maintain.
Taking into account all of the running and maintenance costs of [an EV], we have already reached relative cost parity in terms of ownership.
—President, EV consultancy, U.S.
For starters, an EV drivetrain has significantly fewer moving parts than an ICE equivalent, which could result in lower repair costs. Government subsidies and the cost of electricity are other aspects to consider.
So what is the tipping price that would convince most consumers to buy an EV? According to Castrol, it differs around the world.
| Country | EV Adoption Tipping Price ($) |
| --- | --- |
| 🇯🇵 Japan | $42,864 |
| 🇨🇳 China  | $41,910 |
| 🇩🇪 Germany | $38,023 |
| 🇳🇴 Norway | $36,737 |
| 🇺🇸 U.S. | $35,765 |
| 🇫🇷 France | $31,820 |
| 🇮🇳 India | $30,572 |
| 🇬🇧 UK | $29,883 |
| Global Average | $35,947 |
Many budget-conscious buyers also rely on the used market, in which EVs have little presence. The rapid speed of innovation is another concern, with 57% of survey respondents citing possible depreciation as a factor that prevented them from buying an EV.
Challenge #2: Charge Time
Most ICE vehicles can be refueled in a matter of minutes, but there is much more uncertainty when it comes to charging an EV.
Using a standard home charger, it takes 10-20 hours to charge a typical EV to 80%. Even with an upgraded fast charger (3-22kW power), this could still take up to 4 hours. The good news? Next-gen charging systems capable of fully charging an EV in 20 minutes are slowly becoming available around the world.
Similar to the EV adoption tipping price, Castrol has also identified a charge time tipping point—the charge time required for mainstream EV adoption.
| Country | Charge Time Tipping Point (minutes) |
| --- | --- |
| 🇮🇳 India | 35 |
| 🇨🇳 China | 34 |
| 🇺🇸 U.S. | 30 |
| 🇬🇧 UK | 30 |
| 🇳🇴 Norway | 29 |
| 🇩🇪 Germany | 29 |
| 🇯🇵 Japan | 29 |
| 🇫🇷 France | 27 |
| Global Average | 31 |
If the industry can achieve an average 31 minute charge time, EVs could reach $224 billion in annual revenues across these eight markets alone.
Challenge #3: Range
Over 70% of consumers rank the total range of an EV as being important to them. However, today's affordable EV models (below the average tipping price of $35,947) all have ranges that fall under 200 miles.
Traditional gas-powered vehicles, on the other hand, typically have a range between 310-620 miles. While Tesla offers several models boasting a 300+ mile range, their purchase prices are well above the average tipping price.
For the majority of consumers to consider an EV, the following range requirements will need to be met by vehicle manufacturers.
| Country | Range Tipping Point (miles) |
| --- | --- |
| 🇺🇸 U.S. | 321 |
| 🇳🇴 Norway | 315 |
| 🇨🇳 China | 300 |
| 🇩🇪 Germany | 293 |
| 🇫🇷 France | 289 |
| 🇯🇵 Japan | 283 |
| 🇬🇧 UK | 283 |
| 🇮🇳 India | 249 |
| Global Average | 291 |
Fleet managers, those who oversee vehicles for services such as deliveries, reported a higher average EV tipping range of 341 miles.
Challenge #4: Charging Infrastructure
Charging infrastructure is the fourth most critical challenge, with 64% of consumers saying they would consider an EV if charging was convenient.
Similar to charge times, there is much uncertainty surrounding infrastructure. For example, 65% of consumers living in urban areas have a charging point within 5 miles of their home, compared to just 26% for those in rural areas.
Significant investment in public charging infrastructure will be necessary to avoid bottlenecks as more people adopt EVs. China is a leader in this regard, with billions spent on EV infrastructure projects. The result is a network of over one million charging stations, providing 82% of Chinese consumers with convenient access.
Challenge #5: Vehicle Choice
The least important challenge is increasing the variety of EV models available. This issue is unlikely to persist for long, as industry experts believe 488 unique models will exist by 2025.
Despite variety being less influential than charge times or range, designing models that appeal to various consumer niches will likely help to accelerate EV adoption. Market research will be required, however, because attitudes towards EVs vary by country.
| Country | Consumers Who Believe EVs Are More Fashionable Than ICE Vehicles (%) |
| --- | --- |
| 🇮🇳 India | 70% |
| 🇨🇳 China | 68% |
| 🇫🇷 France | 46% |
| 🇩🇪 Germany | 40% |
| 🇺🇸 UK | 40% |
| 🇯🇵 Japan | 39% |
| 🇺🇸 U.S. | 33% |
| 🇳🇴 Norway  | 31% |
| Global Average | 48% |
A majority of Chinese and Indian consumers view EVs more favorably than traditional ICE vehicles. This could be the result of a lower familiarity with cars in general—in 2000, for example, China had just four million cars spread across its population of over one billion.
EVs are the least alluring in the U.S. and Norway, which coincidentally have the highest GDP per capita among the eight countries surveyed. These consumers may be accustomed to a higher standard of quality as a result of their greater relative wealth.
So When Do EVs Become Mainstream?
As prices fall and capabilities improve, Castrol predicts a majority of consumers will consider buying an EV by 2024. Global mainstream adoption could take slightly longer, arriving in 2030.
Caution should be exhibited, as these estimates rely on the five critical challenges being solved in the short-term future. This hinges on a number of factors, including technological change, infrastructure investment, and a shift in consumer attitudes.
New challenges could also arise further down the road. EVs require a significant amount of minerals such as copper and lithium, and a global increase in production could put strain on the planet's limited supply.