Ranked: The Autonomous Vehicle Readiness of 20 Countries
For the past decade, manufacturers and governments all over the world have been preparing for the adoption of self-driving cars—with the promise of transformative economic development.
As autonomous vehicles become more of a looming certainty, what will be the wider impacts of this monumental transition?
Which Countries are Ready?
Today's interactive visual from Aquinov Mathappan ranks countries on their preparedness to adopt self-driving cars, while also exploring the range of challenges they will face in achieving complete automation.
The Five Levels of Automation
The graphic above uses the Autonomous Vehicles Readiness Index, which details the five levels of automation. Level 0 vehicles place the responsibility for all menial tasks with the driver, including steering, braking, and acceleration. In contrast, level 5 vehicles demand nothing of the driver and can operate entirely without their presence.
Today, most cars sit between levels 1 and 3, typically with few or limited automated functions. There are some exceptions to the rule, such as certain Tesla models and Google's Waymo. Both feature a full range of self-driving capabilities—enabling the car to steer, accelerate and brake on behalf of the driver.
The Journey to Personal Driving Freedom
There are three main challenges that come with achieving a fully-automated level 5 status:
Data Storage
Effectively storing data and translating it into actionable insights is difficult when 4TB of raw data is generated every day—the equivalent of the data generated by 3,000 internet users in 24 hours.
Data Transportation
Autonomous vehicles need to communicate with each other and transport data with the use of consistently high-speed internet, highlighting the need for large-scale adoption of 5G.
Verifying Deep Neural Networks
The safety of these vehicles will be dictated by their ability to distinguish between a vehicle and a person, but they currently rely on algorithms which are not yet fully understood.
Which Countries are Leading the Charge?
The 20 countries were selected for the report based on economic size, and their automation progress was ranked using four key metrics: technology and innovation, infrastructure, policy and legislation, and consumer acceptance.
The United States leads the way on technology and innovation, with 163 company headquarters, and more than 50% of cities currently preparing their streets for self-driving vehicles. The Netherlands and Singapore rank in the top three for infrastructure, legislation, and consumer acceptance. Singapore is currently testing a fleet of autonomous buses created by Volvo, which will join the existing public transit fleet in 2022.
India, Mexico, and Russia lag behind on all fronts—despite enthusiasm for self-driving cars, these countries require legislative changes and improvements in the existing quality of roads. Mexico also lacks industrial activity and clear regulations around autonomous vehicles, but close proximity to the U.S. has already garnered interest from companies like Intel for manufacturing autonomous vehicles south of the border.
How Autonomous Vehicles Impact the Economy
Once successfully adopted, autonomous vehicles will save the U.S. economy $1.3 trillion per year, which will come from a variety of sources including:
$563 billion: Reduction in accidents
$422 billion: Productivity gains
$158 billion: Decline in fuel costs
$138 billion: Fuel savings from congestion avoidance
$11 billion: Improved traffic flow and reduction of energy use

With the adoption of autonomous vehicles projected to reduce private car ownership in the U.S. to 43% by 2030, it's disrupting many other industries in the process.

Insurance
Transportation will be safer, potentially reducing the number of accidents over time. Insurance companies are already rolling out usage-based insurance policies (UBIs), which charge customers based on how many miles they drive and how safe their driving habits are.
Travel
Long distance traveling in autonomous vehicles provides a painless alternative to train and air travel. The vehicles are designed for comfort, making it possible to sleep overnight easily—which could also impact the hotel industry significantly.
Real Estate
An increase in effortless travel could lead to increased urban sprawl, as people prioritize the convenience of proximity to city centers less and less.

Defining the parameters for this emerging industry will present significant and unpredictable challenges. Once the initial barriers are eliminated and the technology matures, the world could see a new renaissance of mobility, and the disruption of dozens of other industries as a result.
Visualizing the Range of Electric Cars vs. Gas-Powered Cars
With range anxiety being a barrier to EV adoption, how far can an electric car go on one charge, and how do EV ranges compare with gas cars?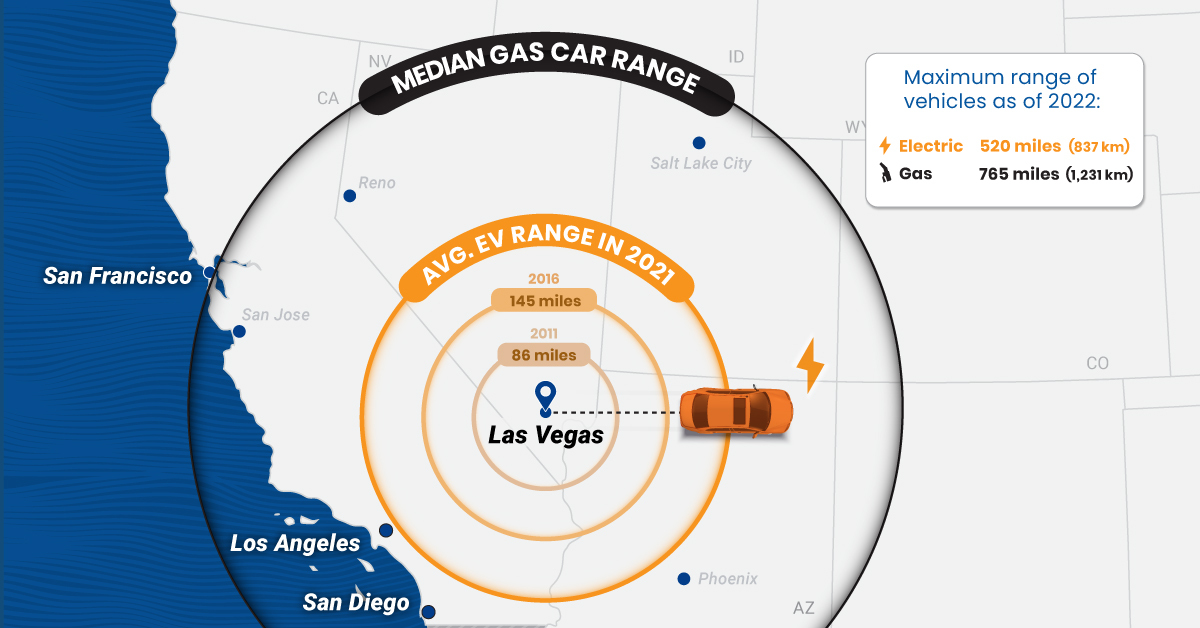 The Range of Electric Cars vs. Gas-Powered Cars
This was originally posted on Elements. Sign up to the free mailing list to get beautiful visualizations on natural resource megatrends in your email every week.
EV adoption has grown rapidly in recent years, but many prospective buyers still have doubts about electric car ranges.
In fact, 33% of new car buyers chose range anxiety—the concern about how far an EV can drive on a full charge—as their top inhibitor to purchasing electric cars in a survey conducted by EY.
So, how far can the average electric car go on one charge, and how does that compare with the typical range of gas-powered cars?
The Rise in EV Ranges
Thanks to improvements in battery technology, the average range of electric cars has more than doubled over the last decade, according to data from the International Energy Agency (IEA).
| Year | Avg. EV Range | Maximum EV Range |
| --- | --- | --- |
| 2010 | 79 miles (127 km) | N/A |
| 2011 | 86 miles (138 km) | 94 miles (151 km) |
| 2012 | 99 miles (159 km) | 265 miles (426 km) |
| 2013 | 117 miles (188 km) | 265 miles (426 km) |
| 2014 | 130 miles (209 km) | 265 miles (426 km) |
| 2015 | 131 miles (211 km) | 270 miles (435 km) |
| 2016 | 145 miles (233 km) | 315 miles (507 km) |
| 2017 | 151 miles (243 km) | 335 miles (539 km) |
| 2018 | 189 miles (304 km) | 335 miles (539 km) |
| 2019 | 209 miles (336 km) | 370 miles (595 km) |
| 2020 | 210 miles (338 km) | 402 miles (647 km) |
| 2021 | 217 miles (349 km) | 520 miles* (837 km) |
*Max range for EVs offered in the United States.
Source: IEA, U.S. DOE
As of 2021, the average battery-powered EV could travel 217 miles (349 km) on a single charge. It represents a 44% increase from 151 miles (243 km) in 2017 and a 152% increase relative to a decade ago.
Despite the steady growth, EVs still fall short when compared to gas-powered cars. For example, in 2021, the median gas car range (on one full tank) in the U.S. was around 413 miles (664 km)—nearly double what the average EV would cover.
As automakers roll out new models, electric car ranges are likely to continue increasing and could soon match those of their gas-powered counterparts. It's important to note that EV ranges can change depending on external conditions.
What Affects EV Ranges?
In theory, EV ranges depend on battery capacity and motor efficiency, but real-world results can vary based on several factors:
Weather: At temperatures below 20℉ (-6.7℃), EVs can lose around 12% of their range, rising to 41% if heating is turned on inside the vehicle.
Operating Conditions: Thanks to regenerative braking, EVs may extend their maximum range during city driving.
Speed: When driving at high speeds, EV motors spin faster at a less efficient rate. This may result in range loss.
On the contrary, when driven at optimal temperatures of about 70℉ (21.5℃), EVs can exceed their rated range, according to an analysis by Geotab.
The 10 Longest-Range Electric Cars in America
Here are the 10 longest-range electric cars available in the U.S. as of 2022, based on Environmental Protection Agency (EPA) range estimates:
| Car | Range On One Full Charge | Estimated Base Price |
| --- | --- | --- |
| Lucid Air | 520 miles (837 km) | $170,500 |
| Tesla Model S | 405 miles (652 km) | $106,190 |
| Tesla Model 3 | 358 miles (576 km) | $59,440 |
| Mercedes EQS | 350 miles (563 km) | $103,360 |
| Tesla Model X | 348 miles (560 km) | $122,440 |
| Tesla Model Y | 330 miles (531 km) | $67,440 |
| Hummer EV | 329 miles (529 km) | $110,295 |
| BMW iX | 324 miles (521 km) | $84,195 |
| Ford F-150 Lightning | 320 miles (515 km) | $74,169 |
| Rivian R1S | 316 miles (509 km) | $70,000 |
Source: Car and Driver
The top-spec Lucid Air offers the highest range of any EV with a price tag of $170,500, followed by the Tesla Model S. But the Tesla Model 3 offers the most bang for your buck if range and price are the only two factors in consideration.
Brand Loyalty is Declining for Most Luxury Automakers
Brand loyalty has declined for most luxury automakers, but three brands—Tesla, Maserati, and Genesis—appear to have bucked the trend.
Brand Loyalty is Declining for Most Luxury Automakers
New research conducted by S&P Global Mobility has found that brand loyalty—measured as the percentage of buyers that go back to the same brand for their next vehicle—is falling across the luxury segment.
In this infographic, we've visualized the results of this research, which spans from January 2020 to April 2022.
Brand Loyalty Losers
The following brands have all experienced a drop in brand loyalty over the time period.
For additional context, we've also included each brand's score in the J.D. Power 2022 Initial Quality Study. This is measured based on the number of problems experienced per 100 vehicles (PP100) in the first 90 days of ownership.
Brand
Percentage Point Change
in Brand Loyalty
PP100
🇬🇧 Land Rover
-9.2
193
🇩🇪 Porsche
-8.5
200
🇺🇸 Lincoln
-7.9
167
🇩🇪 Audi
-7.3
239
🇩🇪 Mercedes-Benz
-7.0
189
🇮🇹 Alfa Romeo
-6.6
211
🇺🇸 Cadillac
-6.4
163
🇸🇪 Volvo
-5.3
256
🇯🇵 Infiniti
-5.2
204
🇬🇧 Jaguar
-5.1
210
🇯🇵 Lexus
-4.8
157
Luxury average
-4.5
199
🇯🇵 Acura
-2.7
192
🇩🇪 BMW
-2.3
165
Land Rover experienced the biggest drop in loyalty, despite a better than average PP100 rating. One potential reason is timing⁠—the brand's premier model, the Range Rover, has been in its fourth generation since 2012. The SUV has become relatively dated, though a new fifth generation was recently revealed for the 2022 model year.
Two Volkswagen Group brands, Audi and Porsche, also fared poorly in terms of loyalty. This is somewhat surprising, as both brands offer a portfolio of both gasoline and electric models. Many competitors, such as Acura, Lexus, and Maserati, have yet to release an EV.
Brand Loyalty Winners
Three brands have managed to buck the trend, as shown below.
Brand
Percentage Point Change
in Brand Loyalty
PP100
Luxury average
-4.5
199
🇺🇸 Tesla
+4.0
226
🇮🇹 Maserati
+4.3
255
🇰🇷 Genesis
+8.5
156
We can draw parallels between Tesla and Apple, in that both have incredibly loyal followers.
For instance, between March 2021 to April 2022, 62% of buyers/households who returned to market and previously owned a Model 3 purchased a new Tesla. That's an impressive statistic, especially when we consider Tesla's history of build quality issues.
Maserati appears to be in the same boat. The Italian automaker has strengthened its brand loyalty by 4.3 percentage points, despite having the luxury segment's worst PP100. Perhaps build quality matters less than we think.
Another Factor to Consider
Ongoing supply chain issues could also be contributing to wide-spread declines in loyalty. Rather than waiting several months (or in the case of EVs, years), buyers may switch to a different brand that has cars in stock.
We are still monitoring it week to week, but up to now basically worldwide, we had no issues running production.
– Joerg Burzer, Mercedes-Benz
Many automakers have reported that their supply issues are diminishing, though new economic challenges have risen. For example, surging inflation has pushed the price of a new car to record highs. Combined with rising interest rates (cost of borrowing), this could negatively impact the demand for new cars.