The Critical Ingredients Needed to Fuel the Battery Boom
The Battery Series
Part 4: Critical Ingredients Needed to Fuel the Battery Boom
The Battery Series is a five-part infographic series that explores what investors need to know about modern battery technology, including raw material supply, demand, and future applications.
Presented by: Nevada Energy Metals, eCobalt Solutions Inc., and Great Lakes Graphite
The Critical Ingredients Needed to Fuel the Battery Boom
We've already looked at the evolution of battery technology and how lithium-ion technology will dominate battery market share over the coming years. Part 4 of the Battery Series breaks down the raw materials that will be needed for this battery boom.
Batteries are more powerful and reliable than ever, and costs have come down dramatically over years. As a result, the market for electric vehicles is expected to explode to 20 million plug-in EV sales per year by 2030.
To power these vehicles, millions of new battery packs will need to be built. The lithium-ion battery market is expected to grow at a 21.7% rate annually in terms of the actual energy capacity required. It was 15.9 GWh in 2015, but will be a whopping 93.1 GWh by 2024.
Dissecting the Lithium-Ion
While there are many exciting battery technologies out there, we will focus on the innards of lithium-ion batteries as they are expected to make up the vast majority of the total rechargeable battery market for the near future.
Each lithium-ion cell contains three major parts:
1) Anode (natural or synthetic graphite)
2) Electrolyte (lithium salts
3) Cathode (differing formulations)
While the anode and electrolytes are pretty straightforward as far as lithium-ion technology goes, it is the cathode where most developments are being made.
Lithium isn't the only metal that goes into the cathode – other metals like cobalt, manganese, aluminum, and nickel are also used in different formulations. Here's four cathode chemistries, the metal proportions (excluding lithium), and an example of what they are used for:
| Cathode Type | Chemistry | Example Metal Portions | Example Use |
| --- | --- | --- | --- |
| NCA | LiNiCoAlO2 | 80% Nickel, 15% Cobalt, 5% Aluminum | Tesla Model S |
| LCO | LiCoO2 | 100% Cobalt | Apple iPhone |
| LMO | LiMn2O4 | 100% Manganese | Nissan Leaf |
| NMC | LiNiMnCoO2 | Nickel 33.3%, Manganese 33.3%, Cobalt 33.3% | Tesla Powerwall |
| LFP | LiFePO4 | 100% Iron | Starter batteries |
While manganese and aluminum are important for lithium-ion cathodes, they are also cheaper metals with giant markets. This makes them fairly easy to procure for battery manufacturers.
Lithium, graphite, and cobalt, are all much smaller and less-established markets – and each has supply concerns that remain unanswered:
South America: The countries in the "Lithium Triangle" host a whopping 75% of the world's lithium resources: Argentina, Chile, and Bolivia.
China: 65% of flake graphite is mined in China. With poor environmental and labor practices, China's graphite industry has been under particular scrutiny – and some mines have even been shut down.
Indonesia: Price swings of nickel can impact battery makers. In 2014, Indonesia banned exports of nickel, which caused the price to soar nearly 50%.
DRC: 65% of all cobalt production comes from the DRC, a country that is extremely politically unstable with deeply-rooted corruption.
North America: Yet, companies such as Tesla have stated that they want to source 100% of raw materials sustainably and ethically from North America. The problem? Only nickel sees significant supply come from the continent.
Cobalt hasn't been mined in the United States for 40 years, and the country produced zero tonnes of graphite in 2015. There is one lithium operation near the Tesla Gigafactory 1 site but it only produces 1,000 tonnes of lithium hydroxide per year. That's not nearly enough to fuel a battery boom of this size.
To meet its goal of a 100% North American raw materials supply chain, Tesla needs new resources to be discovered and extracted from the U.S., Canada, or Mexico.
Raw Material Demand
While all sorts of supply questions exist for these energy metals, the demand situation is much more straightforward.
Consumers are demanding more batteries, and each battery is made up of raw materials like cobalt, graphite, and lithium.
Cobalt:
Today, about 40% of cobalt is used to make rechargeable batteries. By 2019, it's expected that 55% of total cobalt demand will go to the cause.
In fact, many analysts see an upcoming bull market in cobalt.
Battery demand is rising fast
Production is being cut from the Congo
A supply deficit is starting to emerge
"In many ways, the cobalt industry has the most fragile supply structure of all battery raw materials." – Andrew Miller, Benchmark Mineral Intelligence
Graphite:
There is 54kg of graphite in every battery anode of a Tesla Model S (85kWh).
Benchmark Mineral Intelligence forecasts that the battery anode market for graphite (natural and synthetic) will at least triple in size from 80,000 tonnes in 2015 to at least 250,000 tonnes by the end of 2020.
Lithium:
Goldman Sachs estimates that a Tesla Model S with a 70kWh battery uses 63 kilograms of lithium carbonate equivalent (LCE) – more than the amount of lithium in 10,000 cell phones.
Further, for every 1% increase in battery electric vehicle (BEV) market penetration, there is an increase in lithium demand by around 70,000 tonnes LCE/year.
Lithium prices have recently spiked, but they may begin sliding in 2019 if more supply comes online.
The Future of Battery Tech
Sourcing the raw materials for lithium-ion batteries will be critical for our energy mix.
But, the future is also bright for many other battery technologies that could help in solving our most pressing energy issues.
Part 5 of The Battery Series will look at the newest technologies in the battery sector.
The Top 10 EV Battery Manufacturers in 2022
Despite efforts from the U.S. and Europe to increase the domestic production of batteries, the market is still dominated by Asian suppliers.
The Top 10 EV Battery Manufacturers in 2022
This was originally posted on Elements. Sign up to the free mailing list to get beautiful visualizations on natural resource megatrends in your email every week.
The global electric vehicle (EV) battery market is expected to grow from $17 billion to more than $95 billion between 2019 and 2028.
With increasing demand to decarbonize the transportation sector, companies producing the batteries that power EVs have seen substantial momentum.
Here we update our previous graphic of the top 10 EV battery manufacturers, bringing you the world's biggest battery manufacturers in 2022.
Chinese Dominance
Despite efforts from the United States and Europe to increase the domestic production of batteries, the market is still dominated by Asian suppliers.
The top 10 producers are all Asian companies.
Currently, Chinese companies make up 56% of the EV battery market, followed by Korean companies (26%) and Japanese manufacturers (10%).
The leading battery supplier, CATL, expanded its market share from 32% in 2021 to 34% in 2022. One-third of the world's EV batteries come from the Chinese company. CATL provides lithium-ion batteries to Tesla, Peugeot, Hyundai, Honda, BMW, Toyota, Volkswagen, and Volvo.
| Rank | Company | 2022 Market Share | Country |
| --- | --- | --- | --- |
| #1 | CATL | 34% | China 🇨🇳 |
| #2 | LG Energy Solution | 14% | Korea 🇰🇷 |
| #3 | BYD | 12% | China 🇨🇳 |
| #4 | Panasonic | 10% | Japan 🇯🇵 |
| #5 | SK Innovation | 7% | Korea 🇰🇷 |
| #6 | Samsung SDI | 5% | Korea 🇰🇷 |
| #7 | CALB | 4% | China 🇨🇳 |
| #8 | Guoxuan | 3% | China 🇨🇳 |
| #9 | Sunwoda | 2% | China 🇨🇳 |
| #10 | SVOLT | 1% | China 🇨🇳 |
| | Other | 8% | ROW 🌐 |
Despite facing strict scrutiny after EV battery-fire recalls in the United States, LG Energy Solution remains the second-biggest battery manufacturer. In 2021, the South Korean supplier agreed to reimburse General Motors $1.9 billion to cover the 143,000 Chevy Bolt EVs recalled due to fire risks from faulty batteries.
BYD took the third spot from Panasonic as it nearly doubled its market share over the last year. The Warren Buffett-backed company is the world's third-largest automaker by market cap, but it also produces batteries sold in markets around the world. Recent sales figures point to BYD overtaking LG Energy Solution in market share the coming months or years.
The Age of Battery Power
Electric vehicles are here to stay, while internal combustion engine (ICE) vehicles are set to fade away in the coming decades. Recently, General Motors announced that it aims to stop selling ICE vehicles by 2035, while Audi plans to stop producing such models by 2033.
Besides EVs, battery technology is essential for the energy transition, providing storage capacity for intermittent solar and wind generation.
As battery makers work to supply the EV transition's increasing demand and improve energy density in their products, we can expect more interesting developments within this industry.
Visualizing the Range of Electric Cars vs. Gas-Powered Cars
With range anxiety being a barrier to EV adoption, how far can an electric car go on one charge, and how do EV ranges compare with gas cars?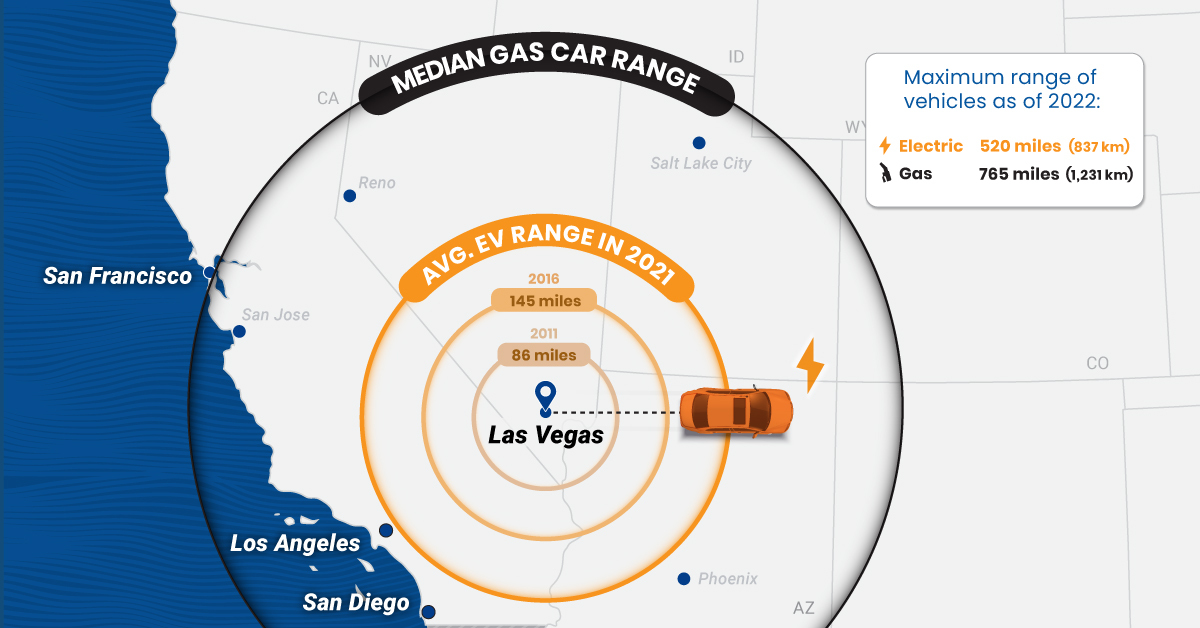 The Range of Electric Cars vs. Gas-Powered Cars
This was originally posted on Elements. Sign up to the free mailing list to get beautiful visualizations on natural resource megatrends in your email every week.
EV adoption has grown rapidly in recent years, but many prospective buyers still have doubts about electric car ranges.
In fact, 33% of new car buyers chose range anxiety—the concern about how far an EV can drive on a full charge—as their top inhibitor to purchasing electric cars in a survey conducted by EY.
So, how far can the average electric car go on one charge, and how does that compare with the typical range of gas-powered cars?
The Rise in EV Ranges
Thanks to improvements in battery technology, the average range of electric cars has more than doubled over the last decade, according to data from the International Energy Agency (IEA).
| Year | Avg. EV Range | Maximum EV Range |
| --- | --- | --- |
| 2010 | 79 miles (127 km) | N/A |
| 2011 | 86 miles (138 km) | 94 miles (151 km) |
| 2012 | 99 miles (159 km) | 265 miles (426 km) |
| 2013 | 117 miles (188 km) | 265 miles (426 km) |
| 2014 | 130 miles (209 km) | 265 miles (426 km) |
| 2015 | 131 miles (211 km) | 270 miles (435 km) |
| 2016 | 145 miles (233 km) | 315 miles (507 km) |
| 2017 | 151 miles (243 km) | 335 miles (539 km) |
| 2018 | 189 miles (304 km) | 335 miles (539 km) |
| 2019 | 209 miles (336 km) | 370 miles (595 km) |
| 2020 | 210 miles (338 km) | 402 miles (647 km) |
| 2021 | 217 miles (349 km) | 520 miles* (837 km) |
*Max range for EVs offered in the United States.
Source: IEA, U.S. DOE
As of 2021, the average battery-powered EV could travel 217 miles (349 km) on a single charge. It represents a 44% increase from 151 miles (243 km) in 2017 and a 152% increase relative to a decade ago.
Despite the steady growth, EVs still fall short when compared to gas-powered cars. For example, in 2021, the median gas car range (on one full tank) in the U.S. was around 413 miles (664 km)—nearly double what the average EV would cover.
As automakers roll out new models, electric car ranges are likely to continue increasing and could soon match those of their gas-powered counterparts. It's important to note that EV ranges can change depending on external conditions.
What Affects EV Ranges?
In theory, EV ranges depend on battery capacity and motor efficiency, but real-world results can vary based on several factors:
Weather: At temperatures below 20℉ (-6.7℃), EVs can lose around 12% of their range, rising to 41% if heating is turned on inside the vehicle.
Operating Conditions: Thanks to regenerative braking, EVs may extend their maximum range during city driving.
Speed: When driving at high speeds, EV motors spin faster at a less efficient rate. This may result in range loss.
On the contrary, when driven at optimal temperatures of about 70℉ (21.5℃), EVs can exceed their rated range, according to an analysis by Geotab.
The 10 Longest-Range Electric Cars in America
Here are the 10 longest-range electric cars available in the U.S. as of 2022, based on Environmental Protection Agency (EPA) range estimates:
| Car | Range On One Full Charge | Estimated Base Price |
| --- | --- | --- |
| Lucid Air | 520 miles (837 km) | $170,500 |
| Tesla Model S | 405 miles (652 km) | $106,190 |
| Tesla Model 3 | 358 miles (576 km) | $59,440 |
| Mercedes EQS | 350 miles (563 km) | $103,360 |
| Tesla Model X | 348 miles (560 km) | $122,440 |
| Tesla Model Y | 330 miles (531 km) | $67,440 |
| Hummer EV | 329 miles (529 km) | $110,295 |
| BMW iX | 324 miles (521 km) | $84,195 |
| Ford F-150 Lightning | 320 miles (515 km) | $74,169 |
| Rivian R1S | 316 miles (509 km) | $70,000 |
Source: Car and Driver
The top-spec Lucid Air offers the highest range of any EV with a price tag of $170,500, followed by the Tesla Model S. But the Tesla Model 3 offers the most bang for your buck if range and price are the only two factors in consideration.