Which U.S. Generation Wields the Most Cultural Power?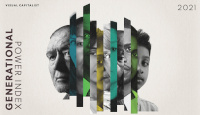 The Generational Power Index
Introducing our new index, which ranks U.S. generations on their economic, political, and cultural influence.
Which U.S. Generation Wields the Most Cultural Power?
This year, our team put together Visual Capitalist's inaugural Generational Power Index (GPI), which looks at power dynamics across generations in America.
We considered three categories in our quest to quantify power: economics, political, and cultural. And while it turns out Baby Boomers dominate when it comes to economics and political factors—cultural influence is a different story.
Here's a look at which U.S. generation holds the most cultural power, and how this power dynamic is expected to shift in the coming years.
Generations and Power, Defined
Before we get started, it's important to clarify which generations we've included in our research, along with their age and birth year ranges.
| Generation | Age range (years) | Birth year range |
| --- | --- | --- |
| The Silent Generation | 76 and over | 1928-1945 |
| Baby Boomers | 57-75 | 1946-1964 |
| Gen X | 41-56 | 1965-1980 |
| Millennials | 25-40 | 1981-1996 |
| Gen Z | 9-24 | 1997-2012 |
| Gen Alpha | 8 and below | 2013-present |
Using these age groups as a framework, we then calculated the Cultural Power category using these distinct equally-weighted variables:
With this methodology in mind, here's how the Cultural Power category shakes out, using insights from the GPI.
Share of Cultural Power by Generation
Overall, we found that Gen X captures the largest share of cultural power, at 36%.
| Generation | Cultural Power Share |
| --- | --- |
| The Silent Generation | 8.8% |
| Baby Boomers | 25.1% |
| Gen X | 36.0% |
| Millennials | 23.9% |
| Gen Z | 6.1% |
| Gen Alpha | 0.00% |
| Total | 99.9% |
*Note: figures may not add up to 100% due to rounding.
Gen X is particularly dominant in the film and TV industry, along with news media. For instance, over half of America's largest news corporations have a Gen Xer as their CEO, and roughly 50% of Oscar winners in 2020 were members of Gen X.
Baby Boomers come in second place, capturing a 25% share of cultural power. They show particular dominance in traditional entertainment like books and art. For example, 42% of the authors on the NYT's best-selling books list were Baby Boomers.
However, these older generations fall short in one critical category—digital platforms.
The Dominance of Digital
Why is digital so important when it comes to cultural power? Because digital media becoming increasingly more popular than traditional media sources (e.g. TV, radio).
In 2020, Americans spent nearly 8 hours per day consuming digital media, nearly two hours more per day than they spent with traditional media.
This divide is expected to grow even further over the next few years. With younger generations dominating the digital space, Gen X may soon lose its place as the top dog of the culture category.
Celebrity 2.0: The Social Influencer
As audiences flock to online channels, advertisers have followed suit—and they're willing to spend good money to gain access to their target demographics.
In fact, spend on influencer marketing has steadily increased in the last five years, and it's expected to reach $13.8 billion by the end of 2021.
This shift to social media advertising is redefining the notion of celebrity, and who reaps the financial benefits of content creation. For instance, six-year-old Vlogger Like Nastya made an estimated $7.7 million per month from her YouTube channel in 2020. And keep in mind, this estimate is purely based on YouTube revenue—it doesn't even include corporate partnerships and/or merchandise sales.
With all these shifts occurring, culture as we know it is at a crossroads. And as we continue to move towards a digital dominant society, those who hold power in traditional realms will either adapt or pass along the torch.
Download the Generational Power Report (.pdf)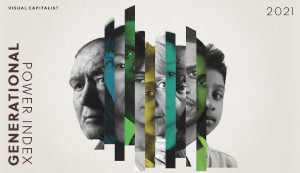 Infographic: Generative AI Explained by AI
What exactly is generative AI and how does it work? This infographic, created using generative AI tools such as Midjourney and ChatGPT, explains it all.
Generative AI Explained by AI
After years of research, it appears that artificial intelligence (AI) is reaching a sort of tipping point, capturing the imaginations of everyone from students saving time on their essay writing to leaders at the world's largest tech companies. Excitement is building around the possibilities that AI tools unlock, but what exactly these tools are capable of and how they work is still not widely understood.
We could write about this in detail, but given how advanced tools like ChatGPT have become, it only seems right to see what generative AI has to say about itself.
Everything in the infographic above – from illustrations and icons to the text descriptions⁠—was created using generative AI tools such as Midjourney. Everything that follows in this article was generated using ChatGPT based on specific prompts.
Without further ado, generative AI as explained by generative AI.
Generative AI: An Introduction
Generative AI refers to a category of artificial intelligence (AI) algorithms that generate new outputs based on the data they have been trained on. Unlike traditional AI systems that are designed to recognize patterns and make predictions, generative AI creates new content in the form of images, text, audio, and more.
Generative AI uses a type of deep learning called generative adversarial networks (GANs) to create new content. A GAN consists of two neural networks: a generator that creates new data and a discriminator that evaluates the data. The generator and discriminator work together, with the generator improving its outputs based on the feedback it receives from the discriminator until it generates content that is indistinguishable from real data.
Generative AI has a wide range of applications, including:
Images: Generative AI can create new images based on existing ones, such as creating a new portrait based on a person's face or a new landscape based on existing scenery
Text: Generative AI can be used to write news articles, poetry, and even scripts. It can also be used to translate text from one language to another
Audio: Generative AI can generate new music tracks, sound effects, and even voice acting
Disrupting Industries
People have concerns that generative AI and automation will lead to job displacement and unemployment, as machines become capable of performing tasks that were previously done by humans. They worry that the increasing use of AI will lead to a shrinking job market, particularly in industries such as manufacturing, customer service, and data entry.
Generative AI has the potential to disrupt several industries, including:
Advertising: Generative AI can create new advertisements based on existing ones, making it easier for companies to reach new audiences
Art and Design: Generative AI can help artists and designers create new works by generating new ideas and concepts
Entertainment: Generative AI can create new video games, movies, and TV shows, making it easier for content creators to reach new audiences
Overall, while there are valid concerns about the impact of AI on the job market, there are also many potential benefits that could positively impact workers and the economy.
In the short term, generative AI tools can have positive impacts on the job market as well. For example, AI can automate repetitive and time-consuming tasks, and help humans make faster and more informed decisions by processing and analyzing large amounts of data. AI tools can free up time for humans to focus on more creative and value-adding work.
How This Article Was Created
This article was created using a language model AI trained by OpenAI. The AI was trained on a large dataset of text and was able to generate a new article based on the prompt given. In simple terms, the AI was fed information about what to write about and then generated the article based on that information.
In conclusion, generative AI is a powerful tool that has the potential to revolutionize several industries. With its ability to create new content based on existing data, generative AI has the potential to change the way we create and consume content in the future.