The World's Top 50 Influencers Across Social Media Platforms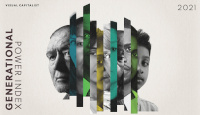 The Generational Power Index
Introducing our new index, which ranks U.S. generations on their economic, political, and cultural influence.
Visualizing the World's Top 50 Influencers
In the modern digital world, social media reach is power.
The people with the most followers on Twitter, for example, have a massive platform to spread their messages, while those with large, engaged followings on Instagram are an advertiser's dream sponsor partner.
Social media can also be an equalizer of power. It's true that many celebrities boast large followings across platforms, but social media has also enabled previously unknown personalities to turn YouTube or TikTok fame into veritable star power and influence.
Who has the biggest reach across the entire social media universe? Instead of looking at who has the most followers on Instagram, Twitter, or other networks, we ranked the most-followed personalities across all major platforms combined.
Who Has the Most Overall Followers on Social Media?
We parsed through hundreds of the most-followed accounts on multiple platforms to narrow down the top influencers across social media as of April 2021.
Sources include trackers of the most followers on Twitter, Instagram, Facebook, YouTube, Twitch, and TikTok, verified directly on site and with social media tracker Socialblade.
The results? A top 50 list of social media influencers consisting of athletes, musicians, politicians, and other personalities.
| Rank | Name | Category | Total Followers | Biggest Platform |
| --- | --- | --- | --- | --- |
| #1 | Cristiano Ronaldo | Sports | 517M | Instagram |
| #2 | Justin Bieber | Music | 455M | Instagram |
| #3 | Ariana Grande | Music | 429M | Instagram |
| #4 | Selena Gomez | Music | 425M | Instagram |
| #5 | Taylor Swift | Music | 361M | Instagram |
| #6 | Dwayne Johnson | Film & TV | 342M | Instagram |
| #7 | Katy Perry | Music | 338M | Instagram |
| #8 | Kylie Jenner | Other | 333M | Instagram |
| #9 | Rihanna | Music | 332M | Twitter |
| #10 | Kim Kardashian | Other | 319M | Instagram |
| #11 | Lionel Messi | Sports | 298M | Instagram |
| #12 | Neymar | Sports | 283M | Instagram |
| #13 | Shakira | Music | 282M | Facebook |
| #14 | Jennifer Lopez | Music | 277M | Instagram |
| #15 | Beyoncé | Music | 267M | Instagram |
| #16 | Ellen DeGeneres | Film & TV | 260M | Instagram |
| #17 | Miley Cyrus | Music | 235M | Instagram |
| #18 | Nicki Minaj | Music | 232M | Instagram |
| #19 | Barack Obama | Politics | 221M | Twitter |
| #20 | Will Smith | Film & TV | 217M | Facebook |
| #21 | Kendall Jenner | Other | 212M | Instagram |
| #22 | Demi Lovato | Music | 211M | Instagram |
| #23 | Lady Gaga | Music | 210M | Twitter |
| #24 | Kevin Hart | Film & TV | 201M | Instagram |
| #25 | Virat Kohli | Sports | 195M | Instagram |
| #26 | Eminem | Music | 194M | Facebook |
| #27 | Drake | Music | 192M | Instagram |
| #28 | Khloé Kardashian | Other | 191M | Instagram |
| #29 | Bruno Mars | Music | 191M | Facebook |
| #30 | Chris Brown | Music | 187M | Instagram |
| #31 | Vin Diesel | Film & TV | 177M | Facebook |
| #32 | Narendra Modi | Politics | 175M | Twitter |
| #33 | Justin Timberlake | Music | 175M | Twitter |
| #34 | Billie Eilish | Music | 171M | Instagram |
| #35 | Charli D'Amelio | Other | 169M | TikTok |
| #36 | Kourtney Kardashian | Other | 165M | Instagram |
| #37 | Cardi B | Music | 160M | Instagram |
| #38 | LeBron James | Sports | 157M | Instagram |
| #39 | Adele | Music | 156M | Facebook |
| #40 | Priyanka Chopra | Film & TV | 144M | Instagram |
| #41 | Germán Garmendia | Gaming | 143M | Youtube |
| #42 | Wiz Khalifa | Music | 142M | Facebook |
| #43 | Felix "PewDiePie" Kjellberg | Gaming | 141M | Youtube |
| #44 | Akshay Kumar | Film & TV | 140M | Instagram |
| #45 | Snoop Dogg | Music | 138M | Instagram |
| #46 | Deepika Padukone | Film & TV | 138M | Instagram |
| #47 | Britney Spears | Music | 137M | Twitter |
| #48 | Shawn Mendes | Music | 136M | Instagram |
| #49 | Whindersson Nunes Batista | Other | 135M | Instagram |
| #50 | Salman Khan | Film & TV | 134M | Facebook |
Unsurprisingly, celebrities reign supreme on social media. As of April 2021, soccer superstar Cristiano Ronaldo was the most-followed person on social media with more than 500 million total followers.
But there are other illuminating highlights, such as the global reach of music. With large and diverse fanbases, artists account for half of the top 50 largest social media followings.
Also notable is the power of Instagram, which was the biggest platform for 67% of the top 50 social media influencers. This includes hard-to-categorize celebrities like the Kardashians and Jenners, which turned reality TV and social media fame into business and media empires.
Download the Generational Power Report (.pdf)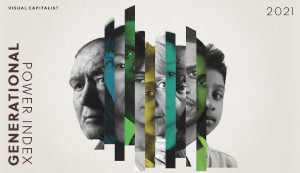 The Most Followers on Twitter, TikTok, and YouTube
However, it's not only celebrities that dominate social media.
Personalities that started on one social media platform and developed massive followings include TikTok's most-followed star Charli D'Amelio and YouTubers Germán Garmendia, Felix "PewDiePie" Kjellberg, and Whindersson Nunes Batista.
Politicians were also prominent influencers. Former U.S. President Barack Obama has the most followers on Twitter, and India's Prime Minister Narendra Modi has more than 175 million followers across social media.
Former U.S. President Donald Trump would have also made the list with more than 140 million followers across social media before being banned from multiple platforms on January 8, 2021.
A Generational Look at Social Media Influence
While older generations have had to adapt to social media platforms, younger generations have grown up alongside them. As a measure of cultural importance, this gives Gen X, Millennials, and Gen Z a rare leg-up on older generations.
Millennials, in particular, hold the lion's share of spots in this top 50 list:
| Generation | # of Influencers in Generation | Top Influencer in Generation |
| --- | --- | --- |
| Gen Z | 4 | Kylie Jenner |
| Millennial | 33 | Cristiano Ronaldo |
| Gen X | 10 | Dwayne (The Rock) Johnson |
| Baby Boomer | 3 | Ellen DeGeneres |
The average age of the top 50 influencers was just over 37.
In our Generational Power Index (GPI), which measures the share of power generations hold in various categories, digital platforms were a key area where Millennials derived their power and influence. Overall, Baby Boomers—and to a lesser extent, Gen X—still run the show in most areas of society today.
Social Media Influence, Going Forward
As most fans and advertisers know, not all social media accounts and followings are homogenous.
Many influencers with relatively small followings have more consistent engagement, and are often able to demand high advertising fees as a result.
Conversely, most social media platforms are reckoning with a severe glut of fake accounts or bots that inflate follower counts, impacting everything from celebrities and politicians to personalities and businesses.
Regardless, social media has become a mainstay platform (or soapbox) for today's cultural influencers. Billions of people turn to social media for news, engagement, recommendations, and entertainment, and new platforms are always on the rise.
Editor's Note: An earlier version of the data used for this story incorrectly counted Facebook likes instead of followers for some personalities. The content has since been corrected and updated."
How Central Banks Think About Digital Currency
Central bank digital currencies are on the horizon. What do 65 central banks representing 91% of global GDP think about them?
How Central Banks Think About Digital Currency
In the late 1600s, the introduction of bank notes changed the financial system forever. Fast forward to today, and another monumental change is expected to occur through central bank digital currencies (CBDC).
A CBDC adopts certain characteristics of everyday paper or coin currencies and cryptocurrency. It is expected to provide central banks and the monetary systems they govern a step towards modernizing.
But what exactly are CBDCs and how do they differ from money we use today?
The ABCs of CBDCs
To better understand a CBDC, it helps to first understand the taxonomy of money and its overlapping properties.
For example, the properties of cash are that it's accessible, physical and digital, central bank issued, and token-based. Here's how the taxonomy of money breaks down:
Accessibility: The accessibility of money is a big factor in determining its place within the taxonomy of money. For instance, cash and general purpose CBDCs are considered widely accessible.
Form: Is the money physical or digital? The form of money determines distribution and the potential for dilution, and future CBDCs issued will be completely digital.
Issuer: Where does the money come from? CBDCs are to be issued by the central bank and backed by their respective governments, which differs from cryptocurrencies which mostly have no government affiliations.
Technology: How does the currency work? CBDCs break down into token-based and account-based approaches. A token-based CBDC operates like banknotes today, where your information is not known nor needed by a cashier when accepting your payment. An account-based system, however, requires authorization to partake on the network, akin to paying with a digital wallet or card.
Digital Currency vs Digital Coins
In essence, digital currency is the electronic form of banknotes that exists today. Therefore, it's viewed by some as a modern and efficient version of the cash you hold in your wallet or purse.
On the other hand, cryptocurrencies like Bitcoin are a store of value like gold that is secured by encryption. Cryptocurrencies are privately owned and fueled by blockchain technology, compared to digital currencies which do not use decentralized ledgers or blockchain technology.
Digital Currency: Regulatory Authority and Stability
Digital currencies are issued by a central bank, and therefore, are backed by the full power of a government. According to the Bank for International Settlements, over 20% of central banks surveyed say they have legal authority in issuing a CBDC. Almost 10% more said laws are currently being changed to allow for it.
As more central banks issue digital currencies, there's likely to be favorability between them. This is similar to how a few currencies like the U.S. dollar and Euro dominate the currency landscape.
The Benefits of Issuing a CBDC
There are several positives regarding the issuance of a CBDC over other currencies.
First, the cost of retail payments in the U.S. is estimated to be between 0.5% and 0.9% of the country's $20 trillion in GDP. Digital currencies can flow much more effectively between parties, helping reduce these transaction fees.
Second, large chunks of the global population are still considered unbanked. In this case, a CBDC opens avenues for people to access the global financial system without a bank. Even today, 6% of Americans do not have a single bank account.
Other motivations for a CBDC include:
Financial stability
Monetary policy implementation
Increased safety, efficiency, and robustness
Limit on illicit activity
An example of payments efficiency can be seen during the onset of the COVID-19 pandemic, when some Americans failed to receive their stimulus check. Altogether, some $2 billion in funds have gone unclaimed. A functioning rollout of a CBDC and a more direct relationship with citizens would minimize such a problem.
Status of CBDCs
Although widespread adoption of CBDCs is still far away, research and experiments are making notable strides forward:
81 countries representing 90% of global GDP are exploring CBDCs.
The share of central banks actively engaging in CBDC work grew to 86% in the last 4 years.
60% of central banks are conducting experiments on CBDCs (up from 42% in 2019) and 14% are moving forward to development and pilot arrangement.
The Bahamas is one of five countries currently working with a CBDC – the Bahamian Sand Dollar.
Sweden and Uruguay have shown interest in a digital currency. Sweden began testing an "e-krona" in 2020, and Uruguay announced tests to issue digital Uruguayan pesos as far back as 2017.
The People's Bank of China has been running CBDC tests since April 2020. In all, tens of thousands of citizens have participated, spending 2 billion yuan, and the country is poised to be the first to fully launch a CBDC.
The U.K. central bank is less optimistic about a rolling out a CBDC in the near future. The proposed digital currency—dubbed "Britcoin"—is unlikely to arrive until at least 2025.
Disrupting The World of Money
Wherever you look, technology is disrupting finance and upending the status quo.
This can be seen through the rising market value of fintech firms, which in some cases are trumping traditional financial institutions in value. It is also evident in the rapid rise of Bitcoin to a $1 trillion market cap, making it the fastest asset to do so.
With the rollout of central bank digital currencies on the horizon, the next disruption of financial systems is already beginning.
From Amazon to Zoom: What Happens in an Internet Minute In 2021?
A lot can happen in an internet minute. This stat-heavy graphic looks at the epic numbers behind the online services billions use every day.
From Amazon to Zoom: An Internet Minute In 2021
In our everyday lives, not much may happen in a minute. But when gauging the depth of internet activity occurring all at once, it can be extraordinary. Today, around five billion internet users exist across the globe.
This annual infographic from Domo captures just how much activity is going on in any given minute, and the amount of data being generated by users. To put it mildly, there's a lot.
The Internet Minute
At the heart of the world's digital activity are the everyday services and applications that have become staples in our lives. Collectively, these produce unimaginable quantities of user activity and associated data.
Here are just some of the key figures of what happens in a minute:
Amazon customers spend $283,000
12 million people send an iMessage
6 million people shop online
Instacart users spend $67,000
Slack users send 148,000 messages
Microsoft Teams connects 100,000 users
YouTube users stream 694,000 videos
Facebook Live receives 44 million views
Instagram users share 65,000 photos
Tiktok users watch 167 million videos
As these facts show, Big Tech companies have quite the influence over our lives. That influence is becoming difficult to ignore, and draws increasing media and political attention. And some see this attention as a plausible explanation for why Facebook changed their name—to dissociate from their old one in the process.
One tangible measure of this influence is the massive amount of revenue Big Tech companies bring in. To get a better sense of this, we can look at Big Tech's revenue generating capabilities on a per-minute basis as well:
| Company | Revenue Per Minute | Market Cap ($B) |
| --- | --- | --- |
| Amazon | $955,517 | $1,840 |
| Apple | $848,090 | $2,460 |
| Alphabet (Google) | $433,014 | $1,840 |
| Microsoft | $327,823 | $2,310 |
| Facebook | $213,628 | $926 |
| Tesla | $81,766 | $1,010 |
| Netflix | $50,566 | $298 |
Much of the revenue that these elite trillion-dollar stocks generate can be traced back to all the activity on their various networks and platforms.
In other words, the 5.7 million Google searches that occur every minute is the key to their $433,014 in per minute sales.
The Internet Minute Over The Years
With the amount of data and information in the digital universe effectively doubling every two years, it's fair to say the internet minute has gone through some changes over the years. Here are just some areas that have experienced impressive growth:
Here's a look at the services that have been featured in the various iterations of this graphic over the years:
Twitter, Instagram, and Youtube are the only three brands to be featured every single year.
Internet Growth Perspectives
The Internet Minute wheel also helps to put the internet's rapid rate of adoption into perspective. For instance, in 1993, there were only 14 million internet users across the globe. But today, there are over 14 million just in Chile.
That said, the total addressable market still has some room left. By some measures, the complete number of internet users grew by 500 million in 2021, a roughly 11% jump from 4.5 billion users in 2020. This comes out to an astonishing 950 new users on a per minute basis.
What's more, in the long term, with the appropriate infrastructure in place, certain areas within emerging markets can experience buoyant growth in the number of connected citizens. Here's where the next billion internet users may come from, based on the largest disconnected populations.
| Rank | Country / Territory | Unconnected People | % of Population |
| --- | --- | --- | --- |
| 1 | India | 685,591,071 | 50% |
| 2 | China | 582,063,733 | 41% |
| 3 | Pakistan | 142,347,735 | 65% |
| 4 | Nigeria | 118,059,925 | 58% |
| 5 | Bangladesh | 97,427,352 | 59% |
| 6 | Indonesia | 96,709,226 | 36% |
| 7 | Ethiopia | 92,385,728 | 81% |
| 8 | Democratic Republic of Congo | 71,823,319 | 81% |
| 9 | Brazil | 61,423,295 | 29% |
| 10 | Egypt | 46,626,170 | 46% |
With this growth trajectory in mind, we can expect future figures to become even more astonishing. But the human mind is known to be bad at interpreting large numbers, so in future editions, the internet minute figures may need to be stripped down to the internet second.