Human Insight, Computer Power: What is Quantamental Investing?
What is Quantamental Investing?
The world is awash in data like never before. From a person's morning Uber ride and favorite coffee spot, to the emails sent from their office—all these activities create massive amounts of data, but also behavioral and investment insights.
Warren Buffett's investment style exemplifies the fundamental approach: "Which companies offer the best returns?"
On the other hand, hedge fund manager James Simons of Renaissance Technologies is a notable example of the quantitative approach: "What is the best way to predict returns?"
Both techniques have one thing in common—they seek excess return from the marketplace, or what is known as "Alpha".
Quantamental: Combining Quantitative & Fundamental
Today's infographic from GoldSpot Discoveries outlines quantamental investing as the blending of these two styles, human insight with computer power.
Despite both methods seeking excess returns in the market, there are some key differences:
Quantitative Analysis
Fundamental Analysis

Seeks to understand behavior by using mathematical and statistical modeling, measurement, and research
Aims to represent reality in terms of a numerical value
Can measure or value a financial instrument, and/or predict real-world events
Trading focuses on broad market factors (data)

Attempts to measure a company's intrinsic value based on its earnings outlined in its financial statements
Can identify securities that are not correctly priced by the market
If the fair market value is higher than the market price, then the stock is undervalued and a buy recommendation is given
If the fair market value is lower than the market price, then the stock is considered to be overvalued and a sell recommendation is issued

Cons
Cons

Takes financial data at face value to assume an economic reality
Lacks in offering unique insight

Analyzes a small subset of the investment universe
Chasing glamor stocks or holding on to losing stocks which reflect behavioral biases

Pro
Pro

Analyzes the investment universe, quickly

Offers deep, proprietary insights
The arrival of advanced sensor technology and computer processing power is creating huge opportunities for capturing the complexity of human activity on a larger scale.
Could these two distinct methods be fused together?
A New Frontier for Data: Combining Man and Machine
On a larger scale, tracking and storing data can reveal economic patterns over long periods of time. For example, satellite images of a mall's parking lot can determine the mall's sales volume. In the finance world, software can track sentiment in earnings call transcripts, and detect word patterns of executives.
The applications of sensor technology stretch across various cases, and could improve overall performance in different industries.
Case #1: Sabermetrics
Picking a winning baseball team is a lot like investing: with limited capital, one needs to optimize player selection and performance to beat the competition. That is why the Major League Baseball Association installed StatScan in 30 ballparks for 3 seasons (2015-2017).
These radar and camera systems captured the raw skills of players in ways that were previously available to or only understood by the baseball scouts.
Scouts are the stock pickers of the baseball. They know the ins and outs of a potential major league player, and consider health, family history, body mechanics and even personalities.
Team managers can use a scout's insight, against the vast amounts of data collected during a baseball season, to uncover the exact metrics to predict the success of the next great home run or strike-out king.
Case #2: Mineral Exploration
Resource companies spend huge amounts of money on exploration to collect data. However, the volume of data generated is too much for one geologist, or even a team to sift through in a reasonable time.
Machine learning in mineral exploration can take in training data to help identify prospective land for a mineral deposit.
Computer Power with a Human Touch
Quantamental investing seeks to understand the depth and the breadth of the investment world. The goal is to produce superior returns in the marketplace by answering two questions.
What are the best metrics for predicting success?
Which are the companies performing the best on these metrics?
Quantamental investing harnesses the raw power and scale of data, coupled with human insight — increasing market returns by finding the next great investment.
Visualizing The World's Largest Sovereign Wealth Funds
To date, only two countries have sovereign wealth funds worth over $1 trillion. Learn more about them in this infographic.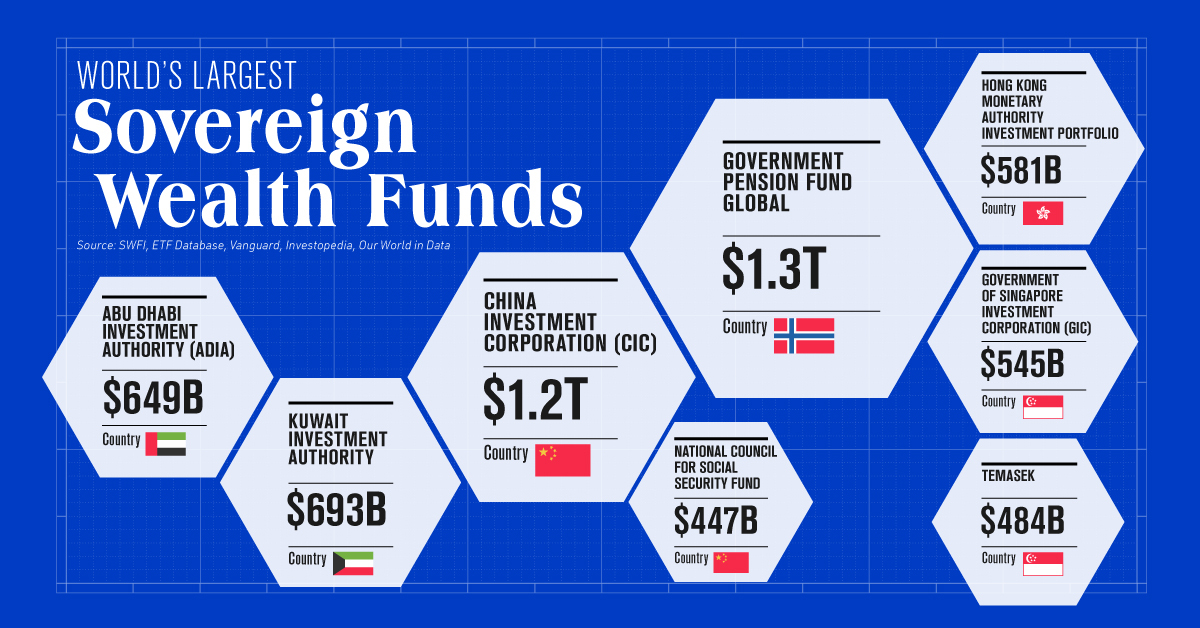 Visualized: The World's Largest Sovereign Wealth Funds
Did you know that some of the world's largest investment funds are owned by national governments?
Known as sovereign wealth funds (SWF), these vehicles are often established with seed money that is generated by government-owned industries. If managed responsibly and given a long enough timeframe, an SWF can accumulate an enormous amount of assets.
In this infographic, we've detailed the world's 10 largest SWFs, along with the largest mutual fund and ETF for context.
The Big Picture
Data collected from SWFI in October 2021 ranks Norway's Government Pension Fund Global (also known as the Norwegian Oil Fund) as the world's largest SWF.
The world's 10 largest sovereign wealth funds (with fund size benchmarks) are listed below:
Country
Fund Name
Fund Type
Assets Under Management (AUM) 
🇳🇴 Norway 
Government Pension Fund Global
SWF
$1.3 trillion
🇺🇸

U.S.

Vanguard Total Stock Market Index Fund

Mutual fund

$1.3 trillion

🇨🇳 China
China Investment Corporation
SWF
$1.2 trillion
🇰🇼 Kuwait 
Kuwait Investment Authority
SWF
$693 billion
🇦🇪 United Arab Emirates
Abu Dhabi Investment Authority
SWF
$649 billion
🇭🇰 Hong Kong SAR
Hong Kong Monetary Authority Investment Portfolio
SWF
$581 billion
🇸🇬 Singapore
Government of Singapore Investment Corporation
SWF
$545 billion
🇸🇬 Singapore
Temasek
SWF
$484 billion
🇨🇳 China
National Council for Social Security Fund
SWF
$447 billion
🇸🇦 Saudi Arabia
Public Investment Fund of Saudi Arabia
SWF
$430 billion
🇺🇸

U.S.

State Street SPDR S&P 500 ETF Trust

ETF

$391 billion

🇦🇪 United Arab Emirates
Investment Corporation of Dubai
SWF
$302 billion 
SWF AUM gathered on 10/08/2021. VTSAX and SPY AUM as of 09/30/2021.
So far, just two SWFs have surpassed the $1 trillion milestone. To put this in perspective, consider that the world's largest mutual fund, the Vanguard Total Stock Market Index Fund (VTSAX), is a similar size, investing in U.S. large-, mid-, and small-cap equities.
The Trillion Dollar Club
The world's two largest sovereign wealth funds have a combined $2.5 trillion in assets. Here's a closer look at their underlying portfolios.
1. Government Pension Fund Global – $1.3 Trillion (Norway)
Norway's SWF was established after the country discovered oil in the North Sea. The fund invests the revenue coming from this sector to safeguard the future of the national economy. Here's a breakdown of its investments.
| Asset Class | % of Total Assets | Country Diversification | Number of Securities |
| --- | --- | --- | --- |
| Public Equities | 72.8% | 69 countries | 9,123 companies |
| Fixed income | 24.7% | 45 countries | 1,245 bonds |
| Real estate | 2.5% | 14 countries | 867 properties |
As of 12/31/2020
Real estate may be a small part of the portfolio, but it's an important component for diversification (real estate is less correlated to the stock market) and generating income. Here are some U.S. office towers that the fund has an ownership stake in.
As of 12/31/2020
Overall, the fund has investments in 462 properties in the U.S. for a total value of $14.9 billion.
2. China Investment Corporation (CIC) – $1.2 Trillion (China)
The CIC is the largest of several Chinese SWFs, and was established to diversify the country's foreign exchange holdings.
Compared to the Norwegian fund, the CIC invests in a greater variety of alternatives. This includes real estate, of course, but also private equity, private credit, and hedge funds.
| Asset Class | % of Total Assets |
| --- | --- |
| Public equities | 38% |
| Fixed income | 17% |
| Alternative assets | 43% |
| Cash | 2% |
As of 12/31/2020
A primary focus of the CIC has been to increase its exposure to American infrastructure and manufacturing. By the end of 2020, 57% of the fund was invested in the United States.
"According to our estimate, the United States needs at least $8 trillion in infrastructure investments. There's not sufficient capital from the U.S. government or private sector. It has to rely on foreign investments."
– Ding Xuedong, Chairman, China Investment Corporation
This has drawn suspicion from U.S. regulators given the geopolitical tensions between the two countries. For further reading on the topic, consider this 2017 paper by the United States-China Economic and Security Review Commission.
Preparing for a Future Without Oil
Many of the countries associated with these SWFs are known for their robust fossil fuel industries. This includes Middle Eastern nations like Kuwait, Saudi Arabia, and the United Arab Emirates.
Oil has been an incredible source of wealth for these countries, but it's unlikely to last forever. Some analysts believe that we could even see peak oil demand before 2030—though this doesn't mean that oil will stop being an important resource.
Regardless, oil-producing countries are looking to hedge their reliance on fossil fuels. Their SWFs play an important role by taking oil revenue and investing it to generate returns and/or bolster other sectors of the economy.
An example of this is Saudi Arabia's Public Investment Fund (PIF), which supports the country's Vision 2030 framework by investing in clean energy and other promising sectors.
Fact Check: The Truth Behind Five ESG Myths
ESG investing continues to break fund inflow records. In this infographic, we unpack five common ESG myths.
Fact Check: The Truth Behind 5 ESG Myths
In 2021, investors continue to embrace environmental, social, and governance (ESG) investments at record levels.
In the first quarter of 2021, global ESG fund inflows outpaced the last four consecutive quarters, reaching $2 trillion. But while ESG gains rapid momentum, the CFA Institute shows that 33% of professional investors surveyed feel they have insufficient knowledge for considering ESG issues.
To help investors understand this growing trend, this infographic from MSCI helps provide a fact check on five common ESG myths.
1. "ESG Comes at the Expense of Investment Performance"
Fact Check: Not necessarily
Worldwide, ESG-focused companies have not only seen higher returns, but stronger earnings growth and dividends.
| Returns by ESG Ratings | Earnings Growth* | Active Return** | Dividends and Buybacks |
| --- | --- | --- | --- |
| Top tier | 2.89% | 1.31% | 0.28% |
| Middle tier | 1.35% | 0.12% | -0.02% |
| Bottom tier | -9.22% | -1.25% | -0.05% |
Source: MSCI ESG Research LLC (Dec, 2020)
*Contribution of earnings growth and dividends/buybacks to active return
**Active return is the additional gain or loss compared to it respective benchmark
In fact, a separate study from the CFA Institute shows that 35% of investment professionals invest in ESG to improve their financial returns.
2. "Investors Talk About ESG But Don't Invest In It"
Fact Check: False
Global ESG assets under management (AUM) in ETFs have grown from $6 billion in 2015 to $150 billion in 2020. In just five years, ESG AUM have accelerated 25 times.
Today, money managers are focusing on the following top five issues:
| Top ESG Issues | Assets Affected | Growth in Assets Affected (2018-2020) |
| --- | --- | --- |
| Climate change / carbon emissions | $4.18T | 39% |
| Anti-corruption | $2.44T | 10% |
| Board issues | $2.39T | 66% |
| Sustainable natural resources / agriculture | $2.38T | 81% |
| Executive pay | $2.22T | 122% |
Source: US SIF Foundation (Nov, 2020)
Meanwhile, over 1,500 shareholder resolutions focused on ESG-related matters were filed between 2018-2020. Not only are investors turning to ESG assets, but they are placing higher demands on corporate responsibility.
3. "ESG Investment Strategies Eliminate Entire Sectors"
Fact Check: Not necessarily
First, not all ESG investment approaches are exclusionary.
For instance, in North America roughly 51% of ESG ETFs used an ESG integration approach as of Dec. 31, 2020. In an ESG integration approach, ESG risks and opportunities are analyzed with the goal to support long-term returns.
By comparison, values and screens approaches, which accounted for over 22% of ESG ETFs in North America may screen out specific business activities, such as alcohol or tobacco, or sectors such as oil & gas.

| Percentage of ESG Type | Integration | Values & Screens | Thematic | Impact |
| --- | --- | --- | --- | --- |
| North America | 50.9% | 22.5% | 20.7% | 5.9% |
| Asia | 57.8% | 34.6% | 3.8% | 3.8% |
| Europe | 30.8% | 60.6% | 8.6% | 0.0% |
| Australia | 28.6% | 71.4% | 0.0% | 0.0% |
Source: Refinitiv/Lipper and MSCI ESG Research LLC as of Dec 31, 2020 (MSCI Feb, 2021)
Second, companies are assessed on a sector-specific basis where ESG leaders and laggards are identified within each sector in comparison to peers. In other words, ESG doesn't mean eliminating exposure to entire sectors. Instead, investors can choose from a range of companies based on their ESG ratings quality.
4. "ESG Investing Is Only For Millennials"
Fact Check: False
Although ESG is popular among millennials, ESG investing is being driven by the entire investor population. In 2019, one study finds that 85% of the general population expressed interest in ESG investing.
| Interest in Sustainable Investing | General Population | Millennials |
| --- | --- | --- |
| 2019 | 85% | 95% |
| 2015 | 71% | 84% |
Source: US SIF Foundation (Nov, 2020)
Sustainable investing goes far beyond millennials—ESG disclosures are quickly becoming requirements for key industry participants, such as institutional investors and listed companies.
5. "ESG Investing is Here to Stay"
Fact Check: True
Climbing 28% in 2020 alone, over 3,000 signatories have committed to the UN Principles of Responsible Investment. As of the first quarter of 2021, 313 global organizations and 33 asset owners have been newly added.
| Growth of UN PRI | Number of Signatories* | AUM Represented |
| --- | --- | --- |
| 2020 | 3,038 | $103.4T |
| 2019 | 2,370 | $86.3T |
Source: UN PRI
*As of Mar, 2020
Central to ESG's growth is the availability of ESG investments. ESG investing has become more widely accessible—which wasn't always the case. Over the last decade, the global number of ESG ETFs has grown from 46 to 497.
Why the Facts Matter
As ESG investments continue to play an even greater role in investor portfolios, it's important to focus on data rather than prevailing ESG myths that are not backed by fact.
Given the recent momentum in investment returns and ESG adoption, data-driven evidence empowers investors to build more sustainable portfolios that better align with their investment objectives.