Purchasing Power of the U.S. Dollar Over Time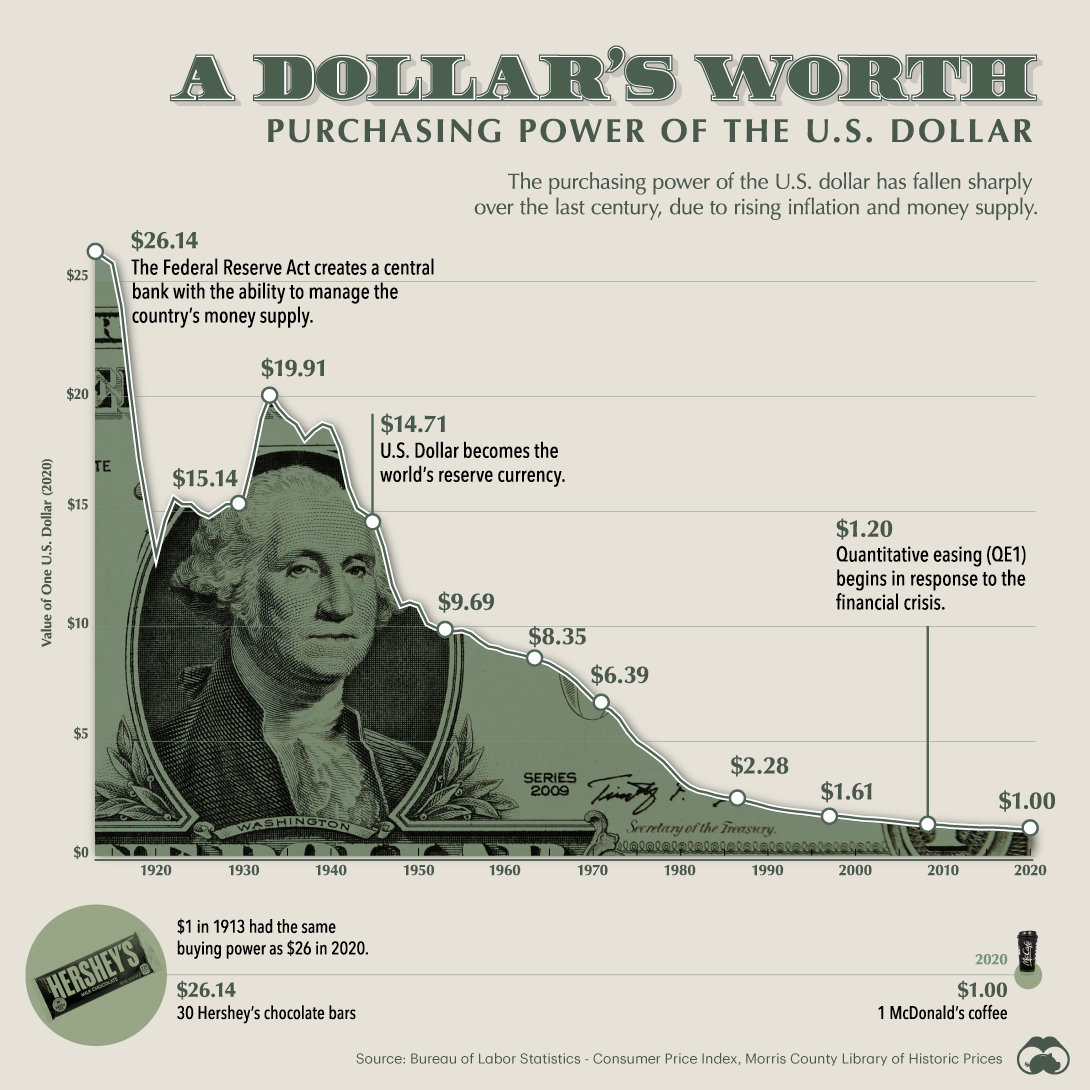 The Briefing
The purchasing power of the U.S. dollar has fallen over time, as money supply has grown
In fact, $1 in 1913 had the same purchasing power as $26 in 2020
What is Purchasing Power?
The purchasing power of a currency is the amount of goods and services that can be bought with one unit of the currency.
For example, one U.S. dollar could buy 10 bottles of beer in 1933. Today, it's the cost of a small McDonald's coffee. In other words, the purchasing power of the dollar—its value in terms of what it can buy—has decreased over time as price levels have risen.
Tracking the Purchasing Power of the Dollar
In 1913, the Federal Reserve Act granted Federal Reserve banks the ability to manage the money supply in order to ensure economic stability. Back then, a dollar could buy 30 Hershey's chocolate bars.
As more dollars came into circulation, average prices of goods and services increased while the purchasing power of the dollar fell. By 1929, the value of the Consumer Price Index (CPI) was 73% higher than in 1913, but a dollar was now enough only for 10 rolls of toilet paper.
| Year | Event | Purchasing Power of $1 | What a Dollar Buys |
| --- | --- | --- | --- |
| 1913 | Creation of the Federal Reserve System | $26.14 | 30 Hershey's chocolate bars |
| 1929 | Stock market crash | $15.14 | 10 rolls of toilet paper |
| 1933 | Gold possession criminalized | $19.91 | 10 bottles of beer |
| 1944 | Bretton Woods agreement | $14.71 | 20 bottles of Coca-Cola |
| 1953 | End of the Korean War | $9.69 | 10 bags of pretzels |
| 1964 | Escalation of the Vietnam War | $8.35 | 1 drive-in movie ticket |
| 1971 | End of the gold standard | $6.39 | 17 oranges |
| 1987 | "Black Monday" stock market crash | $2.28 | 2 boxes of crayons |
| 1997 | Asian financial crisis | $1.61 | 4 grapefruits |
| 2008 | Global Financial crisis | $1.20 | 2 lemons |
| 2020 | COVID-19 pandemic | $1.00 | 1 McDonald's coffee |
Between 1929-1933, the purchasing power of the dollar actually increased due to deflation and a 31% contraction in money supply before eventually declining again. Fast forward to 1944 and the U.S. dollar, fixed to gold at a rate of $35/oz, became the world's reserve currency under the Bretton Woods agreement.
Meanwhile, the U.S. increased its money supply in order to finance the deficits of World War II followed by the Korean war and the Vietnam war. Hence, the buying power of the dollar reduced from 20 bottles of Coca-Cola in 1944 to a drive-in movie ticket in 1964.
By the late 1960s, the number of dollars in circulation was too high to be backed by U.S. gold reserves. President Nixon ceased direct convertibility of U.S. dollars to gold in 1971. This ended both the gold standard and the limit on the amount of currency that could be printed.
More Dollars in the System
Money supply (M2) in the U.S. has skyrocketed over the last two decades, up from $4.6 trillion in 2000 to $19.5 trillion in 2021.
The effects of the rise in money supply were amplified by the financial crisis of 2008 and more recently by the COVID-19 pandemic. In fact, around 20% of all U.S. dollars in the money supply, $3.4 trillion, were created in 2020 alone.
How will the purchasing power of the dollar evolve going forward?
Here's What $1,000 Invested in Vaccine Stocks Would Be Worth Now
Ever wonder what you would have gotten if you invested $1,000 into the different vaccine stocks at the start of the pandemic?
The Briefing
Three of seven COVID-19 vaccine stocks have outperformed the S&P 500 since the beginning of the global pandemic
Novavax is the highest performing vaccine stock, returning 1,549% to shareholders
Vaccine Stocks During a Pandemic
It's often said that with every crisis comes great opportunity.
While such catastrophes do create upheaval and uncertainty in financial markets, they can also lead to new opportunities for investors, as asset classes react to different environments.
Since the World Health Organization (WHO) declared COVID-19 to be a pandemic on March 11, 2020, the performance of vaccine stocks have been varied—but with some notable winners that notched triple or quadruple digit returns.
Here's how much a $1,000 investment would be worth as of March 31, 2021, if you had put money into each vaccine stock at the start of the pandemic:
| Stock | Value of Investment | % Growth | Market Cap ($B) |
| --- | --- | --- | --- |
| Novavax | $16,491 | 1,549.1% | $14.3 |
| Moderna | $5,019 | 401.9% | $59.9 |
| BioNTech | $3,247 | 224.7% | $31.3 |
| Johnson & Johnson | $1,252 | 25.2% | $419.8 |
| Pfizer | $1,122 | 12.2% | $207.2 |
| AstraZeneca | $1,121 | 12.1% | $93.8 |
| Sanofi | $1,096 | 9.6% | $105.2 |
The Business of Vaccines
The returns on vaccine stocks have varied greatly. They are staggering in the case of Novavax and Moderna, but also seem quite underwhelming, when considering the likes of Sanofi, AstraZeneca, and Pfizer.
One factor for the discrepancy in stock price performance is the revenue potential from vaccine sales relative to the rest of the existing business, as vaccine sales will have a much greater impact on the fundamentals of smaller companies.
For example, before the pandemic, Novavax had revenues of just $18.7 million—this meant that capturing any portion of global vaccine sales would create massive value for shareholders. On the flipside, vaccine sales are much less likely to impact the fundamentals of Sanofi's business, since the company already is generating $40.5 billion in revenue.
To put it into perspective, analysts are expecting total sales from COVID-19 vaccines to be around $100 billion, with $40 billion in post-tax profits.
Vaccine Stocks vs the S&P 500
Even in a booming and valuable industry, it's difficult to identify the long-term leaders. For example, in the mobile phone market, there was a time where the likes of Motorola, Nokia, and Blackberry appeared untouchable, but eventually lost out.
Similarly, with the limited information available at the start of the pandemic, few, if any, could have separated the winners and losers from this group with accuracy.
In the past year, the S&P 500 grew 44.9%—meaning that only three of the seven vaccine stocks have seen their share prices outperform the market.
Nobody said helping solve a global pandemic guarantees a pay off.
Where does this data come from?
Source: S&P Global Market Intelligence
Notes: Investment growth is calculated between March 11, 2020-March 31, 2021. All market capitalization values are as of March 31, 2021.
Bitcoin is the Fastest Asset to Reach a $1 Trillion Market Cap
Bitcoin is now part of a select very few assets that hold a market cap greater than $1 trillion. How long did it take to get there?
The Briefing
Bitcoin (BTC) hit a $1 trillion market cap in just 12 years, making it the fastest asset to do so
Investor sentiment towards BTC appears to be at extreme bullishness, with the asset adding roughly $500 billion in market cap just in 2021
Bitcoin is the Fastest Asset to Reach $1 Trillion
The world is moving forward at an accelerated pace. Historically, it's taken multiple decades for companies to be worth $1 trillion. For bitcoin, it took just 12 short years to reach such a milestone.
To help put things into perspective, here's a look at how long it took America's biggest tech companies to reach the $1 trillion market cap.
| Asset | Time To Reach $1 Trillion | Current Market Cap |
| --- | --- | --- |
| Microsoft | 44 years | $1.9 trillion |
| Apple | 42 years | $2.2 trillion |
| Amazon | 24 years | $1.7 trillion |
| Google | 21 years | $1.5 trillion |
| Bitcoin | 12 years | $1.1 trillion |
Market caps as of April 12, 2021
Extreme Bullish Sentiment
Bitcoin has been subject to widespread commotion in markets.
At the start of 2021, the cryptocurrency had a more modest market cap of $500 billion, but has gained more than another $500 billion since. An onslaught of headlines has contributed to extremely bullish investor sentiment, including:
1. CEOs begin to show interest
Elon Musk and Jack Dorsey have made sizable investments in bitcoin through Tesla and Square, respectively. It's estimated the gain from Tesla's $1.5 billion bitcoin investment was greater than the profits from the entirety of their business in 2020.
2. New ETFs on the block
Multiple Bitcoin ETFs focused were recently approved by Canadian regulators and some have already launched on the Toronto Stock Exchange (TSX). For many years, the Grayscale Bitcoin Trust (GBTC) was the only readily accessible investment vehicle trading on equity markets that had exposure to BTC.
3. Financial institutions finally joining in?
Mastercard, Visa, and Bank of New York Mellon have made announcements to make it easier for customers to use cryptocurrencies.
On to the Next Trillion?
Future projections for the price of bitcoin are garnering more extreme and widening price targets.
The accelerated rate of change today has many of the Big Tech companies already inching closer to the next trillion in value. Will bitcoin follow suit?
Where does this data come from?
Source: coinmarketcap.com
Notes: Financial data is as of April 12, 2021