The World's Most Powerful Reserve Currencies
The World's Most Powerful Reserve Currencies
When we think of network effects, we're usually thinking of them in the context of technology and Metcalfe's Law.
Metcalfe's Law states that the more users that a network has, the more valuable it is to those users. It's a powerful idea that is exploited by companies like LinkedIn, Airbnb, or Uber — all companies that provide a more beneficial service as their networks gain more nodes.
But network effects don't apply just to technology and related fields.
In the financial sector, for example, stock exchanges grow in utility when they have more buyers, sellers, and volume. Likewise, in international finance, a currency can become increasingly entrenched when it's accepted, used, and trusted all over the world.
What's a Reserve Currency?
Today's visualization comes to us from HowMuch.net, and it breaks down foreign reserves held by countries — but what is a reserve currency, anyways?
In essence, reserve currencies (i.e. U.S. dollar, pound sterling, euro, etc.) are held on to by central banks for the following major reasons:
To maintain a stable exchange rate for the domestic currency
To ensure liquidity in the case of an economic or political crisis
To provide confidence to international buyers and foreign investors
To fulfill international obligations, such as paying down debt
To diversify central bank portfolios, reducing overall risk
Not surprisingly, central banks benefit the most from stockpiling widely-held reserve currencies such as the U.S. dollar or the euro.
Because these currencies are accepted almost everywhere, they provide third-parties with extra confidence and perceived liquidity. This is a network effect that snowballs from the growing use of a particular reserve currency over others.
Reserve Currencies Over Time
Here is how the usage of reserve currencies has evolved over the last 15 years:
Currency composition of official foreign exchange reserves (2004-2019)

🇺🇸 U.S. Dollar
🇪🇺 Euro
🇯🇵 Japanese Yen
🇬🇧 Pound Sterling
🌐 Other
2004
65.5%
24.7%
4.3%
3.5%
2.0%
2009
62.1%
27.7%
2.9%
4.3%
3.0%
2014
65.1%
21.2%
3.5%
3.7%
6.5%
2019
61.8%
20.2%
5.3%
4.5%
8.2%
Over this timeframe, there have been small ups and downs in most reserve currencies.
Today, the U.S. dollar is the world's most powerful reserve currency, making up over 61% of foreign reserves. The dollar gets an extensive network effect from its use abroad, and this translates into several advantages for the multi-trillion dollar U.S. economy.
The euro, yen, and pound sterling are the other mainstay reserve currencies, adding up to roughly 30% of foreign reserves.
Finally, the most peculiar data series above is "Other", which grew from 2.0% to 8.4% of worldwide foreign reserves over the last 15 years. This bucket includes the Canadian dollar, the Australian dollar, the Swiss franc, and the Chinese renminbi.
Accepted Everywhere?
There have been rumblings in the media for decades now about the rise of the Chinese renminbi as a potential new challenger on the reserve currency front.
While there are still big structural problems that will prevent this from happening as fast as some may expect, the currency is still on the rise internationally.
What will the composition of global foreign reserves look like in another 15 years?
The World's Top Car Manufacturers by Market Capitalization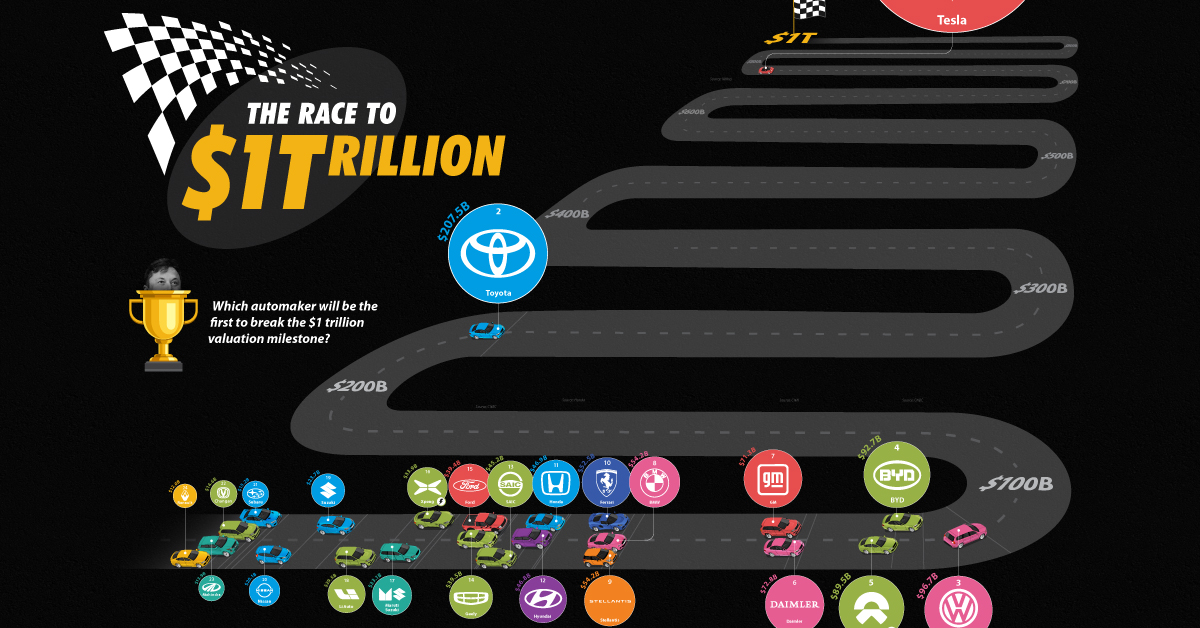 The World's Top Car Manufacturers by Market Cap
View the high-resolution of the infographic by clicking here.
Ever since Apple and other Big Tech companies hit a market capitalization of $1 trillion, many sectors are revving to follow suit—including the automotive industry.
But among those car brands racing to reach this total valuation, some are closer to the finish line than others. This visualization uses data from Yahoo Finance to rank the world's top car manufacturers by market capitalization.
What could this spell for the future of the automotive industry?
A special hat-tip to Brandon Knoblauch for compiling the original, regularly-updated spreadsheet.
The World's Top Car Manufacturers
It's clear one company is pulling far ahead of the pack. In the competition to clinch this coveted title, Tesla is the undoubted favorite so far.
The electric vehicle (EV) and clean energy company first became the world's most valuable car manufacturer in June 2020, and shows no signs of slowing its trajectory.
| Rank | Company | Market Cap (US$B) | Country |
| --- | --- | --- | --- |
| #1 | Tesla | $795.8 | 🇺🇸 U.S. |
| #2 | Toyota | $207.5 | 🇯🇵 Japan |
| #3 | Volkswagen | $96.7 | 🇩🇪 Germany |
| #4 | BYD | $92.7 | 🇨🇳 China |
| #5 | NIO | $89.5 | 🇨🇳 China |
| #6 | Daimler | $72.8 | 🇩🇪 Germany |
| #7 | General Motors | $71.3 | 🇺🇸 U.S. |
| #8 | BMW | $54.2 | 🇩🇪 Germany |
| #9 | Stellantis | $54.2 | 🇳🇱 Netherlands |
| #10 | Ferrari | $52.5 | 🇮🇹 Italy |
| #11 | Honda | $46.9 | 🇯🇵 Japan |
| #12 | Hyundai | $46.8 | 🇰🇷 South Korea |
| #13 | SAIC | $45.2 | 🇨🇳 China |
| #14 | Geely | $39.5 | 🇨🇳 China |
| #15 | Ford | $39.4 | 🇺🇸 U.S. |
| #16 | Xpeng | $33.9 | 🇨🇳 China |
| #17 | Maruti Suzuki | $33.1 | 🇮🇳 India |
| #18 | Li Auto | $29.5 | 🇨🇳 China |
| #19 | Suzuki | $23.7 | 🇯🇵 Japan |
| #20 | Nissan | $20.1 | 🇯🇵 Japan |
| #21 | Subaru | $15.2 | 🇯🇵 Japan |
| #22 | Changan | $14.6 | 🇨🇳 China |
| #23 | Mahindra | $13.9 | 🇮🇳 India |
| #24 | Renault | $12.0 | 🇫🇷 France |
All data as of January 15, 2021 (9:30AM PST)
Tesla's competitive advantage comes as a result of its dedicated emphasis on research and development (R&D). In fact, many of its rivals have admitted that Tesla's electronics far surpass their own—a teardown revealed that its batteries and AI chips are roughly six years ahead of other industry giants such as Toyota and Volkswagen.
The Green Revolution is Underway
The sheer growth of Tesla may spell the inevitability of a green revolution in the industry. Already, many major brands have followed in the company's tracks, announcing their own ambitious plans to add more EVs to their vehicle line-ups.
Here's how a selection of car manufacturers are embracing the electric future:
Toyota: Ranked #2
The second-most valuable car manufacturer in the world, Toyota is steadily ramping up its EV output. In 2020, it produced 10,000 EVs and plans to increase this to 30,000 in 2021.
Through this gradual increase, the company hopes to hit an expected target of 500,000 EVs by 2025. Toyota also aims to debut 10 new models internationally to achieve this goal.
Volkswagen: Ranked #3
By 2025, Volkswagen plans to invest $86 billion into digital and EV technologies. Considering the car manufacturer generates the most gross revenue per second of all automakers, it's no wonder Volkswagen is looking to the future in order to keep such numbers up.
The company is also well-positioned to ride the wave of a potential consumer shift towards EVs in Europe. In response to the region's strict emissions targets, Volkswagen upped its planned sales proportions for European hybrid and EV sales from 40% to 60% by 2030.
BYD and Nio: Ranked #4-5
China jumped on the electric bandwagon early. Eager to make its mark as a global leader in the emerging technology of lithium ion batteries (an essential component of any EV), the Chinese government handed out billions of dollars in subsidies—fueling the growths of domestic car manufacturers BYD and Nio alike.
BYD gained the interest and attention of its billionaire backer Warren Buffett, while Nio is China's response to Tesla and an attempt to capture the EV market locally.
General Motors: Ranked #7
Also with a 2025 target year in mind, General Motors is investing $27 billion into electric and fully autonomous vehicles. That's just the tip of the iceberg, too—the company also hopes to launch 30 new fully electric vehicles by the same year.
One particular factor is giving GM confidence: its new EV battery creations. They will be able to extend the range of its new EVs to 400 miles (644km) on a single charge, at a rate that rivals Tesla's Model S.
Stellantis: Ranked #9
In a long-anticipated move, Fiat Chrysler and Peugeot S.A. finalized their merger into Stellantis N.V. on January 16, 2021.
With the combined forces and funds of a $52 billion deal, the new Dutch-based car manufacturer hopes to rival bigger brands and race even more quickly towards the electric shift.
Honda: Ranked #11
Speaking of fast-paced races, Honda has decided to bow out of future Formula One (F1) World Championships. As these competitions were usually a way for the company to show off its engineering prowess, the move was a surprising one.
However, there's a noble reason behind this decision. Honda is choosing instead to focus on its commitment to become carbon neutral by 2050. To do so, it'll be shifting its financial resources away from F1 and towards R&D into fuel cell vehicle (FCV) and battery EV (BEV) technologies.
Ford: Ranked #15
Ford knows exactly what its fans want. In that regard, its electrification plans begin with its most popular commercial cars, such as the Mustang Mach-E SUV. This is Ford's major strategy for attracting new EV buyers, part of a larger $11.5 billion investment agenda into EVs through 2022.
While the car's specs compare to Tesla's Model Y, its engineers also drew from the iPhone and Netflix to incorporate an infotainment system and driver profiles to create a truly tech-first specimen.
Speeding into the Horizon
As more and more companies enter the racetrack, EV innovation across the entire industry may power the move to lower overall costs, extend the total range of vehicles, and put any other concerns by potential buyers to rest.
While Tesla is currently in the best position to become the first car manufacturer to reach the $1 trillion milestone, how long will it be for the others to catch up?

The Periodic Table of Commodity Returns (2021 Edition)
Which commodity had the best returns in 2020? From gold to oil, we show how commodity price performance stacks up over the last decade.
The Periodic Table of Commodity Returns (2011-2020)
Being a commodity investor can feel like riding a roller coaster.
Take silver. Typically known for sharp, idiosyncratic price movements, it faced double-digit declines in the first half of the decade, falling over 35% in just 2013 alone. By contrast, it jumped over 47% in 2020. Similarly, oil, corn, and others witnessed either steep declines or rapid gains.
The above graphic from U.S. Global Investors traces 10 years of commodity price performance, highlighting 14 different commodities and their annual ranking over the years.
Commodity Price Performance, From Best to Worst
Which commodities were the top performers in 2020?
The aforementioned silver tripled its returns year-over-year, climbing 47.9% in 2020. In July, the metal actually experienced its strongest month since 1979.
| Rank | Commodity | Return (2020) | Return (2019) | Return (2018) |
| --- | --- | --- | --- | --- |
| 1 | Silver | 47.9% | 15.2% | -8.5% |
| 2 | Copper | 26.0% | 3.4% | -17.5% |
| 3 | Palladium | 25.9% | 54.2% | 18.6% |
| 4 | Gold | 25.1% | 18.3% | -1.6% |
| 5 | Corn | 24.8% | 3.4% | 6.9% |
| 6 | Zinc | 19.7% | -9.5% | -24.5% |
| 7 | Nickel | 18.7% | 31.6% | -16.5% |
| 8 | Gas | 16.0% | -25.5% | -0.4% |
| 9 | Wheat | 14.6% | 11.0% | 17.9% |
| 10 | Platinum | 10.9% | 21.5% | -14.5% |
| 11 | Aluminum | 10.8% | -4.4% | -17.4% |
| 12 | Lead | 3.3% | -4.7% | -19.2% |
| 13 | Coal | -1.3% | -18.0% | -22.2% |
| 14 | Oil | -20.5% | 34.5% | -24.8% |
Along with silver, at least seven other commodities had stronger returns than the S&P 500 in 2020, which closed off the year with 16.3% gains. This included copper (26.0%), palladium (25.9%), gold (25.1%) and corn (24.8%).
Interestingly, copper prices moved in an unconventional pattern compared to gold in 2020. Often, investors rush to gold in uncertain economic climates, while sectors such as construction and manufacturing—which both rely heavily on copper—tend to decline. Instead, both copper and gold saw their prices rise in conjunction.
Nowadays, copper is also a vital material in electric vehicles (EVs), with recent demand for EVs also influencing the price of copper.
Silver Linings
As investors flocked to safety, silver's price reached heights not seen since 2010.
The massive scale of monetary and fiscal stimulus led to inflationary fears, also boosting the price of silver. How does this compare to its returns over the last decade?
In 2013, silver crashed over 35% as confidence grew in global markets. By contrast, in 2016, the Brexit referendum stirred uncertainty in global markets. Investors allocated money in silver, and prices shifted upwards.
As Gold as the Hills
Like silver, market uncertainty has historically boosted the price of gold.
What else contributed to gold's rise?
U.S. debt continues to climb, pushing down confidence in the U.S. dollar
A weaker U.S. dollar makes gold cheaper for other countries to buy
Low interest rates kept the returns of other safe haven assets low, making gold more attractive by comparison
Here's how the price of gold has changed in recent years.
Gold faced its steepest recent declines in 2013, when the Federal Reserve bank discussed tapering down its quantitative easing program in light of economic recovery.
Hitting the Brakes On Oil
Oil suffered the worst commodity price performance in 2020, with -20.5% returns.
For the first time in history, oil prices went negative as demand plummeted. To limit its oversupply, oil producers shrunk investment, closed wells, and turned off valves. Unfortunately, many companies still faced bankruptcies. By November, 45 oil producers had proceeded with bankruptcy filings year-to-date.
This stood in stark contrast to 2019, when prices soared 34.5%.
As is custom for oil, prices see-sawed over the decade. In 2016 and 2019, it witnessed gains of over 30%. However, like 2020, in 2014 it saw huge losses due to an oversupply of global petroleum.
In 2020, total production cuts hit 7.2 million barrels a day in December, equal to 7% of global demand, in response to COVID-19.