Prove Your Metal: Top 10 Strongest Metals on Earth
Prove Your Metal: Top 10 Strongest Metals on Earth
The use of metals and the advancement of human civilization have gone hand in hand — and throughout the ages, each metal has proved its worth based on its properties and applications.
Today's visualization from Viking Steel Structures outlines the 10 strongest metals on Earth and their applications.
What are Metals?
Metals are solid materials that are typically hard, shiny, malleable, and ductile, with good electrical and thermal conductivity. But not all metal is equal, which makes their uses as varied as their individual properties and benefits.
The periodic table below presents a simple view of the relationship between metals, nonmetals, and metalloids, which you can easily identify by color.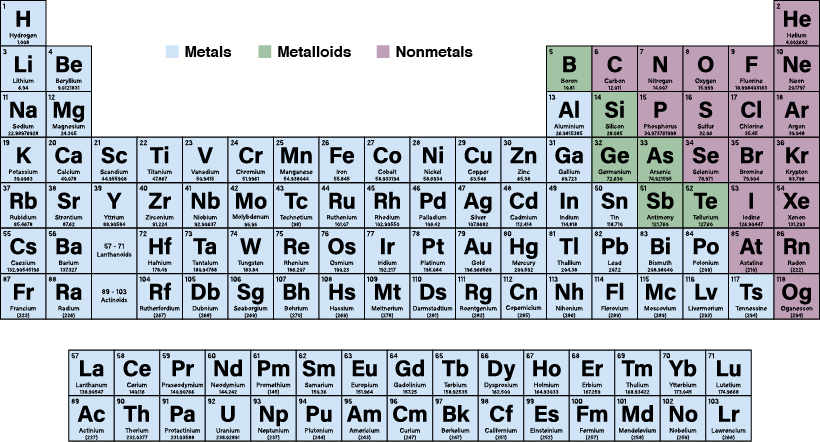 While 91 of the 118 elements of the periodic table are considered to be metals, only a few of them stand out as the strongest.
What Makes a Metal Strong?
The strength of a metal depends on four properties:
Tensile Strength: How well a metal resists being pulled apart
Compressive Strength: How well a material resists being squashed together
Yield Strength: How well a rod or beam of a particular metal resists bending and permanent damage
Impact Strength: The ability to resist shattering upon impact with another object or surface
Here are the top 10 metals based on these properties.
The Top 10 Strongest Metals
| Rank | Type of Metal | Example Use | Atomic Weight | Melting Point |
| --- | --- | --- | --- | --- |
| #1 | Tungsten | Making bullets and missiles | 183.84 u | 3422°C / 6192 °F |
| #2 | Steel | Construction of railroads, roads, other infrastructure and appliances | n/a | 1371°C / 2500°F |
| #3 | Chromium | Manufacturing stainless steel | 51.96 u | 1907°C / 3465°F, |
| #4 | Titanium | In the aerospace Industry, as a lightweight material with strength | 47.87 u | 1668°C / 3032°F |
| #5 | Iron | Used to make bridges, electricity, pylons, bicycle chains, cutting tools and rifle barrels | 55.85 u | 1536°C / 2800°F |
| #6 | Vanadium | 80% of vanadium is alloyed with iron to make steel shock and corrosion resistance | 50.942 u | 1910°C / 3470°F |
| #7 | Lutetium | Used as catalysts in petroleum production. | 174.96 u | 1663 °C / 3025°F |
| #8 | Zirconium | Used in nuclear power stations. | 91.22 u | 1850°C / 3.362°F |
| #9 | Osmium | Added to platinum or indium to make them harder. | 190.2 u | 3000°C / 5,400°F |
| #10 | Tantalum | Used as an alloy due to its high melting point and anti-corrosion. | 180.94 u | 3,017°C / 5462°F |
Out of the Forge and into Tech: Metals for the Future
While these metals help to forge the modern world, there is a new class of metals that are set to create a new future.
Rare Earth elements (REEs) are a group of metals do not rely on their strength, but instead their importance in applications in new technologies, including those used for green energy.
| Metal | Uses |
| --- | --- |
| Neodymium | Magnets containing neodymium are used in green technologies such as the manufacture of wind turbines and hybrid cars. |
| Lanthanum | Used in catalytic converters in cars, enabling them to run at high temperatures |
| Cerium | This element is used in camera and telescope lenses. |
| Praseodymium | Used to create strong metals for use in aircraft engines. |
| Gadolinium | Used in X-ray and MRI scanning systems, and also in television screens. |
| Yttrium, terbium, europium | Making televisions and computer screens and other devices that have visual displays. |
If the world is going to move towards a more sustainable and efficient future, metals—both tough and smart—are going to be critical. Each one will serve a particular purpose to build the infrastructure and technology for the next generation.
Our ability to deploy technology with the right materials will test the world's mettle to meet the challenges of tomorrow—so choose wisely.

How to Avoid Common Mistakes With Mining Stocks (Part 4: Project Quality)
Mining is a technical field that manages complex factors from geology to engineering. These details can make or break a project.
Mining is a technical field and requires a comprehension of many complex factors.
This includes everything from the characteristics of an orebody to the actual extraction method envisioned and used—and the devil is often found in these technical details.
Part 4: Evaluating Technical Risks and Project Quality
We've partnered with Eclipse Gold Mining on an infographic series to show you how to avoid common mistakes when evaluating and investing in mining exploration stocks.
Here is a basic introduction to some technical and project quality characteristics to consider when looking at your next mining investment.
View the three other parts of this series so far:
Part 4: Technical Risks and Project Quality
So what must investors evaluate when it comes to technical risks and project quality?
Let's take a look at four different factors.
1. Grade: Reliable Hen Vs. Golden Goose
Once mining starts, studies have to be adapted to reality. A mine needs to have the flexibility and robustness to adjust pre-mine plans to the reality of execution.
A "Golden Goose" will just blunder ahead and result in failure after failure due to lack of flexibility and hoping it will one day produce a golden egg.
Many mining projects can come into operation quickly based on complex and detailed studies of a mineral deposit. However, it requires actual mining to prove these studies.
Some mining projects fail to achieve nameplate tonnes and grade once production begins. However, a team response to varying grades and conditions can still make a mine into a profitable mine or a "Reliable Hen."
2. Money: Piggy Bank vs. Money Pit
The degree of insight into a mineral deposit and the appropriate density of data to support the understanding is what leads to a piggy bank or money pit.
Making a project decision on poor understanding of the geology and limited information leads to the money pit of just making things work.
Just like compound interest, success across many technical aspects increases revenue exponentially, but it can easily go the other way if not enough data is used to make a decision to put a project into production.
3. Environment: Responsible vs. Reckless
Not all projects are situated in an ideal landscape for mining. There are environmental and social factors to consider. A mining company that takes into account these facts has a higher chance of going into production.
Mineral deposits do not occur in convenient locations and require the disruption of the natural environment. Understanding how a mining project will impact its surroundings goes a long way to see whether the project is viable.
4. Team: Orchestra vs. One-Man Band
Mining is a complex and technical industry that relies on many skilled professionals with clear leadership, not just one person doing all the work.
Geologists, accountants, laborers, engineers, and investor relations officers are just some of the roles that a CEO or management team needs to deliver a profitable mine. A good leader will be the conductor of the varying technical teams allowing each to play their best at the right time.
Mining 101: Mining Valuation and Methods
In order to further consider a mining project's quality, it is important to understand how the company is valued and how it plans to mine a mineral resource.
Valuation
There are two ways to look at the value of a mining project:
The Discounted Cash Flow method estimates the present value of the cash that will come from a mining project over its life.
In-situ Resource Value is a metric that values all the metal in the ground to give an estimate of the dollar value of those resources.
Mining Method
The location of the ore deposit and the quantity of its grade will determine what mining method a company will choose to extract the valuable ore.
Open-pit mining removes valuable ore that is relatively near the surface of the Earth's crust using power trucks and shovels to move large volumes of rock. Typically, it is a lower cost mining method, meaning lower grades of ore are economic to mine.
Underground mining occurs when the ore body is too deep to mine profitably by open-pit. In other words, the quality of the orebody is high enough to cover the costs of complex engineering underneath the Earth's crust.
When Technicals and Quality Align
This is a brief overview of where to begin a technical look at a mining project, but typically helps to form some questions for the average investor to consider.
Everything from the characteristics of an orebody to the actual extraction method will determine whether a project can deliver a healthy return to the investor.

Comparing Recent U.S. Presidents: New Debt Added vs. Precious Metals Production
While gold and silver coin production during U.S. presidencies has declined, public debt continues to climb to historically high levels.
Recent U.S. Presidents: Debt vs. Coins Added
While precious metals can't be produced out of thin air, U.S. debt can be financed through central bank money creation. In fact, U.S. debt has skyrocketed in recent years under both Democrat and Republican administrations.
This infographic from Texas Precious Metals compares the increase in public debt to the value of gold and silver coin production during U.S. presidencies.
Total Production by Presidential Term
We used U.S. public debt in our calculations, a measure of debt owed to third parties such as foreign governments, corporations, and individuals, while excluding intragovernmental holdings. To derive the value of U.S. minted gold and silver coins, we multiplied new ounces produced by the average closing price of gold or silver in each respective year.
Here's how debt growth stacks up against gold and silver coin production during recent U.S. presidencies:
| | Obama's 1st term (2009-2012) | Obama's Second Term (2013-2016) | Trump's term (2017-Oct 26 2020) |
| --- | --- | --- | --- |
| U.S. Silver Coins Minted | $3.7B | $3.3B | $1.4B |
| U.S. Gold Coins Minted | $6.7B | $5.1B | $2.9B |
| U.S. Public Debt Added | $5.2T | $2.9T | $6.6T |
Over each consecutive term, gold and silver coin production decreased. In Trump's term so far, the value of public debt added to the system is almost 1,600 times higher than minted gold and silver coins combined.
During Obama's first term and Trump's term, debt saw a marked increase as the administrations provided fiscal stimulus in response to the global financial crisis and the COVID-19 pandemic. As we begin to recover from COVID-19, what might debt growth look like going forward?
U.S. Public Debt Projections
As of September 30, 2020, the end of the federal government's fiscal year, debt had reached $21 trillion. According to estimates from the Congressional Budget Office, it's projected to rise steadily in the future.
| | 2021P | 2022P | 2023P | 2024P | 2025P | 2026P | 2027P | 2028P | 2029P | 2030P |
| --- | --- | --- | --- | --- | --- | --- | --- | --- | --- | --- |
| U.S. Public Debt | 21.9T | 23.3T | 24.5T | 25.7T | 26.8T | 27.9T | 29.0T | 30.4T | 31.8T | 33.5T |
| Debt-to-GDP ratio | 104.4% | 105.6% | 106.7% | 107.1% | 107.2% | 106.7% | 106.3% | 106.8% | 107.4% | 108.9% |
By 2030, debt will have risen by over $12 trillion from 2020 levels and the debt-to-GDP ratio will be almost 109%.
It's worth noting that debt will likely grow substantially regardless of who is elected in the 2020 U.S. election. Central estimates by the Committee for a Responsible Federal Budget show debt rising by $5 trillion under Trump and $5.6 trillion under Biden through 2030. These estimates exclude any COVID-19 relief policies.
What Could This Mean for Investors?
As the U.S. Federal Reserve creates more money to finance rising government debt, inflation could eventually be pushed higher. This could affect the value of the U.S. dollar.
On the flip side, gold and silver have a limited supply and coin production has decreased over the last three presidential terms. Both can act as an inflation hedge, while playing a role in wealth preservation.