Prove Your Metal: Top 10 Strongest Metals on Earth
Prove Your Metal: Top 10 Strongest Metals on Earth
The use of metals and the advancement of human civilization have gone hand in hand — and throughout the ages, each metal has proved its worth based on its properties and applications.
Today's visualization from Viking Steel Structures outlines the 10 strongest metals on Earth and their applications.
What are Metals?
Metals are solid materials that are typically hard, shiny, malleable, and ductile, with good electrical and thermal conductivity. But not all metal is equal, which makes their uses as varied as their individual properties and benefits.
The periodic table below presents a simple view of the relationship between metals, nonmetals, and metalloids, which you can easily identify by color.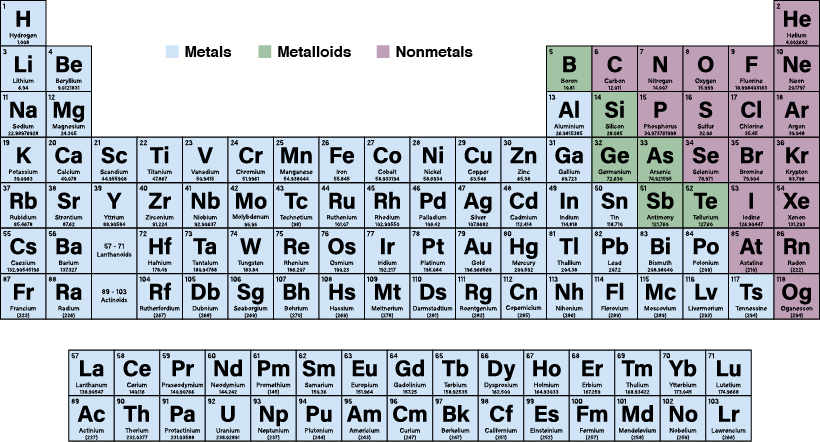 While 91 of the 118 elements of the periodic table are considered to be metals, only a few of them stand out as the strongest.
What Makes a Metal Strong?
The strength of a metal depends on four properties:
Tensile Strength: How well a metal resists being pulled apart
Compressive Strength: How well a material resists being squashed together
Yield Strength: How well a rod or beam of a particular metal resists bending and permanent damage
Impact Strength: The ability to resist shattering upon impact with another object or surface
Here are the top 10 metals based on these properties.
The Top 10 Strongest Metals
| Rank | Type of Metal | Example Use | Atomic Weight | Melting Point |
| --- | --- | --- | --- | --- |
| #1 | Tungsten | Making bullets and missiles | 183.84 u | 3422°C / 6192 °F |
| #2 | Steel | Construction of railroads, roads, other infrastructure and appliances | n/a | 1371°C / 2500°F |
| #3 | Chromium | Manufacturing stainless steel | 51.96 u | 1907°C / 3465°F, |
| #4 | Titanium | In the aerospace Industry, as a lightweight material with strength | 47.87 u | 1668°C / 3032°F |
| #5 | Iron | Used to make bridges, electricity, pylons, bicycle chains, cutting tools and rifle barrels | 55.85 u | 1536°C / 2800°F |
| #6 | Vanadium | 80% of vanadium is alloyed with iron to make steel shock and corrosion resistance | 50.942 u | 1910°C / 3470°F |
| #7 | Lutetium | Used as catalysts in petroleum production. | 174.96 u | 1663 °C / 3025°F |
| #8 | Zirconium | Used in nuclear power stations. | 91.22 u | 1850°C / 3.362°F |
| #9 | Osmium | Added to platinum or indium to make them harder. | 190.2 u | 3000°C / 5,400°F |
| #10 | Tantalum | Used as an alloy due to its high melting point and anti-corrosion. | 180.94 u | 3,017°C / 5462°F |
Out of the Forge and into Tech: Metals for the Future
While these metals help to forge the modern world, there is a new class of metals that are set to create a new future.
Rare Earth elements (REEs) are a group of metals do not rely on their strength, but instead their importance in applications in new technologies, including those used for green energy.
| Metal | Uses |
| --- | --- |
| Neodymium | Magnets containing neodymium are used in green technologies such as the manufacture of wind turbines and hybrid cars. |
| Lanthanum | Used in catalytic converters in cars, enabling them to run at high temperatures |
| Cerium | This element is used in camera and telescope lenses. |
| Praseodymium | Used to create strong metals for use in aircraft engines. |
| Gadolinium | Used in X-ray and MRI scanning systems, and also in television screens. |
| Yttrium, terbium, europium | Making televisions and computer screens and other devices that have visual displays. |
If the world is going to move towards a more sustainable and efficient future, metals—both tough and smart—are going to be critical. Each one will serve a particular purpose to build the infrastructure and technology for the next generation.
Our ability to deploy technology with the right materials will test the world's mettle to meet the challenges of tomorrow—so choose wisely.
Silver Through the Ages: The Uses of Silver Over Time
The uses of silver span various industries, from renewable energy to jewelry. See how the uses of silver have evolved in this infographic.
Silver is one of the most versatile metals on Earth, with a unique combination of uses both as a precious and industrial metal.
Today, silver's uses span many modern technologies, including solar panels, electric vehicles, and 5G devices. However, the uses of silver in currency, medicine, art, and jewelry have helped advance civilization, trade, and technology for thousands of years.
The Uses of Silver Over Time
The below infographic from Blackrock Silver takes us on a journey of silver's uses through time, from the past to the future.
3,000 BC – The Middle Ages
The earliest accounts of silver can be traced to 3,000 BC in modern-day Turkey, where its mining spurred trade in the ancient Aegean and Mediterranean seas. Traders and merchants would use hacksilver—rough-cut pieces of silver—as a medium of exchange for goods and services.
Around 1,200 BC, the Ancient Greeks began refining and minting silver coins from the rich deposits found in the mines of Laurion just outside Athens. By 100 BC, modern-day Spain became the center of silver mining for the Roman Empire while silver bullion traveled along the Asian spice trade routes. By the late 1400s, Spain brought its affinity for silver to the New World where it uncovered the largest deposits of silver in history in the dusty hills of Bolivia.
Besides the uses of silver in commerce, people also recognized silver's ability to fight bacteria. For instance, wine and food containers were often made out of silver to prevent spoilage. In addition, during breakouts of the Bubonic plague in medieval and renaissance Europe, people ate and drank with silver utensils to protect themselves from disease.
The 1800s – 2000s
New medicinal uses of silver came to light in the 19th and 20th centuries. Surgeons stitched post-operative wounds with silver sutures to reduce inflammation. In the early 1900s, doctors prescribed silver nitrate eyedrops to prevent conjunctivitis in newborn babies. Furthermore, in the 1960s, NASA developed a water purifier that dispensed silver ions to kill bacteria and purify water on its spacecraft.
The Industrial Revolution drove the onset of silver's industrial applications. Thanks to its high light sensitivity and reflectivity, it became a key ingredient in photographic films, windows, and mirrors. Even today, skyscraper windows are often coated with silver to reflect sunlight and keep interior spaces cool.
The 2000s – Present
The uses of silver have come a long way since hacksilver and utensils, evolving with time and technology.
Silver is the most electrically conductive metal, making it a natural choice for electronic devices. Almost every electronic device with a switch or button contains silver, from smartphones to electric vehicles. Solar panels also utilize silver as a conductive layer in photovoltaic cells to transport and store electricity efficiently.
In addition, it has several medicinal applications that range from treating burn wounds and ulcers to eliminating bacteria in air conditioning systems and clothes.
Silver for the Future
Silver has always been useful to industries and technologies due to its unique properties, from its antibacterial nature to high electrical conductivity. Today, silver is critical for the next generation of renewable energy technologies.
For every age, silver proves its value.
Visualizing 50 Years of Global Steel Production
Global steel production has tripled over the past 50 years, with China's steel production eclipsing the rest of the world.
Visualizing 50 Years of Global Steel Production
This was originally posted on Elements. Sign up to the free mailing list to get beautiful visualizations on natural resource megatrends in your email every week.
From the bronze age to the iron age, metals have defined eras of human history. If our current era had to be defined similarly, it would undoubtedly be known as the steel age.
Steel is the foundation of our buildings, vehicles, and industries, with its rates of production and consumption often seen as markers for a nation's development. Today, it is the world's most commonly used metal and most recycled material, with 1,864 million metric tons of crude steel produced in 2020.
This infographic uses data from the World Steel Association to visualize 50 years of crude steel production, showcasing our world's unrelenting creation of this essential material.
The State of Steel Production
Global steel production has more than tripled over the past 50 years, despite nations like the U.S. and Russia scaling down their domestic production and relying more on imports. Meanwhile, China and India have consistently grown their production to become the top two steel producing nations.
Below are the world's current top crude steel producing nations by 2020 production.

| Rank | Country | Steel Production (2020, Mt) |
| --- | --- | --- |
| #1 | 🇨🇳 China | 1,053.0 |
| #2 | 🇮🇳 India | 99.6 |
| #3 | 🇯🇵 Japan | 83.2 |
| #4 | 🇷🇺 Russia* | 73.4 |
| #5 | 🇺🇸 United States | 72.7 |
| #6 | 🇰🇷 South Korea | 67.1 |
| #7 | 🇹🇷 Turkey | 35.8 |
| #8 | 🇩🇪 Germany | 35.7 |
| #9 | 🇧🇷 Brazil | 31.0 |
| #10 | 🇮🇷 Iran* | 29.0 |
Source: World Steel Association. *Estimates.
Despite its current dominance, China could be preparing to scale back domestic steel production to curb overproduction risks and ensure it can reach carbon neutrality by 2060.
As iron ore and steel prices have skyrocketed in the last year, U.S. demand could soon lessen depending on the Biden administration's actions. A potential infrastructure bill would bring investment into America's steel mills to build supply for the future, and any walkbalk on the Trump administration's 2018 tariffs on imported steel could further soften supply constraints.
Steel's Secret: Infinite Recyclability
Made up primarily of iron ore, steel is an alloy which also contains less than 2% carbon and 1% manganese and other trace elements. While the defining difference might seem small, steel can be 1,000x stronger than iron.
However, steel's true strength lies in its infinite recyclability with no loss of quality. No matter the grade or application, steel can always be recycled, with new steel products containing 30% recycled steel on average.
The alloy's magnetic properties make it easy to recover from waste streams, and nearly 100% of the steel industry's co-products can be used in other manufacturing or electricity generation.
It's fitting then that steel makes up essential parts of various sustainable energy technologies:
The average wind turbine is made of 80% steel on average (140 metric tons).
Steel is used in the base, pumps, tanks, and heat exchangers of solar power installations.
Electrical steel is at the heart of the generators and motors of electric and hybrid vehicles.
The Steel Industry's Future Sustainability
Considering the crucial role steel plays in just about every industry, it's no wonder that prices are surging to record highs. However, steel producers are thinking about long-term sustainability, and are working to make fossil-fuel-free steel a reality by completely removing coal from the metallurgical process.
While the industry has already cut down the average energy intensity per metric ton produced from 50 gigajoules to 20 gigajoules since the 1960s, steel-producing giants like ArcelorMittal are going further and laying out their plans for carbon-neutral steel production by 2050.
Steel consumption and demand is only set to continue rising as the world's economy gradually reopens, especially as Rio Tinto's new development of atomized steel powder could bring about the next evolution in 3D printing.
As the industry continues to innovate in both sustainability and usability, steel will continue to be a vital material across industries that we can infinitely recycle and rely on.