Prove Your Metal: Top 10 Strongest Metals on Earth
Prove Your Metal: Top 10 Strongest Metals on Earth
The use of metals and the advancement of human civilization have gone hand in hand — and throughout the ages, each metal has proved its worth based on its properties and applications.
Today's visualization from Viking Steel Structures outlines the 10 strongest metals on Earth and their applications.
What are Metals?
Metals are solid materials that are typically hard, shiny, malleable, and ductile, with good electrical and thermal conductivity. But not all metal is equal, which makes their uses as varied as their individual properties and benefits.
The periodic table below presents a simple view of the relationship between metals, nonmetals, and metalloids, which you can easily identify by color.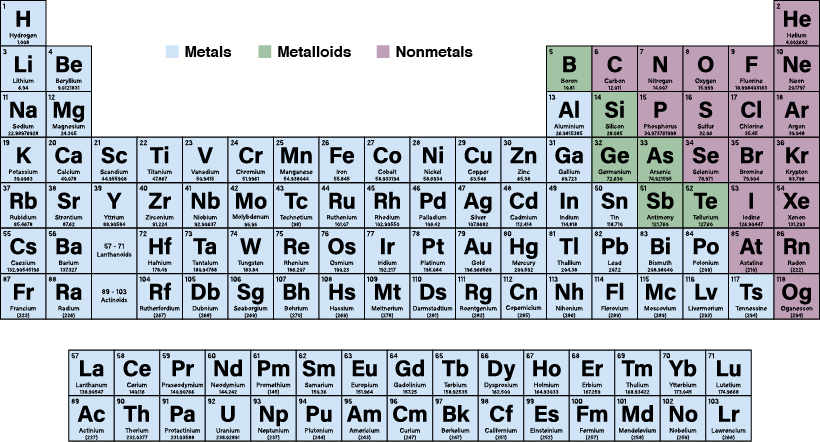 While 91 of the 118 elements of the periodic table are considered to be metals, only a few of them stand out as the strongest.
What Makes a Metal Strong?
The strength of a metal depends on four properties:
Tensile Strength: How well a metal resists being pulled apart
Compressive Strength: How well a material resists being squashed together
Yield Strength: How well a rod or beam of a particular metal resists bending and permanent damage
Impact Strength: The ability to resist shattering upon impact with another object or surface
Here are the top 10 metals based on these properties.
The Top 10 Strongest Metals
| Rank | Type of Metal | Example Use | Atomic Weight | Melting Point |
| --- | --- | --- | --- | --- |
| #1 | Tungsten | Making bullets and missiles | 183.84 u | 3422°C / 6192 °F |
| #2 | Steel | Construction of railroads, roads, other infrastructure and appliances | n/a | 1371°C / 2500°F |
| #3 | Chromium | Manufacturing stainless steel | 51.96 u | 1907°C / 3465°F, |
| #4 | Titanium | In the aerospace Industry, as a lightweight material with strength | 47.87 u | 1668°C / 3032°F |
| #5 | Iron | Used to make bridges, electricity, pylons, bicycle chains, cutting tools and rifle barrels | 55.85 u | 1536°C / 2800°F |
| #6 | Vanadium | 80% of vanadium is alloyed with iron to make steel shock and corrosion resistance | 50.942 u | 1910°C / 3470°F |
| #7 | Lutetium | Used as catalysts in petroleum production. | 174.96 u | 1663 °C / 3025°F |
| #8 | Zirconium | Used in nuclear power stations. | 91.22 u | 1850°C / 3.362°F |
| #9 | Osmium | Added to platinum or indium to make them harder. | 190.2 u | 3000°C / 5,400°F |
| #10 | Tantalum | Used as an alloy due to its high melting point and anti-corrosion. | 180.94 u | 3,017°C / 5462°F |
Out of the Forge and into Tech: Metals for the Future
While these metals help to forge the modern world, there is a new class of metals that are set to create a new future.
Rare Earth elements (REEs) are a group of metals do not rely on their strength, but instead their importance in applications in new technologies, including those used for green energy.
| Metal | Uses |
| --- | --- |
| Neodymium | Magnets containing neodymium are used in green technologies such as the manufacture of wind turbines and hybrid cars. |
| Lanthanum | Used in catalytic converters in cars, enabling them to run at high temperatures |
| Cerium | This element is used in camera and telescope lenses. |
| Praseodymium | Used to create strong metals for use in aircraft engines. |
| Gadolinium | Used in X-ray and MRI scanning systems, and also in television screens. |
| Yttrium, terbium, europium | Making televisions and computer screens and other devices that have visual displays. |
If the world is going to move towards a more sustainable and efficient future, metals—both tough and smart—are going to be critical. Each one will serve a particular purpose to build the infrastructure and technology for the next generation.
Our ability to deploy technology with the right materials will test the world's mettle to meet the challenges of tomorrow—so choose wisely.
Why Copper and Nickel Are the Key Metals for Energy Utopia
With more renewables and EVs plugging into the grid, copper and nickel are essential building blocks for the energy transition.
Copper and Nickel: The Key Metals for Energy Utopia
The raw materials required to transport and store clean energy are critical for the energy transition. Copper and nickel are two such metals.
Copper is essential for the transmission and distribution of clean electricity, while nickel powers lithium-ion batteries for EVs and energy storage systems.
The above infographic sponsored by CanAlaska Uranium explores how copper and nickel are enabling green technologies and highlights why they are essential for a utopian energy future.
Copper: Transporting Clean Energy
When it comes to conducting electricity, copper is second only to silver. This property makes it an indispensable building block for multiple energy technologies, including:
Electric vehicles: On average, a typical electric car contains 53kg of copper, primarily found in the wirings and car components.

Solar power: Solar panels use 2.8 tonnes of copper per megawatt (MW) of installed capacity, mainly for heat exchangers, wiring, and cabling.

Wind energy: Onshore wind turbines contain 2.9 tonnes of copper per MW of capacity. Offshore wind turbines, which typically use copper in undersea cables, use 8 tonnes per MW.

Power grids: Copper, alongside aluminum, is the preferred choice for electric transmission and distribution networks due to its reliability and efficiency.
BloombergNEF projects that, due to its expansive role in clean energy, the demand for copper from clean energy applications will double by 2030 from 2020 levels. The table below compares annual copper demand from clean energy, in tonnes, in 2020 vs. 2030:
Year
Power Grids
EV batteries
Wind
Solar
EV charging
Total
(tonnes)
2020
1,700,000
210,000
165,000
83,000
4,200
2,162,200
2030P
2,000,000
1,800,000
352,000
104,000
47,100
4,303,100
Although power grids will account for the largest portion of annual copper demand through 2030, EV batteries are projected to spearhead the growth.
Nickel: Powering Lithium-ion Batteries
Nickel is a key ingredient in lithium-ion batteries for EVs and stationary energy storage systems. For EVs, nickel-based cathodes offer more energy density and longer driving ranges as compared to cathodes with lower nickel content.
According to Wood Mackenzie, batteries could account for 41% of global nickel demand by 2030, up from just 7% in 2021.
| End-use | 2021 % of Nickel Demand | 2040P % of Nickel Demand |
| --- | --- | --- |
| Stainless steel | 69% | 45% |
| Battery precursors | 7% | 41% |
| Other | 24% | 14% |
Nickel-based cathodes for lithium-ion batteries, including NMC (Nickel Manganese Cobalt) and NCA (Nickel Cobalt Aluminum), are prevalent in EVs and make up more than 50% of the battery cathode chemistry market.
A Bright Future for Copper and Nickel
Both copper and nickel are essential building blocks of EVs and other key technologies for the energy transition and ultimately energy utopia.
As more such technologies are deployed, these metals are likely to be in high demand, with clean energy applications supplementing their existing industrial uses.

CanAlaska is a leading exploration company with a strategic portfolio of uranium, nickel, and copper projects in North America. Click here to learn more.