Visualizing U.S. Consumption of Fuel and Materials per Capita

Subscribe to the Elements free mailing list for more like this
Visualizing U.S. Consumption of Fuel and Materials per Capita
This was originally posted on Elements. Sign up to the free mailing list to get beautiful visualizations on natural resource megatrends in your email every week.
Wealthy countries consume massive amounts of natural resources per capita, and the United States is no exception.
According to data from the National Mining Association, each American needs more than 39,000 pounds (17,700 kg) of minerals and fossil fuels annually to maintain their standard of living.
Materials We Need to Build
Every building around us and every sidewalk we walk on is made of sand, steel, and cement.
As a result, these materials lead consumption per capita in the United States. On average, each person in America drives the demand of over 10,000 lbs of stone and around 7,000 lbs of sand and gravel per year.
| Material/Fossil Fuel | Pounds Per Person |
| --- | --- |
| Stone | 10,643 |
| Natural Gas | 9,456 |
| Sand, Gravel | 7,088 |
| Petroleum Products | 6,527 |
| Coal | 3,290 |
| Cement | 724 |
| Other Nonmetals | 569 |
| Salt | 359 |
| Iron Ore | 239 |
| Phosphate Rock | 166 |
| Sulfur | 66 |
| Potash | 49 |
| Soda Ash | 36 |
| Bauxite (Aluminum) | 24 |
| Other Metals | 21 |
| Copper | 13 |
| Lead | 11 |
| Zinc | 6 |
| Manganese | 4 |
| Total | 39,291 |
The construction industry is a major contributor to the U.S. economy.
Crushed stone, sand, gravel, and other construction aggregates represent half of the industrial minerals produced in the country, resulting in $29 billion in revenue per year.
Also on the list are crucial hard metals such as copper, aluminum, iron ore, and of course many rarer metals used in smaller quantities each year. These rarer metals can make a big economic difference even when their uses are more concentrated and isolated—for example, palladium (primarily used in catalytic converters) costs $54 million per tonne.
Fuels Powering our Lives
Despite ongoing efforts to fight climate change and reduce carbon emissions, each person in the U.S. uses over 19,000 lbs of fossil fuels per year.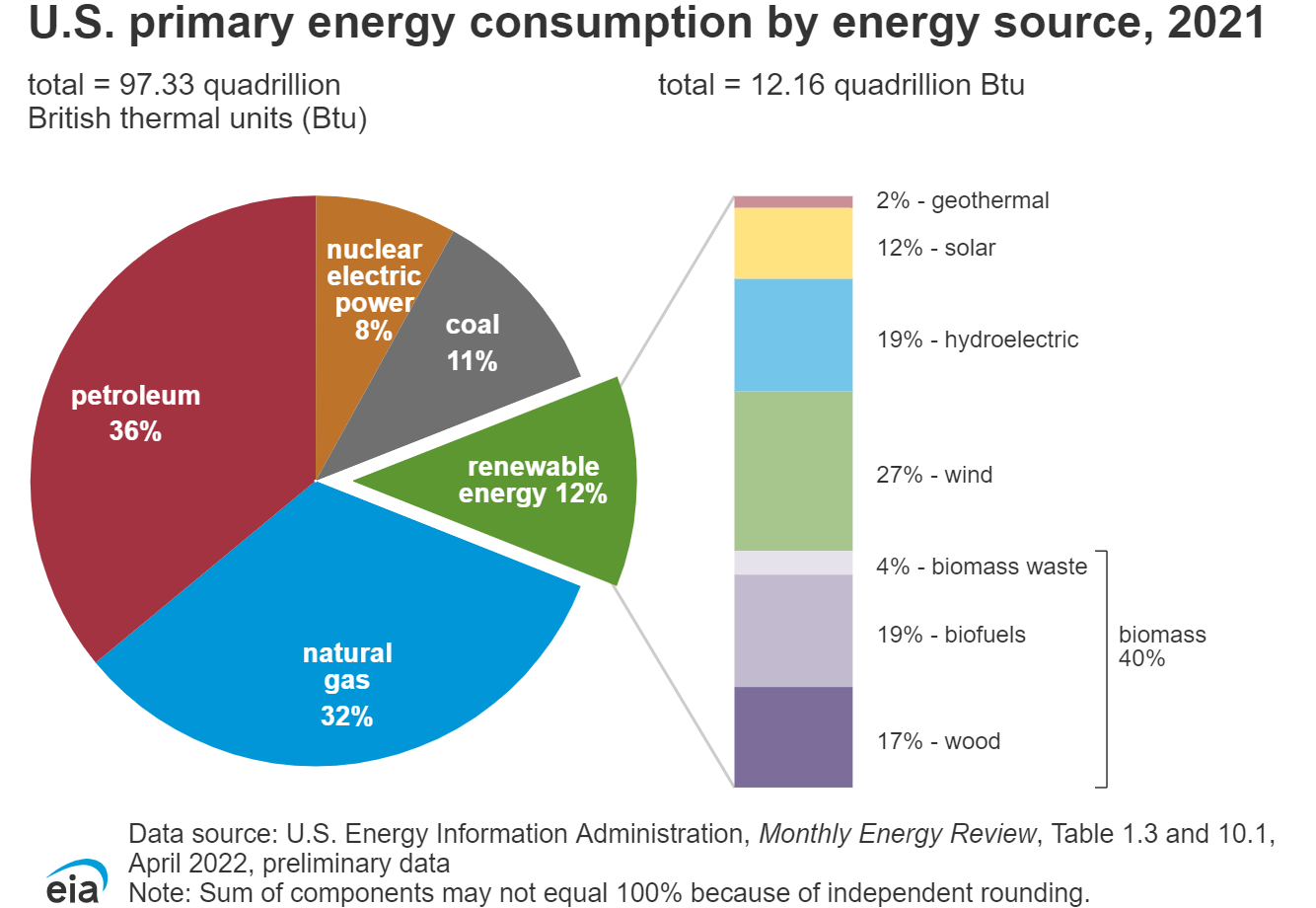 Gasoline is the most consumed petroleum product in the United States.
In 2021, finished motor gasoline consumption averaged about 369 million gallons per day, equal to about 44% of total U.S. petroleum use. Distillate fuel oil (20%), hydrocarbon gas liquids (17%), and jet fuel (7%) were the next most important uses.
Reliance on Other Countries
Over the past three decades, the United States has become reliant on foreign sources to meet domestic demand for minerals and fossil fuels. Today, the country is 100% import-reliant for 17 mineral commodities and at least 50% for 30 others.
In order to reduce the dependency on other countries, namely China, the Biden administration has been working to diversify supply chains in critical minerals. This includes strengthening alliances with other countries such as Australia, India, and Japan.
However, questions still remain about how soon these policies can make an impact, and the degree to which they can ultimately help localize and diversify supply chains.
Ranked: Electric Vehicle Sales by Model in 2023
Today, electric vehicle sales make up 18% of global vehicle sales. Here are the leading models by sales as of August 2023.
Ranked: Electric Vehicle Sales by Model in 2023
Electric vehicle (EV) sales are gaining momentum, reaching 18% of global vehicle sales in 2023.
As new competitors bring more affordable options and new performance features, the market continues to mature as customers increasingly look to electric options.
This graphic ranks the top-selling EVs worldwide as of August 2023, based on data from CleanTechnica.
The Best Selling EVs in 2023 (Through August)
Below, we show the world's best selling fully electric vehicles from January to August 2023:
Model
Country
Vehicles Sold
(Jan-Aug 2023)
Tesla Model Y
🇺🇸 U.S.
772,364
Tesla Model 3
🇺🇸 U.S.
364,403
BYD Atto 3 / Yuan Plus
🇨🇳 China
265,688
BYD Dolphin
🇨🇳 China
222,825
GAC Aion S
🇨🇳 China
160,693
Wuling HongGuang Mini EV
🇨🇳 China
153,399
GAC Aion Y
🇨🇳 China
136,619
VW ID.4
🇩🇪 Germany
120,154
BYD Seagull
🇨🇳 China
95,202
As we can see, Tesla's Model Y still holds a comfortable lead over the competition with 772,364 units sold. That's more than double the sales of the #2 top selling vehicle, Tesla's Model 3 (364,403)
But it's hard to ignore the rising prevalence of Chinese EVs. The next five best selling EV vehicles are Chinese, including three from BYD. The automaker's Atto 3 (or Yuan Plus, depending on market), is being sold in various countries including Germany, the UK, Japan, and India.
Meanwhile, Chinese automaker GAC Group also had two models of its Aion EV brand make the rankings, with the Aion S selling 160,693 units so far.
Regional market strength is also clear. For Volkswagen's ID.4 model (120,154 units sold), Europe and China account for the majority of sales.
Given growing cost efficiencies and changing consumer behavior, global EV sales are projected to make up half of new car sales globally by 2035, according to forecasts from Goldman Sachs.