The Problem With Our Maps
Maps shape our understanding of the world—and in an increasingly interconnected and global economy, this geographic knowledge is more important than ever.
Unfortunately, billions of people around the world have a skewed perception of the true size of countries thanks to a cartographic technique called the Mercator projection. Used just about everywhere, from classroom wall maps to navigation apps, the Mercator projection is the way most of humanity recognizes the position and size of Earth's continents.
The Mercator Projection
In 1569, the great cartographer, Gerardus Mercator, created a revolutionary new map based on a cylindrical projection. The new map was well-suited to nautical navigation since every line on the sphere is a constant course, or loxodrome. In modern times, this is particularly useful since the Earth can be depicted in a seamless way in online mapping applications.
That said, in this projection style, the sizes of landmasses become increasingly distorted the further away from the equator they get. One trade-off for the utility of Mercator's map is that it pumps up the sizes of Europe and North America. Visually speaking, Canada and Russia appear to take up approximately 25% of the Earth's landmass, when in reality they occupy a mere 5%. When Antarctica is excluded (as it often is), Canada and Russia's visual share of landmass jumps to about 40%.
Canada is the second largest country in the world, but not by much. Here is an "at scale" look at Canada, the United States, and Mexico.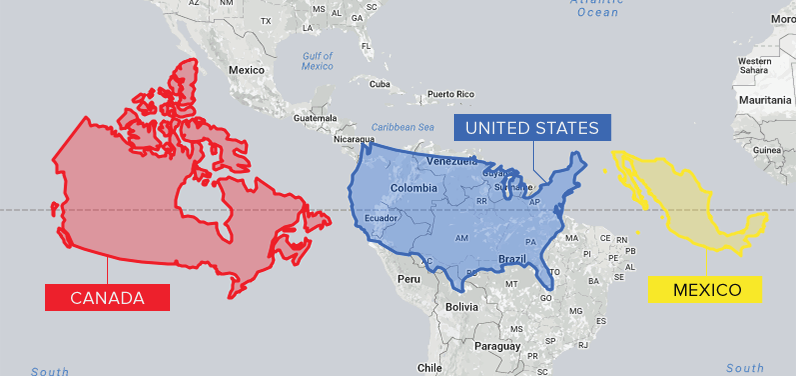 Africa, South Asia, and South America all appear much smaller in relation to countries further from the equator.
And from a North American perspective, countries such as Australia and Indonesia appear much smaller than they actually are. Comparing the landmasses on the same latitude as Canada helps put sizes into perspective.
Greenland is the world's largest island, but looking at its hyper-exaggerated depiction in the map below, you'd be forgiven for wondering why it isn't a stand-alone continent. In reality, Greenland is about fourteen times smaller than Africa.
Is Bigger Better?
Though Mercator's map was never intended for use as the default wall map in schools around the world, it has shaped the worldviews of billions of people. Critics of the map—and similar projections—suggest that distortion reinforces a sense of colonialist superiority. As well, the amount of territory a country occupies is often correlated with power and access to natural resources, and map distortions can have the effect of inadvertently diminishing nations closer to the equator.
In our society we unconsciously equate size with importance and even power. – Salvatore Natoli, Educational Affairs Director, AAG
A prime example of this argument is the "True Size of Africa" graphic, which demonstrated to millions of people just how big the continent is.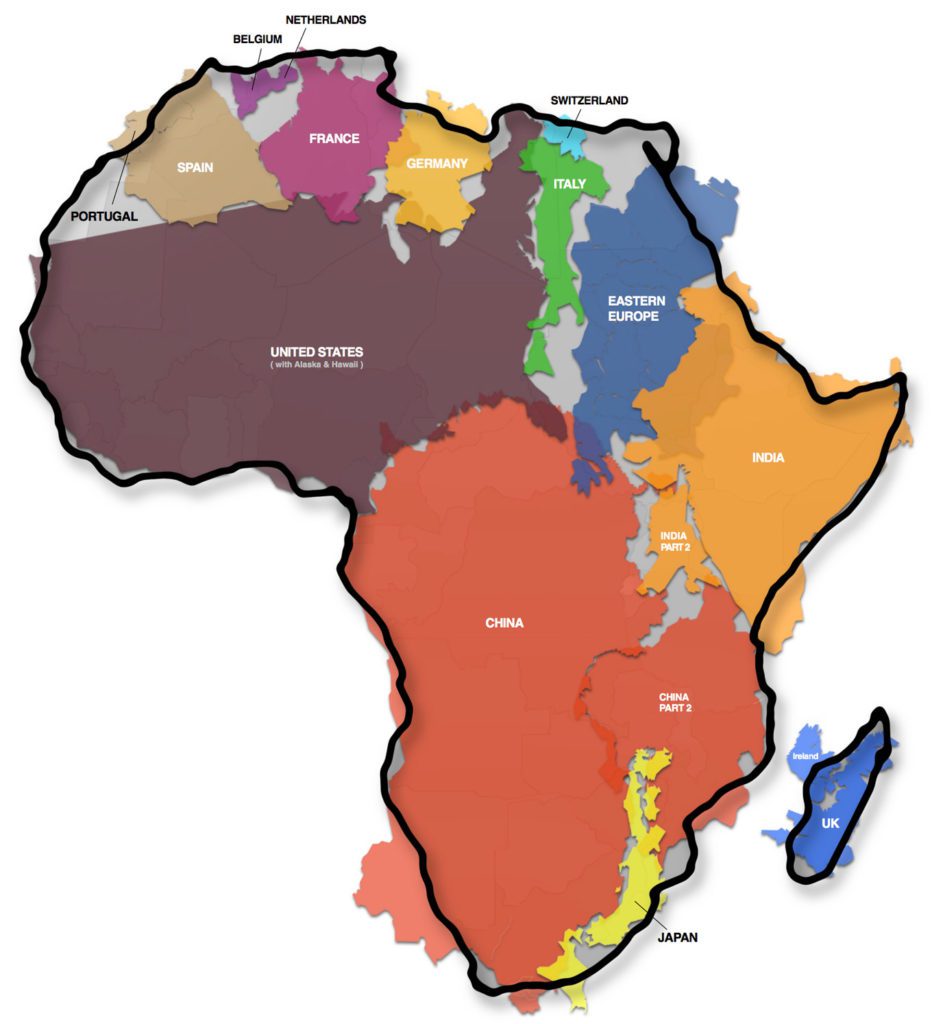 Growing awareness of map distortion is translating into concrete change. Boston public schools, for example, recently switched to the Gall-Peters projection, which more accurately depicts the true size of landmasses.
As well, Google, whose map app is used by approximately one billion people per month, took the bold step of using different projections for different purposes in 2018. The Earth is depicted as a globe at further zoom levels, sidestepping map projection issues completely and displaying the world as it actually is: round.
The Road to Equal-Area Mapping
In 1805, mathematician and astronomer, Karl Mollweide, created a namesake projection that trades accuracy of angles and shape for accuracy of proportion. The Mollweide projection has inspired many other attempts at a user-friendly equal area map.
John Paul Goode's attempt, known as the Goode Homolosine Projection, took this concept a step further by adding interruptions at strategic locations to help reduce the distortion of continents. The resulting shape is sometimes referred to as an "orange peel map".
Another evolution in cartography was the Dymaxion map, invented by Buckminster Fuller and patented in 1946. In this version, the continents are no longer in their familiar positions—however, there is more spacial fidelity than in previous projection methods. We're able to see the true proportions of Africa, Northern Canada, Antarctica, and other distortion hot spots.
The Dymaxion map wasn't created for purely practical purposes. Fuller believed that humans would be better equipped to address global challenges if they were given a way to visualize the Earth's continents in a contiguous manner.
The AuthaGraph Map
Using a new map-making method called AuthaGraph, Japanese architect, Hajime Narukawa, may have created the most accurate map of the world yet. AuthaGraph divides the globe into 96 triangles, transfers them to a tetrahedron and unfolds into a rectangle.
The end result? Landmasses and seas are more accurately proportioned than in traditional projections.
The biggest downfall of the AuthaGraph map is that longitude and latitude lines are no longer a tidy grid. As well, continents on the map are repositioned in a way that will be unfamiliar to a population that is already geographically challenged.
That said, depicting our round world on a flat surface will always come with some trade-offs. As demand grows for a true equal-area map, it will be exciting to see what the next generation of map projections have to offer.
Map It Yourself
Looking to learn more about maps and map projections? This fantastic tool, created by Florian Ledermann, allows users to take a vast selection of projection styles, and modify them in different ways. This hands-on approach is a fun way to learn how the shape of landmasses shift as the projection changes.
10 Travel Destinations for Post-Pandemic Life
Excited to get back to travelling the world? This infographic highlights the 10 most popular tourist destinations.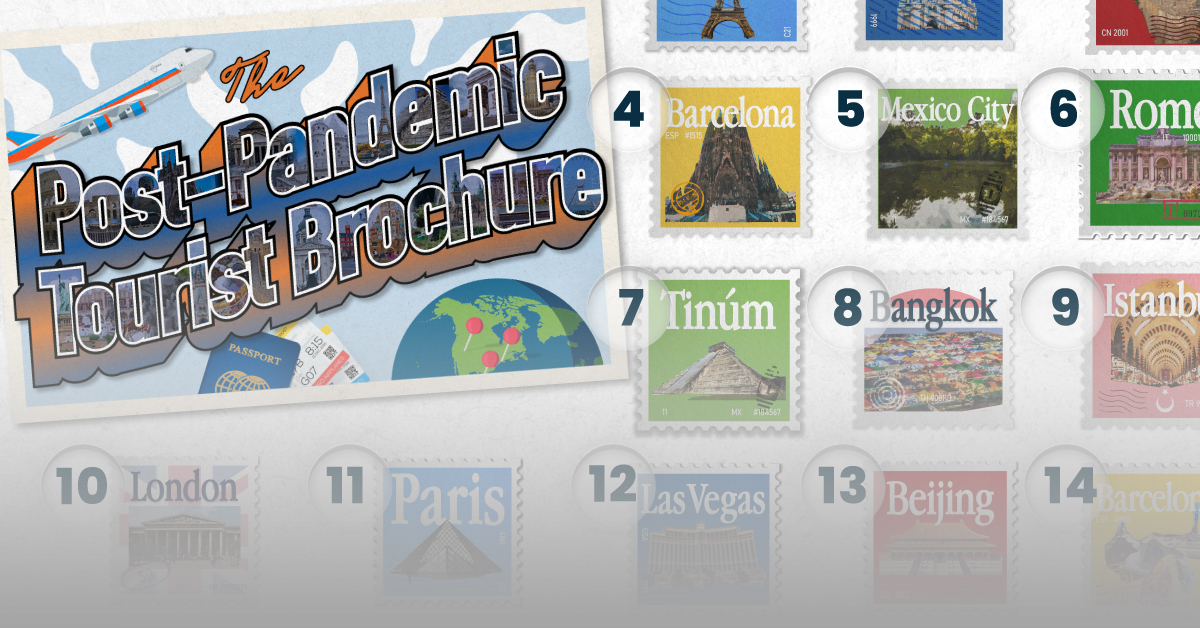 10 Travel Destinations for Post-Pandemic Life
On March 11, 2020, the World Health Organization formally classified the COVID-19 outbreak as a pandemic. The resulting travel bans decimated the tourism industry, and international air travel initially fell by as much as 98%.
Almost two years later, travel is finally back on the table, though there are many restrictions to consider. Regardless, a survey conducted in September 2021 found that, as things revert to normalcy, 82% of Americans are looking forward to international travel more than anything else.
To give inspiration for your next vacation (whenever that may be), this infographic lists the 10 most visited countries in 2019, as well as three of their top attractions according to Google Maps.
Bon Voyage
Here were the 10 most popular travel destinations in 2019, measured by their number of international arrivals.
| Country | Number of international arrivals in 2019 (millions) |
| --- | --- |
| 🇫🇷 France* | 90.0 |
| 🇪🇸 Spain | 83.5 |
| 🇺🇸 U.S. | 79.3 |
| 🇨🇳 China | 65.7 |
| 🇮🇹 Italy | 64.5 |
| 🇹🇷 Turkey | 51.2 |
| 🇲🇽 Mexico | 45.0 |
| 🇹🇭 Thailand | 39.8 |
| 🇩🇪 Germany | 39.6 |
| 🇬🇧 United Kingdom | 39.4 |
*Estimate | Source: World Bank
France was the most popular travel destination by a significant margin, and it's easy to see why. The country is home to many of the world's most renowned sights, including the Arc de Triomphe and Louvre Museum.
The Arc de Triomphe was built in the early 1800s, and honors those who died in the French Revolutionary and Napoleonic Wars. In 1944, Allied soldiers marched through the monument after Paris was liberated from the Nazis.
The Louvre Museum, on the other hand, is often recognized by its giant glass pyramid. The museum houses over 480,000 works of art, including Leonardo da Vinci's Mona Lisa.
Art isn't the only thing that France has to offer. The country has a reputation for culinary excellence, and is home to 632 Michelin-starred restaurants, the most out of any country. Japan comes in at second, with 413.
While You're There…
After seeing the sights in Paris, you may want to consider a visit to Spain. The country is the southern neighbor of France and is known for its beautiful villages and beaches.
One of its most impressive sights is the Sagrada Familia, a massive 440,000 square feet church which began construction in 1882, and is still being worked on today (139 years in the making). The video below shows the structure's striking evolution.
At a height of 172 meters, the Sagrada Familia is approximately 52 stories tall.
Another popular spot is Ibiza, an island off the coast of Spain that is famous for its robust nightlife scene. The island is frequently mentioned in pop culture—Netflix released an adventure/romance movie titled Ibiza in 2018, and the remix of Mike Posner's song I Took a Pill in Ibiza has over 1.4 billion views on YouTube.
Beaches Galore
If you're looking for something outside of Europe, consider Mexico or Thailand, which are the 7th and 8th most popular travel destinations. Both offer hot weather and an abundance of white sand beaches.
If you need even more convincing, check out these links:
Expect Turbulence
Under normal circumstances, hundreds of billions of dollars are spent each year by international tourists. According to the World Travel & Tourism Council (WTCC), this spending accounted for an impressive 10.4% of global GDP in 2019.
Travel restrictions introduced in 2020 dealt a serious blow to the industry, reducing its share of global GDP to 5.5%, and wiping out an estimated 62 million jobs. While the WTCC believes these jobs could return by 2022, the emerging Omicron variant has already prompted many countries to tighten restrictions once again.
To avoid headaches in the future, make sure you fully understand the rules and restrictions of where you're heading.
Which Values Children Should Be Encouraged to Learn, By Country
Which qualities do people think are most important for children to learn? The answer differs from country to country.

Creator Program
Many of the values we prioritize as adults were instilled in us during our childhood days.
They're called our formative years for a reason—from when we're born up until we're about eight years old, our brains are easily molded and remain highly sensitive to external influences and environments. But depending on where you grew up, you may have been exposed to different values during your childhood compared to someone from another place.
These visualizations by Anders Sundell illustrate the most important values people think children should learn at home, across more than 80 different countries.
Methodology
Sundell used data from the World Values Survey, an international survey that interviews hundreds of thousands of participants from across the globe. Respondents were asked to pick up to five qualities they believe are the most desirable for children to have:
Good manners
Independence
Hard work
Feeling of responsibility
Imagination
Tolerance and respect for other people
Thrift, saving money
Determination and perseverance
Religious faith
Unselfishness
Obedience
Sundell took the survey data and calculated the proportion of people in each country that selected each quality. From there, he took the top qualities and created three separate plot graphs to show the contrast between them.
Let's look at the importance that countries placed on different values, including (1) independence and obedience, (2) unselfishness and religious faith, and (3) hard work and imagination.
1. Independence vs Obedience
Nordic countries value independence greatly, and find obedience to be a less important quality to instill in children.
View the full-size infographic
Other available data also supports that adults in Nordic countries value independence. According to Eurostat, the most common age to leave home in Sweden is between 17 and 18—nearly a decade sooner than the average age across the EU (26 years old).
Denmark's average age to leave home is also below the European average, at 21 years old.
On the other end of the spectrum, countries like Iraq and Egypt believe obedience is much more important for children to learn.
2. Unselfishness vs Religious Faith
Bangladesh, Egypt, and Jordan all place a strong emphasis on faith, and fall on the far right of this graph.
View the full-size infographic
Islam is a strong influence in all three of these countries. In Bangladesh and Jordan, it's the official state religion. And while Egypt is a secular country, a majority of citizens identify as Muslim—about 90% of the population.
Interestingly, places like the U.S. and Hong Kong fall right in the between, placing relatively equal importance on religion and unselfishness.
3. Hard Work vs Imagination
Left-leaning Nordic countries like Sweden, Norway, Denmark, and Finland think imagination is more important for children to learn than hard work.
View the full-size infographic
Interestingly, Japan also scored high for imagination, seeing it was a more important value to teach children than hard work. This is despite the fact that the country has an international reputation for being a hardworking country, where even taking an extended vacation can be frowned upon. Then again, Japan has a reputation for producing wildly creative works of art that are popular internationally (anime, for instance).
As expected, countries and cultures contain multitudes, and can often seem paradoxical and complex to those who try to codify them.
What qualities do you think are most important, and what countries surprised you with their placements?