The Most Widespread Blood Types, by Country
Blood is essential to the human body's functioning. It dispenses crucial nutrients throughout the body, exchanges oxygen and carbon dioxide, and carries our immune system's "militia" of white blood cells and antibodies to stave off infections.
But not all blood is the same. The antigens in one's blood determine their blood type classification: There are eight common blood type groups, and with different combinations of antigens and classifications, 36 human blood type groups in total.
Using data sourced from Wikipedia, we can map the most widespread blood types across the globe.
Overall Distribution of Blood Types
Of the 7.9 billion people living in the world, spread across 195 countries and 7 continents, the most common blood type is O+, with over 39% of the world's population falling under this classification. The rarest, meanwhile, is AB-, with only 0.40% of the population having this particular blood type.
Breaking it down to the national level, these statistics begin to change. Since different genetic factors play a part in determining an individual's blood type, every country and region tells a different story about its people.
Regional Distribution of Blood Types
Asia
Even though O+ remains the most common blood type here, blood type B is relatively common too. Nearly 20% of China's population has this blood type, and it is also fairly common in India and other Central Asian countries.
Comparatively, in some West Asian countries like Armenia and Azerbaijan, the population with blood type A+ outweighs any others.
Americas
The O blood type is the most common globally and is carried by nearly 70% of South Americans. It is also the most common blood type in Canada and the United States.
Here is a breakdown of the most common blood types in the U.S. by race:
Africa
O+ is a strong blood group classification among African countries. Countries like Ghana, Libya, Congo and Egypt, have more individuals with O- blood types than AB+.
Europe
The A blood group is common in Europe. Nearly 40% of Denmark, Norway, Austria, and Ukraine have this blood type.
Oceania
O+ and A+ are dominant blood types in the Oceanic countries, with only Fiji having a substantial B+ blood type population.
Middle East
More than 41% of the population displays the O+ blood group type, with Lebanon being the only country with a strong O- and A- blood type population.
The Caribbean
Nearly half of people in Caribbean countries have the blood type O+, though Jamaica has B+ as the most common blood type group.
Here is the classification of the blood types by every region in the world: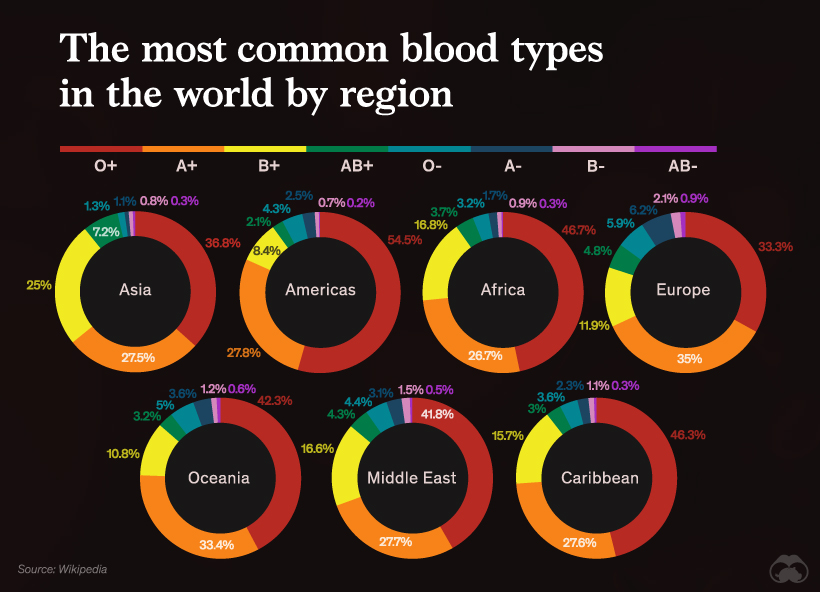 Unity in Diversity
Even though ethnicity and genetics play a vital role in determining a person's blood type, we can see many different blood types distributed worldwide.
Blood provides an ideal opportunity for the study of human variation without cultural prejudice. It can be easily classified for many different genetically inherited blood typing systems.
Our individuality is a factor that helps determine our life, choices, and personalities. But at the end of the day, commonalities like blood are what bring us together.
Visualizing the World's Flower Bouquet Export Market
This graphic highlights global flower bouquet sales in 2021 and how a few countries dominate the entire flower export market.

Creator Program
Visualizing the World's Flower Bouquet Export Market
For many, flower bouquets are the go-to gift choice when congratulating a colleague, visiting an ailing relative, or simply showing love and kindness to partners and friends.
And the global popularity of these carefully-arranged and vividly-colored bundles has led to the creation of a billion-dollar flower bouquet market. And demand for beautiful bouquets has kept growing, with global flower bouquet exports in 2021 reaching $11 billion—which is a 30.2% rise since 2017.
Louis Lugas Wicaksono uses data from World's Top Exports to highlight the spread of this industry. In this image, he shows the flower bouquet exports across different countries in 2021.
Countries Trading the Most Flower Bouquets
Far at the top of the list and best known for their tulips, the Netherlands dominated the flower bouquet export industry in 2021.
| Rank | Country | Continent | Flower Bouquet Exports (2021 USD) |
| --- | --- | --- | --- |
| 1 | 🇳🇱 Netherlands | Europe | $5.7B |
| 2 | 🇨🇴 Colombia | America | $1.7B |
| 3 | 🇪🇨 Ecuador | America | $927.3M |
| 4 | 🇰🇪 Kenya | Africa | $725.5M |
| 5 | 🇪🇹 Ethiopia | Africa | $254.5M |
| 6 | 🇧🇪 Belgium | Europe | $150.0M |
| 7 | 🇮🇹 Italy | Europe | $140.9M |
| 8 | 🇨🇳 China | Asia | $124.6M |
| 9 | 🇲🇾 Malaysia | Asia | $90.5M |
| 10 | 🇨🇦 Canada | America | $82.0M |
| 11 | 🇮🇱 Israel | Asia | $77.5M |
| 12 | 🇿🇦 South Africa | Africa | $70.4M |
| 13 | 🇪🇸 Spain | Europe | $69.6M |
| 14 | 🇩🇪 Germany | Europe | $65.8M |
| 15 | 🇹🇷 Turkey | Asia | $59.4M |
| | 🌎 Rest of the world | | $735.2M |
The small European nation exported $5.7 billion worth of bouquets in 2021, accounting for over half of global flower bouquet trade. This dominance comes from centuries of being the world's largest producer of flowers and being a floral trade hub due to its advantageous location and connections with other growers, suppliers, and wholesalers.
Colombia and Ecuador fall next on this list with their exports totaling $1.7 billion and $927 million, respectively. Roses, carnations, and chrysanthemums are heavily exported from these South American nations.
On the other side of the Atlantic, cut rose flower exports were the leading drivers for Kenya and Ethiopia, earning these African nations $725 million and $254 million respectively.
Together, these five nations contributed to 85% of the world's flower bouquet trade in 2021.
Post-Pandemic Strategies
Despite the challenges posed by the COVID-19 pandemic, the flower bouquet export industry remained resilient. However, this was not an easy feat.
Many florists embraced new strategies like online sales and free home deliveries, and exporters dealt with global shipping slowdowns. Some countries including Columbia and Kenya focused on producing flowers with longer shelf lives that could be shipped further away.
As we continue to drift away from the pandemic and global trade eases up, we can expect this industry to blossom further.