The Most Widespread Blood Types, by Country
Blood is essential to the human body's functioning. It dispenses crucial nutrients throughout the body, exchanges oxygen and carbon dioxide, and carries our immune system's "militia" of white blood cells and antibodies to stave off infections.
But not all blood is the same. The antigens in one's blood determine their blood type classification: There are eight common blood type groups, and with different combinations of antigens and classifications, 36 human blood type groups in total.
Using data sourced from Wikipedia, we can map the most widespread blood types across the globe.
Overall Distribution of Blood Types
Of the 7.9 billion people living in the world, spread across 195 countries and 7 continents, the most common blood type is O+, with over 39% of the world's population falling under this classification. The rarest, meanwhile, is AB-, with only 0.40% of the population having this particular blood type.
Breaking it down to the national level, these statistics begin to change. Since different genetic factors play a part in determining an individual's blood type, every country and region tells a different story about its people.
Regional Distribution of Blood Types
Asia
Even though O+ remains the most common blood type here, blood type B is relatively common too. Nearly 20% of China's population has this blood type, and it is also fairly common in India and other Central Asian countries.
Comparatively, in some West Asian countries like Armenia and Azerbaijan, the population with blood type A+ outweighs any others.
Americas
The O blood type is the most common globally and is carried by nearly 70% of South Americans. It is also the most common blood type in Canada and the United States.
Here is a breakdown of the most common blood types in the U.S. by race:
Africa
O+ is a strong blood group classification among African countries. Countries like Ghana, Libya, Congo and Egypt, have more individuals with O- blood types than AB+.
Europe
The A blood group is common in Europe. Nearly 40% of Denmark, Norway, Austria, and Ukraine have this blood type.
Oceania
O+ and A+ are dominant blood types in the Oceanic countries, with only Fiji having a substantial B+ blood type population.
Middle East
More than 41% of the population displays the O+ blood group type, with Lebanon being the only country with a strong O- and A- blood type population.
The Caribbean
Nearly half of people in Caribbean countries have the blood type O+, though Jamaica has B+ as the most common blood type group.
Here is the classification of the blood types by every region in the world: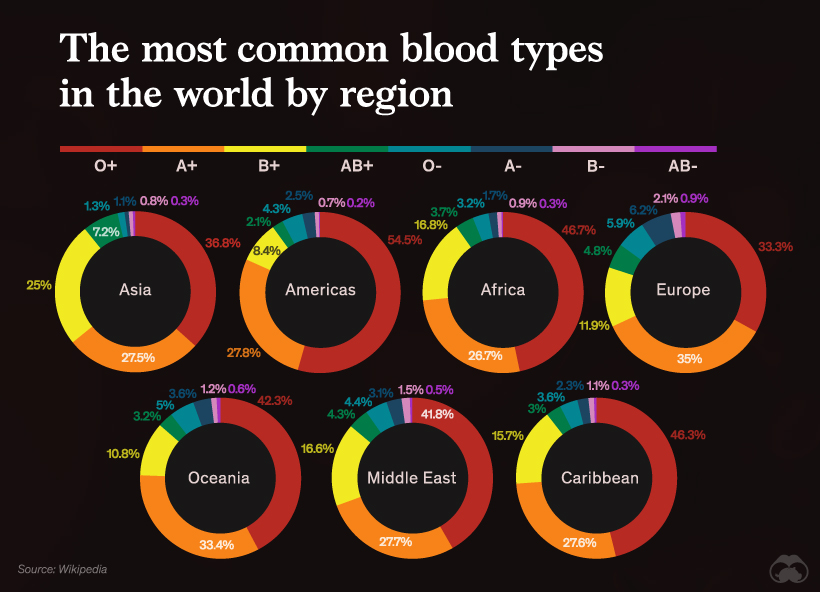 Unity in Diversity
Even though ethnicity and genetics play a vital role in determining a person's blood type, we can see many different blood types distributed worldwide.
Blood provides an ideal opportunity for the study of human variation without cultural prejudice. It can be easily classified for many different genetically inherited blood typing systems.
Our individuality is a factor that helps determine our life, choices, and personalities. But at the end of the day, commonalities like blood are what bring us together.
The Anthropocene: A New Epoch in the Earth's History
We visualize Earth's history through the geological timeline to reveal the planet's many epochs, including the Anthropocene.
The Anthropocene: A New Epoch in the Earth's History
Over the course of Earth's history, there have been dramatic shifts in the landscape, climate, and biodiversity of the planet. And it is all archived underground.
Layers of the planet's crust carry evidence of pivotal moments that changed the face of the Earth, such as the ice age and asteroid hits. And scientists have recently defined the next major epoch using this geological time scale—the Anthropocene.
In this infographic we dig deep into the Earth's geological timeline to reveal the planet's shift from one epoch to another, and the specific events that separate them.
Understanding the Geological Timeline
The Earth's geological history is divided into many distinct units, from eons to ages. The time span of each varies, since they're dependent on major events like new species introduction, as well as how they fit into their parent units.
| Geochronologic unit | Time span | Example |
| --- | --- | --- |
| Eon | Several hundred million years to two billion years | Phanerozoic |
| Era | Tens to hundreds of millions of years | Cenozoic |
| Period | Millions of years to tens of millions of years | Quaternary |
| Epoch | Hundreds of thousands of years to tens of millions of years | Holocene |
| Age | Thousands of years to millions of years | Meghalayan |
Note: Subepochs (between epochs and ages) have also been ratified for use in 2022, but are not yet clearly defined.
If we were to cut a mountain in half, we could notice layers representing these changing spans of time, marked by differences in chemical composition and accumulated sediment.
Some boundaries are so distinct and so widespread in the geologic record that they are known as "golden spikes." Golden spikes can be climatic, magnetic, biological, or isotopic (chemical).
Earth's Geological Timeline Leading Up to the Anthropocene
The Earth has gone through many epochs leading up to the modern Anthropocene.
These include epochs like the Early Devonian, which saw the dawn of the first early shell organisms 400 million years ago, and the three Jurassic epochs, which saw dinosaurs become the dominant terrestrial vertebrates.
Over the last 11,700 years, we have been living in the Holocene epoch, a relatively stable period that enabled human civilization to flourish. But after millennia of human activity, this epoch is quickly making way for the Anthropocene.
| Epoch | Its start (MYA = Million Years Ago) |
| --- | --- |
| Anthropocene | 70 Years Ago |
| Holocene | 0.01 MYA |
| Pleistocene | 2.58 MYA |
| Pliocene | 5.33 MYA |
| Miocene | 23.04 MYA |
| Oligocene | 33.90 MYA |
| Eocene | 56.00 MYA |
| Paleocene | 66.00 MYA |
| Cretaceous | 145.0 MYA |
| Jurassic | 201.40 MYA |
| Triassic | 251.90 MYA |
| Lopingian | 259.50 MYA |
| Guadalupian | 273.00 MYA |
| Cisuralian | 300.00 MYA |
| Pennsylvanian | 323.40 MYA |
| Mississippian | 359.30 MYA |
| Devonian | 419.00 MYA |
| Silurian | 422.70 MYA |
| Ludlow | 426.70 MYA |
| Wenlock | 432.90 MYA |
| Llandovery | 443.10 MYA |
| Ordovician | 486.90 MYA |
| Furongian | 497.00 MYA |
| Miaolingian | 521.00 MYA |
| Terreneuvian | 538.80 MYA |
The Anthropocene is distinguished by a myriad of imprints on the Earth including the proliferation of plastic particles and a noticeable increase in carbon dioxide levels in sediments.
A New Chapter in Earth's History
The clearest identified marker of this geological time shift, and the chosen golden spike for the Anthropocene, is radioactive plutonium from nuclear testing in the 1950s.
The best example has been found in the sediment of Crawford Lake in Ontario, Canada. The lake has two distinct layers of water that never intermix, causing falling sediments to settle in distinct layers at its bed over time.
While the International Commission on Stratigraphy announced the naming of the new epoch in July 2023, Crawford Lake is still in the process of getting approved as the site that marks the new epoch. If selected, our planet will officially enter the Crawfordian Age of the Anthropocene.