The Problem With Our Maps
Maps shape our understanding of the world—and in an increasingly interconnected and global economy, this geographic knowledge is more important than ever.
Unfortunately, billions of people around the world have a skewed perception of the true size of countries thanks to a cartographic technique called the Mercator projection. Used just about everywhere, from classroom wall maps to navigation apps, the Mercator projection is the way most of humanity recognizes the position and size of Earth's continents.
The Mercator Projection
In 1569, the great cartographer, Gerardus Mercator, created a revolutionary new map based on a cylindrical projection. The new map was well-suited to nautical navigation since every line on the sphere is a constant course, or loxodrome. In modern times, this is particularly useful since the Earth can be depicted in a seamless way in online mapping applications.
That said, in this projection style, the sizes of landmasses become increasingly distorted the further away from the equator they get. One trade-off for the utility of Mercator's map is that it pumps up the sizes of Europe and North America. Visually speaking, Canada and Russia appear to take up approximately 25% of the Earth's landmass, when in reality they occupy a mere 5%. When Antarctica is excluded (as it often is), Canada and Russia's visual share of landmass jumps to about 40%.
Canada is the second largest country in the world, but not by much. Here is an "at scale" look at Canada, the United States, and Mexico.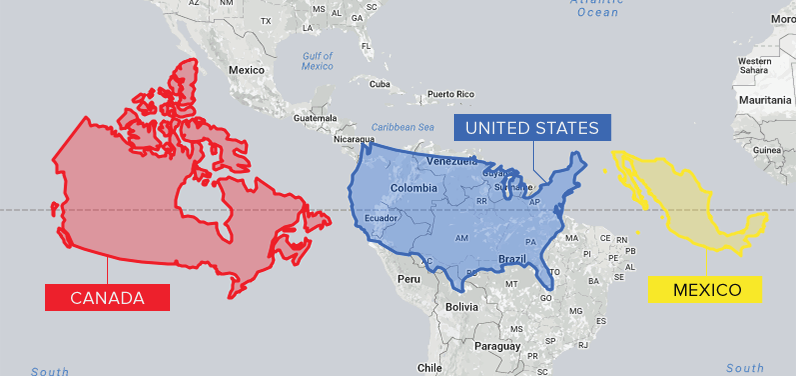 Africa, South Asia, and South America all appear much smaller in relation to countries further from the equator.
And from a North American perspective, countries such as Australia and Indonesia appear much smaller than they actually are. Comparing the landmasses on the same latitude as Canada helps put sizes into perspective.
Greenland is the world's largest island, but looking at its hyper-exaggerated depiction in the map below, you'd be forgiven for wondering why it isn't a stand-alone continent. In reality, Greenland is about fourteen times smaller than Africa.
Is Bigger Better?
Though Mercator's map was never intended for use as the default wall map in schools around the world, it has shaped the worldviews of billions of people. Critics of the map—and similar projections—suggest that distortion reinforces a sense of colonialist superiority. As well, the amount of territory a country occupies is often correlated with power and access to natural resources, and map distortions can have the effect of inadvertently diminishing nations closer to the equator.
In our society we unconsciously equate size with importance and even power. – Salvatore Natoli, Educational Affairs Director, AAG
A prime example of this argument is the "True Size of Africa" graphic, which demonstrated to millions of people just how big the continent is.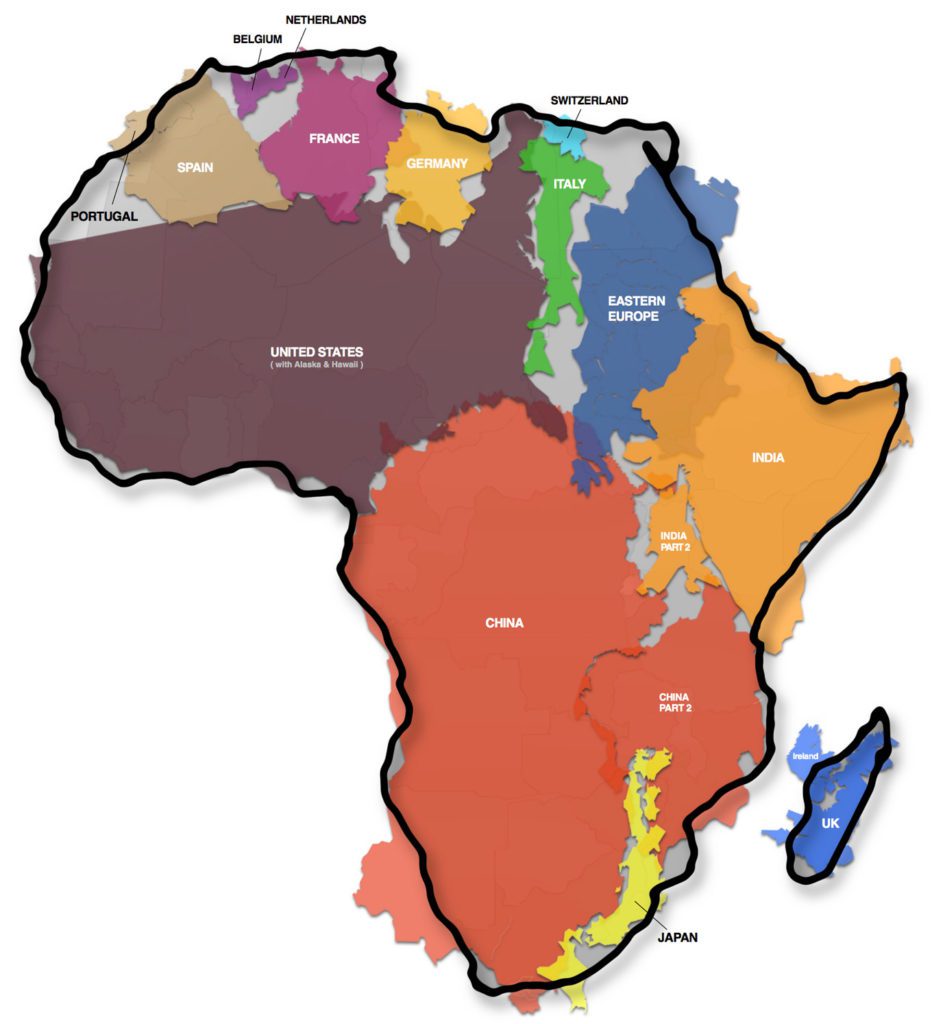 Growing awareness of map distortion is translating into concrete change. Boston public schools, for example, recently switched to the Gall-Peters projection, which more accurately depicts the true size of landmasses.
As well, Google, whose map app is used by approximately one billion people per month, took the bold step of using different projections for different purposes in 2018. The Earth is depicted as a globe at further zoom levels, sidestepping map projection issues completely and displaying the world as it actually is: round.
The Road to Equal-Area Mapping
In 1805, mathematician and astronomer, Karl Mollweide, created a namesake projection that trades accuracy of angles and shape for accuracy of proportion. The Mollweide projection has inspired many other attempts at a user-friendly equal area map.
John Paul Goode's attempt, known as the Goode Homolosine Projection, took this concept a step further by adding interruptions at strategic locations to help reduce the distortion of continents. The resulting shape is sometimes referred to as an "orange peel map".
Another evolution in cartography was the Dymaxion map, invented by Buckminster Fuller and patented in 1946. In this version, the continents are no longer in their familiar positions—however, there is more spacial fidelity than in previous projection methods. We're able to see the true proportions of Africa, Northern Canada, Antarctica, and other distortion hot spots.
The Dymaxion map wasn't created for purely practical purposes. Fuller believed that humans would be better equipped to address global challenges if they were given a way to visualize the Earth's continents in a contiguous manner.
The AuthaGraph Map
Using a new map-making method called AuthaGraph, Japanese architect, Hajime Narukawa, may have created the most accurate map of the world yet. AuthaGraph divides the globe into 96 triangles, transfers them to a tetrahedron and unfolds into a rectangle.
The end result? Landmasses and seas are more accurately proportioned than in traditional projections.
The biggest downfall of the AuthaGraph map is that longitude and latitude lines are no longer a tidy grid. As well, continents on the map are repositioned in a way that will be unfamiliar to a population that is already geographically challenged.
That said, depicting our round world on a flat surface will always come with some trade-offs. As demand grows for a true equal-area map, it will be exciting to see what the next generation of map projections have to offer.
Map It Yourself
Looking to learn more about maps and map projections? This fantastic tool, created by Florian Ledermann, allows users to take a vast selection of projection styles, and modify them in different ways. This hands-on approach is a fun way to learn how the shape of landmasses shift as the projection changes.
Visualizing the Abundance of Elements in the Earth's Crust
The Earth's crust makes up 1% of the planet's volume, but provides all the material we use. What elements make up this thin layer we stand on?
Visualizing the Abundance of Elements in the Earth's Crust
This was originally posted on Elements. Sign up to the free mailing list to get beautiful visualizations on natural resource megatrends in your email every week.
Elements in the Earth's crust provide all the basic building blocks for mankind.
But even though the crust is the source of everything we find, mine, refine, and build, it really is just scratching the surface of our planet.
After all, the innermost layer of the Earth, the core, represents 15% of the planet's volume, whereas the mantle occupies 84%. Representing the remaining 1% is the crust, a thin layer that ranges in depth from approximately 5-70 km (~3-44 miles).
This infographic takes a look at what elements make up this 1%, based on data from WorldAtlas.
Earth's Crust Elements
The crust is a rigid surface containing both the oceans and landmasses. Most elements are found in only trace amounts within the Earth's crust, but several are abundant.
The Earth's crust comprises about 95% igneous and metamorphic rocks, 4% shale, 0.75% sandstone, and 0.25% limestone.
Oxygen, silicon, aluminum, and iron account for 88.1% of the mass of the Earth's crust, while another 90 elements make up the remaining 11.9%.
| Rank | Element | % of Earth's Crust |
| --- | --- | --- |
| 1 | Oxygen (O) | 46.1% |
| 2 | Silicon (Si) | 28.2% |
| 3 | Aluminum (Al) | 8.2% |
| 4 | Iron (Fe) | 5.6% |
| 5 | Calcium (Ca) | 4.1% |
| 6 | Sodium (Na) | 2.3% |
| 7 | Magnesium (Mg) | 2.3% |
| 8 | Potassium (K) | 2.0% |
| 9 | Titanium (Ti) | 0.5% |
| 10 | Hydrogen (H) | 0.1% |
| | Other elements | 0.5% |
| | Total | 100.0% |
While gold, silver, copper and other base and precious metals are among the most sought after elements, together they make up less than 0.03% of the Earth's crust by mass.
#1: Oxygen
Oxygen is by far the most abundant element in the Earth's crust, making up 46% of mass—coming up just short of half of the total.
Oxygen is a highly reactive element that combines with other elements, forming oxides. Some examples of common oxides are minerals such as granite and quartz (oxides of silicon), rust (oxides of iron), and limestone (oxide of calcium and carbon).
#2: Silicon
More than 90% of the Earth's crust is composed of silicate minerals, making silicon the second most abundant element in the Earth's crust.
Silicon links up with oxygen to form the most common minerals on Earth. For example, in most places, sand primarily consists of silica (silicon dioxide) usually in the form of quartz. Silicon is an essential semiconductor, used in manufacturing electronics and computer chips.
#3: Aluminum
Aluminum is the third most common element in the Earth's crust.
Because of its strong affinity for oxygen, aluminum is rarely found in its elemental state. Aluminum oxide (Al2O3), aluminum hydroxide (Al(OH)3) and potassium aluminum sulphate (KAl(SO4)2) are common aluminum compounds.
Aluminum and aluminum alloys have a variety of uses, from kitchen foil to rocket manufacturing.
#4: Iron
The fourth most common element in the Earth's crust is iron, accounting for over 5% of the mass of the Earth's crust.
Iron is obtained chiefly from the minerals hematite and magnetite. Of all the metals we mine, over 90% is iron, mainly to make steel, an alloy of carbon and iron. Iron is also an essential nutrient in the human body.
#5: Calcium
Calcium makes up about 4.2% of the planet's crust by weight.
In its pure elemental state, calcium is a soft, silvery-white alkaline earth metal. It is never found in its isolated state in nature but exists instead in compounds. Calcium compounds can be found in a variety of minerals, including limestone (calcium carbonate), gypsum (calcium sulphate) and fluorite (calcium fluoride).
Calcium compounds are widely used in the food and pharmaceutical industries for supplementation. They are also used as bleaches in the paper industry, as components in cement and electrical insulators, and in manufacturing soaps.
Digging the Earth's Crust
Despite Jules Verne's novel, no one has ever journeyed to the center of Earth.
In fact, the deepest hole ever dug by humanity reaches approximately 12 km (7.5 miles) below the Earth's surface, about one-third of the way to the Earth's mantle. This incredible depth took about 20 years to reach.
Although mankind is constantly making new discoveries and reaching for the stars, there is still a lot to explore about the Earth we stand on.
How Has Car Safety Improved Over 60 Years?
Seatbelts first became mandatory in the US in 1968. Since then, new technologies have greatly reduced road fatalities.
How Has Car Safety Improved Over 60 Years?
Did you know that in 2019, there were 6.7 million car accidents in the U.S. alone?
This resulted in 36,096 deaths over the year—an awful statistic to say the least—but one that would be much worse if it weren't for seatbelts, airbags, and other modern safety devices.
In this infographic, we've visualized data from the U.S. Bureau of Transportation to show how breakthroughs in car safety have drastically reduced the number of motor vehicle fatalities.
Measuring Safety Improvements
The data shows the number of fatalities for every 100 million miles driven. From a high of 5.1 in 1960 (the first year data is available), we can see that this metric has fallen by 78% to just 1.1.
| Year | Fatilities per 100 million miles |
| --- | --- |
| 1960 | 5.1 |
| 1970 | 4.7 |
| 1980 | 3.4 |
| 1990 | 2.1 |
| 2000 | 1.5 |
| 2010 | 1.1 |
| 2019 | 1.1 |
What makes this even more impressive is the fact that there are more cars on the road today than in 1960. This can be measured by the total number of miles driven each year.
So, while the total number of miles driven has increased by 371%, the rate of fatalities has decreased by 78%. Below, we'll take a closer look at some important car safety innovations.
1. The Seatbelt
The introduction of seatbelts was a major stepping stone for improving car safety, especially as vehicles became capable of higher speeds.
The first iteration of seatbelts were a 2-point design because they only looped across a person's waist (and thus had 2 points of mounting). This design is flawed because it doesn't hold our upper body in place during a collision.
Today's seatbelts use a 3-point design which was developed in 1959 by Nils Bohlin, an engineer at Volvo. This design adds a shoulder belt that holds our torso in place during a collision. It took many years for Volvo to not only develop the device, but also to convince the public to use it. The U.S., for instance, did not mandate 3-point seatbelts until 1973.
2. The Airbag
The concept of an airbag is relatively simple—rather than smacking our face against the steering wheel, we cushion the blow with an inflatable pillow.
In practice, however, airbags need to be very precise because it takes just 50 milliseconds for our heads to collide with the wheel in a frontal crash. To inflate in such a short period of time, airbags rely on a chemical reaction using sodium azide.
The design of an airbag's internal mechanism can also cause issues, as was discovered during the Takata airbag recall. As these airbags inflated, there was a chance for them to also send metal shards flying through the cabin at high speeds.
Dual front airbags (one for each side) were mandated by the U.S. government in 1998. Today, many cars offer side curtain airbags as an option, but these are not required by law.
3. The Backup Camera
Backup cameras became a legal requirement in May 2018, making them one of the newest pieces of standard safety equipment in the U.S. These cameras are designed to reduce the number of backover crashes involving objects, pedestrians, or other cars.
Measuring the safety benefits of backup cameras can be tricky, but a 2014 study did conclude that cameras were useful for preventing collisions. A common criticism of backup cameras is that they limit our field of vision, as opposed to simply turning our heads to face the rear.
Taking Car Safety to the Next Level
According to the National Highway Traffic Safety Administration (NHTSA), having both seatbelts and airbags can reduce the chance of death from a head-on collision by 61%. That's a big reduction, but there's still plenty of room left on the table for further improvements.
As a result, automakers have been equipping their cars with many technology-enabled safety measures. This includes pre-collision assist systems which use sensors and cameras to help prevent an accident. These systems can prevent you from drifting into another lane (by actually adjusting the steering wheel), or apply the brakes to mitigate an imminent frontal collision.
Whether these systems have any meaningful benefit remains to be seen. Referring to the table above shows that fatalities per 100 million miles have not fallen any further since 2010.