The Incredible Historical Map That Changed Cartography
This map is the latest in our Vintage Viz series, which presents historical visualizations along with the context needed to understand them.
In a one-paragraph story called On Exactitude in Science (Del Rigor en la Ciencia), Jorge Luis Borges imagined an empire where cartography had reached such an exact science that only a map on the same scale of the empire would suffice.
The Fra Mauro Mappa Mundi (c. 1450s), named for the lay Camaldolite monk and cartographer whose Venetian workshop created it, is not nearly as large, at a paltry 77 inches in diameter (196 cm). But its impact and significance as a bridge between Middle Age and Renaissance thought certainly rivaled Borges' imagined map.
One of 'the Wonders of Venice'
Venice was the undisputed commercial power in the Mediterranean, whose trade routes connected east and west, stretching to Flanders, London, Algeria, and beyond.
This network was protected by fleets of warships built at the famous Arsenale di Venezia, the largest production facility in the West, whose workforce of thousands of arsenalotti built ships on an assembly line, centuries before Henry Ford.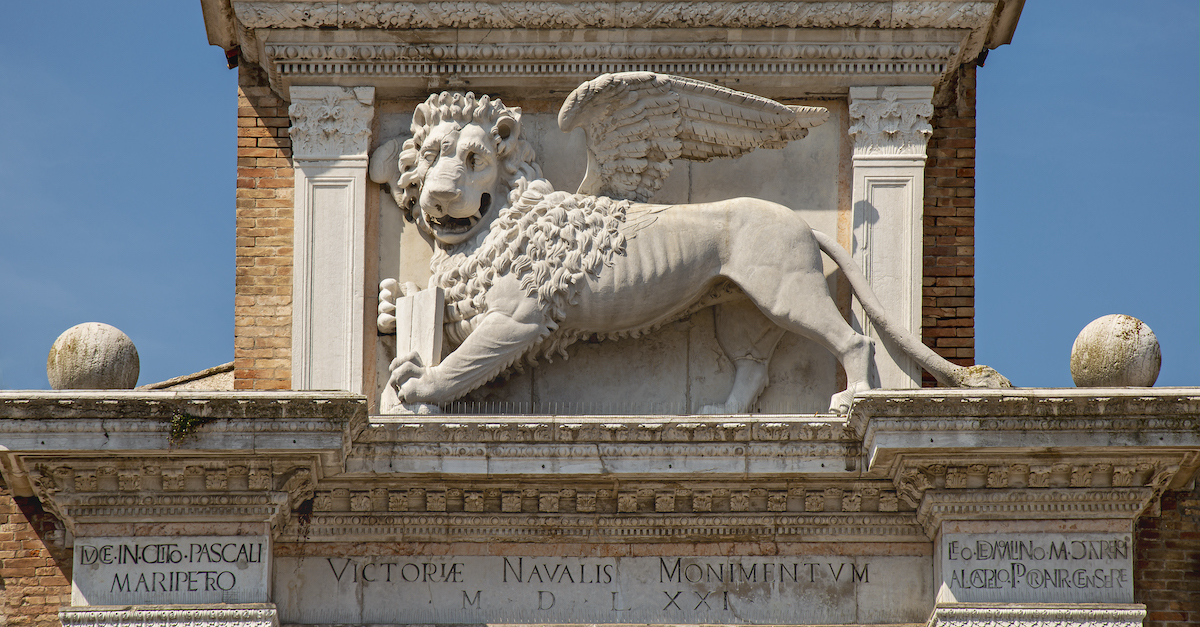 The lion of St Mark guards the land gate to the Arsenale di Venezia, except instead of the usual open bible in its hands offering peace, this book is closed, reflecting its martial purpose. Source: Wikipedia
The Mappa Mundi (literally "map of the world") was considered one of the wonders of Venice with a reputation that reached the Holy Land. It is a circular planisphere drawn on four sheets of parchment, mounted onto three poplar panels and reinforced by vertical battens.
The map is painted in rich reds, golds, and blues; this last pigment was obtained from rare lapis lazuli, imported from mines in Afghanistan. At its corners are four spheres showing the celestial and sublunar worlds, the four elements (earth, air, fire, and water), and an illumination of the Garden of Eden by Leonardo Bellini (active 1443-1490).
Japan (on the left edge, called the Isola de Cimpagu) appears here for the first time in a Western map. And contradicting Ptolemaic tradition, it also shows that it was possible to circumnavigate Africa, presaging the first European journey around the Cape of Good Hope by the Portuguese explorer Bartolomeu Dias in 1488.
NASA called the historical map "stunning" in its accuracy.
A Historical Map Between Two Worlds
Medieval maps, like the Hereford Mappa Mundi (c. 1300), were usually oriented with east at the top, because that's where the Garden of Eden was thought to be. Fra Mauro, however, chose to orient his to the south, perhaps following Muslim geographers such as Muhammad ibn Muhammad al-Idrisi.
Significantly, the Garden of Eden is placed outside of geographic space and Jerusalem is no longer at the center, though it is still marked by a windrose. The nearly 3,000 place names and descriptions are written in the Venetian vernacular, rather than Latin.
At the same time, as much as Fra Mauro's map is a departure from the past, it also retains traces of a medieval Christian worldview. For example, included on the map are the Kingdom of the Magi, the Kingdom of Prester John, and the Tomb of Adam.
Isidore of Seville, Etymologiae (c. 600–625). Source: Wikipedia
The circular planisphere also follows the medieval T-O schema, first described by Isidore of Seville, with Asia occupying the top half of the circle, and Europe and Africa each occupying the bottom two quarters (Fra Mauro turns the 'T' on its side, to reflect a southern orientation). Around the circle, are many islands, beyond which is the "dark sea" where only shipwreck and misfortune await.
Fra Mauro's Legacy
Fra Mauro died some time before 20 October 1459, and unfortunately his contributions fell into obscurity soon thereafter; until 1748, it was believed that the Mappa Mundi was a copy of a lost map by Marco Polo.
In 1811, the original was moved from Fra Mauro's monastery of San Michele to the Biblioteca Nazionale Marciana, following the suppression of religious orders in the Napoleonic era, where it can be viewed today.
Two digital editions have also been produced by the Museo Galileo and the Engineering Historical Memory project, where readers can get a glimpse into a fascinating piece of cartographic history.
Mapped: How Much Does it Take to be the Top 1% in Each U.S. State?
An annual income anywhere between $360,000-$950,000 can grant entry into the top 1%—depending on where you live in America.
How Much Does it Take to be the Top 1% in Each U.S. State?
There's an old saying: everyone thinks that they're middle-class.
But how many people think, or know, that they really belong to the top 1% in the country?
Data from personal finance advisory services company, SmartAsset, reveals the annual income threshold at which a household can be considered part of the top 1% in their state.
Some states demand a much higher yearly earnings from their residents to be a part of the rarefied league, but which ones are they, and how much does one need to earn to make it to the very top echelon of income?
Ranking U.S. States By Income to Be in the Top 1%
At the top of the list, a household in Connecticut needs to earn nearly $953,000 annually to be part of the one-percenters. This is the highest minimum threshold across the country.
In the same region, Massachusetts requires a minimum annual earnings of $903,401 from its top 1% residents.
Here's the list of all 50 U.S. states along with the annual income needed to be in the 1%.
Rank
State
Top 1% Income
Threshold
Top 1% Tax Rate
(% of annual income)
1
Connecticut
$952,902
28.40%
2
Massachusetts
$903,401
27.15%
3
California
$844,266
26.95%
4
New Jersey
$817,346
28.01%
5
Washington
$804,853
25.99%
6
New York
$776,662
28.29%
7
Colorado
$709,092
25.86%
8
Florida
$694,987
25.82%
9
Illinois
$660,810
26.35%
10
New Hampshire
$659,037
26.25%
11
Wyoming
$656,118
24.79%
12
Virginia
$643,848
26.11%
N/A
National Average
$652,657
N/A
13
Maryland
$633,333
25.94%
14
Texas
$631,849
25.83%
15
Utah
$630,544
23.77%
16
Minnesota
$626,451
25.53%
17
Nevada
$603,751
25.19%
18
South Dakota
$590,373
22.99%
19
Pennsylvania
$588,702
24.95%
20
North Dakota
$585,556
24.76%
21
Georgia
$585,397
25.06%
22
Oregon
$571,813
24.66%
23
Arizona
$564,031
25.22%
24
Idaho
$560,040
23.17%
25
North Carolina
$559,762
25.31%
26
Montana
$559,656
24.46%
27
Kansas
$554,912
25.03%
28
Rhode Island
$548,531
25.26%
29
Tennessee
$548,329
25.12%
30
Alaska
$542,824
25.38%
31
Nebraska
$535,651
24.10%
32
Delaware
$529,928
25.37%
33
Vermont
$518,039
23.63%
34
Wisconsin
$517,321
24.90%
35
South Carolina
$508,427
24.40%
36
Michigan
$504,671
25.01%
37
Maine
$502,605
24.04%
38
Missouri
$500,626
24.93%
39
Ohio
$500,253
25.09%
40
Hawaii
$495,263
24.12%
41
Iowa
$483,985
24.09%
42
Indiana
$473,685
24.55%
43
Alabama
$470,341
23.82%
44
Oklahoma
$460,172
23.68%
45
Louisiana
$458,269
24.80%
46
Arkansas
$450,700
21.11%
47
Kentucky
$445,294
24.14%
48
New Mexico
$411,395
23.35%
49
Mississippi
$381,919
23.04%
50
West Virginia
$367,582
23.26%
N/A
National Median
Household Income
$75,000
N/A
California ($844,266), New Jersey ($817,346), and Washington ($804,853) round out the top five states with the highest minimum thresholds to make it to their exclusive rich club.
On the other end of the spectrum, the top one-percenters in West Virginia make a minimum of $367,582 a year, the lowest of all the states, and about one-third of the threshold in Connecticut. And just down southwest of the Mountain State, Mississippi's one-percenters need to make at least $381,919 a year to qualify for the 1%.
A quick glance at the map above also reveals some regional insights.
The Northeast and West Coast, with their large urban and economic hubs, have higher income entry requirements for the top 1% than states in the American South.
This also correlates to the median income by state, a measure showing Massachusetts households make nearly $90,000 a year, compared to Mississippians who take home $49,000 annually.
How Much Do the Top 1% Pay in Taxes?
Meanwhile, if one does make it to the top 1% in states like Connecticut and Massachusetts, expect to pay more in taxes than other states, according to SmartAsset's analysis.
The one-percenters in the top five states pay, on average, between 26–28% of their income in tax, compared to those in the bottom five who pay between 21–23%.
And this pattern exists through the dataset, with higher top 1% income thresholds correlating with higher average tax rates for the wealthy.
| State Ranks | Median Tax Rate |
| --- | --- |
| Top 10 | 26.65% |
| 20-30 | 25.09% |
| 30-40 | 24.65% |
| 10-20 | 25.07% |
| 40-50 | 23.75% |
These higher tax rates point to attempts to reign in the increasing wealth disparity in the nation where the top 1% hold more than one-third of the country's wealth, up from 27% in 1989.
Where Does This Data Come From?
Source: SmartAsset's America's Top 1% Is Different in Each State uses data from 2020 individual tax filings from the IRS, adjusted to 2023 dollars using the Bureau of Labor Statistics' Consumer Price Index.