14 Defunct Car Brands, and How They Failed
Automobile enthusiasts around the world know brands like Studebaker, Plymouth and Packard, but you'd be hard-pressed to find any of these on the roads today. Former powerhouses in the American auto market – they have since become beloved by collectors, but lost to the general public.
Today's infographic comes from TitleMax and it looks at 14 now-defunct car brands and the circumstances that took them from highways to bygones.
These are only a selection of a much longer list of car brands that have not survived to see the present day. What accounts for the churn rate of these brands?
Bold Experiments, Boondoggles, and Burnouts
Some car brands, like Tucker and Saturn, introduced new ideas that the market simply didn't care for, didn't perform as well as the competition, or were too ambitious for the industry climate.
Others, like Edsel and DeLorean, met swift ends as they hemorrhaged money far faster than their owners anticipated. Even more brands were simply folded into the ever-expanding portfolios of either Ford or General Motors, the two biggest auto conglomerates ever to rule the roads.
Bad Timing, or Worse Economy?
Car sales rise and fall with broader economic trends because they are tied into so many different variables: raw materials, production costs, labor costs, oil prices, and interest rates among others.
We can look at two time periods in which the combination of these conditions caused many of the brands on this list to fail.
Post-war Doldrums (1950-1958)
Based on the timeline above, we can see that 1950s were a terrible time for the smaller players in the auto industry. The explanation as to why so many brands declined over this decade has to do with the highly competitive, oligopolistic business practices of market leaders Ford and General Motors. Both of these market titans were locked in a battle to lower prices by taking advantage of economies of scale, while wooing customers who were feeling the economic pressures of a postwar recession.
Smaller volume manufacturers like Packard and Studebaker could not keep up, even when they attempted to merge. As a result, these and many other smaller brands were forced out, or absorbed into the portfolios of one of the "big two."
Same Car, Different Name (1998-2008)
A similar stretch of declining sales plagued the late 1990s and early 2000s, as the trend of "badge engineering" caught up with manufacturers.
Rather than designing new models at high cost, conglomerates like GM simply engineered new brand "badges" and marketed the same basic models under a variety of names like Pontiac, Plymouth, Mercury, or Oldsmobile. The same tactic was later used to take mid-market designs, such as the Ford Fusion, and style them for a luxury audience as a new model – in this case, the Lincoln Mk. Z.
Badge engineering curbed the appeal of a number of American brands under the GM and Ford portfolios. The nail in many of their coffins was the major auto industry downturn in 2008. That year, GM restructured as it underwent Chapter 11 bankruptcy.
As a result, GM removed the majority of its badge engineered brands, including many of those listed above, from dealerships in the following years.
The World's Top Car Manufacturers by Market Capitalization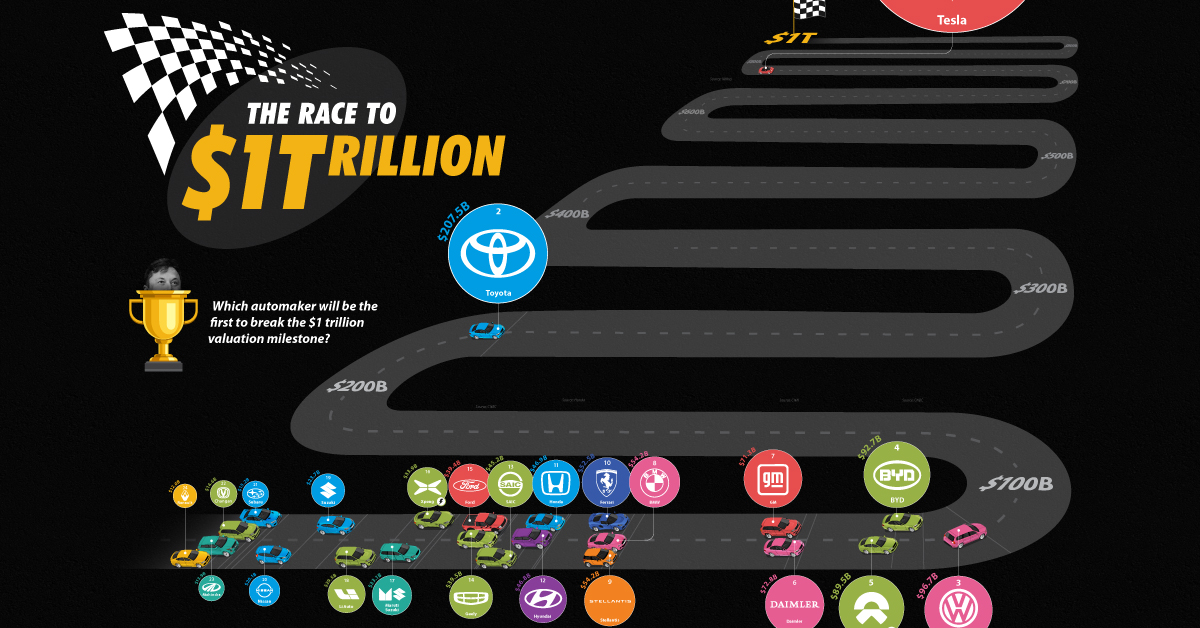 The World's Top Car Manufacturers by Market Cap
View the high-resolution of the infographic by clicking here.
Ever since Apple and other Big Tech companies hit a market capitalization of $1 trillion, many sectors are revving to follow suit—including the automotive industry.
But among those car brands racing to reach this total valuation, some are closer to the finish line than others. This visualization uses data from Yahoo Finance to rank the world's top car manufacturers by market capitalization.
What could this spell for the future of the automotive industry?
A special hat-tip to Brandon Knoblauch for compiling the original, regularly-updated spreadsheet.
The World's Top Car Manufacturers
It's clear one company is pulling far ahead of the pack. In the competition to clinch this coveted title, Tesla is the undoubted favorite so far.
The electric vehicle (EV) and clean energy company first became the world's most valuable car manufacturer in June 2020, and shows no signs of slowing its trajectory.
| Rank | Company | Market Cap (US$B) | Country |
| --- | --- | --- | --- |
| #1 | Tesla | $795.8 | 🇺🇸 U.S. |
| #2 | Toyota | $207.5 | 🇯🇵 Japan |
| #3 | Volkswagen | $96.7 | 🇩🇪 Germany |
| #4 | BYD | $92.7 | 🇨🇳 China |
| #5 | NIO | $89.5 | 🇨🇳 China |
| #6 | Daimler | $72.8 | 🇩🇪 Germany |
| #7 | General Motors | $71.3 | 🇺🇸 U.S. |
| #8 | BMW | $54.2 | 🇩🇪 Germany |
| #9 | Stellantis | $54.2 | 🇳🇱 Netherlands |
| #10 | Ferrari | $52.5 | 🇮🇹 Italy |
| #11 | Honda | $46.9 | 🇯🇵 Japan |
| #12 | Hyundai | $46.8 | 🇰🇷 South Korea |
| #13 | SAIC | $45.2 | 🇨🇳 China |
| #14 | Geely | $39.5 | 🇨🇳 China |
| #15 | Ford | $39.4 | 🇺🇸 U.S. |
| #16 | Xpeng | $33.9 | 🇨🇳 China |
| #17 | Maruti Suzuki | $33.1 | 🇮🇳 India |
| #18 | Li Auto | $29.5 | 🇨🇳 China |
| #19 | Suzuki | $23.7 | 🇯🇵 Japan |
| #20 | Nissan | $20.1 | 🇯🇵 Japan |
| #21 | Subaru | $15.2 | 🇯🇵 Japan |
| #22 | Changan | $14.6 | 🇨🇳 China |
| #23 | Mahindra | $13.9 | 🇮🇳 India |
| #24 | Renault | $12.0 | 🇫🇷 France |
All data as of January 15, 2021 (9:30AM PST)
Tesla's competitive advantage comes as a result of its dedicated emphasis on research and development (R&D). In fact, many of its rivals have admitted that Tesla's electronics far surpass their own—a teardown revealed that its batteries and AI chips are roughly six years ahead of other industry giants such as Toyota and Volkswagen.
The Green Revolution is Underway
The sheer growth of Tesla may spell the inevitability of a green revolution in the industry. Already, many major brands have followed in the company's tracks, announcing their own ambitious plans to add more EVs to their vehicle line-ups.
Here's how a selection of car manufacturers are embracing the electric future:
Toyota: Ranked #2
The second-most valuable car manufacturer in the world, Toyota is steadily ramping up its EV output. In 2020, it produced 10,000 EVs and plans to increase this to 30,000 in 2021.
Through this gradual increase, the company hopes to hit an expected target of 500,000 EVs by 2025. Toyota also aims to debut 10 new models internationally to achieve this goal.
Volkswagen: Ranked #3
By 2025, Volkswagen plans to invest $86 billion into digital and EV technologies. Considering the car manufacturer generates the most gross revenue per second of all automakers, it's no wonder Volkswagen is looking to the future in order to keep such numbers up.
The company is also well-positioned to ride the wave of a potential consumer shift towards EVs in Europe. In response to the region's strict emissions targets, Volkswagen upped its planned sales proportions for European hybrid and EV sales from 40% to 60% by 2030.
BYD and Nio: Ranked #4-5
China jumped on the electric bandwagon early. Eager to make its mark as a global leader in the emerging technology of lithium ion batteries (an essential component of any EV), the Chinese government handed out billions of dollars in subsidies—fueling the growths of domestic car manufacturers BYD and Nio alike.
BYD gained the interest and attention of its billionaire backer Warren Buffett, while Nio is China's response to Tesla and an attempt to capture the EV market locally.
General Motors: Ranked #7
Also with a 2025 target year in mind, General Motors is investing $27 billion into electric and fully autonomous vehicles. That's just the tip of the iceberg, too—the company also hopes to launch 30 new fully electric vehicles by the same year.
One particular factor is giving GM confidence: its new EV battery creations. They will be able to extend the range of its new EVs to 400 miles (644km) on a single charge, at a rate that rivals Tesla's Model S.
Stellantis: Ranked #9
In a long-anticipated move, Fiat Chrysler and Peugeot S.A. finalized their merger into Stellantis N.V. on January 16, 2021.
With the combined forces and funds of a $52 billion deal, the new Dutch-based car manufacturer hopes to rival bigger brands and race even more quickly towards the electric shift.
Honda: Ranked #11
Speaking of fast-paced races, Honda has decided to bow out of future Formula One (F1) World Championships. As these competitions were usually a way for the company to show off its engineering prowess, the move was a surprising one.
However, there's a noble reason behind this decision. Honda is choosing instead to focus on its commitment to become carbon neutral by 2050. To do so, it'll be shifting its financial resources away from F1 and towards R&D into fuel cell vehicle (FCV) and battery EV (BEV) technologies.
Ford: Ranked #15
Ford knows exactly what its fans want. In that regard, its electrification plans begin with its most popular commercial cars, such as the Mustang Mach-E SUV. This is Ford's major strategy for attracting new EV buyers, part of a larger $11.5 billion investment agenda into EVs through 2022.
While the car's specs compare to Tesla's Model Y, its engineers also drew from the iPhone and Netflix to incorporate an infotainment system and driver profiles to create a truly tech-first specimen.
Speeding into the Horizon
As more and more companies enter the racetrack, EV innovation across the entire industry may power the move to lower overall costs, extend the total range of vehicles, and put any other concerns by potential buyers to rest.
While Tesla is currently in the best position to become the first car manufacturer to reach the $1 trillion milestone, how long will it be for the others to catch up?
More Than Precious: Silver's Role in the New Energy Era (Part 3 of 3)
Long known as a precious metal, silver in solar and EV technologies will redefine its role and importance to a greener economy.
Silver's Role in the New Energy Era (Part 3 of 3)
Silver is one of the first metals that humans discovered and used. Its extensive use throughout history has linked its name to its monetary value. However, as we have advanced technologically, so have our uses for silver. In the future, silver will see a surge in demand from solar and electric vehicle (EV) technologies.
Part 1 and Part 2 of the Silver Series showcased its monetary legacy as a safe haven asset as a precious metal and why now is its time to shine.
Part 3 of the Silver Series comes to us from Endeavour Silver, and it outlines silver's role in the new energy era and how it is more than just a precious metal.
A Sterling Reputation: Silver's History in Technologies
Silver along with gold, copper, lead and iron, was one of the first metals known to humankind. Archaeologists have uncovered silver coins and objects dating from before 4,000 BC in Greece and Turkey. Since then, governments and jewelers embraced its properties to mint currency and craft jewelry.
This historical association between silver and money is recorded across multiple languages. The word silver itself comes from the Anglo-Saxon language, seolfor, which itself comes from ancient Germanic silabar.
Silver's chemical symbol, "Ag", is an abbreviation of the Latin word for silver, argentum. The Latin word originates from argunas, a Sanskrit word which means shining. The French use argent as the word for money and silver. Romans bankers and silver traders carried the name argentarius.
While silver's monetary meanings still stand today, there have been hints of its use beyond money throughout history. For centuries, many cultures used silver containers and wares to store wine, water, and food to prevent spoilage.
During bouts of bubonic plague in Europe, children of wealthy families sucked on silver spoons to preserve their health, which gave birth to the phrase "born with a silver spoon in your mouth."
Medieval doctors invented silver nitrate used to treat ulcers and burns, a practice that continues to this day. In the 1900s, silver found further application in healthcare. Doctors used to administer eye drops containing silver to newborns in the United States. During World War I, combat medics, doctors, and nurses would apply silver sutures to cover deep wounds.
Silver's shimmer also made an important material in photography up until the 1970s. Silver's reflectivity of light made it popular in mirror and building windows.
Now, a new era is rediscovering silver's properties for the next generation of technology, making the metal more than precious.
Silver in the New Energy Era: Solar and EVs
Silver's shimmering qualities foreshadowed its use in renewable technologies. Among all metals, silver has the highest electrical conductivity, making it an ideal metal for use in solar cells and the electronic components of electric vehicles.
Silver in Solar Photovoltaics
Conductive layers of silver paste within the cells of a solar photovoltaic (PV) cell help to conduct the electricity within the cell. When light strikes a PV, the conductors absorb the energy and electrons are set free.
Silver's conductivity carries and stores the free electrons efficiently, maximizing the energy output of a solar cell. According to one study from the University of Kent, a typical solar panel can contain as much as 20 grams of silver.
As the world adopts solar photovoltaics, silver could see dramatic demand coming from this form of renewable energy.
Silver in Electric Vehicles
Silver's conductivity and corrosion resistance makes its use in electronics critical, and electric vehicles are no exception. Virtually every electrical connection in a vehicle uses silver.
Silver is a critical material in the automotive sector, which uses over 55 million ounces of the metal annually. Auto manufacturers apply silver to the electrical contacts in powered seats and windows and other automotive electronics to improve conductivity.
A Silver Intensive Future
A green future will require metals and will redefine the role for many of them. Silver is no exception. Long known as a precious metal, silver also has industrial applications metal for an eco-friendly future.