Vintage Viz: China's Export Economy in the Early 20th Century
"The past is a foreign country; they do things differently there" is the oft-quoted first line of L.P. Hartley's 1953 novel, The Go-Between.
A statement that is as profound as it is banal. In other words, when we do history, we're a bit like tourists. If we really want to understand the past, we have to think like a local.
The infographic above, Aspects of Principal Exports of Chinese Goods to Foreign Countries, is the first in a series that we're calling Vintage Viz, which presents a historical visualization along with the background and analytical tools to make sense of it.
Today, the People's Republic of China is the second largest economy in the world, a permanent member of the UN Security Council, and a growing military power. But at the dawn of the 20th century, things were much, much different.
Opium and the Opening of China to the West
Early Sino-Western trade was restricted by the Qing emperors to three ports, and after 1757, just one, in what became known as the Canton System. This name came from the one remaining port city of the same name, present-day Guangzhou.
Foreign trade was tightly monitored and subject to stiff tariffs, and Western traders chafed under these restrictions. So when in 1839, Chinese authorities moved to shut down opium smuggling—an important source of profit for foreign merchants—Western powers saw their chance and used the pretext to revise the terms of trade by force.
In what became known as the Opium Wars, 1839-1842 and 1856-1860, first Great Britain and then an Anglo-French alliance defeated imperial China and imposed punitive treaties that included indemnities and lowered tariffs, but also expanded the number of ports open to foreign traders, first to five and by 1911, to more than 50.
Westerners were exempted from local laws, Christian missionaries were allowed to proselytize freely, and the opium trade was legalized. Hong Kong was also ceded to Great Britain at this time.
The Treaty Port Era, also known as the Century of Humiliation, was perhaps too much for the country to bear. The weakened central government was beset by popular unrest, including the Taiping Rebellion (1850–64), which killed 20 million people, and the Boxer Rebellion (1899-1901), so-named for the secret society that led the movement, the Righteous and Harmonious Fists.
Eventually, the last Chinese emperor was deposed and a republic declared in 1911. Nevertheless, the government was too weak to impose its will, and was repeatedly challenged by warlords.
So as we approach the outbreak of the First World War in 1914, and the period covered by our visualization, we find China weakened internally by civil strife, and externally by Western powers.
The History of this Century-Old Pie Chart
Aspects of Principal Exports of Chinese Goods to Foreign Countries captures Chinese exports for 1914, and comes from The New Atlas and Commercial Gazetteer of China: A Work Devoted to Its Geography & Resources and Economic & Commercial Development.
Originally published in 1917 and edited by Edwin J. Dingle for the Far Eastern Geographical Establishment, the volume contains a wealth of data for the period. According to the book's Preface, it "seeks to give all the information that is essential to the business-man in regard to a country… about which less is known than in regard to any similar area in the world."
The visualization breaks down total Chinese exports for 1914 in haikwan taels (hk. tls.), a unit of silver currency used to collect tariffs. In 1907, one haikwan tael was worth $0.79 U.S. dollars.
Official figures come from the Chinese Maritime Customs Service. This was set up by foreign consuls after the First Opium War to collect tariffs to guarantee the payment of treaty indemnities.
Exports in 1914 represented 345 million hk. tls., a 14.4% decrease from 1913, likely owing to the outbreak of the First World War that same year.
Apart from "Other Metals and Minerals, Sundries, etc," which served as a catch-all category, the largest categories were silks and teas of various types, representing 22.6% and 10.4% of total exports respectively.
| Export Item | Value (hk. tls.) |
| --- | --- |
| Animals, Living | 5,270,910 |
| Beancake | 21,734,135 |
| Bristles | 4,347,582 |
| Coal | 8,624,805 |
| Cotton Goods | 2,012,128 |
| Cotton, Raw | 12,339,549 |
| Eggs, Fresh, Preserved and Frozen | 4,192,535 |
| Fire crackers and fire works | 2,435,841 |
| Grasscloth | 1,422,727 |
| Mats and Matting | 3,326,819 |
| Medicines | 2,672,341 |
| Oil, Bean and Nutgalls | 6,027,967 |
| Oil, Groundnuts | 2,414,900 |
| Oil, Wood | 3,736,275 |
| Opium, Chinese | 250,255 |
| Other Metals and Minerals, Sundries, etc | 74,449,181 |
| Paper | 2,864,983 |
| Ramie | 1,664,463 |
| Seed, Rape | 2,662,349 |
| Seed, Sesamum | 6,355,317 |
| Sheep's Wool | 6,658,962 |
| Silk Cocoons | 2,078,721 |
| Silk Piece Goods | 10,841,472 |
| Silk Pongees | 4,720,914 |
| Silk Waste | 5,025,679 |
| Silk, Raw, not Steam Filature | 2,811,367 |
| Silk, Raw, White, Steam Filature | 37,384,485 |
| Silk, Raw, Wild not Filatures | 4,072,777 |
| Silk, Raw, Yellow Steam Filatures | 1,267,413 |
| Silk, Raw, Yellow, (not Steam Filature) | 4,439,073 |
| Silk, Re-Reeled | 5,552,127 |
| Skins and Hides Undressed (Cow and Buffalo) | 13,499,340 |
| Skins, Goat Untanned | 3,207,974 |
| Straw Braid | 1,104,310 |
| Tallow, Animals and Vegetables | 3,175,270 |
| Tea Brick, Black | 6,711,019 |
| Tea Brick, Green | 2,323,259 |
| Tea, Black | 16,203,547 |
| Tea, Green | 10,785,584 |
| Timber | 1,820,273 |
| Tin, in Slabs | 7,978,558 |
| Vermicelli Macaroni | 1,957,827 |
| Wheat | 3,850,179 |
| Yellow Beans | 19,005,709 |
| Total | 345,280,901 |
Below are some more details that emerge from this visualization.
All the Tea in China
The Chinese tea trade was the subject of another visualization in the Atlas. It shows that China had been steadily losing ground to British India. Between 1888-1892 Chinese exports to Great Britain were 242 million pounds against India's 105 million pounds. By 1912-1913, India had surpassed China to export 279 million pounds against 198 million pounds.
In 1914, the majority of Chinese exports went to Russia, 902,716 piculs in all. A picul is equal to "as much as a man can carry on a shoulder-pole" or about 133 pounds.
The Silk Road to Profits
Silk has long been in demand in the West as a luxury good, giving its name to the overland trade route that connected East and West for centuries: the Silk Road.
In 1914, China was the largest producer and exporter of silks in the world. On an annual basis, China averaged 14 million pounds, compared to the number two spot, Japan, at 11 million pounds, and number three, Italy, at 9 million pounds. Together, these three controlled 81.7% of the global silk trade.
The Opium of the Masses?
The opium trade, the pretext that opened China to foreign trade, was still big money in 1914.
A total of 37 million hk. tls. were imported in 1914 from India, up 11.9% from 1908. This is actually down from a peak of 41 million hk. tls. in 1913.
In 1907, China signed the Ten Year Agreement with India, which ultimately phased out the opium trade. By 1917 the trade was all but extinguished.
Back to the Future
The Aspects of Principal Exports of Chinese Goods to Foreign Countries is a far cry from the contemporary trade picture. China's top export in 2021 was in the category "telephones for cellular networks or other wireless networks," and was worth $147.1 billion.
But it's worth noting that China today is a direct result of this period. The resentment created during the Century of Humiliation would eventually help lead to Mao Zedong, the Long March, and the establishment of the People's Republic of China.
And in 1979, the Chinese central government would set up the first of their own "treaty ports," in the form of special economic zones, places where foreign companies could set up shop. But this time, it wasn't foreign powers who were making the rules.
The Incredible Historical Map That Changed Cartography
Check out the Fra Mauro Mappa Mundi (c. 1450s), a historical map that formed a bridge between medieval and renaissance worldviews.
The Incredible Historical Map That Changed Cartography
This map is the latest in our Vintage Viz series, which presents historical visualizations along with the context needed to understand them.
In a one-paragraph story called On Exactitude in Science (Del Rigor en la Ciencia), Jorge Luis Borges imagined an empire where cartography had reached such an exact science that only a map on the same scale of the empire would suffice.
The Fra Mauro Mappa Mundi (c. 1450s), named for the lay Camaldolite monk and cartographer whose Venetian workshop created it, is not nearly as large, at a paltry 77 inches in diameter (196 cm). But its impact and significance as a bridge between Middle Age and Renaissance thought certainly rivaled Borges' imagined map.
One of 'the Wonders of Venice'
Venice was the undisputed commercial power in the Mediterranean, whose trade routes connected east and west, stretching to Flanders, London, Algeria, and beyond.
This network was protected by fleets of warships built at the famous Arsenale di Venezia, the largest production facility in the West, whose workforce of thousands of arsenalotti built ships on an assembly line, centuries before Henry Ford.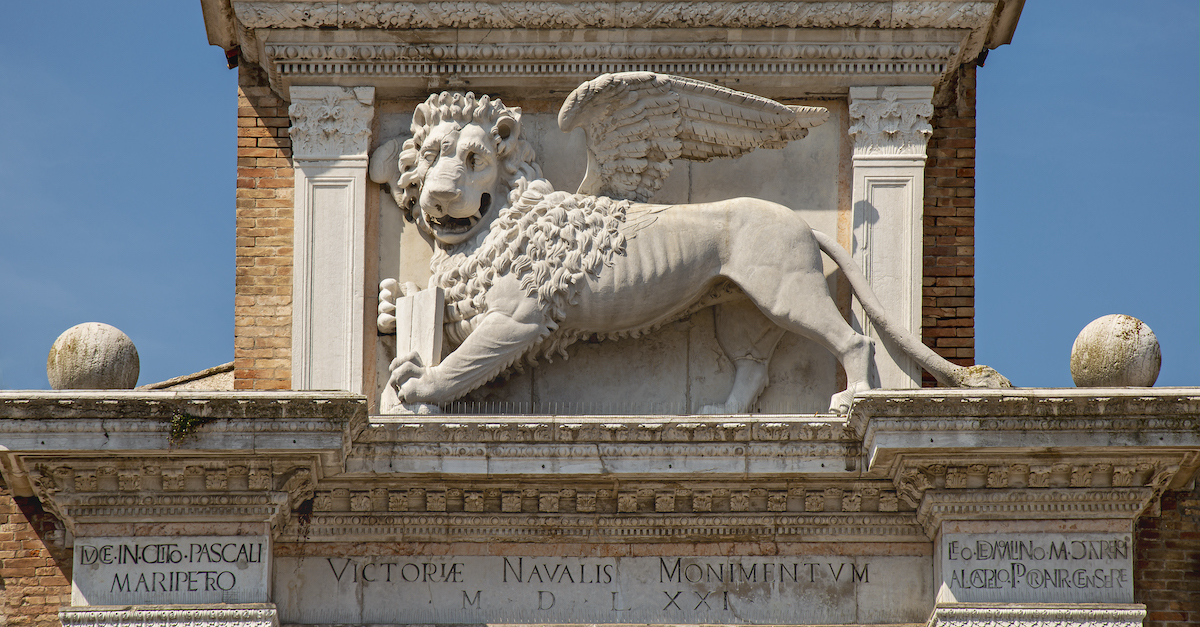 The lion of St Mark guards the land gate to the Arsenale di Venezia, except instead of the usual open bible in its hands offering peace, this book is closed, reflecting its martial purpose. Source: Wikipedia
The Mappa Mundi (literally "map of the world") was considered one of the wonders of Venice with a reputation that reached the Holy Land. It is a circular planisphere drawn on four sheets of parchment, mounted onto three poplar panels and reinforced by vertical battens.
The map is painted in rich reds, golds, and blues; this last pigment was obtained from rare lapis lazuli, imported from mines in Afghanistan. At its corners are four spheres showing the celestial and sublunar worlds, the four elements (earth, air, fire, and water), and an illumination of the Garden of Eden by Leonardo Bellini (active 1443-1490).
Japan (on the left edge, called the Isola de Cimpagu) appears here for the first time in a Western map. And contradicting Ptolemaic tradition, it also shows that it was possible to circumnavigate Africa, presaging the first European journey around the Cape of Good Hope by the Portuguese explorer Bartolomeu Dias in 1488.
NASA called the historical map "stunning" in its accuracy.
A Historical Map Between Two Worlds
Medieval maps, like the Hereford Mappa Mundi (c. 1300), were usually oriented with east at the top, because that's where the Garden of Eden was thought to be. Fra Mauro, however, chose to orient his to the south, perhaps following Muslim geographers such as Muhammad ibn Muhammad al-Idrisi.
Significantly, the Garden of Eden is placed outside of geographic space and Jerusalem is no longer at the center, though it is still marked by a windrose. The nearly 3,000 place names and descriptions are written in the Venetian vernacular, rather than Latin.
At the same time, as much as Fra Mauro's map is a departure from the past, it also retains traces of a medieval Christian worldview. For example, included on the map are the Kingdom of the Magi, the Kingdom of Prester John, and the Tomb of Adam.
Isidore of Seville, Etymologiae (c. 600–625). Source: Wikipedia
The circular planisphere also follows the medieval T-O schema, first described by Isidore of Seville, with Asia occupying the top half of the circle, and Europe and Africa each occupying the bottom two quarters (Fra Mauro turns the 'T' on its side, to reflect a southern orientation). Around the circle, are many islands, beyond which is the "dark sea" where only shipwreck and misfortune await.
Fra Mauro's Legacy
Fra Mauro died some time before 20 October 1459, and unfortunately his contributions fell into obscurity soon thereafter; until 1748, it was believed that the Mappa Mundi was a copy of a lost map by Marco Polo.
In 1811, the original was moved from Fra Mauro's monastery of San Michele to the Biblioteca Nazionale Marciana, following the suppression of religious orders in the Napoleonic era, where it can be viewed today.
Two digital editions have also been produced by the Museo Galileo and the Engineering Historical Memory project, where readers can get a glimpse into a fascinating piece of cartographic history.