Bitcoin is Near All-Time Highs and the Mainstream Doesn't Care…Yet
Bitcoin Near All-Time Highs vs. Search Interest
Just about every financial asset saw a huge drop in March, but few have had the spectacular recovery that bitcoin has had since then.
Up more than 300% from the March lows, bitcoin is within $1,000 of its all-time high ($19,891) established three years ago. While 2017's run-up saw a huge surge in Google searches, interest this time around is less than a quarter of what it was back then.
This graphic overlays bitcoin's price changes against Google search interest for "bitcoin" between 2017-Nov 2020, showing the muted relative search interest for its recent rally. Despite Google search interest being low, it is turning upwards, potentially hinting at a rise to cap off 2020.
Nobody's Searching? Maybe Bitcoin is Already Mainstream
Bitcoin's mainstream attention in 2017 was exceptional, and was likely the first time many people had even heard about the digital asset.
After doing all of their Google research back then, it's possible that the general population is now well aware of the cryptocurrency and doesn't need to search up the basics again. Add to this that bitcoin is now easily purchasable through popular services like Robinhood and Paypal, and you have fewer people who need Google to figure out the intricacies of bitcoin wallets and transactions.
While people might not be searching for information on bitcoin, the media has certainly picked up on its movement over the past year. Mainstream coverage regarding the cryptocurrency is currently at a relative all-time high for the past 12 months.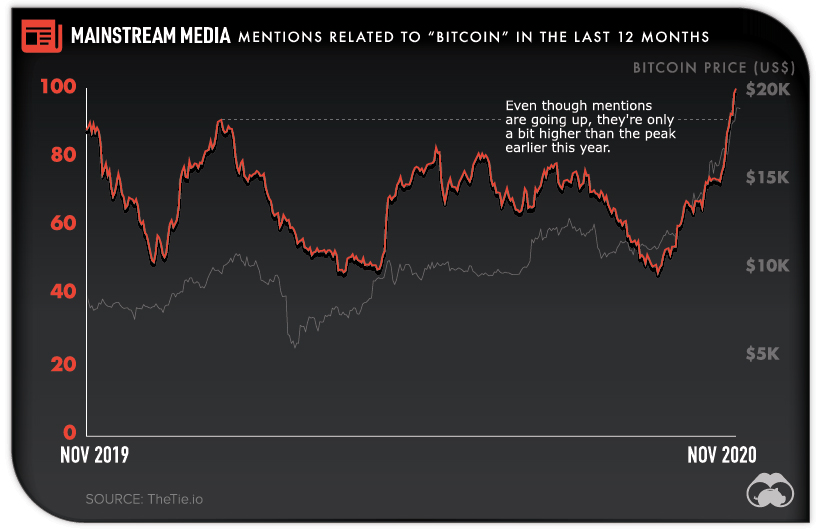 Even if current mainstream coverage isn't far from previous peaks, it's still likely that people are seeing an increase in bitcoin content in their news feeds following the recent surge.
This rally is also attracting increased talk on social media sites like Twitter. That said, while there has been a rise in the volume of bitcoin-related tweets in November 2020, numbers are still quite low compared to the amount of tweets in 2017.
Daily tweet volume reached above 60,000 recently, but is still far from the +100,000 daily tweets that were being sent at the top of 2017's bull run.
Where in the World is Google Search Interest for Bitcoin?
Even if worldwide search interest isn't as high as it was in 2017, there is one country where bitcoin is being googled more now: Nigeria.
Since 2015, the Nigerian Naira has lost more than 50% of its value against the U.S. dollar. This, coupled with the country's high share of unbanked citizens means that alternative currencies and payment methods have steadily risen in popularity and utility.
FinTech startups like Chipper Cash are providing Nigeria and other African nations with no-fee P2P payment services, along with the ability to trade bitcoin. The service is also beta testing the buying and selling of fractional shares of popular U.S. stocks.
Started up in 2018, Chipper Cash's monthly payment values are now over $100 million, and the company has attracted investment from top VC funds like Bezos Expeditions as they provide a valuable service in an emerging market.
If Bitcoin is Mainstream, Where Does It Go From Here?
While bitcoin is proving itself to be a useful medium of exchange around the world, it's still primarily a speculative asset. As 2020 saw massive increases in money supply across the board, bitcoin reacted best compared to other speculative assets, with its ascent to $19,000 almost completely uninterrupted since the $10,000 price area.
Time will tell if 2017 is set to repeat itself, or if bitcoin is getting ready to set new all-time highs going into 2021.
Top 10 Bitcoin Mining Countries & Their Renewable Electricity Mix
Bitcoin miners worldwide use about 348 TWh of electricity per year, as much as some countries, but just where does all that power come from?
Top 10 Bitcoin Mining Countries & Their Renewable Electricity Mix
Bitcoin miners use an estimated 348 terawatt hours of electricity per year, and with the world increasingly moving to renewables, some are asking the question: just where does Bitcoin get its electricity?
To answer that question, we partnered with HIVE Digital to visualize data from the Cambridge Centre for Alternative Finance and Ember, a climate-oriented energy think tank, to look at the Bitcoin network's electricity mix.
This is part one in our How Green is Bitcoin? series, which examines the cryptocurrency's sustainability.
The World According to Bitcoin
The top 10 countries for Bitcoin mining represent 93.8% of the entire network by hashrate—a measure of computational power—with the U.S., China, and Kazakhstan rounding out the top three. Together these three countries hosted nearly three-quarters of the network at the end of 2021.
| Country | Hashrate (%) | Renewable (%) |
| --- | --- | --- |
| U.S. | 37.8% | 22.5% |
| China | 21.1% | 30.2% |
| Kazakhstan | 13.2% | 11.3% |
| Canada | 6.5% | 69.7% |
| Russia | 4.7% | 18.5% |
| Germany | 3.1% | 43.0% |
| Malaysia | 2.5% | 19.1% |
| Ireland | 2.0% | 38.6% |
| Singapore | 2.0% | 2.4% |
| Thailand | 1.0% | 15.5% |
| Rest of the World | 6.3% | 30.1% |
China used to be the top spot for Bitcoin mining, up to 75% of global capacity, but a crackdown in the summer of 2021 saw their share drop to nil in just a couple months. Many miners relocated to nearby Kazakhstan, attracted by cheap electricity, loose regulations, and a 'stable' political climate, while others opted for the United States. A sizable covert mining scene has also emerged in China, now that the dust has settled.
At the bottom of the top 10 are Ireland, Singapore, and Thailand, which together host 4.9% of the network. Ireland's reported share—and this applies to sixth-place Germany, as well—is thought to be a significant overstatement caused by miners in other countries masking their true locations.
The Role of Renewables
On a national basis, the U.S., China, and Kazakhstan each had renewable shares of 22.5%, 30.2%, and 11.3% respectively. For context, renewables made up 30% of the world's electricity generation in 2022 (not including nuclear).
Kazakhstan's dismal renewable share is due to their heavy reliance on coal (60%), which is also a major export of the central Asian country. At the same time, coal contributes a similar amount of the electricity in China (61%), but their overall renewable share is higher because of their breakneck expansion of wind and solar power.
Wagons Ho?
Just where a Bitcoin miner sets up their rig is important, because unlike many other industries with factories or big head offices, they are mobile (Google 'Bitcoin mining shipping containers' if you need convincing).
Where they choose to put out their shingle is based on things like the regulatory regime, price of electricity, and because Bitcoin rigs generate a lot of heat, the average outdoor temperature. On this last point, here is how the top 10 breaks down by mean annual temperature:
Increasingly, though, with climate change driving the push to renewables, many Bitcoin miners are looking more closely at where their electricity is coming from. This could be why Canada—with its embarrassment of hydroelectric riches—has crept up the ranking from less than one percent of the network in 2019, to six-and-a-half percent at the end of 2021.
But considering that top renewable countries such as Iceland, Paraguay, and Norway together only hosted just over one percent of the global network, there's still a lot more room left for growth.

Learn more about how Bitcoin miner and data center operator HIVE Digital is using clean, renewable energy at its facilities in Canada, Sweden, and Iceland.