Mapping the Major Bitcoin Forks
Mapping the Major Bitcoin Forks
The emergence of Bitcoin took the world by storm through its simplicity and innovation. Yet, plenty of confusion remains around the term itself.
The Bitcoin blockchain—not to be confused with the bitcoin cryptocurrency—involves a vast global network of computers operating on the same distributed database to process massive volumes of data every second.
These transactions tell the network how to alter this distributed database in real-time, which makes it crucial for everyone to agree on how these changes should be applied. When the community can't come to a mutual agreement on what changes, or when such rule changes should take effect, it results in a blockchain fork.
Today's unique subway-style map by Bitcoin Magazine shows the dramatic and major forks that have occurred for Bitcoin. But what exactly is a Blockchain fork?
Types of Blockchain Forks
Forks are common practice in the software industry and happen for one of two reasons:
Split consensus within the community
These forks are generally disregarded by the community because they are temporary, except in extreme cases. The longer of the two chains is used to continue building the blockchain.
Changes to the underlying rules of the blockchain
A permanent fork which requires an upgrade to the current software in order to continue participating in the network.
There are four major types of forks that can occur:
1. Soft Forks
Soft forks are like gradual software upgrades—bug fixes, security checks, and new features—for those that upgrade right away.
These forks are "backwards compatible" with the older software; users who haven't upgraded still have access to the network but may not be able to use all functionality in the current version.
2. Hard Forks
Hard forks are like a new OS release—upgrading is mandatory to continue using the software. Because of this, hard forks aren't compatible with older versions of the network.
Hard forks are a permanent division of the blockchain. As long as enough people support both chains, however, they will both continue to exist.
The three types of hard forks are:
Planned
Scheduled upgrades to the network, giving users a chance to prepare. These forks typically involve abandoning the old chain.
Contentious
Caused by disagreements in the community, forming a new chain. This usually involves major changes to the code.
Spin-off Coins
Changes to Bitcoin's code that create new coins. Litecoin is an example of this—key changes included reducing mining time from 10 minutes to 2.5 minutes, and increasing the coin supply from 21 million to 84 million.
3. Codebase Forks
Codebase forks copy the Bitcoin code, allowing developers to make minor tweaks without having to develop the entire blockchain code from scratch. Codebase forks can create a new cryptocurrency or cause unintentional blockchain forks.
4. Blockchain Forks
Blockchain forks involve branching or splitting a blockchain's whole transaction history. Outcomes range from "orphan" blocks to new cryptocurrencies.
Splitting off the Bitcoin network to form a new currency is much like a religious schism—while most of the characteristics and history are preserved, a fork causes the new network to develop a distinct identity.
Summarizing Major Bitcoin Forks
Descriptions of major forks that have occurred in the Bitcoin blockchain:
Bitcoin / Bitcoin Core
The first iteration of Bitcoin was launched by Satoshi Nakamoto in 2009. Future generations of Bitcoin (aka Bitcoin 0.1.0) were renamed Bitcoin Core, or Bitcore, as other blockchains and codebases formed.
BTC1
A codebase fork of Bitcoin. Developers released a hard fork protocol called Segwit2x, with the intention of having all Bitcoin users eventually migrate to the Segwit2x protocol. However, it failed to gain traction and is now considered defunct.
Bitcoin ABC
Also a codebase fork of Bitcoin, Bitcoin ABC was intentionally designed to be incompatible with all Bitcoin iterations at some point. ABC branched off to form Bitcoin Cash in 2017.
Bitcoin Gold, Bitcoin Diamond, Other Fork Coins
After the successful yet contentious launch of Bitcoin Cash, other fork coins began to emerge. Unlike the disagreement surrounding Bitcoin Cash, most were simply regarded as a way to create new coins.
Some of the above forks were largely driven by ideology (BTC1), some because of mixed consensus on which direction to take a hard fork (Bitcoin ABC), while others were mainly profit-driven (Bitcoin Clashic)—or a mix of all three.
Where's the Next Fork in the Road?
Forks are considered an inevitability in the blockchain community. Many believe that forks help ensure that everyone involved—developers, miners, and investors—all have a say when disagreements occur.
Bitcoin has seen its fair share of ups and downs. Crypto investors should be aware that Bitcoin, as both a protocol and a currency, is complex and always evolving. Even among experts, there is disagreement on what constitutes a soft or hard fork, and how certain geopolitical events have played a role in Bitcoin's evolution.
Which Streaming Service Has the Most Subscriptions?
From Netflix and Disney+ to Spotify and Apple Music, we rank the streaming services with the most monthly paid subscriptions.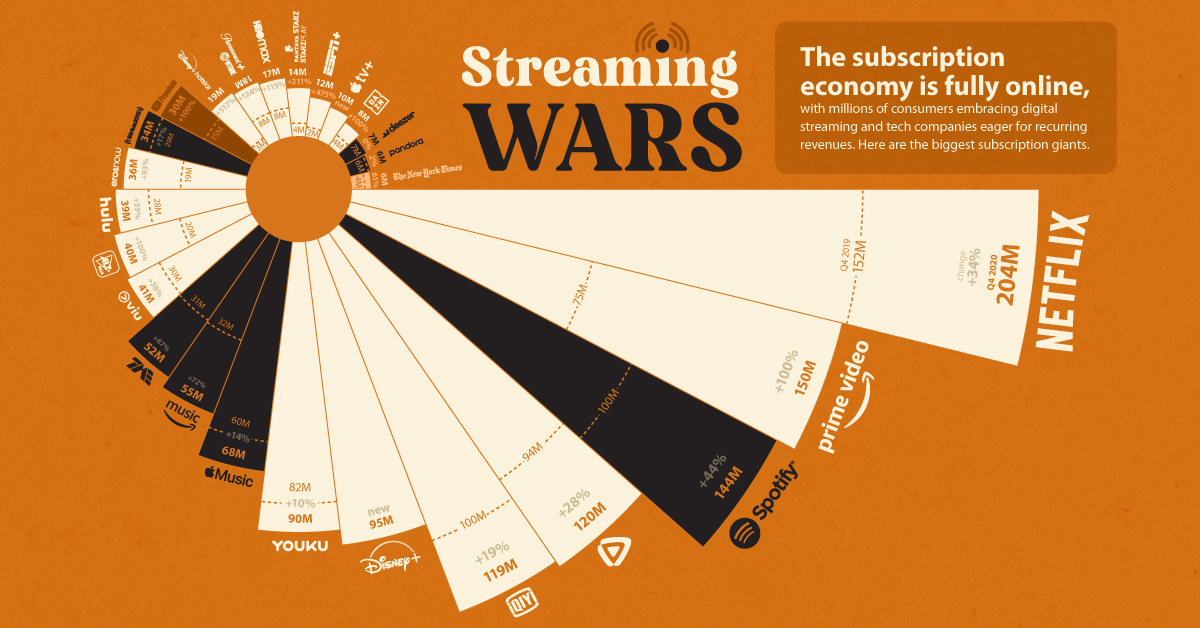 Which Streaming Service Has The Most Subscriptions?
Many companies have launched a streaming service over the past few years, trying to capitalize on the digital media shift and launching the so-called "streaming wars."
After Netflix grew from a small DVD-rental company to a household name, every media company from Disney to Apple saw recurring revenues ripe for the taking. Likewise, the audio industry has long-since accepted Spotify's rise to prominence, as streaming has become the de facto method of consumption for many.
But it was actually the unexpected COVID-19 pandemic that solidified the foothold of digital streaming, with subscription services seeing massive growth over the last year. Although it was expected that many new services would flounder along the way, media subscription services saw wide scale growth and adoption almost across the board.
We've taken the video, audio, and news subscription services with 5+ million subscribers to see who came out on top—and who has grown the most quickly—over the past year. Data comes from the FIPP media association as well as individual company reports.
Streaming Service Giants: Netflix and Amazon
The top of the streaming giant pantheon highlights two staples of business: the first-mover advantage and the power of conglomeration.
With 200+ million global subscribers, Netflix has capitalized on its position as the first and primary name in digital video streaming. Though its consumer base in the Americas has begun to plateau, the company's growth in reach (190+ countries) and content (70+ original movies slated for 2021) has put it more than 50 million subscribers ahead of its closest competition.
The story is the same in the audio market, where Spotify's 144 million subscriber base is more than double that of Apple Music, the next closest competitor with 68 million subscribers.
Meanwhile, Amazon's position as the second most popular video streaming service with 150 million subscribers might be surprising. However, Prime Video subscriptions are included with membership to Amazon Prime, which saw massive growth in usage during the pandemic.
| Service | Type | Subscribers (Q4 2020) |
| --- | --- | --- |
| Netflix | Video | 203.7M |
| Amazon Prime Video | Video | 150.0M |
| Spotify | Audio | 144.0M |
| Tencent Video | Video | 120.0M |
| iQIYI | Video | 119.0M |
| Disney+ | Video | 94.9M |
| Youku | Video | 90.0M |
| Apple Music | Audio | 68.0M |
| Amazon Prime Music | Audio | 55.0M |
| Tencent Music (Group) | Audio | 51.7M |
| Viu | Video | 41.4M |
| Alt Balaji | Video | 40M |
| Hulu | Video | 38.8M |
| Eros Now | Video | 36.2M |
| Sirius Xm | Audio | 34.4M |
| YouTube Premium | Video/Audio | 30M |
| Disney+ Hotstar | Video | 18.5M |
| Paramount+ | Video | 17.9M |
| HBO Max | Video | 17.2M |
| Starz/StarzPlay/Pantaya | Video | 13.7M |
| ESPN+ | Video | 11.5M |
| Apple TV+ | Video | 10M |
| DAZN | Video | 8M |
| Deezer | Audio | 7M |
| Pandora | Audio | 6.3M |
| New York Times | News | 6.1M |
Another standout is the number of large streaming services based in Asia. China-based Tencent Video (also known as WeTV) and Baidu's iQIYI streaming services both crossed 100 million paid subscribers, with Alibaba's Youku not far behind with 90 million.
Disney Leads in Streaming Growth
But perhaps most notable of all is Disney's rapid ascension to the upper echelons of streaming service giants.
Despite Disney+ launching in late 2019 with a somewhat lackluster content library (only one original series with one episode at launch), it has quickly rocketed both in terms of content and its subscriber base. With almost 95 million subscribers, it has amassed more subscribers in just over one year than Disney expected it could reach by 2024.
| Service | Type | Percentage Growth (2019) |
| --- | --- | --- |
| Disney+ | Video | New |
| Apple TV+ | Video | New |
| Disney+ Hotstar | Video | 516.7% |
| ESPN+ | Video | 475.0% |
| Starz/StarzPlay/Pantaya | Video | 211.4% |
| Paramount+ | Video | 123.8% |
| HBO Max | Video | 115.0% |
| Amazon Prime Video | Video | 100.0% |
| Alt Balaji | Video | 100.0% |
| YouTube Premium | Video/Audio | 100.0% |
| DAZN | Video | 100.0% |
| Eros Now | Video | 92.6% |
| Amazon Prime Music | Audio | 71.9% |
| Tencent Music (Group) | Audio | 66.8% |
| New York Times | News | 60.5% |
| Spotify | Audio | 44.0% |
| Hulu | Video | 38.6% |
| Viu | Video | 38.0% |
| Netflix | Video | 34.4% |
| Tencent Video | Video | 27.7% |
| iQiyi | Video | 19.0% |
| Sirius Xm | Audio | 17.4% |
| Apple Music | Audio | 13.3% |
| Youku | Video | 9.6% |
| Pandora | Audio | 1.6% |
| Deezer | Audio | 0% |
The Disney+ wave also spurred growth in partner streaming services like Hotstar and ESPN+, while other services with smaller subscriber bases saw large growth rates thanks to the COVID-19 pandemic.
The lingering question is how the landscape will look when the pandemic starts to wind down, and when all the new players are accounted for. NBCUniversal's Peacock, for example, has reached over 30 million subscribers as of January 2021, but the company hasn't yet disclosed how many are paid subscribers.
Likewise, competitors are investing in content libraries to try and make up ground on Netflix and Disney. HBO Max is slated to start launching internationally in June 2021, and ViacomCBS rebranded and expanded CBS All Access into Paramount+.
And international growth is vital. Three of the top six video streaming services by subscribers are based in China, while Indian services Hotstar, ALTBalaji, and Eros Now all saw surges in subscriber bases, with more room left to grow.

How Do Esports Companies Compare with Sports Teams?
With some esports companies more valuable than traditional sports teams, we visualize esports vs sports in franchise value.
How Do Esports Companies Compare with Sports Teams?
Are esports on the same level as "real" sports? These comparisons range from tricky to subjective, but the monetary value of companies speak for themselves.
The world's largest esports companies have definitely risen to the occasion. Valued at almost half-a-billion dollars, they've started to pass some sports franchises in value.
In the above graphic, we compare Forbes' valuation of the top 10 esports companies in 2020 against median franchises in the "Big Four" major leagues (NFL, MLB, NBA, and NHL). Despite competitive gaming's rapid growth, there's still a long way left to go.
Esports Impress but NFL Teams Reign Supreme
The world's top esports companies have grown quickly, and impressively.
As of 2018, there was only one esports company worth more than $300 million in valuation. By 2020, four of the top 10 were valued at more than $300 million.
| Esports Company | Games with Franchises | Value (2020) |
| --- | --- | --- |
| TSM | League of Legends | $410M |
| Cloud9 | League of Legends, Overwatch | $350M |
| Team Liquid | League of Legends | $310M |
| FaZe Clan | Call of Duty | $305M |
| 100 Thieves | League of Legends, Call of Duty | $190M |
| Gen.G | League of Legends, Overwatch, NBA 2K | $185M |
| Enthusiast Gaming | Call of Duty, Overwatch | $180M |
| G2 Esports | League of Legends | $175M |
| NRG Esports | Call of Duty, Overwatch | $155M |
| T1 | League of Legends | $150M |
When compared to traditional sports valuations, esports companies have already reached major league hockey status.
TSM, the world's most valuable esports company in 2020, has a higher valuation than five NHL franchises. In fact, four esports companies were estimated to be more valuable than two NHL franchises, the Florida Panthers and Arizona Coyotes.
But other sports leagues are further away. While the median value of an NHL franchise in 2020 was $520 million, the MLB, NBA, and NFL all saw median values of over $1.6 billion.
| Esports vs. Sports Franchises | Lowest Valued Team | Highest Valued Team | Median |
| --- | --- | --- | --- |
| NFL | $2.0B | $5.7B | $3.0B |
| NBA | $1.3B | $4.6B | $1.8B |
| MLB | $980M | $5.0B | $1.6B |
| NHL | $285M | $1.6B | $520M |
| Esports (Top 10) | $150M | $410M | $188M |
Differences in Esports vs Sports Structures and Growth
Try as we might to make a clean apples-to-apples comparison between esports and traditional sports teams, there are significant differences in the business models to consider.
For starters, major esports companies own multiple franchises and non-franchise teams across many games. Cloud9 owns both the eponymous Cloud9 League of Legends franchise and the London Spitfire Overwatch franchise, for example, as well as non-franchise teams in Halo, Counter Strike: Global Offensive, Fortnite, and other games.
The revenue streams for esports companies are also extremely varied. Companies like TSM, 100 Thieves, FaZe Clan and Enthusiast Gaming made 50% or more of their revenue from outside of esports, having instead expanded into diverse companies with an equal focus on content creation and apps.
But it's this greater ability to diversify, and the still-increasing size of esports fandom, that continues to grow esports valuations. In fact, TSM's estimated 2020 revenue of $45 million is less than half of the Arizona Coyotes' estimated revenue of $95 million, despite a $100+ million valuation difference in favor of TSM.
That's why the continued maturation of esports is only going to make traditional sports comparisons easier, and closer. Instead of having to pit companies against franchises, direct league-to-league comparisons will be possible, and the differences will likely shrink from billions to millions.