Why Big Data Keeps Getting Bigger
Why Big Data Keeps Getting Bigger
The sun never sets on the creation of new data.
Yes, the rate of generation may slow down at night as people send fewer emails and watch fewer videos. But for every person hitting the hay, there is another person on the opposite side of the world that is turning their smartphone on for the day.
As a result, the scale of data being generated—even when we look at it through a limited lens of one minute at a time—is quite mind-boggling to behold.
The Data Explosion, by Source
Today's infographic comes to us from Domo, and it shows the amount of new data generated each minute through several different platforms and technologies.
Let's start by looking at what happens every minute from a broad perspective:
Americans use 4,416,720 GB of internet data
There are 188,000,000 emails sent
There are 18,100,000 texts sent
There are 390,030 apps downloaded
Now lets look at platform-specific data on a per minute basis:
Giphy serves up 4,800,000 gifs
Netflix users stream 694,444 hours of video
Instagram users post 277,777 stories
Youtube users watch 4,500,000 videos
Twitter users send 511,200 tweets
Skype users make 231,840 calls
Airbnb books 1,389 reservations
Uber users take 9,772 rides
Tinder users swipe 1,400,000 times
Google conducts 4,497,420 searches
Twitch users view 1,000,000 videos
Imagine being given the task to build a server infrastructure capable of handling any of the above items. It's a level of scale that's hard to comprehend.
Also, imagine how difficult it is to make sense of this swath of data. How does one even process insights from the many billions of Youtube videos watched per day?
Why Big Data is Going to Get Even Bigger
The above statistics are already mind-bending, but consider that the global total of internet users is still growing at roughly a 9% clip. This means the current rate of data creation is still just scratching the surface of its ultimate potential.
In fact, as We Are Social's recent report on internet usage reveals, a staggering 367 million new internet users were added in between January 2018 and January 2019:
Global internet penetration sits at 57% in 2019, meaning that billions of more people are going to be using the above same services—including many others that don't even exist yet.
Combine this with more time spent on the internet per user and technologies like 5G, and we are only at the beginning of the big data era.
Charted: What are Retail Investors Interested in Buying in 2023?
What key themes and strategies are retail investors looking at for the rest of 2023? Preview: AI is a popular choice.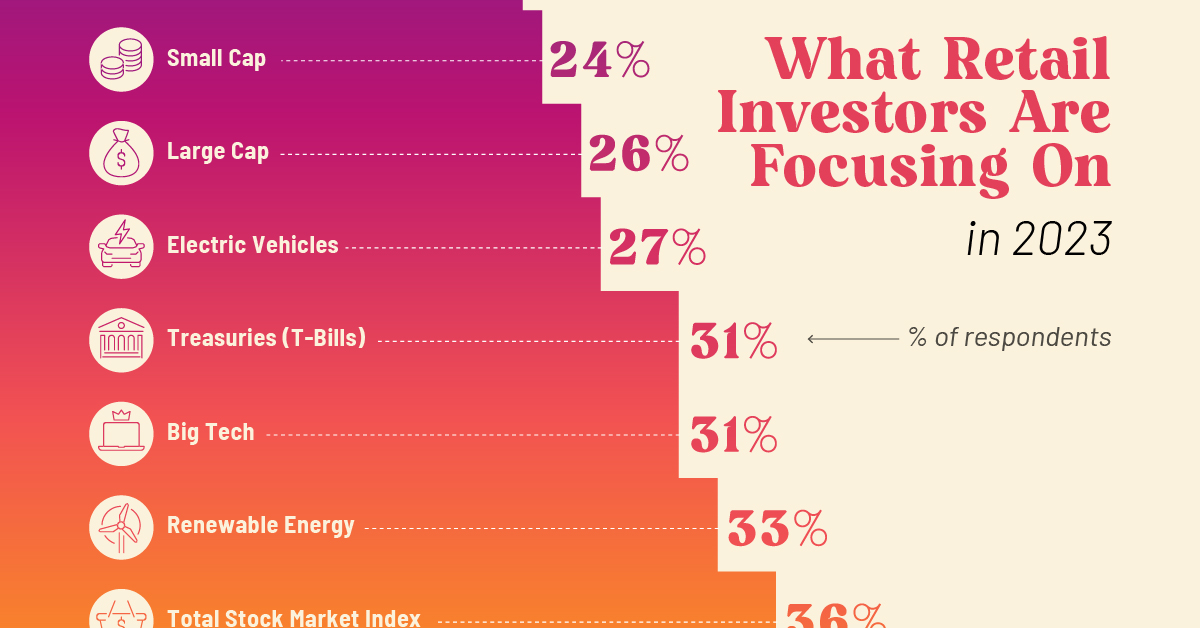 Charted: Retail Investors' Top Picks for 2023
U.S. retail investors, enticed by a brief pause in the interest rate cycle, came roaring back in the early summer. But what are their investment priorities for the second half of 2023?
We visualized the data from Public's 2023 Retail Investor Report, which surveyed 1,005 retail investors on their platform, asking "which investment strategy or themes are you interested in as part of your overall investment strategy?"
Survey respondents ticked all the options that applied to them, thus their response percentages do not sum to 100%.
Where Are Retail Investors Putting Their Money?
By far the most popular strategy for retail investors is dividend investing with 50% of the respondents selecting it as something they're interested in.
Dividends can help supplement incomes and come with tax benefits (especially for lower income investors or if the dividend is paid out into a tax-deferred account), and can be a popular choice during more inflationary times.
| Investment Strategy | Percent of Respondents |
| --- | --- |
| Dividend Investing | 50% |
| Artificial Intelligence | 36% |
| Total Stock Market Index | 36% |
| Renewable Energy | 33% |
| Big Tech | 31% |
| Treasuries (T-Bills) | 31% |
| Electric Vehicles | 27% |
| Large Cap | 26% |
| Small Cap | 24% |
| Emerging Markets | 23% |
| Real Estate | 23% |
| Gold & Precious Metals | 23% |
| Mid Cap | 19% |
| Inflation Protection | 13% |
| Commodities | 12% |
Meanwhile, the hype around AI hasn't faded, with 36% of the respondents saying they'd be interested in investing in the theme—including juggernaut chipmaker Nvidia. This is tied for second place with Total Stock Market Index investing.
Treasury Bills (30%) represent the safety anchoring of the portfolio but the ongoing climate crisis is also on investors' minds with Renewable Energy (33%) and EVs (27%) scoring fairly high on the interest list.
Commodities and Inflation-Protection stocks on the other hand have fallen out of favor.
Come on Barbie, Let's Go Party…
Another interesting takeaway pulled from the survey is how conversations about prevailing companies—or the buzz around them—are influencing trades. The platform found that public investors in Mattel increased 6.6 times after the success of the 'Barbie' movie.
Bud Light also saw a 1.5x increase in retail investors, despite receiving negative attention from their fans after the company did a beer promotion campaign with trans influencer Dylan Mulvaney.
Given the origin story of a large chunk of American retail investors revolves around GameStop and AMC, these insights aren't new, but they do reveal a persisting trend.