Visualizing the Power Consumption of Bitcoin Mining
Visualizing the Power Consumption of Bitcoin Mining
Cryptocurrencies have been some of the most talked-about assets in recent months, with bitcoin and ether prices reaching record highs. These gains were driven by a flurry of announcements, including increased adoption by businesses and institutions.
Lesser known, however, is just how much electricity is required to power the Bitcoin network. To put this into perspective, we've used data from the University of Cambridge's Bitcoin Electricity Consumption Index (CBECI) to compare Bitcoin's power consumption with a variety of countries and companies.
Why Does Bitcoin Mining Require So Much Power?
When people mine bitcoins, what they're really doing is updating the ledger of Bitcoin transactions, also known as the blockchain. This requires them to solve numerical puzzles which have a 64-digit hexadecimal solution known as a hash.
Miners may be rewarded with bitcoins, but only if they arrive at the solution before others. It is for this reason that Bitcoin mining facilities—warehouses filled with computers—have been popping up around the world.
These facilities enable miners to scale up their hashrate, also known as the number of hashes produced each second. A higher hashrate requires greater amounts of electricity, and in some cases can even overload local infrastructure.
Putting Bitcoin's Power Consumption Into Perspective
On March 18, 2021, the annual power consumption of the Bitcoin network was estimated to be 129 terawatt-hours (TWh). Here's how this number compares to a selection of countries, companies, and more.
| Name | Population  | Annual Electricity Consumption (TWh) |
| --- | --- | --- |
| China | 1,443M | 6,543 |
| United States | 330.2M | 3,989 |
| All of the world's data centers | - | 205 |
| State of New York | 19.3M | 161 |
| Bitcoin network  | - | 129  |
| Norway | 5.4M | 124 |
| Bangladesh | 165.7M | 70 |
| Google | - | 12 |
| Facebook | - | 5 |
| Walt Disney World Resort (Florida) | - | 1 |
Note: A terawatt hour (TWh) is a measure of electricity that represents 1 trillion watts sustained for one hour.
Source: Cambridge Centre for Alternative Finance, Science Mag, New York ISO, Forbes, Facebook, Reedy Creek Improvement District, Worldometer
If Bitcoin were a country, it would rank 29th out of a theoretical 196, narrowly exceeding Norway's consumption of 124 TWh. When compared to larger countries like the U.S. (3,989 TWh) and China (6,543 TWh), the cryptocurrency's energy consumption is relatively light.
For further comparison, the Bitcoin network consumes 1,708% more electricity than Google, but 39% less than all of the world's data centers—together, these represent over 2 trillion gigabytes of storage.
Where Does This Energy Come From?
In a 2020 report by the University of Cambridge, researchers found that 76% of cryptominers rely on some degree of renewable energy to power their operations. There's still room for improvement, though, as renewables account for just 39% of cryptomining's total energy consumption.
Here's how the share of cryptominers that use each energy type vary across four global regions.
Energy Source
Asia-Pacific
Europe
Latin America
and the Caribbean
North America
Hydroelectric
65%
60%
67%
61%
Natural gas
38%
33%
17%
44%
Coal
65%
2%
0%
28%
Wind
23%
7%
0%
22%
Oil
12%
7%
33%
22%
Nuclear
12%
7%
0%
22%
Solar
12%
13%
17%
17%
Geothermal
8%
0%
0%
6%
Source: University of Cambridge
Editor's note: Numbers in each column are not meant to add to 100%
Hydroelectric energy is the most common source globally, and it gets used by at least 60% of cryptominers across all four regions. Other types of clean energy such as wind and solar appear to be less popular.
Coal energy plays a significant role in the Asia-Pacific region, and was the only source to match hydroelectricity in terms of usage. This can be largely attributed to China, which is currently the world's largest consumer of coal.
Researchers from the University of Cambridge noted that they weren't surprised by these findings, as the Chinese government's strategy to ensure energy self-sufficiency has led to an oversupply of both hydroelectric and coal power plants.
Towards a Greener Crypto Future
As cryptocurrencies move further into the mainstream, it's likely that governments and other regulators will turn their attention to the industry's carbon footprint. This isn't necessarily a bad thing, however.
Mike Colyer, CEO of Foundry, a blockchain financing provider, believes that cryptomining can support the global transition to renewable energy. More specifically, he believes that clustering cryptomining facilities near renewable energy projects can mitigate a common issue: an oversupply of electricity.
"It allows for a faster payback on solar projects or wind projects… because they would [otherwise] produce too much energy for the grid in that area"
– Mike Colyer, CEO, Foundry
This type of thinking appears to be taking hold in China as well. In April 2020, Ya'an, a city located in China's Sichuan province, issued a public guidance encouraging blockchain firms to take advantage of its excess hydroelectricity.
Visualizing U.S. Consumption of Fuel and Materials per Capita
Wealthy countries consume large amounts of natural resources per capita, and the U.S. is no exception. See how much is used per person.
Visualizing U.S. Consumption of Fuel and Materials per Capita
This was originally posted on Elements. Sign up to the free mailing list to get beautiful visualizations on natural resource megatrends in your email every week.
Wealthy countries consume massive amounts of natural resources per capita, and the United States is no exception.
According to data from the National Mining Association, each American needs more than 39,000 pounds (17,700 kg) of minerals and fossil fuels annually to maintain their standard of living.
Materials We Need to Build
Every building around us and every sidewalk we walk on is made of sand, steel, and cement.
As a result, these materials lead consumption per capita in the United States. On average, each person in America drives the demand of over 10,000 lbs of stone and around 7,000 lbs of sand and gravel per year.
| Material/Fossil Fuel | Pounds Per Person |
| --- | --- |
| Stone | 10,643 |
| Natural Gas | 9,456 |
| Sand, Gravel | 7,088 |
| Petroleum Products | 6,527 |
| Coal | 3,290 |
| Cement | 724 |
| Other Nonmetals | 569 |
| Salt | 359 |
| Iron Ore | 239 |
| Phosphate Rock | 166 |
| Sulfur | 66 |
| Potash | 49 |
| Soda Ash | 36 |
| Bauxite (Aluminum) | 24 |
| Other Metals | 21 |
| Copper | 13 |
| Lead | 11 |
| Zinc | 6 |
| Manganese | 4 |
| Total | 39,291 |
The construction industry is a major contributor to the U.S. economy.
Crushed stone, sand, gravel, and other construction aggregates represent half of the industrial minerals produced in the country, resulting in $29 billion in revenue per year.
Also on the list are crucial hard metals such as copper, aluminum, iron ore, and of course many rarer metals used in smaller quantities each year. These rarer metals can make a big economic difference even when their uses are more concentrated and isolated—for example, palladium (primarily used in catalytic converters) costs $54 million per tonne.
Fuels Powering our Lives
Despite ongoing efforts to fight climate change and reduce carbon emissions, each person in the U.S. uses over 19,000 lbs of fossil fuels per year.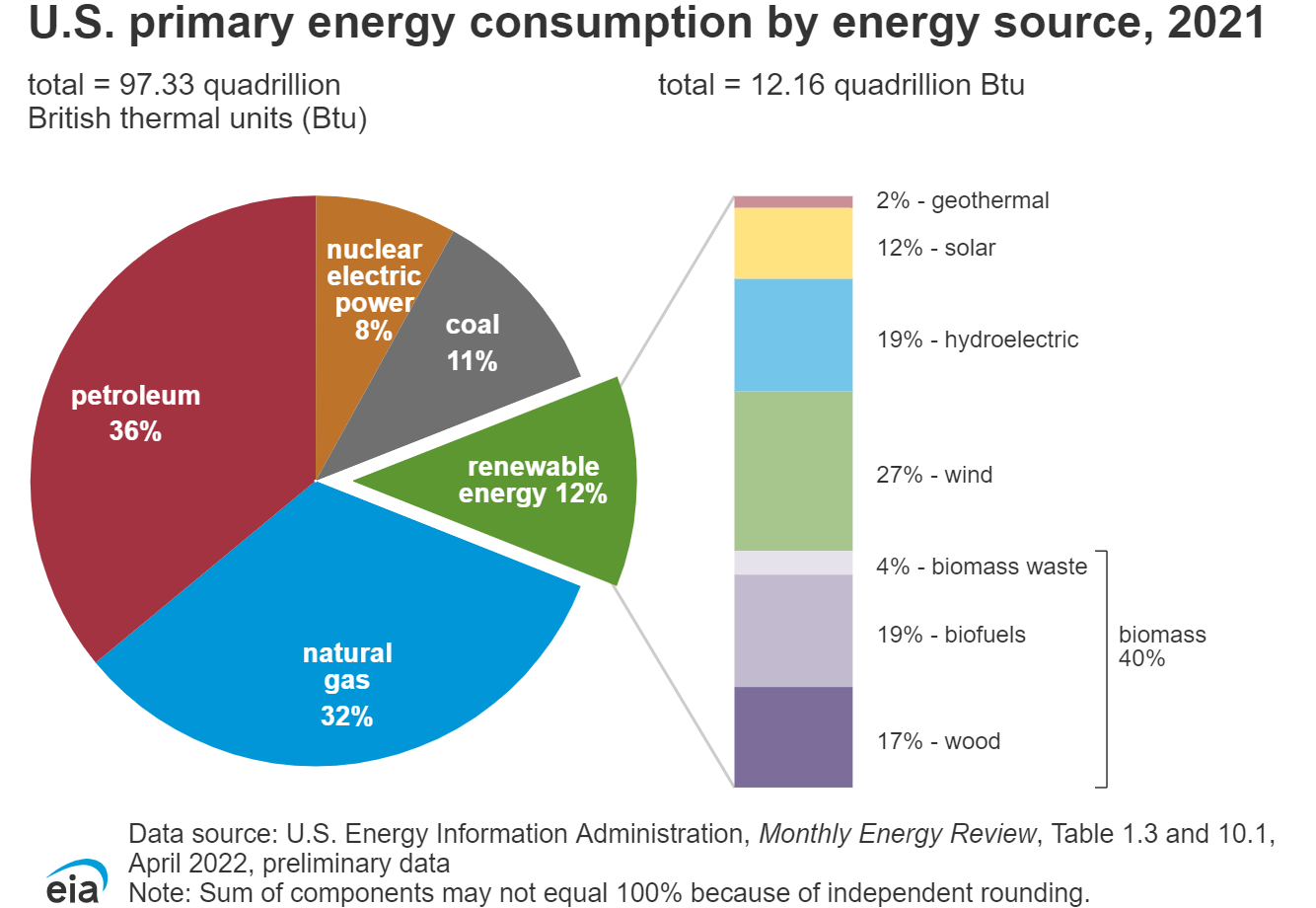 Gasoline is the most consumed petroleum product in the United States.
In 2021, finished motor gasoline consumption averaged about 369 million gallons per day, equal to about 44% of total U.S. petroleum use. Distillate fuel oil (20%), hydrocarbon gas liquids (17%), and jet fuel (7%) were the next most important uses.
Reliance on Other Countries
Over the past three decades, the United States has become reliant on foreign sources to meet domestic demand for minerals and fossil fuels. Today, the country is 100% import-reliant for 17 mineral commodities and at least 50% for 30 others.
In order to reduce the dependency on other countries, namely China, the Biden administration has been working to diversify supply chains in critical minerals. This includes strengthening alliances with other countries such as Australia, India, and Japan.
However, questions still remain about how soon these policies can make an impact, and the degree to which they can ultimately help localize and diversify supply chains.