Arms Sales: USA vs. Russia (1950-2017)
Arms Sales: USA vs. Russia (1950-2017)
Between countless proxy wars and the growing threat of nuclear catastrophe, the Cold War created an unprecedented geopolitical climate.
For nearly half a century, the world's two biggest superpowers were scrambling to top one another by any means necessary. It was a tension that ignited everything from the space race to sports rivalries, with the impact often spilling over to neighboring nations.
Not only did the U.S. and Soviet Union duke it out in the mother of all arms races – they also extended their influence by selling arms outside of their borders. Interestingly, this latter race continues on until today, almost three decades after the fall of the Iron Curtain.
Visualizing Arms Sales
Today's animation comes from data scientist Will Geary, and it shows the history of international arms sales originating from the U.S. and the Soviet Union (later Russia) from 1950 to 2017.
More specifically, using data from the SIPRI Arms Transfers Database, the animation shows the geographic movement of arms from country to country as well as the evolving share of the arms trade held by the respective countries. The video is also pleasantly backed by audio that represents music from each decade, ranging from Buffalo Springfield to The Clash.
Peak Arms Dominance
If you watch the pie chart in the upper left corner of the animation, you'll see that the early-1960s is the peak of U.S. and Soviet arm dominance – at this point, around the same time as the Cuban Missile Crisis and then the JFK assassination, the two superpowers combined for 80% of global arms sales.
In the 1960s, the biggest customers of U.S. arms were Germany, the United Kingdom, and Japan – while the Soviets sent the most weapons to Egypt, Poland, and East Germany.
Fall of the Wall
By the 1980s, the global arms trade started dying down as Soviet leaders like Gorbachev focused on domestic reforms, and eventually perestroika.
Later, the Soviet Union dissolved, and arms sales continued to plunge all the way to 2001:
Since then, arms sales have been ramping up again – and today, they are back at levels last seen before the Berlin Wall came down.
The Modern Era
Who is selling the most arms, according to the last 10 years of data?
Even though the Cold War is now long gone, the U.S. and Russia have kept their legacy of international arms sales going well into the 21st century.
And today, the two nations combine for roughly 60% of arms sales, with top U.S. weapons manufacturers like Lockheed Martin and Raytheon getting a big slice of that pie.
Ranked: Share of Global Arms Exports in 2022
The U.S. is the biggest weapons exporter in the world, but which other countries take up a significant share of global arms exports in 2022? And how has that share changed over time?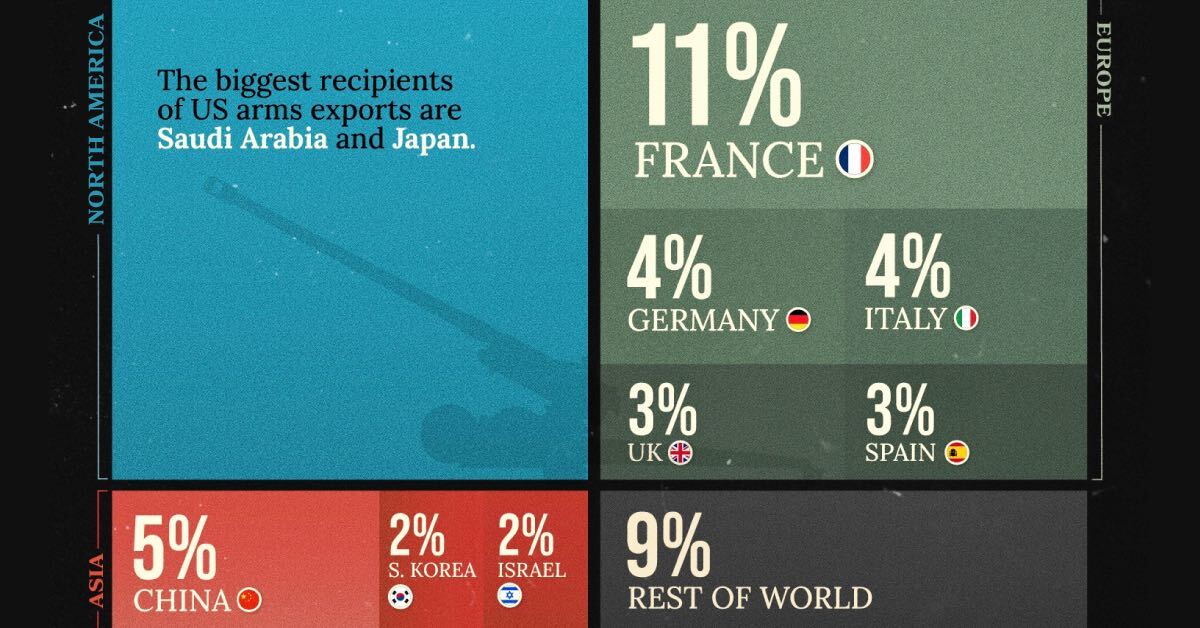 Ranked: Share of Global Arms Exports 2018–2022
In 2022, global military budgets hit $2.2 trillion, an eighth consecutive year of increase.
Part of those budgets were used for the procurement of arms, but which countries are major weapons suppliers, and how do they influence the global arms trade?
We chart out the top 10 countries with the biggest share of global arms exports using data from the Stockholm International Peace Research Institute (SIPRI).
Which Country Exports the Most Weapons?
The U.S. is the biggest weapons exporter, accounting for 40% of the total volume of international arms transfers between 2018–2022. Nearly one-fifth of these exports headed to Saudi Arabia, and other significant amounts went to Japan (8.6%) and Australia (8.4%).
Below we rank the biggest weapons exporters by share of total volume traded in 2018–2022, as well as their growth or decline from trends recorded in 2013–2017.
Rank
Country
% share of global arms exports
(2018-2022)
% change between
2013-17 & 2018-22
1
🇺🇸 U.S.
40%
+14%
2
🇷🇺 Russia
16%
-31%
3
🇫🇷 France
11%
+44%
4
🇨🇳 China
5%
-23%
5
🇩🇪 Germany
4%
-35%
6
🇮🇹 Italy
4%
+45%
7
🇬🇧 UK
3%
-35%
8
🇪🇸 Spain
3%
-4%
9
🇰🇷 South Korea
2%
+74%
10
🇮🇱 Israel
2%
-15%
N/A
🌐 Rest of World
9%
N/A
Russia (16%) and France (11%) rank close together, followed by China (5%) and Germany (4%) to round out the top five major arms exporters.
However France's export volumes grown considerably (+44%) from the previous five-year period, thanks to big sales to India, which included 62 combat aircraft and four submarines, one-third of all French weapons trade. This has resulted in France leapfrogging the U.S. as India's second-largest weapons supplier after Russia.
On the other hand, Russia's exports by volume has decreased (-31%) even before sanctions kicked in after the invasion of Ukraine. Its biggest trade partners, India and China, have prioritized developing their own weapons industries.
South Korea's Surging Weapons Exports
Another country whose arms sales are skyrocketing is South Korea, which ranks 9th in the overall share of global arms exports, but has seen a 74% increase in its export volumes. Key recipients include the Philippines, India, and Thailand.
South Korean president Yoon Suk Yeol has pledged to grow his country into the world's fourth largest arms exporter by 2027.
Interestingly, South Korea is one of three countries which is both a top-10 arms exporter and importer (along with China and the U.S.) as it has many takers for domestically produced military equipment, while simultaneously being reliant on American-produced long-range missiles and advanced combat aircraft.