The 7 Major Flaws of the Global Financial System
The 7 Major Flaws of the Global Financial System
Since the invention of banking, the global financial system has become increasingly centralized.
In the modern system, central banks now control everything from interest rates to the issuance of currency, while government regulators, corporations, and intergovernmental organizations wield unparalleled influence at the top of this crucial food chain.
There is no doubt that this centralization has led to the creation of massive amounts of wealth, especially to those properly connected to the financial system. However, the same centralization has also arguably contributed to many global challenges and risks we face today.
Flaws of the Global Financial System
Today's infographic comes to us from investment app Abra, and it highlights the seven major flaws of the global financial system, ranging from the lack of basic access to financial services to growing inequality.
1. Billions of people globally remain unbanked
To participate in the global financial sector, whether it is to make a digital payment or manage one's wealth, one must have access to a bank account. However, 1.7 billion adults worldwide remain unbanked, having zero access to an account with a financial institution or a mobile money provider.
2. Global financial literacy remains low
For people to successfully use financial services and markets, they must have some degree of financial literacy. According to a recent global survey, just 1-in-3 people show an understanding of basic financial concepts, with most of these people living in high income economies.
Without an understanding of key concepts in finance, it makes it difficult for the majority of the population to make the right decisions – and to build wealth.
3. High intermediary costs and slow transactions
Once a person has access to financial services, sending and storing money should be inexpensive and fast.
However, just the opposite is true. Around the globe, the average cost of a remittance is 7.01% in fees per transaction – and when using banks, that rises to 10.53%. Even worse, these transactions can take days at a time, which seems quite unnecessary in today's digital era.
4. Low trust in financial institutions and governments
The financial sector is the least trusted business sector globally, with only a 57% level of trust according to Edelman. Meanwhile, trust in governments is even lower, with only 40% trusting the U.S. government, and the global country average sitting at 47%.
5. Rising global inequality
In a centralized system, financial markets tend to be dominated by those who are best connected to them.
These are people who have:
Access to many financial opportunities and asset classes
Capital to deploy
Informational advantages
Access to financial expertise
In fact, according to recent data on global wealth concentration, the top 1% own 47% of all household wealth, while the top 10% hold roughly 85%.
On the other end of the spectrum, the vast majority of people have little to no financial assets to even start building wealth. Not only are many people living paycheck to paycheck – but they also don't have access to assets that can create wealth, like stocks, bonds, mutual funds, or ETFs.
6. Currency manipulation and censorship
In a centralized system, countries have the power to manipulate and devalue fiat currencies, and this can have a devastating effect on markets and the lives of citizens.
In Venezuela, for example, the government has continually devalued its currency, creating runaway hyperinflation as a result. The last major currency manipulation in 2018 increased the price of a cup of coffee by over 772,400% in six months.
Further, centralized power also gives governments and financial institutions the ability to financially censor citizens, by taking actions such as freezing accounts, denying access to payment systems, removing funds from accounts, and denying the retrieval of funds during bank runs.
7. The build-up of systemic risk
Finally, centralization creates one final and important drawback.
With financial power concentrated with just a select few institutions, such as central banks and "too big too fail" companies, it means that one abject failure can decimate an entire system.
This happened in 2008 as U.S. subprime mortgages turned out to be an Achilles Heel for bank balance sheets, creating a ripple effect throughout the globe. Centralization means all eggs in one basket – and if that basket breaks it can possibly lead to the destruction of wealth on a large scale.
The Future of the Global Financial System?
The risks and drawbacks of centralization to the global financial system are well known, however there has never been much of a real alternative – until now.
With the proliferation of mobile phones and internet access, as well as the development of decentralization technologies like the blockchain, it may be possible to build an entirely new financial system.
But is the world ready?
The Periodic Table of Commodity Returns (2012-2021)
Energy fuels led the way as commodity prices surged in 2021, with only precious metals providing negative returns.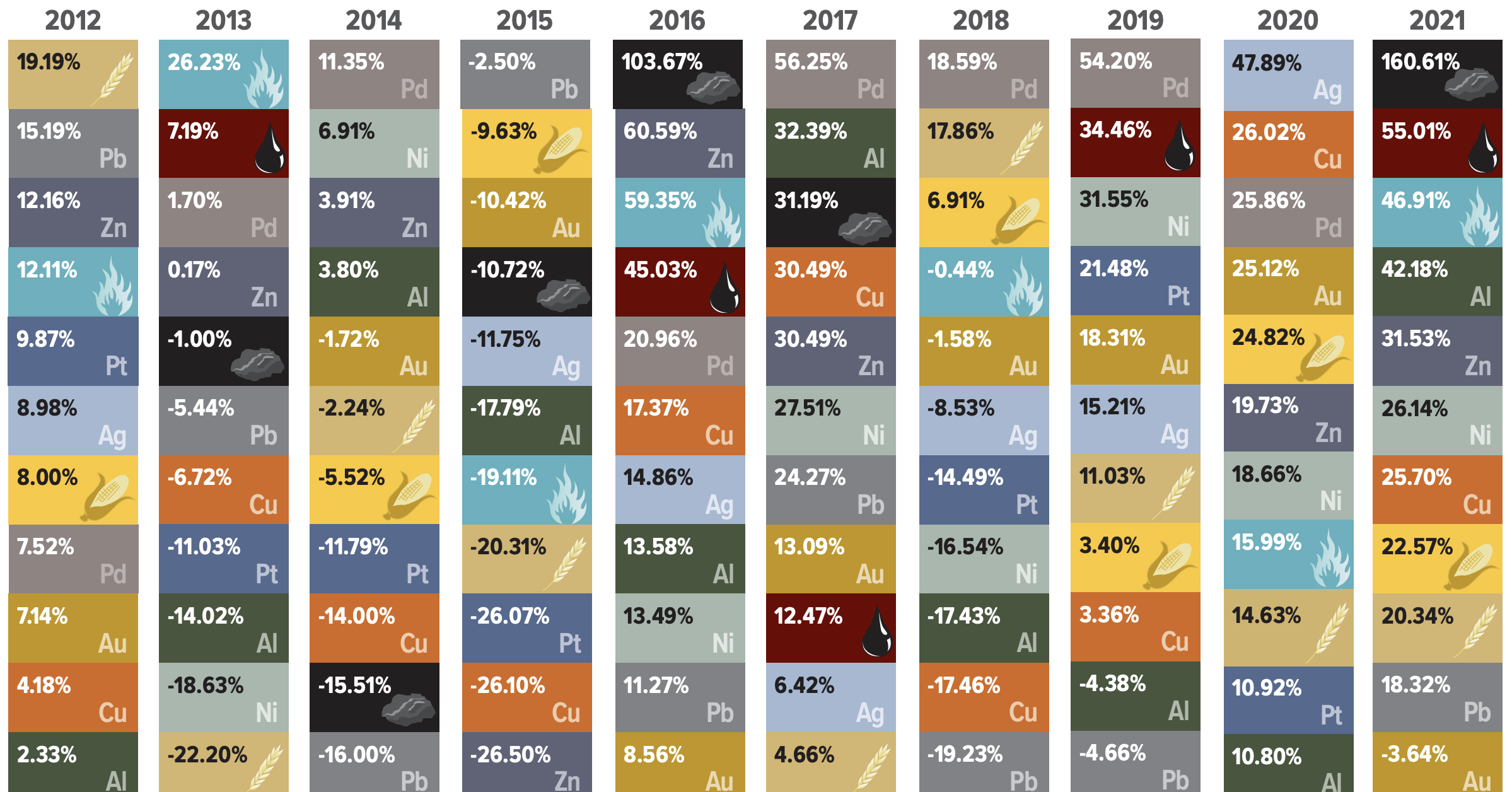 The Periodic Table of Commodity Returns (2022 Edition)
For investors, 2021 was a year in which nearly every asset class finished in the green, with commodities providing some of the best returns.
The S&P Goldman Sachs Commodity Index (GSCI) was the third best-performing asset class in 2021, returning 37.1% and beating out real estate and all major equity indices.
This graphic from U.S. Global Investors tracks individual commodity returns over the past decade, ranking them based on their individual performance each year.
Commodity Prices Surge in 2021
After a strong performance from commodities (metals especially) in the year prior, 2021 was all about energy commodities.
The top three performers for 2021 were energy fuels, with coal providing the single best annual return of any commodity over the past 10 years at 160.6%. According to U.S. Global Investors, coal was also the least volatile commodity of 2021, meaning investors had a smooth ride as the fossil fuel surged in price.
| Commodity | 2021 Returns |
| --- | --- |
| Coal | 160.61% |
| Crude Oil | 55.01% |
| Gas | 46.91% |
| Aluminum | 42.18% |
| Zinc | 31.53% |
| Nickel | 26.14% |
| Copper | 25.70% |
| Corn | 22.57% |
| Wheat | 20.34% |
| Lead | 18.32% |
| Gold | -3.64% |
| Platinum | -9.64% |
| Silver | -11.72% |
| Palladium | -22.21% |
Source: U.S. Global Investors
The only commodities in the red this year were precious metals, which failed to stay positive despite rising inflation across goods and asset prices. Gold and silver had returns of -3.6% and -11.7% respectively, with platinum returning -9.6% and palladium, the worst performing commodity of 2021, at -22.2%.
Aside from the precious metals, every other commodity managed double-digit positive returns, with four commodities (crude oil, coal, aluminum, and wheat) having their best single-year performances of the past decade.
Energy Commodities Outperform as the World Reopens
The partial resumption of travel and the reopening of businesses in 2021 were both powerful catalysts that fueled the price rise of energy commodities.
After crude oil's dip into negative prices in April 2020, black gold had a strong comeback in 2021 as it returned 55.01% while being the most volatile commodity of the year.
Natural gas prices also rose significantly (46.91%), with the UK and Europe's natural gas prices rising even more as supply constraints came up against the winter demand surge.
Despite being the second worst performer of 2020 with the clean energy transition on the horizon, coal was 2021's best commodity.
High electricity demand saw coal return in style, especially in China which accounts for one-third of global coal consumption.
Base Metals Beat out Precious Metals
2021 was a tale of two metals, as precious metals and base metals had opposing returns.
Copper, nickel, zinc, aluminum, and lead, all essential for the clean energy transition, kept up last year's positive returns as the EV batteries and renewable energy technologies caught investors' attention.
Demand for these energy metals looks set to continue in 2022, with Tesla having already signed a $1.5 billion deal for 75,000 tonnes of nickel with Talon Metals.
On the other end of the spectrum, precious metals simply sunk like a rock last year.
Investors turned to equities, real estate, and even cryptocurrencies to preserve and grow their investments, rather than the traditionally favorable gold (-3.64%) and silver (-11.72%). Platinum and palladium also lagged behind other commodities, only returning -9.64% and -22.21% respectively.
Grains Bring Steady Gains
In a year of over and underperformers, grains kept up their steady track record and notched their fifth year in a row of positive returns.
Both corn and wheat provided double-digit returns, with corn reaching eight-year highs and wheat reaching prices not seen in over nine years. Overall, these two grains followed 2021's trend of increasing food prices, as the UN Food and Agriculture Organization's food price index reached a 10-year high, rising by 17.8% over the course of the year.
As inflation across commodities, assets, and consumer goods surged in 2021, investors will now be keeping a sharp eye for a pullback in 2022. We'll have to wait and see whether or not the Fed's plans to increase rates and taper asset purchases will manage to provide price stability in commodities.
Apple's Colossal Market Cap as it Hits $3 Trillion
Apple's market cap recently hit $3 trillion. To put that scale into context, this visualization compares Apple to European indexes.

Creator Program
Apple's Colossal Market Cap in Context
In January of 2019, Apple's market capitalization stood at $700 billion.
While this was perceived as a colossal figure at the time, when we fast forward to today, that valuation seems a lot more modest. Since then, Apple has surged to touch a $3 trillion valuation on January 3rd, 2022.
To gauge just how monstrous of a figure this is, consider that Apple is no longer comparable to just companies, but to countries and even entire stock indexes. This animation from James Eagle ranks the growth in Apple's market cap alongside top indexes from the UK, France, and Germany.
Let's take a closer look.
Apple Takes On Europe
The three indexes Apple is compared to are heavyweights in their own right.
The FTSE 100 consists of giants like HSBC and vaccine producer AstraZeneca, while the CAC 40 Index is home to LVMH, which made Bernard Arnault the richest man in the world for a period of time last year.
Nonetheless, Apple's market cap exceeds that of the 100 companies in the FTSE, as well as the 40 in each of the CAC and DAX indexes.
| Stock/Index | Market Cap ($T) | Country of Origin |
| --- | --- | --- |
| Apple | $3.00T | 🇺🇸 |
| FTSE 100 | $2.90T | 🇬🇧 |
| CAC 40 Index | $2.76T | 🇫🇷 |
| DAX 40 (Dax 30) Index* | $2.50T | 🇩🇪 |
*Germany's flagship DAX Index expanded from 30 to 40 constituents in September 2021.
It's important to note, that while Apple's growth is stellar, European companies have simultaneously seen a decline in their share of the overall global stock market, which helps make these comparisons even more eye-catching.
For example, before 2005, publicly-traded European companies represented almost 30% of global stock market capitalization, but those figures have been cut in half to just 15% today.
Here are some other approaches to measure Apple's dominance.
Apple's Revenue Per Minute vs Other Tech Giants
Stepping away from market capitalization, another unique way to measure Apple's success is in how much sales they generate on a per minute basis. In doing so, we see that they generate a massive $848,090 per minute.
Here's how Apple revenue per minute compares to other Big Tech giants:

| Company | Revenue Per Minute |
| --- | --- |
| Amazon | $955,517 |
| Apple | $848,090 |
| Alphabet (Google) | $433,014 |
| Microsoft | $327,823 |
| Facebook | $213,628 |
| Tesla | $81,766 |
| Netflix | $50,566 |
Furthermore, Apple's profits aren't too shabby either: their $20.5 billion in net income last quarter equates to $156,000 in profits per minute.
How Apple Compares To Countries
Lastly, we can compare Apple's market cap to the GDP of countries.
| Country (excluding Apple) | Total Value ($T) |
| --- | --- |
| Apple | $3.0T |
| Italy | $2.0T |
| Brazil | $1.8T |
| Canada | $1.7T |
| Russia | $1.7T |
| South Korea | $1.6T |
| Australia | $1.4T |
| Spain | $1.4T |
| Mexico | $1.3T |
| Indonesia | $1.1T |
What might be most impressive here is that Apple's market cap eclipses the GDP of major developed economies, such as Canada and Australia. That means the company is more valuable than the entire economic production of these countries in a calendar year.
That's some serious scale.