How Decentralized Finance Could Make Investing More Accessible
Infographic: How Decentralized Finance Could Make Investing More Accessible
Did you know that a majority of the global population doesn't have access to quality financial assets?
In advanced economies, we are lucky to have simple options to grow and protect our wealth. Banks are all over the place, markets are robust, and we can invest our money into assets like stocks or bonds at the drop of a hat.
In the United States, roughly 52% of people are invested in the stock market – but in a place like India, for example, this portion drops to a paltry 2%. How can we make it possible for people on the "outside" of the financial system to gain access?
Breaking Down Barriers
Today's infographic comes to us from Abra, and it shows how decentralized finance could make investing a more universal phenomenon, especially for those that don't have access to the modern financial system.
It lays out four key obstacles that prevent people in developing markets from investing in quality financial assets in the first place:
The Geographic Lottery


Where you live plays a massive role in determining your ability to build wealth. In advanced Western economies, the average person is much more likely to be invested in financial markets that can help compound wealth.

Financial Literacy and Complexity


Roughly 3.5 billion adults globally lack an understanding of basic financial concepts, which creates an impenetrable barrier to investing.

Local Market Turmoil


Even if a person is mentally prepared to invest, local market turmoil (hyperinflation, political crises, closed borders, etc.) can make it difficult to get access to stable assets.

The Cost of Investing in Foreign Markets


Foreign assets can be pricey. One share of Amazon is $1,800, which is realistically more money than many people around the world can afford.
In other words, there are billions of people globally that can't take advantage of some of the most effective wealth-building tactics.
This is just one flaw in the current financial system, a paradigm that has created massive amounts of wealth but only for a specific and well-connected group of people.
Enter Decentralized Finance
Could decentralized finance be the alternative to open up access to financial markets?
By combining apps with blockchain technology – specifically through public blockchains such as Bitcoin or Ethereum – decentralized finance makes it possible to get around some of the barriers that are created by more traditional systems.
Here are some of the innovations that are making this possible:
Smart contracts could automate transactions and remove intermediaries, making investing cheaper, faster, and more accessible.
Fractional investing could allow partial or shared ownership of financial assets by using tokenization. This would make expensive stocks like Amazon ($1,800 per share) available to a much wider segment of the population.
Location independent investing is possible through smartphones. This would make it possible for people in remote parts of the developing world to invest, even without access to nearby financial institutions or local markets.
Like the internet with knowledge, decentralized finance could reshape the world by making financial access universal. Who's ready?
Ranked: The Best Selling Video Games in History
This chart shows the top ten best selling video games, ranked by software units sold. Six of them have been released in the last 12 years.

Creator Program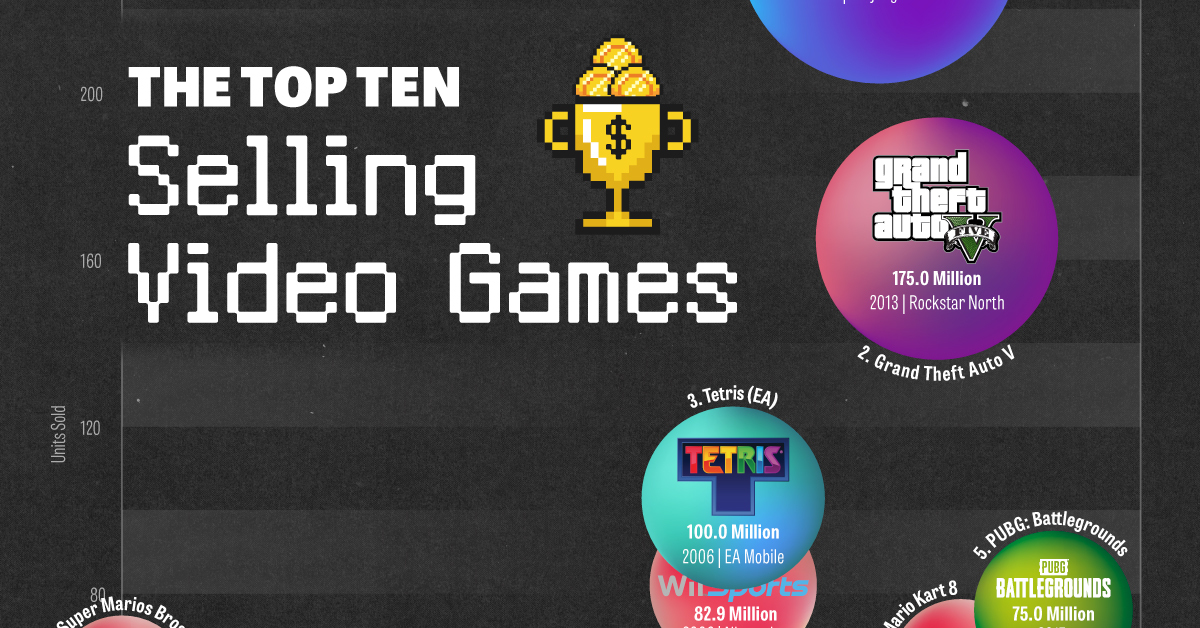 Ranked: The Best Selling Video Games in History
It's a good time to be a video game fan. Not only is the gaming industry booming and projected to grow to $320 billion by 2026, but every year is bringing new evolutions in the medium.
2022 saw massive launches in both games (Elden Ring and God of War Ragnarök) and media based on games (the films Uncharted and Sonic the Hedgehog 2). 2023 has already seen the release of major flagship TV series based on a game, HBO's The Last of Us, and the much-anticipated The Super Mario Bros. Movie is slated to release in April.
But which game is the best, or most successful? That debate may never end, but from company reports and sales data aggregated by Wikipedia, Samuel Parker's chart of the most-sold video games as of March 3, 2023 can at least tell us which ones have been the most popular.
Top Ten Video Games Sold in History
The best selling video game didn't need multimillion dollar budgets, sixty-hour narratives, or celebrity voice actors and ad spots. The independently-developed (indie) Minecraft, with its pixelated blocks, takes the top spot on this list.
| Rank | Game | Sales (units) | Year Released | Developer |
| --- | --- | --- | --- | --- |
| 1 | Minecraft | 238.0M | 2011 | Mojang Studios |
| 2 | GTA 5 | 175.0M | 2013 | Rockstar |
| 3 | Tetris (EA) | 100.0M | 2006 | EA Mobile |
| 4 | Wii Sport | 82.9M | 2006 | Nintendo |
| 5 | PUBG: Battlegrounds | 75.0M | 2017 | PUBG Corp |
| 6 | Mario Kart 8 | 60.5M | 2014 | Nintendo |
| 7 | Super Mario Bros. | 58.0M | 1985 | Nintendo |
| 8 | Read Dead Redemption 2 | 50.0M | 2018 | Rockstar |
| 9 | Pokémon Red/Green/Blue/Yellow | 47.5M | 1996 | GameFreak |
| 10 | Terraria | 44.5M | 2011 | Re-Logic |
Minecraft sold more units than the combined forces of Grand Theft Auto 5 (#2) and Red Dead Redemption 2 (#8), both made by industry giant Rockstar. Its immense popularity has been credited to its simple gameplay (no goals), creative structure (build anything), and engaged community with player-run servers and additional feature creations (known as mods).
Another simple favorite, Tetris, comes in at third place with 100 million units sold of its 2006 re-release. Millennials continue to make up a large chunk of the video game playing demographic which might explain Tetris' sales.
But newer games are making up the majority of sales records. PUBG: Battlegrounds, a battle-royale shooter game which helped popularize the genre (and eventually its competitor Fortnite) asserts its popularity at #5. That puts it well ahead of the better-known shooter Call of Duty, even despite PUBG being banned in a number of countries for the alleged impact on the mental health of gamers.
The oldest game to make the list is Super Mario Bros. (#7), apt considering it is credited with reviving the video game industry after it crashed in 1983. The original staple side-scroller has sold 58 million copies worldwide.
Developer Dominance
Though the top selling games span various series of games, a few developers managed to repeatedly find success.
| Developer | Top 20 Best-Selling Games |
| --- | --- |
| Nintendo | 11 |
| Rockstar | 2 |
| Others | 7 |
Japanese video game titan Nintendo developed three games (Super Mario Bros., Mario Kart, Wii Sport/Fitness) in the top 10 and another eight in the top 20. That's not including its co-ownership of Pokémon, the world's highest-grossing media franchise.
American publisher Rockstar Games also managed to score multiple hits, though its longer development cycle necessary to create cinematic games gives it fewer potential candidates. That might change with the much-anticipated GTA 6 reportedly in production.
Best Selling Genres
The most popular genres in the top 10 give players the freedom to impose their will upon the world and pursue objectives at their leisure:
| Genre | Games |
| --- | --- |
| Sandbox/Open World | 4 |
| Simulation | 2 |
| Others | 4 |
Two games (Minecraft, Terraria) are classic sandbox games, where worlds are procedurally generated and there are no gameplay goals. Another two (GTA 5, Red Dead Redemption 2) are in the adjacent open-world genre, with a combination of sandbox elements and a narrative structure.
However, with new games launching and selling millions of units every year, new entrants to the top 10 list of best selling video games of all-time seems likely. How will these developers, genres, and games fare over time?