Visualizing the Extreme Concentration of Global Wealth
In recent decades, extreme world poverty has declined significantly and many millions of people have joined the swelling ranks of the middle class – particularly in China.
While these economic shifts are positive, it's the other end of the global wealth spectrum that attracts the most attention. A high degree of wealth creation is amassed by those at the top of the economic pyramid.
The Top-Heavy Wealth Spectrum
Today, slightly less than 1% of the world's adult population occupies the $1M+ wealth range. Despite their small numbers, this elite group collectively controls 46% of the world's wealth, valued at approximately $129 trillion.
On the flip side of the equation, 70% of world's population fall into the sub-$10K wealth band. This majority of people around the world collectively control a mere 2.7% of the world's wealth.
Even as "the rich get richer", there is good news for the majority. The percentage of people in that lowest wealth band has been shrinking over the years.
Moneyed Metropolises
Not only is money concentrated among a small portion of the population, those people tend to gravitate towards global cities such as London, Hong Kong, and New York.
In fact, 70% of ultra high net worth individuals (UHNWIs) – persons with investable assets of $30 million or more – reside in just ten cities around the world.
According to Credit Suisse, emerging markets now account for 22% of growth in the UHNWIs category – up from just 6% growth in 2000 – with China alone adding over 16,000 UHNWIs to the mix. Many members of this elite class may generate their wealth in emerging economies around the world, but as we can see from the map above, the world's richest people end up very concentrated, geographically speaking.
Global Wealth, by Continent
As the visualization below demonstrates, wealth accumulates in Europe and North America. This trend is so pronounced that it only becomes evident once the scale is adjusted to see the detail in the upper percentiles.
One thing is for certain – the world is changing quickly, and just as this graph would have looked very different 20 years ago, global wealth will almost certainly look different in 20 years time.
Chart: A Global Look at How People Spend Their Time
We all have the same 24 hours in the day. How do people spend them around the world, and how does this breakdown change by gender?
A Global Look at How People Spend Their Time
We all have the same 24 hours in a day, but we don't spend them the same way. Some prioritize family time or household chores, while others cherish a good night's sleep or seeing friends.
This chart from Our World in Data compares the average time allocated across various day-to-day activities, from paid work to leisurely activities.
The data for the 33 countries profiled come from the Organization for Economic Co-operation and Development (OECD)'s Time Use database, for ages 15 through 64 years old.
Countries with the Highest Time Spent Per Activity
As the chart shows, basic patterns—work, rest, and play—emerge across the board.
When it comes to paid work, Japan emerges the highest on this list with approximately 5.5 hours per day. However, this country also has some of the highest overtime in a workweek. In contrast, European countries such as France and Spain report nearly half the same hours (less than 3 hours) of paid work per day on average.
Certain trends, however, transcend cultural boundaries. Those in Mexico find themselves spending significant portions of the day (3 hours or more) on housework, as do those in Portugal.
Activity category
Country with highest time spent
Time spent in minutes
Paid work
🇯🇵 Japan
326 (Approx. 5.5 hrs)
Education
🇰🇷 South Korea
57 
Care for household members
🇮🇪 Ireland
61
Housework
🇲🇽 Mexico
187 (Approx. 3 hrs)
Shopping
🇩🇪 Germany
32
Other unpaid work & volunteering
🇯🇵 Japan
98 (Approx. 1.5 hrs)
Sleep
🇿🇦 South Africa
553 (Approx. 9 hrs)
Eating 
🇫🇷 France
133 (Approx. 2 hours)
Personal care
🇫🇷 France
107 (Approx. 1 hr 45 min)
Sports
🇪🇸 Spain
42
Attending events
🇮🇪 Ireland
42
Seeing friends
🇿🇦 South Africa
82
TV and radio
🇺🇸 U.S.
148 (Approx. 2.5 hrs)
Other leisure
(Religious/ civic duties, or unspecified)
🇳🇴 Norway
154 (Approx. 2.5 hrs)
As the saying goes, all work and no play makes Jack a dull boy. In the realm of leisure activities, those in the U.S. spend approximately 2.5 hours consuming media in a day, a number that has risen even higher during the pandemic.
Meanwhile, another interesting cultural pattern is that people in France spend the most time eating, approximately 2 hours per day. These durations are similar to those in other Mediterranean countries such as Greece, Italy, and Spain—perhaps because meals are viewed as a social activity in these cultures.
Gender Disparities in Time Spent
Digging deeper, another way to look at how people spend their time globally is through the lens of gender.
Women spend nearly three times more in unpaid care work compared to men—a whopping total of 1.1 trillion hours each year—which means a lot less leisure time. This inequality is clearly defined by country in the following scatterplot:
In Norway, both men and women have equally high levels of leisure time—though it's a rare example of such a case.
Meanwhile, in countries like India or China, significant gender gaps prevent women from moving up the socioeconomic ladder, potentially costing trillions of dollars to the global economy.
Charting The Growing Generational Wealth Gap
How large is the wealth gap between Millennials, Gen X, and Baby Boomers? We visualize the growing wealth disparity by generation and age.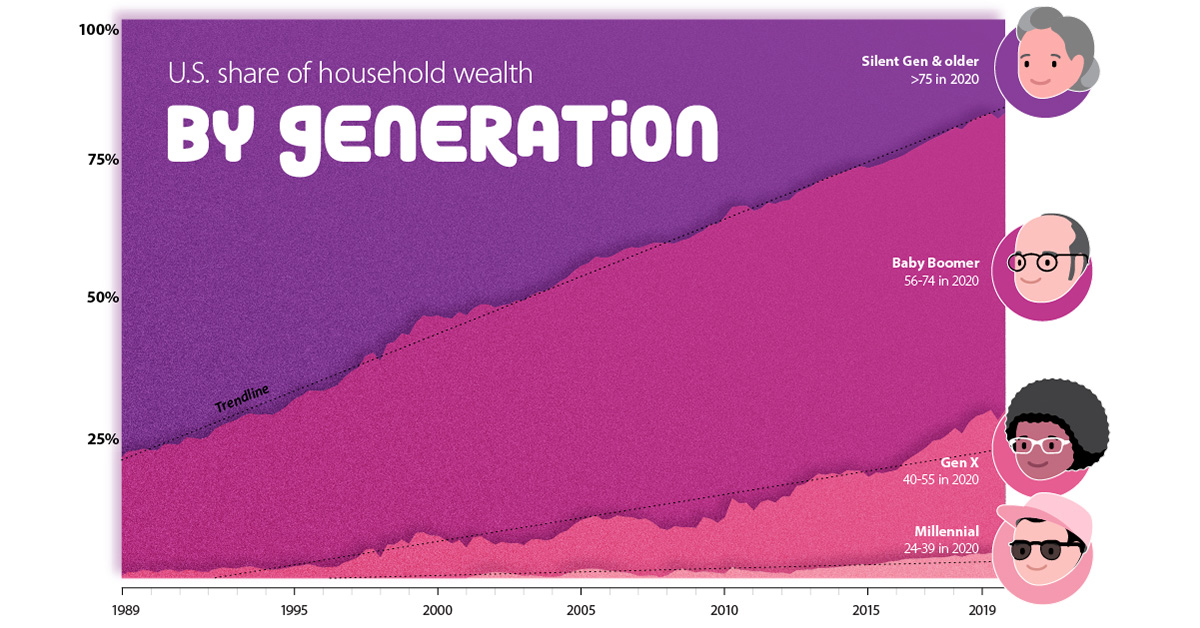 The Growing Generational Wealth Gap
As young generations usher into adulthood, they inevitably begin to accumulate and inherit wealth, a trend that has broadly remained consistent.
But what has changed recently is the rate of accumulation.
In the U.S., household wealth has traditionally seen a relatively even distribution across different age groups. However, over the last 30 years, the U.S. Federal Reserve shows that older generations have been amassing wealth at a far greater rate than their younger cohorts.
As the visual above shows, the older have been getting richer, and the younger have been starting further back than ever before.
By Generation: Baby Boomers Benefit & Millennials Lag
To examine the proportion of wealth each generation holds, it's important to clearly define each age group. Though personal definitions might differ, the U.S. Federal Reserve uses a clear metric:
| Generation | Birth Years | Age (2020) |
| --- | --- | --- |
| Silent Generation & Earlier | 1945 and earlier | 75+ |
| Baby Boomers | 1946–1964 | 56–74 |
| Generation X | 1965–1980 | 40–55 |
| Millennials | 1981–1996 | 24–39 |
Relative to younger generations growing up, the Silent Generation and Greatest Generation before them have seen a decreasing share of household wealth over the last 30 years.
However, the numerical levels have been relatively stable. For these combined generations, total wealth has gone from $16 trillion in 1989 to $19 trillion in 2019, with a peak of $27 trillion in 2007. Considering this cohort has understandably shrunk over time—from an estimated 47 million to 23 million in 2019—their individual shares of wealth have actually increased.
Immediately following are the Baby Boomers, who held more than half of U.S. household wealth towards the end of 2020. At $59 trillion, the generation holds more than ten times the amount held by a comparative number of Millennials.
| Generation | Wealth (2019) | Population (2019) | Wealth/Person |
| --- | --- | --- | --- |
| Silent Generation & Older | $18.8 Trillion | 23.0 Million | $817,391 |
| Baby Boomers | $59.4 Trillion | 71.2 Million | $834,270 |
| Generation X | $28.6 Trillion | 65.0 Million | $440,000 |
| Millennials | $5.0 Trillion | 72.6 Million | $68,871 |
With $29 trillion held in 2019, Generation X has also been gaining in wealth over the last 30 years. It's good enough for five times the wealth of Millennials, though at just $440k/person, they've fallen far behind Baby Boomers in rate of growth.
Finally, trying to catch up to their older cohorts are Millennials, who held the least amount of household wealth ($5 trillion) for the greatest population (73 million) in 2019, an average of just under $69k/person.
For a direct comparison, it took Generation X nine years to climb from their start of 0.4% of household wealth in 1989 to above 5%, while Millennials still haven't crossed that threshold. But it's not all doom and gloom for Millennials. Their rate of growth is starting to rise, with the generation's level of wealth climbing from $3 trillion in 2016 to $5 trillion in 2019.
By Age: A Growing Share for 55+
Though the generational picture is stark, the difference in U.S. household wealth by age makes the picture of shifting wealth even clearer.
Until 2001, the shares of household wealth held by different age groups were relatively stable. People aged 40-54 and 55-69 held around 35% each of household wealth, retirees aged 70+ hovered around 20%, and younger people aged under 40 held around 10%.
Since that time, however, the shift in wealth to older generations is clear. The 70+ age group has seen their share of wealth increase to 26%, while the share held by ages 55-69 has grown from 35% to almost half.
But not all ages are seeing an increasing slice of wealth. The 40-54 age group saw its share drop sharply from 36% to 22% between 2001 and 2016 before starting to recover towards the end of the decade, while the youngest cohort now hover around just 5%.
Breaking down that wealth by components is even more eye-opening. The 39 and under age group holds 37.9% of their assets in real estate, the largest share amongst any age group (and concentrated in the hands of fewer people) while older age groups have their wealth spread out across real estate, equities, and pensions.
| Assets Held by Age (Percent of Total, 2020) | 70+ | 55–69 | 40–54 | ≤39 |
| --- | --- | --- | --- | --- |
| Real estate | 21.6% | 20.5% | 27.6% | 37.9% |
| Consumer durables | 3.8% | 3.6% | 5.2% | 9.4% |
| Corporate equities and mutual fund shares | 24.6% | 23.1% | 18.6% | 8.1% |
| Pension entitlements | 16.3% | 25.0% | 21.9% | 21.0% |
| Private businesses | 7.9% | 9.7% | 12.1% | 8.1% |
| Other assets | 25.8% | 18.1% | 14.7% | 15.5% |
But the difference is as much in assets as it is in opportunity. In 1989, Baby Boomers and Generation X under 40 accounted for 13% of household wealth, compared to just 5.9% for Millennials and Generation Z under 40 in 2020.
Will the Tide Turn for Generation Z?
As new and accumulated wealth has been built up in older generations, it's a matter of time before the pendulum starts to swing the other way.
The Millennials age group are expected to inherit $68 trillion by 2030 from Baby Boomer parents. Of course, that payout isn't going to be even across the board, with wealthier families retaining the bulk of wealth and the majority of Millennials laden with debt.
And with Generation Z (born 1997-2012) starting to come of age, the uneven playing field is making it hard to begin accumulating wealth in the first place.
Since it is in the best interest of societies to have wealthy generations that can drive economic growth, potential solutions are being examined all over the political sphere. They include different taxation schemes, changing estate laws, and potentially cancelling student debt.
Whatever ends up happening, it's important to track how the distribution of wealth changes over the coming decade, and begin accumulating your personal wealth as best as you can.