The Shift to a Cashless Society is Snowballing
Image courtesy of: Raconteur
The Shift to a Cashless Society is Snowballing
Love it or hate it, cash is playing an increasingly less important role in society.
In some ways this is great news for consumers. The rise of mobile and electronic payments means faster, convenient, and more efficient purchases in most instances. New technologies are being built and improved to facilitate these transactions, and improving security is also a priority for many payment providers.
However, there is also a darker side in the shift to a cashless society. Governments and central banks have a different rationale behind the elimination of cash transactions, and as a result, the so-called "war on cash" is on.
On the Path to a Cashless Society
The Federal Reserve estimates that there will be $616.9 billion in cashless transactions in 2016. That's up from around $60 billion in 2010.
Despite the magnitude of this overall shift, what is happening from country to country varies quite considerably. Consider the contradicting evidence between Sweden and Germany.
In Sweden, about 59% of all consumer transactions are cashless, and hard currency makes up just 2% of the economy. Yet, across the Baltic Sea, Germans are far bigger proponents of modern cash. This should not be too surprising, considering that the German words for "debt" and "guilt" are the exact same.
Within Germany, only 33% of consumer transactions are cashless, and there are only 0.06 credit cards in existence per person.
The Dark Side of Cashless
The shift to a cashless society is even gaining momentum in Germany, but it is not because of the willing adoption from the general public. According to Handelsblatt, a leading German business newspaper, a proposal to eliminate the €500 note while capping all cash transactions at €5,000 was made in February by the junior partner of the coalition government.
Governments have been increasingly pushing for a cashless society. Ostensibly, by having a paper trail for all transactions, such a move would decrease crime, money laundering, and tax evasion. France's finance minister recently stated that he would "fight against the use of cash and anonymity in the French economy" in order to prevent terrorism and other threats. Meanwhile, former Secretary of the Treasury and economist Larry Summers has called for scrapping the U.S. $100 bill – the most widely used currency note in the world.
"Smoother" Aggregate Demand?
It's not simply an argument of the above government rationale versus that of privacy and anonymity. Perhaps the least talked-about implication of a cashless society is the way that it could potentially empower central banking to have more ammunition in "smoothing" out the way people save and spend money.
By eliminating the prospect of cash savings, monetary policy options like negative interest rates would be much more effective if implemented. All money would presumably be stored under the same banking system umbrella, and even the most prudent savers could be taxed with negative rates to encourage consumer spending.
While there are certainly benefits to using digital payments, our view is that going digital should be an individual consumer choice that can be based on personal benefits and drawbacks. People should have the voluntary choice of going plastic or using apps for payment, but they shouldn't be pushed into either option unwillingly.
Forced banishment of cash is a completely different thing, and we should be increasingly wary and suspicious of the real rationale behind such a scheme.
Charted: What are Retail Investors Interested in Buying in 2023?
What key themes and strategies are retail investors looking at for the rest of 2023? Preview: AI is a popular choice.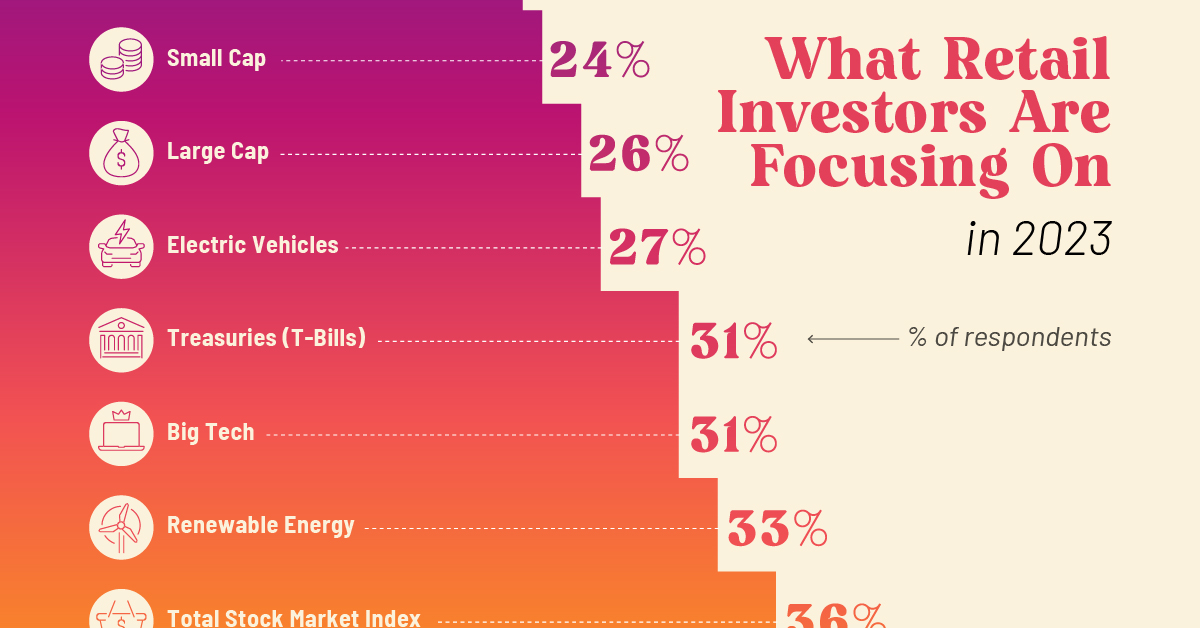 Charted: Retail Investors' Top Picks for 2023
U.S. retail investors, enticed by a brief pause in the interest rate cycle, came roaring back in the early summer. But what are their investment priorities for the second half of 2023?
We visualized the data from Public's 2023 Retail Investor Report, which surveyed 1,005 retail investors on their platform, asking "which investment strategy or themes are you interested in as part of your overall investment strategy?"
Survey respondents ticked all the options that applied to them, thus their response percentages do not sum to 100%.
Where Are Retail Investors Putting Their Money?
By far the most popular strategy for retail investors is dividend investing with 50% of the respondents selecting it as something they're interested in.
Dividends can help supplement incomes and come with tax benefits (especially for lower income investors or if the dividend is paid out into a tax-deferred account), and can be a popular choice during more inflationary times.
| Investment Strategy | Percent of Respondents |
| --- | --- |
| Dividend Investing | 50% |
| Artificial Intelligence | 36% |
| Total Stock Market Index | 36% |
| Renewable Energy | 33% |
| Big Tech | 31% |
| Treasuries (T-Bills) | 31% |
| Electric Vehicles | 27% |
| Large Cap | 26% |
| Small Cap | 24% |
| Emerging Markets | 23% |
| Real Estate | 23% |
| Gold & Precious Metals | 23% |
| Mid Cap | 19% |
| Inflation Protection | 13% |
| Commodities | 12% |
Meanwhile, the hype around AI hasn't faded, with 36% of the respondents saying they'd be interested in investing in the theme—including juggernaut chipmaker Nvidia. This is tied for second place with Total Stock Market Index investing.
Treasury Bills (30%) represent the safety anchoring of the portfolio but the ongoing climate crisis is also on investors' minds with Renewable Energy (33%) and EVs (27%) scoring fairly high on the interest list.
Commodities and Inflation-Protection stocks on the other hand have fallen out of favor.
Come on Barbie, Let's Go Party…
Another interesting takeaway pulled from the survey is how conversations about prevailing companies—or the buzz around them—are influencing trades. The platform found that public investors in Mattel increased 6.6 times after the success of the 'Barbie' movie.
Bud Light also saw a 1.5x increase in retail investors, despite receiving negative attention from their fans after the company did a beer promotion campaign with trans influencer Dylan Mulvaney.
Given the origin story of a large chunk of American retail investors revolves around GameStop and AMC, these insights aren't new, but they do reveal a persisting trend.