Prediction Consensus: What the Experts See Coming in 2020
Prediction Consensus: What Experts See Coming in 2020
Through the ages, humans have feared uncertainty. We've searched for clues in everything from entrails to tea leaves to the arrangement of heavenly bodies in the night sky.
In the modern era, data and media are the new magic 8-ball. The jury is still out on whether we've gotten any better at anticipating the forces that will shape the coming year, but that certainly hasn't stopped people from trying.
Of the hundreds of forward-looking pieces of content published in the lead-up to 2020, how many of the expert predictions lined up? Was there a consensus on any particular trend, or were predictions all over the map?
During the month of December we analyzed over 100 articles, whitepapers, and interviews to answer that question. While there was no firm consensus on where 2020 will take us, there were a few themes that appeared in multiple publications. Today's graphic highlights these reappearing predictions, and below, we examine seven of them in more detail.
The Promise and Controversy of 5G
One technology that's sure to capture the headlines in 2020 is 5G. Broadband speeds of over one gigabit per second will become a reality when 5G technology rolls out across the country, without the cable that currently connects most homes. This prediction is a slam dunk, as some carriers are already testing the technology in select neighborhoods around the United States.
Experts also predict that a wave of 5G-enabled smartphone and IoT products will become commercially available in 2020.
The wild card in this 5G story will be guessing which companies end up building out the new network. Huawei was in a strong position to lead the charge, but the company has been stonewalled in a number countries – most notably the United States, Australia, and Japan. Whether due to national security concerns or protectionism, Chinese companies may continue to face an uphill battle in Western markets.
Fake News 2.0
While many predictions for 2020 were fueled by excitement for new technologies, there was one that was decidedly more ominous – the proliferation of deepfakes. Simply put, deepfakes are videos that harness artificial intelligence to create a convincing likeness of a real person.
With the U.S. presidential election just around the corner, many experts fear that deepfakes are going to do serious damage, manipulating public opinion on both sides of the political spectrum. Unlike fake news, which often comes with obvious visual cues to help determine authenticity, even deepfakes created using free online tools are extremely convincing. If predictions come true, the lead-up to the U.S. election could be a wild ride.
Consumerism in Flux
The late 2010's were a turbulent time for retail. The rise of ecommerce and shifting consumer preferences combined to cause a "retailpocalypse", and many brands are still struggling to evolve their brick and mortar strategy to compete in an Amazon Prime world. Experts are predicting new evolutions for physical stores that are powered by technology instead of human employees.
The incarnation of this approach that will likely garner the most attention will be the next wave of cashierless Amazon Go locations opening in cities around the country.
Experts also predict that brands will mimic the example of Amazon's Whole Foods, and incorporate online order pick-up locations within their physical stores. Increasingly, the line between ecommerce and traditional retail is blurring.
The Cookie Begins to Crumble
In 2019, approximately $330 billion was spent on digital advertising, but privacy regulations such as GDPR and the CCPA – California's new privacy law – are causing massive disruption and upheaval in this industry.
For many years, the humble internet cookie has done the heavy lifting in collecting your personal data from online activity. This data is what advertisers use to reach you as you scroll Instagram or read articles online. Already, changes to Safari and Firefox wiped out about 40% of all third-party cookies, and in a world where people need to physically click a button on each site to allow cookies, it's unclear how viable the technology will be as privacy measures are enacted.
The Call of the Picket Fence
One of main predictions going into 2020 is that starter homes will be a leading category in new home builds. For millions of millennials around the country in the rental market, a starter home – the first residence a person or family can afford to purchase, often using a combination of savings and mortgage financing – will begin to look more appealing.
Rent in American cities has been marching upward for nearly a decade, and the promise of more space and entry into the home ownership market may lure more of this generational cohort to the suburbs.
Also on the topic of real estate, a few experts noted that even if there is an economic downturn in 2020, the housing market is unlikely to take a big hit.
All Eyes on IPOs
Despite experiencing a rough patch in 2019, SoftBank and its gargantuan Vision Fund will remain one of the most powerful forces in Silicon Valley this year. Masayoshi Son, Softbank's enigmatic CEO, appears to have adopted a more pragmatic approach, citing a company's "ability to turn a profit in the future" as a yardstick of evaluating the value of an investment.
Experts predict that in light of the very public PR disasters of unicorns Uber and WeWork, investors will be much more skeptical of high-valuation IPOs.
In 2020, more companies are predicted to opt for a direct listing to go public.
What Goes Up?
When the ball dropped to usher in 2019, market sentiment was leaning toward an impending recession. A year later, the economic expansion is still underway, and many experts now have a more positive outlook for 2020.
The majority of predictions we analyzed foresaw a year of continued job growth and modest gains in the stock market. Here's a look at S&P 500 end target predictions from some of Wall Street's top strategists:
The Elephant in the Oval
One prediction nobody seemed particularly keen to make was on the result of the impending U.S. presidential election.
Experts are likely happy to take a wait-and-see approach until the Democratic nominee is announced. Also looming in the back of people's minds might be the memory of 2016, which was a powerful reminder that even predictions that seem like a sure thing don't always pan out as expected.
[Experts] can't predict the markets with any useful consistency, any more than the gizzard squeezers could tell the Roman emperors when the Huns would attack.
– Peter Lynch
A note on methodology: To make sure we captured a robust cross section of predictions for the coming year, we spent the month of December tracking down and analyzing hundreds of articles, whitepapers, and interviews from respected sources. For this exercise, we chose to focus on four broad, interconnected themes – the economy, consumerism, real estate, and technology. In the end, we analyzed 100+ published pieces, and captured 150+ predictions. We focused on content from media publications in Comscore's top 100, major banks and consultancies, and brands and agencies with high-quality thought leadership. In the end, we highlighted the 25 predictions that appeared the most often.
Support the Future of Data Storytelling
Sorry to interrupt your reading, but we have a favor to ask. At Visual Capitalist we believe in a world where data can be understood by everyone. That's why we want to build the VC App - the first app of its kind combining verifiable and transparent data with beautiful, memorable visuals. All available for free.
As a small, independent media company we don't have the expertise in-house or the funds to build an app like this. So we're asking our community to help us raise funds on Kickstarter.
If you believe in data-driven storytelling, join the movement and back us on Kickstarter!
Thank you.
Ranked: The Best-Selling Video Game Consoles of All Time
Video game consoles have changed drastically over the last 50 years. Here are some of the best-selling ones across the globe.

Creator Program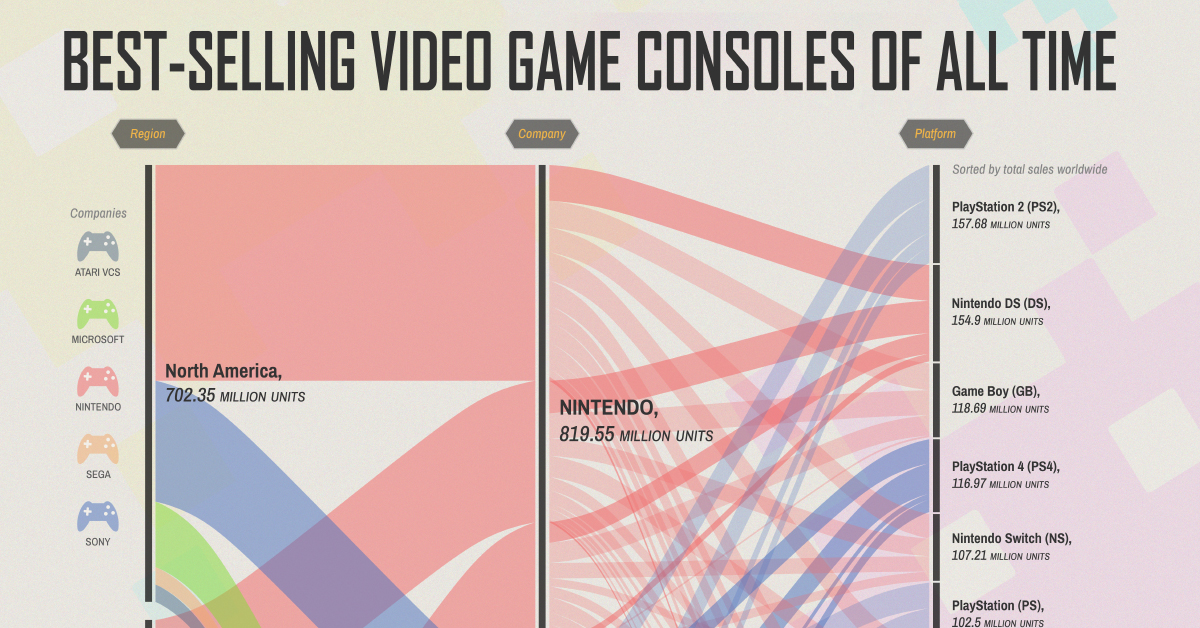 Ranked: The Best-Selling Video Game Consoles of All Time
In 1972, the first-ever commercially available home video game console hit the market—the Magnavox Odyssey. Players of the Odyssey had a choice between two built-in games that were stored directly in the device, and would use a joystick and dials as a controller.
Video game consoles have come a long way since then, and the console market has grown into a multi-billion dollar industry that's expected to reach $72.67 billion in value by the end of 2022.
This graphic by Enrique Mendoza uses data from VGChartz to show the market leaders in the industry, by highlighting the top-selling video consoles of all time, as of May 8, 2022.
Nine Generations of Video Game Consoles
Before diving into the top-selling consoles, it's worth taking a step back to touch on the evolution of home consoles to show how they've changed over the years.
We dug into the literature on the history of video game consoles, and found that most articles and blog posts on the topic cite nine different generations of devices.
Here's a breakdown of each generation, and some of their most noteworthy systems:
1972: Gen One, Where it Began
Consoles in the first generation had pre-built games that were stored directly on the device. They include the Magnavox Odyssey and Atari's Pong.
1976: Gen Two Emerges
In this generation, games were sold separately, rather than programmed into the device. Consoles of this gen include the Fairchild Channel F and the Atari 2600.
1983: Gen Three, the "8-bit Generation"
This era's consoles typically had 8-bit processes which allowed for more advanced graphics for the time. A few notable consoles during this gen were ​​the Sega SG-1000 and the Nintendo Famicom, released outside Japan as the Nintendo Entertainment System (NES).
1987: Gen Four Elevates Handheld Gaming
Home consoles were released with 16-bit systems, meaning that audio and graphics improved even more in this era. But an arguably bigger moment for this gen was the emergence of the Nintendo Game Boy.
1993: The 3D Start of Gen Five
This generation saw the move away from pixels and towards 3D polygons. Some consoles like the Sony PlayStation started using CD-ROMs instead of cartridges, which stored more data at a cheaper cost and changed the industry.
1998: Gen Six and the Internet
At the start of this generation, the three major players in the console space were Sony, Sega, and Nintendo. By the end, Sega would be replaced with Microsoft as it launched the Xbox and helped popularize online console gaming.
2005: HD Graphics and Motion Controls of Gen Seven
On one side of the market, Microsoft and Sony were competing with high-definition graphics, faster processers, and different forms (Blu-rays or DVDs). But Nintendo's motion-sensing Nintendo Wii arguably defined this generation, and the handheld Nintendo DS swept the market as well.
2012: Gen Eight's Modern Consoles
Consoles of this era started having increased connectivity and processing power, with full HD an expectation. It was also an extremely long generation, starting with Nintendo's unsuccessful Wii U and ending with the ultra-successful Nintendo Switch, widely considered the first hybrid console with three different ways to play: TV mode, handheld mode, or tabletop mode.
2020: Gen Nine and Beyond
So far, this generation has brought upgraded graphics (up to 8K resolution), larger games, and game-streaming capabilities. Devices in this gen include the Xbox Series X/S and PlayStation 5, which both use solid state drives to increase speed and performance, while Nintendo has yet to introduce a 9th generation device.
The Best-Selling Game Consoles
The best-selling video game console of all time is Sony's PlayStation 2 (PS2). More than 157 million systems have been sold around the world since its launch in March 2000.
| Rank | Console | Manufacturer | Global lifetime sales (millions) |
| --- | --- | --- | --- |
| 1 | PlayStation 2 (PS2) | Sony | 157.68 |
| 2 | Nintendo DS (DS) | Nintendo | 154.90 |
| 3 | Game Boy (GB) | Nintendo | 118.69 |
| 4 | PlayStation 4 (PS4) | Sony | 116.97 |
| 5 | Nintendo Switch (NS) | Nintendo | 107.21 |
| 6 | PlayStation (PS) | Sony | 102.50 |
| 7 | Nintendo Wii (Wii) | Nintendo | 101.64 |
| 8 | PlayStation 3 (PS3) | Sony | 87.41 |
| 9 | Xbox 360 (X360) | Microsoft | 85.8 |
| 10 | Game Boy Advance (GBA) | Nintendo | 81.51 |
| 11 | PlayStation Portable (PSP) | Sony | 81.09 |
| 12 | Nintendo 3DS (3DS) | Nintendo | 75.95 |
| 13 | Nintendo Entertainment System (NES) | Nintendo | 61.91 |
| 14 | Xbox One (XOne) | Microsoft | 50.57 |
| 15 | Super Nintendo Entertainment System (SNES) | Nintendo | 49.10 |
| 16 | Nintendo 64 (N64) | Nintendo | 32.93 |
| 17 | Sega Genesis (GEN) | Sega | 29.54 |
| 18 | Atari 2600 (2600) | Atari | 27.64 |
| 19 | Xbox (XB) | Microsoft | 24.65 |
| 20 | GameCube (GC) | Nintendo | 21.74 |
| 21 | PlayStation 5 (PS5) | Sony | 19.32 |
| 22 | PlayStation Vita (PSV) | Sony | 16.21 |
| 23 | Xbox Series X/S (XS) | Microsoft | 14.32 |
| 24 | Nintendo Wii U (WiiU) | Nintendo | 13.97 |
| 25 | GameGear (GG) | Sega | 10.62 |
| 26 | Sega Saturn (SAT) | Sega | 8.82 |
| 27 | Dreamcast (DC) | Sega | 8.20 |
| 28 | Atari 7800 (7800) | Atari | 4.30 |
Despite the fact the PS2's been discontinued since 2013, no other gaming console has managed to top it—in fact, the next closest actively-sold consoles, the PS4 and Nintendo Switch, are each more than 40 million units behind.
One major factor for the PS2's success was its built-in DVD player. At the time, DVD players were very expensive, and in many places a PS2 was a cheaper and effective alternative. It was also one of the first devices to be "backward compatible," meaning users could play most of their PS1 games on the PS2. This meant players didn't have to buy a whole new library of games when they made the switch to a PS2, and Sony could tap into its existing customer base.
But while Sony's PS2 is the top-selling console on the list, Nintendo has more top-selling consoles on the list—almost half of the consoles on the list are manufactured by Nintendo (11), while only seven are made by Sony.
What Will it Take to Out-Sell the PS2?
As the PS4 has started taking a backseat to the PS5 in sales and promotion, the current most-likely contender for the best-selling console crown is the Nintendo Switch. Early in 2022, it was the fastest console to sell 100 million units.
With lots of hype around the possibilities of AR and VR, it'll be interesting to see what new features come with the next generation of gaming consoles.
Will future devices ever beat the PS2's record-breaking sales? Time will tell. But for now, the 22-year-old console continues to hold its well-earned spot at the top.
Visualizing The 50 Biggest Data Breaches From 2004–2021
In 2021, more than 5.9 billion user records were stolen. This graphic visualizes the 50 largest data breaches, by entity and sector, since 2004.

Creator Program
Visualizing The 50 Biggest Data Breaches From 2004–2021
As our world has become increasingly reliant on technology and data stored online, data breaches have become an omnipresent threat to users, businesses, and government agencies. In 2021, a new record was set with more than 5.9 billion user records stolen.
This graphic by Chimdi Nwosu visualizes the 50 largest data breaches since 2004, along with the sectors most impacted. Data was aggregated from company statements and news reports.
Understanding the Basics of Data Breaches
A data breach is an incident in which sensitive or confidential information is copied, transmitted or stolen by an unauthorized entity. This can occur as a result of malware attacks, payment card fraud, insider leaks, or unintended disclosure.
The targeted data is often customer PII (personally identifiable information), employee PII, intellectual property, corporate data or government agency data.
Date breaches can be perpetrated by lone hackers, organized cybercrime groups, or even national governments. Stolen information can then be used in other criminal enterprises such as identity theft, credit card fraud, or held for ransom payment.
Notable Data Breaches Since 2004
The largest data breach recorded occurred in 2013 when all three billion Yahoo accounts had their information compromised. In that cyberattack, the hackers were able to gather the personal information and passwords of users. While the full extent of the Yahoo data breach is still not fully realized, subsequent cybercrimes across the globe have been linked to the stolen information.
Here are the 50 largest data breaches by amount of user records stolen from 2004–2021.
| Rank | Entity | Sector | Records Compromised | Year |
| --- | --- | --- | --- | --- |
| 1 | Yahoo | Web | 3.0B | 2013 |
| 2 | River City Media | Web | 1.4B | 2017 |
| 3 | Aadhaar | Government | 1.1B | 2018 |
| 4 | First American Corporation | Finance | 885M | 2019 |
| 5 | Spambot | Web | 711M | 2017 |
| 6 | Linkedin | Web | 700M | 2021 |
| 7 | Facebook | Tech | 533M | 2021 |
| 8 | Yahoo | Web | 500M | 2014 |
| 9 | Marriott International | Retail | 500M | 2018 |
| 10 | Syniverse | Telecoms | 500M | 2021 |
| 11 | Facebook | Web | 419M | 2019 |
| 12 | Friend Finder Network | Web | 412M | 2016 |
| 13 | OxyData | Tech | 380M | 2019 |
| 14 | MySpace | Web | 360M | 2016 |
| 15 | Exactis | Data | 340M | 2018 |
| 16 | Twitter | Tech | 330M | 2018 |
| 17 | Airtel | Telecoms | 320M | 2019 |
| 18 | Indian citizens | Web | 275M | 2019 |
| 19 | Wattpad | Web | 270M | 2020 |
| 20 | Microsoft | Web | 250M | 2019 |
| 21 | Experian Brazil | Finance | 220M | 2021 |
| 22 | Chinese resume leak | Web | 202M | 2019 |
| 23 | Court Ventures | Finance | 200M | 2013 |
| 24 | Apollo | Tech | 200M | 2018 |
| 25 | Deep Root Analytics | Web | 198M | 2015 |
| 26 | Zynga | Gaming | 173M | 2019 |
| 27 | VK | Web | 171M | 2016 |
| 28 | Equifax | Finance | 163M | 2017 |
| 29 | Dubsmash | Web | 162M | 2019 |
| 30 | Massive American business hack | Finance | 160M | 2013 |
| 31 | MyFitnessPal | App | 150M | 2018 |
| 32 | Ebay | Web | 145M | 2014 |
| 33 | Canva | Web | 139M | 2019 |
| 34 | Heartland | Finance | 130M | 2009 |
| 35 | Nametests | App | 120M | 2018 |
| 36 | Tetrad | Finance | 120M | 2020 |
| 37 | LinkedIn | Web | 117M | 2016 |
| 38 | Pakistani mobile operators | Telecoms | 115M | 2020 |
| 39 | ElasticSearch | Tech | 108M | 2019 |
| 40 | Capital One | Finance | 106M | 2019 |
| 41 | Thailand visitors | Government | 106M | 2021 |
| 42 | Firebase | App | 100M | 2018 |
| 43 | Quora | Web | 100M | 2018 |
| 44 | Rambler.ru | Web | 98M | 2012 |
| 45 | TK / TJ Maxx | Retail | 94M | 2007 |
| 46 | MyHeritage | Web | 92M | 2018 |
| 47 | AOL | Web | 92M | 2004 |
| 48 | Dailymotion | Web | 85M | 2016 |
| 49 | Anthem | Health | 80M | 2015 |
| 50 | Sony Playstation Network | Gaming | 77M | 2011 |
The massive Yahoo hack accounted for roughly 30% of the 9.9 billion user records stolen from the Web sector—by far the most impacted sector. The next most-impacted sectors were Tech and Finance, with 2 billion and 1.6 billion records stolen, respectively.
Although these three sectors had the highest totals of user data lost, that doesn't necessarily imply they have weaker security measures. Instead, it can probably be attributed to the sheer number of user records they compile.
Not all infamous data breaches are of a large scale. A smaller data breach in 2014 made headlines when Apple's iCloud was hacked and the personal pictures of roughly 200 celebrities were disseminated across the internet. Although this highly targeted hack only affected a few hundred people, it highlighted how invasive and damaging data breaches can be to users.
The Cost of Data Breaches to Businesses
Every year data breaches cost businesses billions of dollars to prevent and contain, while also eroding consumer trust and potentially having an adverse effect on customer retention.
A 2021 IBM security report estimated that the average cost per data breach for companies in 2020 was $4.2 million, which represents a 10% increase from 2019. That increase is mainly attributed to the added security risk associated with having more people working remotely due to the COVID-19 pandemic.
Measures to Improve Data Security
Completely preventing data breaches is essentially impossible, as cybercrime enterprises are often persistent, dynamic, and sophisticated. Nevertheless, businesses can seek out innovative methods to prevent exposure of data and mitigate potential damages.
For example, after the iCloud attack in 2014, Apple began avidly encouraging users to adopt two-factor authentication in an effort to strengthen data security.
Regardless of the measures businesses take, the unfortunate reality is that data breaches are a cost of doing business in the modern world and will continue to be a concern to both companies and users.