Prediction Consensus: What the Experts See Coming in 2020
Prediction Consensus: What Experts See Coming in 2020
Through the ages, humans have feared uncertainty. We've searched for clues in everything from entrails to tea leaves to the arrangement of heavenly bodies in the night sky.
In the modern era, data and media are the new magic 8-ball. The jury is still out on whether we've gotten any better at anticipating the forces that will shape the coming year, but that certainly hasn't stopped people from trying.
Of the hundreds of forward-looking pieces of content published in the lead-up to 2020, how many of the expert predictions lined up? Was there a consensus on any particular trend, or were predictions all over the map?
During the month of December we analyzed over 100 articles, whitepapers, and interviews to answer that question. While there was no firm consensus on where 2020 will take us, there were a few themes that appeared in multiple publications. Today's graphic highlights these reappearing predictions, and below, we examine seven of them in more detail.
The Promise and Controversy of 5G
One technology that's sure to capture the headlines in 2020 is 5G. Broadband speeds of over one gigabit per second will become a reality when 5G technology rolls out across the country, without the cable that currently connects most homes. This prediction is a slam dunk, as some carriers are already testing the technology in select neighborhoods around the United States.
Experts also predict that a wave of 5G-enabled smartphone and IoT products will become commercially available in 2020.
The wild card in this 5G story will be guessing which companies end up building out the new network. Huawei was in a strong position to lead the charge, but the company has been stonewalled in a number countries – most notably the United States, Australia, and Japan. Whether due to national security concerns or protectionism, Chinese companies may continue to face an uphill battle in Western markets.
Fake News 2.0
While many predictions for 2020 were fueled by excitement for new technologies, there was one that was decidedly more ominous – the proliferation of deepfakes. Simply put, deepfakes are videos that harness artificial intelligence to create a convincing likeness of a real person.
With the U.S. presidential election just around the corner, many experts fear that deepfakes are going to do serious damage, manipulating public opinion on both sides of the political spectrum. Unlike fake news, which often comes with obvious visual cues to help determine authenticity, even deepfakes created using free online tools are extremely convincing. If predictions come true, the lead-up to the U.S. election could be a wild ride.
Consumerism in Flux
The late 2010's were a turbulent time for retail. The rise of ecommerce and shifting consumer preferences combined to cause a "retailpocalypse", and many brands are still struggling to evolve their brick and mortar strategy to compete in an Amazon Prime world. Experts are predicting new evolutions for physical stores that are powered by technology instead of human employees.
The incarnation of this approach that will likely garner the most attention will be the next wave of cashierless Amazon Go locations opening in cities around the country.
Experts also predict that brands will mimic the example of Amazon's Whole Foods, and incorporate online order pick-up locations within their physical stores. Increasingly, the line between ecommerce and traditional retail is blurring.
The Cookie Begins to Crumble
In 2019, approximately $330 billion was spent on digital advertising, but privacy regulations such as GDPR and the CCPA – California's new privacy law – are causing massive disruption and upheaval in this industry.
For many years, the humble internet cookie has done the heavy lifting in collecting your personal data from online activity. This data is what advertisers use to reach you as you scroll Instagram or read articles online. Already, changes to Safari and Firefox wiped out about 40% of all third-party cookies, and in a world where people need to physically click a button on each site to allow cookies, it's unclear how viable the technology will be as privacy measures are enacted.
The Call of the Picket Fence
One of main predictions going into 2020 is that starter homes will be a leading category in new home builds. For millions of millennials around the country in the rental market, a starter home – the first residence a person or family can afford to purchase, often using a combination of savings and mortgage financing – will begin to look more appealing.
Rent in American cities has been marching upward for nearly a decade, and the promise of more space and entry into the home ownership market may lure more of this generational cohort to the suburbs.
Also on the topic of real estate, a few experts noted that even if there is an economic downturn in 2020, the housing market is unlikely to take a big hit.
All Eyes on IPOs
Despite experiencing a rough patch in 2019, SoftBank and its gargantuan Vision Fund will remain one of the most powerful forces in Silicon Valley this year. Masayoshi Son, Softbank's enigmatic CEO, appears to have adopted a more pragmatic approach, citing a company's "ability to turn a profit in the future" as a yardstick of evaluating the value of an investment.
Experts predict that in light of the very public PR disasters of unicorns Uber and WeWork, investors will be much more skeptical of high-valuation IPOs.
In 2020, more companies are predicted to opt for a direct listing to go public.
What Goes Up?
When the ball dropped to usher in 2019, market sentiment was leaning toward an impending recession. A year later, the economic expansion is still underway, and many experts now have a more positive outlook for 2020.
The majority of predictions we analyzed foresaw a year of continued job growth and modest gains in the stock market. Here's a look at S&P 500 end target predictions from some of Wall Street's top strategists:
The Elephant in the Oval
One prediction nobody seemed particularly keen to make was on the result of the impending U.S. presidential election.
Experts are likely happy to take a wait-and-see approach until the Democratic nominee is announced. Also looming in the back of people's minds might be the memory of 2016, which was a powerful reminder that even predictions that seem like a sure thing don't always pan out as expected.
[Experts] can't predict the markets with any useful consistency, any more than the gizzard squeezers could tell the Roman emperors when the Huns would attack.
– Peter Lynch
A note on methodology: To make sure we captured a robust cross section of predictions for the coming year, we spent the month of December tracking down and analyzing hundreds of articles, whitepapers, and interviews from respected sources. For this exercise, we chose to focus on four broad, interconnected themes – the economy, consumerism, real estate, and technology. In the end, we analyzed 100+ published pieces, and captured 150+ predictions. We focused on content from media publications in Comscore's top 100, major banks and consultancies, and brands and agencies with high-quality thought leadership. In the end, we highlighted the 25 predictions that appeared the most often.

Which Streaming Service Has the Most Subscriptions?
From Netflix and Disney+ to Spotify and Apple Music, we rank the streaming services with the most monthly paid subscriptions.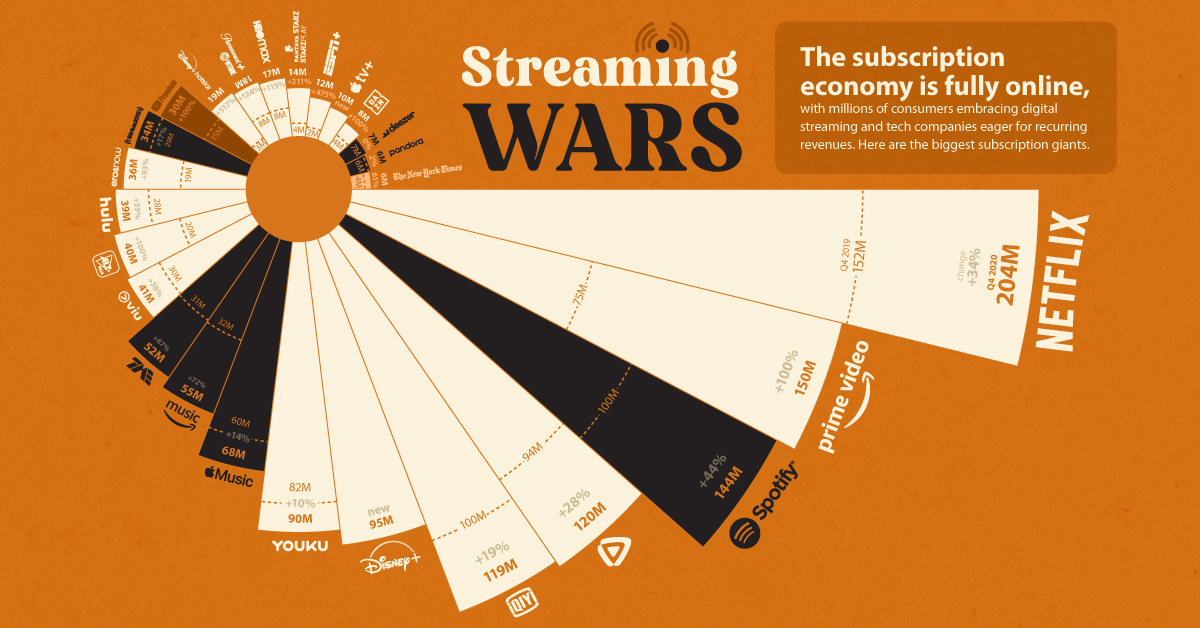 Which Streaming Service Has The Most Subscriptions?
Many companies have launched a streaming service over the past few years, trying to capitalize on the digital media shift and launching the so-called "streaming wars."
After Netflix grew from a small DVD-rental company to a household name, every media company from Disney to Apple saw recurring revenues ripe for the taking. Likewise, the audio industry has long-since accepted Spotify's rise to prominence, as streaming has become the de facto method of consumption for many.
But it was actually the unexpected COVID-19 pandemic that solidified the foothold of digital streaming, with subscription services seeing massive growth over the last year. Although it was expected that many new services would flounder along the way, media subscription services saw wide scale growth and adoption almost across the board.
We've taken the video, audio, and news subscription services with 5+ million subscribers to see who came out on top—and who has grown the most quickly—over the past year. Data comes from the FIPP media association as well as individual company reports.
Streaming Service Giants: Netflix and Amazon
The top of the streaming giant pantheon highlights two staples of business: the first-mover advantage and the power of conglomeration.
With 200+ million global subscribers, Netflix has capitalized on its position as the first and primary name in digital video streaming. Though its consumer base in the Americas has begun to plateau, the company's growth in reach (190+ countries) and content (70+ original movies slated for 2021) has put it more than 50 million subscribers ahead of its closest competition.
The story is the same in the audio market, where Spotify's 144 million subscriber base is more than double that of Apple Music, the next closest competitor with 68 million subscribers.
Meanwhile, Amazon's position as the second most popular video streaming service with 150 million subscribers might be surprising. However, Prime Video subscriptions are included with membership to Amazon Prime, which saw massive growth in usage during the pandemic.
| Service | Type | Subscribers (Q4 2020) |
| --- | --- | --- |
| Netflix | Video | 203.7M |
| Amazon Prime Video | Video | 150.0M |
| Spotify | Audio | 144.0M |
| Tencent Video | Video | 120.0M |
| iQIYI | Video | 119.0M |
| Disney+ | Video | 94.9M |
| Youku | Video | 90.0M |
| Apple Music | Audio | 68.0M |
| Amazon Prime Music | Audio | 55.0M |
| Tencent Music (Group) | Audio | 51.7M |
| Viu | Video | 41.4M |
| Alt Balaji | Video | 40M |
| Hulu | Video | 38.8M |
| Eros Now | Video | 36.2M |
| Sirius Xm | Audio | 34.4M |
| YouTube Premium | Video/Audio | 30M |
| Disney+ Hotstar | Video | 18.5M |
| Paramount+ | Video | 17.9M |
| HBO Max | Video | 17.2M |
| Starz/StarzPlay/Pantaya | Video | 13.7M |
| ESPN+ | Video | 11.5M |
| Apple TV+ | Video | 10M |
| DAZN | Video | 8M |
| Deezer | Audio | 7M |
| Pandora | Audio | 6.3M |
| New York Times | News | 6.1M |
Another standout is the number of large streaming services based in Asia. China-based Tencent Video (also known as WeTV) and Baidu's iQIYI streaming services both crossed 100 million paid subscribers, with Alibaba's Youku not far behind with 90 million.
Disney Leads in Streaming Growth
But perhaps most notable of all is Disney's rapid ascension to the upper echelons of streaming service giants.
Despite Disney+ launching in late 2019 with a somewhat lackluster content library (only one original series with one episode at launch), it has quickly rocketed both in terms of content and its subscriber base. With almost 95 million subscribers, it has amassed more subscribers in just over one year than Disney expected it could reach by 2024.
| Service | Type | Percentage Growth (2019) |
| --- | --- | --- |
| Disney+ | Video | New |
| Apple TV+ | Video | New |
| Disney+ Hotstar | Video | 516.7% |
| ESPN+ | Video | 475.0% |
| Starz/StarzPlay/Pantaya | Video | 211.4% |
| Paramount+ | Video | 123.8% |
| HBO Max | Video | 115.0% |
| Amazon Prime Video | Video | 100.0% |
| Alt Balaji | Video | 100.0% |
| YouTube Premium | Video/Audio | 100.0% |
| DAZN | Video | 100.0% |
| Eros Now | Video | 92.6% |
| Amazon Prime Music | Audio | 71.9% |
| Tencent Music (Group) | Audio | 66.8% |
| New York Times | News | 60.5% |
| Spotify | Audio | 44.0% |
| Hulu | Video | 38.6% |
| Viu | Video | 38.0% |
| Netflix | Video | 34.4% |
| Tencent Video | Video | 27.7% |
| iQiyi | Video | 19.0% |
| Sirius Xm | Audio | 17.4% |
| Apple Music | Audio | 13.3% |
| Youku | Video | 9.6% |
| Pandora | Audio | 1.6% |
| Deezer | Audio | 0% |
The Disney+ wave also spurred growth in partner streaming services like Hotstar and ESPN+, while other services with smaller subscriber bases saw large growth rates thanks to the COVID-19 pandemic.
The lingering question is how the landscape will look when the pandemic starts to wind down, and when all the new players are accounted for. NBCUniversal's Peacock, for example, has reached over 30 million subscribers as of January 2021, but the company hasn't yet disclosed how many are paid subscribers.
Likewise, competitors are investing in content libraries to try and make up ground on Netflix and Disney. HBO Max is slated to start launching internationally in June 2021, and ViacomCBS rebranded and expanded CBS All Access into Paramount+.
And international growth is vital. Three of the top six video streaming services by subscribers are based in China, while Indian services Hotstar, ALTBalaji, and Eros Now all saw surges in subscriber bases, with more room left to grow.

How Do Esports Companies Compare with Sports Teams?
With some esports companies more valuable than traditional sports teams, we visualize esports vs sports in franchise value.
How Do Esports Companies Compare with Sports Teams?
Are esports on the same level as "real" sports? These comparisons range from tricky to subjective, but the monetary value of companies speak for themselves.
The world's largest esports companies have definitely risen to the occasion. Valued at almost half-a-billion dollars, they've started to pass some sports franchises in value.
In the above graphic, we compare Forbes' valuation of the top 10 esports companies in 2020 against median franchises in the "Big Four" major leagues (NFL, MLB, NBA, and NHL). Despite competitive gaming's rapid growth, there's still a long way left to go.
Esports Impress but NFL Teams Reign Supreme
The world's top esports companies have grown quickly, and impressively.
As of 2018, there was only one esports company worth more than $300 million in valuation. By 2020, four of the top 10 were valued at more than $300 million.
| Esports Company | Games with Franchises | Value (2020) |
| --- | --- | --- |
| TSM | League of Legends | $410M |
| Cloud9 | League of Legends, Overwatch | $350M |
| Team Liquid | League of Legends | $310M |
| FaZe Clan | Call of Duty | $305M |
| 100 Thieves | League of Legends, Call of Duty | $190M |
| Gen.G | League of Legends, Overwatch, NBA 2K | $185M |
| Enthusiast Gaming | Call of Duty, Overwatch | $180M |
| G2 Esports | League of Legends | $175M |
| NRG Esports | Call of Duty, Overwatch | $155M |
| T1 | League of Legends | $150M |
When compared to traditional sports valuations, esports companies have already reached major league hockey status.
TSM, the world's most valuable esports company in 2020, has a higher valuation than five NHL franchises. In fact, four esports companies were estimated to be more valuable than two NHL franchises, the Florida Panthers and Arizona Coyotes.
But other sports leagues are further away. While the median value of an NHL franchise in 2020 was $520 million, the MLB, NBA, and NFL all saw median values of over $1.6 billion.
| Esports vs. Sports Franchises | Lowest Valued Team | Highest Valued Team | Median |
| --- | --- | --- | --- |
| NFL | $2.0B | $5.7B | $3.0B |
| NBA | $1.3B | $4.6B | $1.8B |
| MLB | $980M | $5.0B | $1.6B |
| NHL | $285M | $1.6B | $520M |
| Esports (Top 10) | $150M | $410M | $188M |
Differences in Esports vs Sports Structures and Growth
Try as we might to make a clean apples-to-apples comparison between esports and traditional sports teams, there are significant differences in the business models to consider.
For starters, major esports companies own multiple franchises and non-franchise teams across many games. Cloud9 owns both the eponymous Cloud9 League of Legends franchise and the London Spitfire Overwatch franchise, for example, as well as non-franchise teams in Halo, Counter Strike: Global Offensive, Fortnite, and other games.
The revenue streams for esports companies are also extremely varied. Companies like TSM, 100 Thieves, FaZe Clan and Enthusiast Gaming made 50% or more of their revenue from outside of esports, having instead expanded into diverse companies with an equal focus on content creation and apps.
But it's this greater ability to diversify, and the still-increasing size of esports fandom, that continues to grow esports valuations. In fact, TSM's estimated 2020 revenue of $45 million is less than half of the Arizona Coyotes' estimated revenue of $95 million, despite a $100+ million valuation difference in favor of TSM.
That's why the continued maturation of esports is only going to make traditional sports comparisons easier, and closer. Instead of having to pit companies against franchises, direct league-to-league comparisons will be possible, and the differences will likely shrink from billions to millions.