Then and Now: Key Bitcoin Stats and Figures
On the weekend, the Bitcoin ecosystem reached an extremely important milestone.
Taking place roughly every four years, the "halving event" officially occurred on July 9, cutting the reward for mining a block in half. In this case, the reward went from 25 BTC to 12.5 BTC.
Why is this such a cause for celebration?
It's because halving is a planned part of the Bitcoin ecosystem to curtail new supply of the popular cryptocurrency. Eventually inflation is supposed to mimic the limited increase of new gold mined each year, rising just under 2% annually.
Bitcoin Magazine has put out the following infographic, which compares key metrics on the Bitcoin ecosystem. It compares facts and figures on the cryptocurrency from when the first halving event took place (Nov 28, 2012) with today's metrics.
The landscape looks very different, with metrics such as price, users, market cap, and hashrate all skyrocketing upwards:
The Bitcoin Halving Event
At first glance, the Bitcoin halving event should be a big deal that has immediate effects on the trading price, which can be notoriously volatile at times. The reward for the same amount of work has decreased by 50% for the miners that verify transactions on the network, and there is no shortage of speculation on how this could impact the market.
However, it can also be said that many participants were prepared for the impact of the halving. Everyone knew it would occur, and this has been taken into account by the market, miners, and traders for years.
So far, bitcoins have traded within their regular range, and there has been little impact on the price since two days ago.
The long-term effects of the halving remain to be seen.
Visualizing the Power Consumption of Bitcoin Mining
Bitcoin mining requires significant amounts of energy, but what does this consumption look like when compared to countries and companies?
Visualizing the Power Consumption of Bitcoin Mining
Cryptocurrencies have been some of the most talked-about assets in recent months, with bitcoin and ether prices reaching record highs. These gains were driven by a flurry of announcements, including increased adoption by businesses and institutions.
Lesser known, however, is just how much electricity is required to power the Bitcoin network. To put this into perspective, we've used data from the University of Cambridge's Bitcoin Electricity Consumption Index (CBECI) to compare Bitcoin's power consumption with a variety of countries and companies.
Why Does Bitcoin Mining Require So Much Power?
When people mine bitcoins, what they're really doing is updating the ledger of Bitcoin transactions, also known as the blockchain. This requires them to solve numerical puzzles which have a 64-digit hexadecimal solution known as a hash.
Miners may be rewarded with bitcoins, but only if they arrive at the solution before others. It is for this reason that Bitcoin mining facilities—warehouses filled with computers—have been popping up around the world.
These facilities enable miners to scale up their hashrate, also known as the number of hashes produced each second. A higher hashrate requires greater amounts of electricity, and in some cases can even overload local infrastructure.
Putting Bitcoin's Power Consumption Into Perspective
On March 18, 2021, the annual power consumption of the Bitcoin network was estimated to be 129 terawatt-hours (TWh). Here's how this number compares to a selection of countries, companies, and more.
| Name | Population  | Annual Electricity Consumption (TWh) |
| --- | --- | --- |
| China | 1,443M | 6,543 |
| United States | 330.2M | 3,989 |
| All of the world's data centers | - | 205 |
| State of New York | 19.3M | 161 |
| Bitcoin network  | - | 129  |
| Norway | 5.4M | 124 |
| Bangladesh | 165.7M | 70 |
| Google | - | 12 |
| Facebook | - | 5 |
| Walt Disney World Resort (Florida) | - | 1 |
Note: A terawatt hour (TWh) is a measure of electricity that represents 1 trillion watts sustained for one hour.
Source: Cambridge Centre for Alternative Finance, Science Mag, New York ISO, Forbes, Facebook, Reedy Creek Improvement District, Worldometer
If Bitcoin were a country, it would rank 29th out of a theoretical 196, narrowly exceeding Norway's consumption of 124 TWh. When compared to larger countries like the U.S. (3,989 TWh) and China (6,543 TWh), the cryptocurrency's energy consumption is relatively light.
For further comparison, the Bitcoin network consumes 1,708% more electricity than Google, but 39% less than all of the world's data centers—together, these represent over 2 trillion gigabytes of storage.
Where Does This Energy Come From?
In a 2020 report by the University of Cambridge, researchers found that 76% of cryptominers rely on some degree of renewable energy to power their operations. There's still room for improvement, though, as renewables account for just 39% of cryptomining's total energy consumption.
Here's how the share of cryptominers that use each energy type vary across four global regions.
Energy Source
Asia-Pacific
Europe
Latin America
and the Caribbean
North America
Hydroelectric
65%
60%
67%
61%
Natural gas
38%
33%
17%
44%
Coal
65%
2%
0%
28%
Wind
23%
7%
0%
22%
Oil
12%
7%
33%
22%
Nuclear
12%
7%
0%
22%
Solar
12%
13%
17%
17%
Geothermal
8%
0%
0%
6%
Source: University of Cambridge
Editor's note: Numbers in each column are not meant to add to 100%
Hydroelectric energy is the most common source globally, and it gets used by at least 60% of cryptominers across all four regions. Other types of clean energy such as wind and solar appear to be less popular.
Coal energy plays a significant role in the Asia-Pacific region, and was the only source to match hydroelectricity in terms of usage. This can be largely attributed to China, which is currently the world's largest consumer of coal.
Researchers from the University of Cambridge noted that they weren't surprised by these findings, as the Chinese government's strategy to ensure energy self-sufficiency has led to an oversupply of both hydroelectric and coal power plants.
Towards a Greener Crypto Future
As cryptocurrencies move further into the mainstream, it's likely that governments and other regulators will turn their attention to the industry's carbon footprint. This isn't necessarily a bad thing, however.
Mike Colyer, CEO of Foundry, a blockchain financing provider, believes that cryptomining can support the global transition to renewable energy. More specifically, he believes that clustering cryptomining facilities near renewable energy projects can mitigate a common issue: an oversupply of electricity.
"It allows for a faster payback on solar projects or wind projects… because they would [otherwise] produce too much energy for the grid in that area"
– Mike Colyer, CEO, Foundry
This type of thinking appears to be taking hold in China as well. In April 2020, Ya'an, a city located in China's Sichuan province, issued a public guidance encouraging blockchain firms to take advantage of its excess hydroelectricity.
Bitcoin is Near All-Time Highs and the Mainstream Doesn't Care…Yet
As bitcoin charges towards all-time highs, search interest is relatively low. How much attention has bitcoin's recent rally gotten?
Bitcoin Near All-Time Highs vs. Search Interest
Just about every financial asset saw a huge drop in March, but few have had the spectacular recovery that bitcoin has had since then.
Up more than 300% from the March lows, bitcoin is within $1,000 of its all-time high ($19,891) established three years ago. While 2017's run-up saw a huge surge in Google searches, interest this time around is less than a quarter of what it was back then.
This graphic overlays bitcoin's price changes against Google search interest for "bitcoin" between 2017-Nov 2020, showing the muted relative search interest for its recent rally. Despite Google search interest being low, it is turning upwards, potentially hinting at a rise to cap off 2020.
Nobody's Searching? Maybe Bitcoin is Already Mainstream
Bitcoin's mainstream attention in 2017 was exceptional, and was likely the first time many people had even heard about the digital asset.
After doing all of their Google research back then, it's possible that the general population is now well aware of the cryptocurrency and doesn't need to search up the basics again. Add to this that bitcoin is now easily purchasable through popular services like Robinhood and Paypal, and you have fewer people who need Google to figure out the intricacies of bitcoin wallets and transactions.
While people might not be searching for information on bitcoin, the media has certainly picked up on its movement over the past year. Mainstream coverage regarding the cryptocurrency is currently at a relative all-time high for the past 12 months.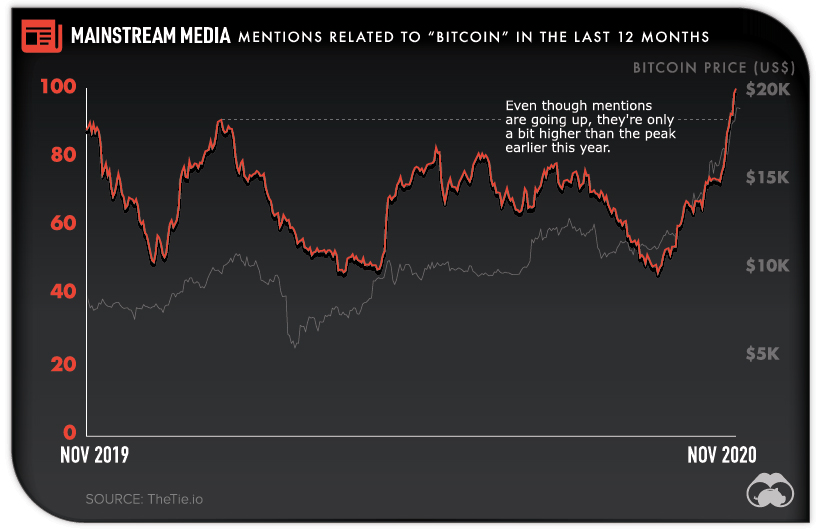 Even if current mainstream coverage isn't far from previous peaks, it's still likely that people are seeing an increase in bitcoin content in their news feeds following the recent surge.
This rally is also attracting increased talk on social media sites like Twitter. That said, while there has been a rise in the volume of bitcoin-related tweets in November 2020, numbers are still quite low compared to the amount of tweets in 2017.
Daily tweet volume reached above 60,000 recently, but is still far from the +100,000 daily tweets that were being sent at the top of 2017's bull run.
Where in the World is Google Search Interest for Bitcoin?
Even if worldwide search interest isn't as high as it was in 2017, there is one country where bitcoin is being googled more now: Nigeria.
Since 2015, the Nigerian Naira has lost more than 50% of its value against the U.S. dollar. This, coupled with the country's high share of unbanked citizens means that alternative currencies and payment methods have steadily risen in popularity and utility.
FinTech startups like Chipper Cash are providing Nigeria and other African nations with no-fee P2P payment services, along with the ability to trade bitcoin. The service is also beta testing the buying and selling of fractional shares of popular U.S. stocks.
Started up in 2018, Chipper Cash's monthly payment values are now over $100 million, and the company has attracted investment from top VC funds like Bezos Expeditions as they provide a valuable service in an emerging market.
If Bitcoin is Mainstream, Where Does It Go From Here?
While bitcoin is proving itself to be a useful medium of exchange around the world, it's still primarily a speculative asset. As 2020 saw massive increases in money supply across the board, bitcoin reacted best compared to other speculative assets, with its ascent to $19,000 almost completely uninterrupted since the $10,000 price area.
Time will tell if 2017 is set to repeat itself, or if bitcoin is getting ready to set new all-time highs going into 2021.