Meet Generation Z: The Newest Member to the Workforce
Every generation approaches the workplace differently.
While talk over the last decade has largely focused on understanding the work habits and attitudes of Millennials, it's already time for a new generation to enter the fold.
Generation Z, the group born after the Millennials, is entering their early adult years and starting their young careers. What makes them different, and how will they approach things differently than past generations?
Meet Generation Z
Today's infographic comes to us from ZeroCater, and it will help introduce you to the newest entrant to the modern workforce: Generation Z.
There is no exact consensus on the definition of Generation Z, and demographers can differ on where it starts. Some have Gen Z beginning as early as the mid-1990s, while others see it starting in the mid-2000s.
Regardless, Generation Z is the group that follows the Millennials – and many Gen Zers are wrapping up high school, finishing up their university degrees, or looking to get their first real jobs.
Millennials vs. Gen Z
While generational differences cast a wide net and don't necessarily apply to every individual, here is what demographers say are some key similarities and differences between Gen Z and Millennials.
| Millennials | Generation Z |
| --- | --- |
| Raised by Baby Boomers | Raised by Gen Xers |
| Grew up during an economic boom | Grew up during a recession |
| Tend to be idealistic | Tend to be pragmatic |
| Focused on having experiences | Focused on saving money |
| Mobile pioneers | Mobile natives |
| Prefer brands that share their values | Prefer brands that feel authentic |
| Prefer Facebook and Instagram | Prefer Snapchat and Instagram |
Generation Z tends to be more pragmatic, approaching both their education and career differently than Millennials. It appears that Gen Z is also approaching money in a unique way compared to past groups.
What to Expect?
Generation Z does not remember a time when the internet did not exist – and as such, it's not surprising to learn that 50% of Gen Z spends 10 hours a day connected online, and 70% watches YouTube for two hours a day or more.
But put aside this ultra-connectivity, and Gen Zers have some unique and possibly unexpected traits. Gen Z prefers face-to-face interactions in the workplace, and also expects to work harder than past groups. Gen Z is also the most diverse generation (49% non-white) and values racial equality as a top issue. Finally, Gen Z is possibly one of the most practical generations, valuing things like saving money and getting stable jobs.
You may already have Gen Zers in your workplace – but if you don't, you will soon.

The Population Race: A 300-Year Look at China vs. India
When will India's population overtake China's? Take a look at the trends behind this impending demographic milestone.
The Population Race: A 300-Year Look at China vs. India
One of the biggest demographic milestones that our world faces is less than a decade away.
Today, China and India boast the largest populations, outpacing all others by a mile. The total populations of these two nations have been climbing for years, but India is moving at a faster clip. The big question is: When will India overtake China in population?
This interactive chart by Our World in Data pulls past and projected population data from the United Nations, comparing the 300-year trajectory of China vs. India to answer this burning question.
China vs. India Population (1800-2100p)
In 1800, India's population was at a modest 169 million. In contrast, the Chinese population was nearly double that with 322 million at the turn of the 19th century.
It wasn't until 1950 that the total populations of both countries started shooting up exponentially, and here's where it starts to get interesting. China reached the 1 billion milestone in 1980, while India took a little longer to get there in 1997.
And now, India is on target to overtake China's total population in 2026, when both countries are expected to be at the 1.46 billion people mark.
| Country | 1800 | 2026p | 2100p | Absolute change (1800-2100) | Relative change |
| --- | --- | --- | --- | --- | --- |
| 🇨🇳 China | 321.68M | 1.46B | 1.06B | +743.3M | 231% |
| 🇮🇳 India | 168.57M | 1.46B | 1.45B | +1.28B | 758% |
*Note: Absolute change numbers may not be exact due to rounding.
Although the populations of both countries will begin contracting in the mid-21st century, India is expected to stay atop the global population leaderboard even by more moderate estimates.
China vs. India Demographics
While it appears that population growth in India is effectively mirroring that of China, there's more to examine under the surface.
What demographic trends lie behind the eventual contraction later this century? Let's look at the two population pyramids to find out.
In China, growth has been underscored by a strict "one-child" policy, implemented in 1979. Even with the updated "two-child" policy in 2016, there's no coming back from this decision—China is now contending with a rapidly aging population. It's anticipated that over one-third of Chinese citizens will be 65 years old and above by 2050.
Meanwhile in neighboring India, the workforce is just beginning to take off—65% of its population is currently aged 35 years and below. High rates of digital adoption are further compounding economic growth in the country, especially as the world becomes increasingly reliant on telecom and IT services.
China vs. India Economy
Another question this dramatic change begs is: at these rates of population change, can India's GDP growth also surpass China's in the next several decades?
The short answer is likely a no, although both countries will still see immense GDP gains during this time. According to PwC, six of the seven largest economies in the world by 2050 will be today's emerging markets—led by China and India in that order.
Country
GDP (PPP) 2016
GDP (PPP) 2050
Share of global
GDP (2050)
Change
(2016-2050)
🇨🇳 China
$21.3T
$58.5T
20%
+2% (p.p.)
🇮🇳 India
$8.7T
$44.1T
15%
+8% (p.p.)
🇺🇸 U.S.
$18.6T
$34.1T
12%
-4% (p.p.)
While India isn't likely to be the "next" China in terms of global GDP, it's certainly giving it a fair fight as a potential rising superpower—and it all stems from the combined might of its growing population.

The State of the Multi-Billion Dollar Console Gaming Market
Between Switch and PlayStation5, gaming console sales are still going strong. Where will the future may take this multi-billion dollar industry?
With over 2.7 billion gamers worldwide in 2020, the video game industry is undergoing a renaissance. Billions of dollars are pouring in as transformations occur on multiple fronts, including in mobile, PC, and console gaming markets.
For gamers in the latter category, there comes a monumental time when the cycle flips the page to the next generation of consoles. We are now at that pivotal moment, with the Xbox Series X and Sony PlayStation 5 set to launch on November 10 and 12, 2020, respectively.
How will this generation of console games fare relative to past iterations, and which target demographics will be driving future sales?
There Can Only Be One
Xbox and Nintendo have put up a respectable fight, but the history of gaming console sales point to an extended era of PlayStation dominance.
In fact, PlayStation sits quite comfortably on the top of the podium, with the PS2 alone experiencing greater sales than both the Xbox 360 and Xbox One combined.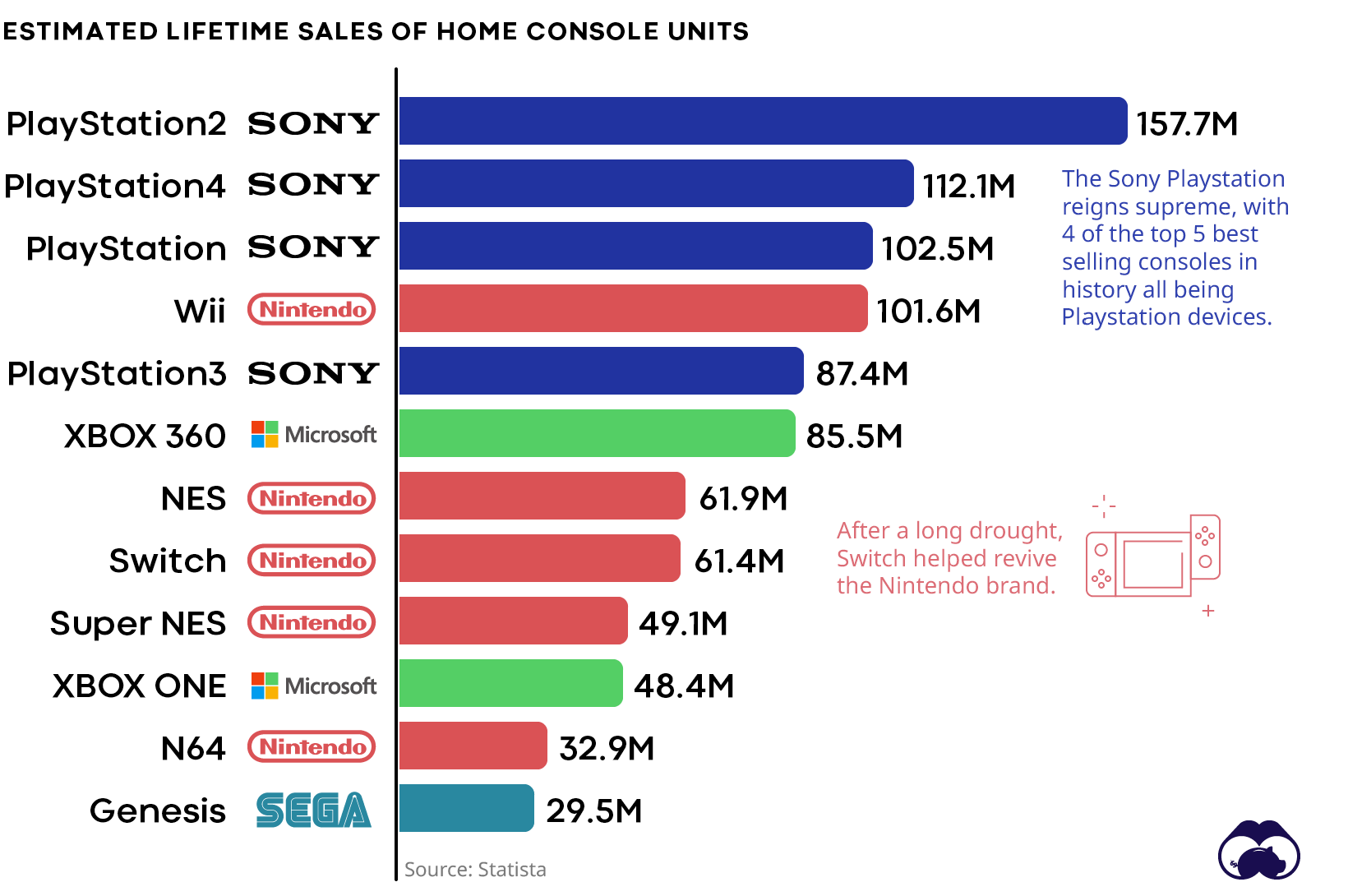 Over time, Sony has only widened the gap between themselves and the competition. The spread in unit sales between PS3 and Xbox 360 ended 1.6 million in favor of Sony. In the following product cycle, Sony achieved only further dominance, with the difference between PS4 and Xbox One sales now sitting at 63.7 million units.
Looking ahead, unit sale estimates for the PS5 range from 120-170 million and the new console is set to outperform Xbox again—in line with past trends.
Game Console Sales Galore
Gaming revenues have gone unscathed despite a pandemic, a retraction in economic activity, and the tightening of budgets for households in 2020. This trend could well be a result of video games growing as a form of stay-home entertainment.
On an annualized basis, global video game console revenues are to hit $51 billion in 2020 and reach past $60 billion in the next two years.
An Attractive Disconnect
It's clear there is significant buzz around the new consoles, but here's another perspective that highlights their allure to consumers.
Video games possess an attractive disconnect in that they are an entertainment cash cow for gaming companies, yet gaming products also happen to be a huge cost saver for the consumer relative to other platforms and devices.
The average cost per hour for gaming services is much cheaper than the cost of a book and even more competitive relative to the cost of entertainment giants Netflix and Spotify.
An Evolving Landscape
Consoles have transformed to being about much more than just gaming. They now take front and center in people's homes as a centralized hub for all things entertainment. For both the Xbox One and PS4, half of all gamers use their consoles for non-gaming activity.
Another more notable form of transformation is the identity of the gamer itself. The classic portrayal of teenage boys engaged in Super Mario after school in their parents' basement has all but dissipated.
In addition to older male users, there's now a significant emergence in female gamers. In the U.S., women surpass men in both the 36-50 and 51-65 age cohorts. Furthermore, age demographics show a higher usage amongst men in the 36-50 age group, relative to the 10-20 cohort.
A Bright Future
There are reasons to expect the next generation of console gaming to be the greatest yet.
PlayStation has momentum on their side, and a slew of new gamers exist today that will continue to help transform the market.
With a more digitally connected world, this new era will see gamers that play and compete with one another from all four corners of the globe. For gamers, this will be a thrilling experience—and for companies, a potentially very lucrative one.