The World's Most Valuable Bank Brands
Visualizing The World's Most Valuable Bank Brands
When most people think about brands, they often picture iconic consumer marks like Coca-Cola or Apple.
But in the realm of financial services, the importance of having a strong consumer brand is also rapidly growing. After all, with hundreds of new fintech entrants positioning themselves to be the "banks" of the future, it seems that brand awareness may be one of the major competitive advantages that incumbent banks can use to protect themselves.
Which financial institutions have the strongest brands, and which brands are the most valuable?
Valuable Bank Brands in 2019
Today's chart looks at the world's most valuable bank brands, according to a recent report from Brand Finance.
It should be noted that brand value in this context is a measure of the "value of the trade mark and associated marketing IP within the branded business". In other words, it's measuring the value of intangible marketing assets, and not the overall worth of a business itself.
Here are the top bank brands by value in 2019:
For the third year in a row, the Industrial and Commercial Bank of China (ICBC) takes the top spot, with a brand value of $79.8 billion.
Wells Fargo is the top U.S. bank by brand value, coming in 5th place – however, the bank actually fell two spots from last year's ranking while simultaneously losing 9% of its brand value. This is not surprising in light of the recent publicity challenges faced by the bank.
The Ascent of Chinese Banks
It's also interesting to note that Chinese banks have taken all four of the top spots on the list, with ICBC, China Construction Bank, Agricultural Bank of China, and Bank of China having a combined brand value of over $250 billion.
Here's a look at the ascent of Chinese banks over time:
In contrast, in the entire span of 2009-2014, there were zero Chinese banks that cracked the top five.
The Strongest Bank Brands
Finally, here is a look at the strongest bank brands.
It's worth noting that in contrast to value, these are banks that have executed on their branding, marketing, and sales strategies to have brands that ultimately create a competitive advantage for their business.
Brand Finance measures brand strength by looking at a balanced scorecard of metrics evaluating marketing investment, stakeholder equity, and business performance.
For more insights, don't forget to check out Brand Finance's report.
Visualized: Real Interest Rates by Country
What countries have the highest real interest rates? We look at 40 economies to analyze nominal and real rates after projected inflation.
Visualized: Real Interest Rates of Major World Economies
This was originally posted on Elements. Sign up to the free mailing list to get beautiful visualizations on real assets and resource megatrends each week.
Interest rates play a crucial role in the economy because they affect consumers, businesses, and investors alike.
They can have significant implications for people's ability to access credit, manage debts, and buy more expensive goods such as cars and houses.
This graphic uses data from Infinity Asset Management to visualize the real interest rates (ex ante) of 40 major world economies, by subtracting projected inflation over the next 12 months from current nominal rates.
ℹ️ Ex ante is Latin for "before the event", and in this case refers to the fact that this data uses projected inflation rates to calculate real interest rates.
Nominal Interest Rates vs. Real Interest Rates
Nominal interest rates refer to the rate at which money can be borrowed or lent at face value, without considering any other factors like inflation.
Meanwhile, the real interest rate is the nominal interest rate after taking into account inflation, reflecting the true cost of borrowing or lending. Real interest rates can fluctuate over time and are influenced by various factors such as inflation, central bank policies, and economic growth. They can also influence economic growth by affecting investment and consumption decisions.
According to the International Monetary Fund (IMF), since the mid-1980s, real interest rates across several advanced economies have declined steadily.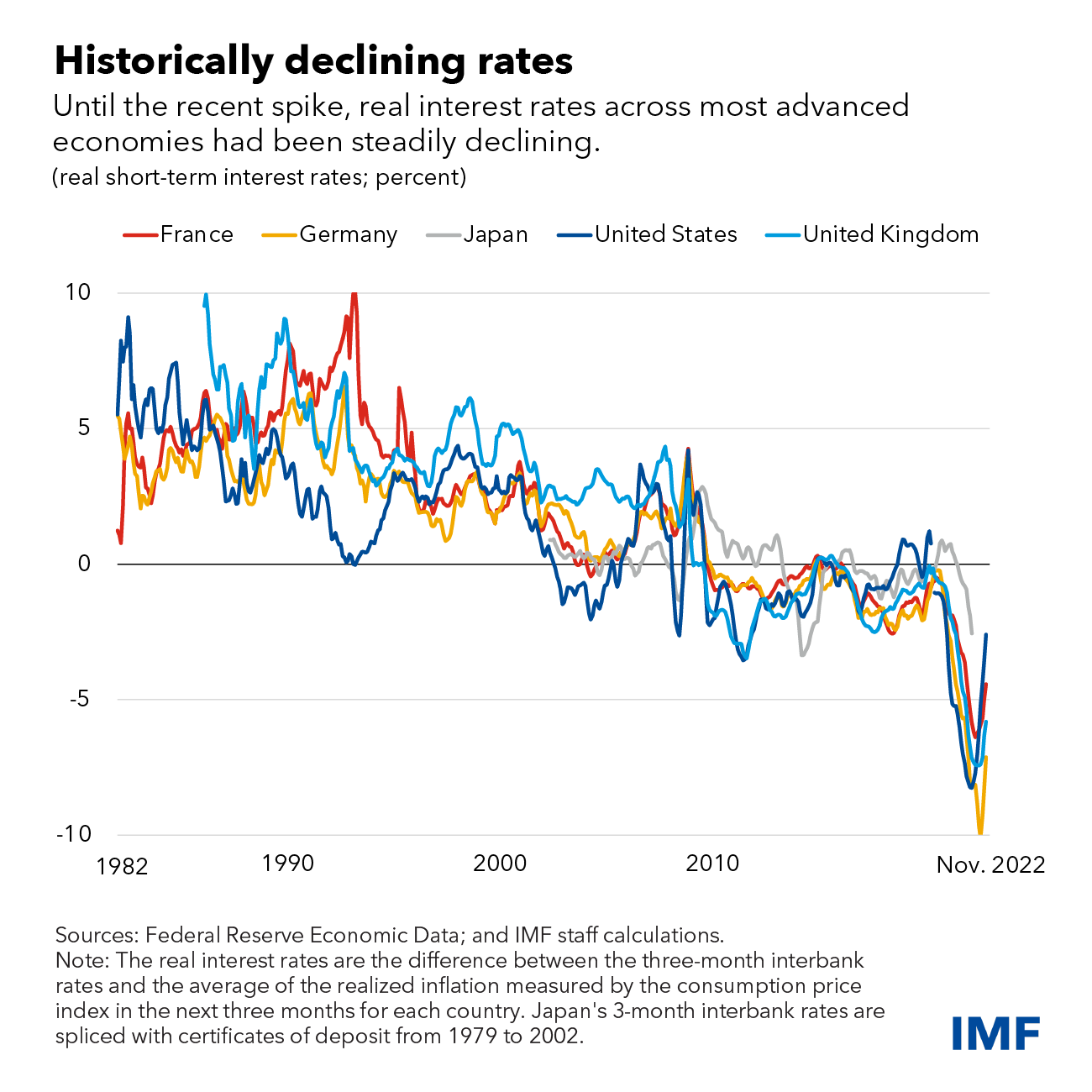 As of March 2023, Brazil has the highest real interest rate among the 40 major economies shown in this dataset.
Below we look at Brazil's situation, along with the data of the four other major economies with the highest real rates in the dataset:
| | Nominal Interest Rate | Real Interest Rate |
| --- | --- | --- |
| 🇧🇷 Brazil | 13.75% | 6.94% |
| 🇲🇽 Mexico | 11.00% | 6.05% |
| 🇨🇱 Chile | 11.25% | 4.92% |
| 🇵🇭 Philippines | 6.00% | 2.62% |
| 🇮🇩 Indonesia | 5.75% | 2.45% |
In general, countries with high interest rates offer investors higher yields on their investments but also come with higher risks due to volatile economies and political instability.
Below are the five countries in the dataset with the lowest real rates:
| | Nominal Interest Rate | Real Interest Rate |
| --- | --- | --- |
| 🇦🇷 Argentina | 78.00% | -19.61% |
| 🇳🇱 Netherlands | 3.50% | -7.42% |
| 🇨🇿 Czech Republic | 7.00% | -7.17% |
| 🇵🇱 Poland | 6.75% | -6.68% |
| 🇧🇪 Belgium | 3.50% | -6.42% |
Hyperinflation, as seen in Argentina, can lead to anomalies in both real and nominal rates, causing problems for the country's broader economy and financial system.
As you can see above, with a 78% nominal interest rate, Argentina's real interest rates remain the lowest on the planet due to a staggering annual inflation rate of over 100%.
Interest Rate Outlook
Increasing inflation and tighter monetary policy have resulted in rapid increases in nominal interest rates recently in many countries.
However, IMF analysis suggests that recent increases could be temporary.
Central banks in advanced economies are likely to ease monetary policy and bring interest rates back to pre-pandemic levels when inflation is brought under control, according to the fund.