This 3D Map Shows the Price Per Square Foot of U.S. Housing Markets
Use the mouse to rotate, pan, or zoom in on the interactive map. (Note: your browser must support WebGL for this to work.)

3D Map Shows the Price Per Square Foot of U.S. Housing Markets
This 3D interactive map comes Max Galka's great Metrocosm blog. Don't forget to check out his project, Blueshift.
Where is the most expensive real estate in the United States? It depends on how you look at it.
Using home sale prices and data from the state-level, the answer is Hawaii with a median price of $547,600 per home.
However, at a neighborhood level, the answer could be very different. For example, the most expensive neighborhood by median housing price is Presidio Heights in San Francisco ($7 million+ homes in January 2017), and the most expensive neighborhood for rent is West Village in New York City ($6,030 per month for a 1,000 sq. ft place).
Both of these approaches have significant drawbacks. Using state-level data is too broad, and doesn't account for any distinction between urban/rural areas. Meanwhile, zooming in on a neighborhood is interesting and thorough, but it may be too granular for most purposes. People have a mental picture of San Francisco as a whole, but fewer will be familiar with the nuances of specific neighborhoods like Presidio Heights, Nob Hill, or the Mission District.
A Common Denominator?
A county-level analysis may be the easiest to understand, and by using average price per square foot we have a more universal denominator. After all, a house bought in Hawaii might be more expensive than a small loft in New York City – but it might also be 5x the size.
The visualization above focuses in on price per square foot at the county-level – and the results are clear: New York, San Francisco, and Aspen (Pitkin County) stand out.
As Max Galka from Metrocosm notes, New York is instantly recognizable:
The highest point in the map is clearly the tall white spike in the east: Manhattan (New York County), where the average price per square foot is $1,397. But the housing values fall off sharply as you move to the outer boroughs. Across the river in Brooklyn (Kings County), the second most costly area of NYC, the price per square foot is only about a third of what it is in Manhattan.

The Bay Area also stands out, thanks to the unprecedented boom in Silicon Valley over the last 15 years. San Francisco leads the pack because of its cultural appeal, but other places in the Valley are also extremely expensive, relative to anywhere else in America:
[>
Lastly, it is worth noting that Pitkin County in Colorado is one of the other three most expensive U.S. housing markets using this approach. The largest town in the county is Aspen, a popular ski destination, and the county averages a price per square foot of $841.
Which Companies Make Up the "Magnificent Seven" Stocks?
FAANG is dead… meet the 'Magnificent Seven' stocks that now make up over 25% of the S&P 500.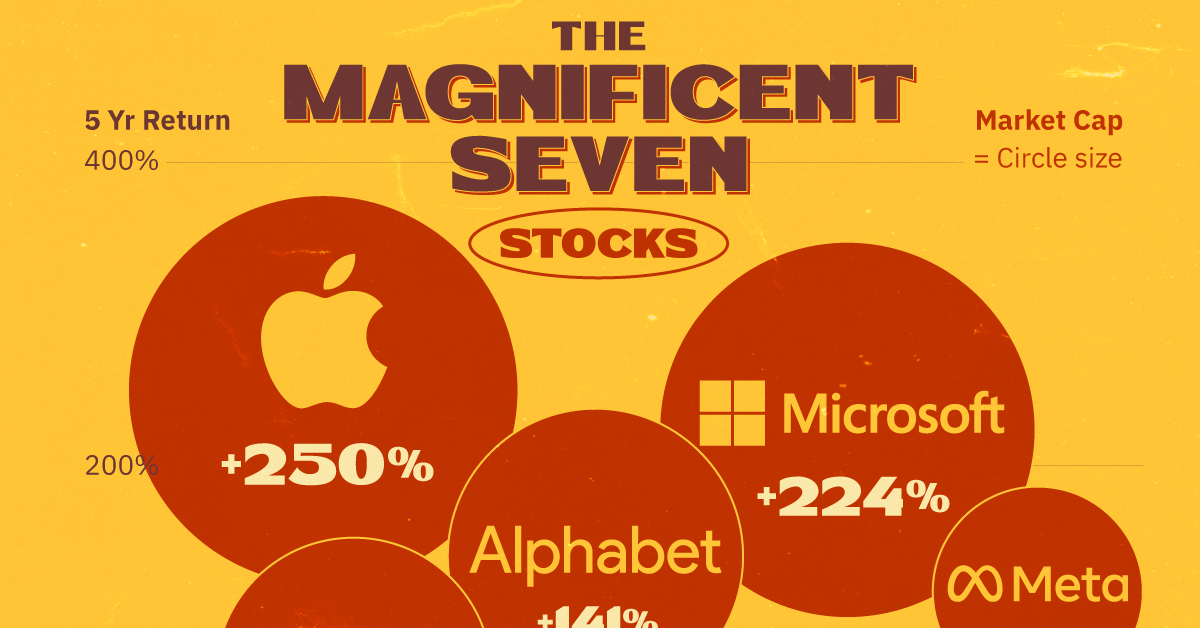 Which Companies Make Up the "Magnificent Seven" Stocks?
In 2013 CNBC analyst Jim Cramer popularized "FANG," comprised of Facebook (now Meta), Amazon, Netflix, and Google (now Alphabet), as a shorthand for the best performing technology stocks on the market. Apple, added in 2017, made it FAANG.
However, over the last year a new moniker given by Bank of America analyst Michael Hartnett highlights the most valuable and popularly-owned companies on the American stock market: the "Magnificent Seven" stocks.
We visualize the Magnificent Seven's market capitalization and 5-year stock performance as of November 2023 using data from Google Finance and CompaniesMarketCap.
The Magnificent Seven Stocks by Market Cap and 5-Year Return
The Magnificent Seven stocks are megacap companies focused and capitalizing on tech growth trends including AI, cloud computing, and cutting-edge hardware and software.
Four of the five FAANG stocks retain their place amongst the Magnificent Seven, with newcomers Nvidia, Tesla, and Microsoft joining the group. Following a poor 2022 performance and having more difficulty capitalizing on tech trends, Netflix is the sole FAANG company not included.
Here's a look at the companies ranked by their market capitalization on November 6, 2023, alongside their 5-year stock performance:
| Rank | Company | Market Cap | 5 Year Performance |
| --- | --- | --- | --- |
| 1 | Apple | $2.8 trillion | +250% |
| 2 | Microsoft | $2.6 trillion | +224% |
| 3 | Alphabet | $1.6 trillion | +141% |
| 4 | Amazon | $1.4 trillion | +63% |
| 5 | Nvidia | $1.1 trillion | +783% |
| 6 | Meta | $811 billion | +118% |
| 7 | Tesla | $690 billion | +829% |
The Magnificent Seven make up more than one-quarter of the S&P 500 and more than half of the Nasdaq 100.
Meanwhile, five of the seven are part of the rare trillion dollar club, with Nvidia being the most recent entry.
A common theme among the Magnificent Seven is their ability to collect vast amounts of customer data, create cutting-edge hardware and software, as well as harness the power of AI.
However, if Netflix gets back on track—recently announcing its new ad-supported membership tier has 15 million subscribers—we could soon see a "Magnificent Eight."