Gold in Nevada: The Real Golden State
The Real Golden State: Gold Production in Nevada
Thanks to the world famous silver discoveries of the 19th century that unveiled Nevada's precious metal potential, the state today is known by many as "The Silver State".
However, it's possible that nickname may need to be updated. In the last few decades, Nevada has become a prolific gold producer, accounting for 84% of total U.S. gold production each year.
Today's infographic from Corvus Gold showcases why Nevada may have a better case for deserving California's nickname of the "Golden State": we look at the state's gold production, exploration potential, and even its rich history.
A Defining Era for the American West
The discovery of the Comstock silver lode in 1859 sparked a silver rush of prospectors to Nevada, scrambling to stake their claims. News of the discovery spread quickly throughout the United States, drawing thousands into Nevada for one of the largest rushes since the California Gold Rush in 1849. Mining camps soon thrived and eventually became towns, a catalyst that helped turn the territory into an official state by 1864.
Interestingly, many of the early mines also produced considerable quantities of gold, indicating there was more to the state than just silver.
The Comstock Lode: 8,600,000 troy ounces (270t) of gold until 1959
The Eureka district: 1,200,000 troy ounces (37t) of gold
The Robinson copper mine: 2,700,000 troy ounces (84t) of gold
The Comstock Lode is notable not just for the immense fortunes it generated but also the large role those fortunes had in the growth of Nevada and San Francisco.
In fact, there was so much gold and silver flowing into San Francisco, the U.S. Mint opened a branch in the city to safely store it all. Within the first year of its operation, the San Francisco Mint turned $4 million of gold bullion into coins for circulation.
While California gold rushes became history, Nevada mining was just beginning and would spur the development of modern industry. In 2018, California produced 140,000 troy ounces of gold, just a fraction of the 5.58 million oz coming out of Nevada's ground.
Nevada Gold Mining Geology: Following the Trends
There are three key geological trends from where the majority of Nevada's gold comes from.
Cortez Trend
Carlin Trend
Walker Lane Trend
Together these trends contributed nearly 170 million ounces of gold produced in Nevada between 1835 and 2018, making it the United States' most productive gold jurisdiction, if not the world's.
The bulk of production comes from the Cortez and Carlin Trends, where mines extract low grade gold from a particular type of mineral deposit, the Carlin Type Gold deposit. It was the discovery and technology used for processing these "invisible" deposits that would turn Nevada into the golden powerhouse of production.
Today, the world's largest gold mining complex, Nevada Gold Mines, is located on the Carlin Trend. The joint venture between Barrick and Newmont comprises eight mines, along with their infrastructure and processing facilities.
Despite the prolific production of modern mines in the state, more discoveries will be needed to feed this production pipeline—and discoveries are on the decline in Nevada.
Looking to the Future Through the Past: The Walker Lane Trend
The future for gold mining in Nevada may lie in the Walker Lane Trend. This trend is host to some of the most recent gold discoveries, and has attracted the interest of major mining companies looking to conduct exploration, and eventually, production.
Walker Lane stands out with exceptional high-grades, growing reserves, and massive discovery potential. It also played an integral role in the history of the state beginning with the 1859 discovery of the Comstock Lode, and it seems likely to continue doing so in the future.
Visualizing U.S. Consumption of Fuel and Materials per Capita
Wealthy countries consume large amounts of natural resources per capita, and the U.S. is no exception. See how much is used per person.
Visualizing U.S. Consumption of Fuel and Materials per Capita
This was originally posted on Elements. Sign up to the free mailing list to get beautiful visualizations on natural resource megatrends in your email every week.
Wealthy countries consume massive amounts of natural resources per capita, and the United States is no exception.
According to data from the National Mining Association, each American needs more than 39,000 pounds (17,700 kg) of minerals and fossil fuels annually to maintain their standard of living.
Materials We Need to Build
Every building around us and every sidewalk we walk on is made of sand, steel, and cement.
As a result, these materials lead consumption per capita in the United States. On average, each person in America drives the demand of over 10,000 lbs of stone and around 7,000 lbs of sand and gravel per year.
| Material/Fossil Fuel | Pounds Per Person |
| --- | --- |
| Stone | 10,643 |
| Natural Gas | 9,456 |
| Sand, Gravel | 7,088 |
| Petroleum Products | 6,527 |
| Coal | 3,290 |
| Cement | 724 |
| Other Nonmetals | 569 |
| Salt | 359 |
| Iron Ore | 239 |
| Phosphate Rock | 166 |
| Sulfur | 66 |
| Potash | 49 |
| Soda Ash | 36 |
| Bauxite (Aluminum) | 24 |
| Other Metals | 21 |
| Copper | 13 |
| Lead | 11 |
| Zinc | 6 |
| Manganese | 4 |
| Total | 39,291 |
The construction industry is a major contributor to the U.S. economy.
Crushed stone, sand, gravel, and other construction aggregates represent half of the industrial minerals produced in the country, resulting in $29 billion in revenue per year.
Also on the list are crucial hard metals such as copper, aluminum, iron ore, and of course many rarer metals used in smaller quantities each year. These rarer metals can make a big economic difference even when their uses are more concentrated and isolated—for example, palladium (primarily used in catalytic converters) costs $54 million per tonne.
Fuels Powering our Lives
Despite ongoing efforts to fight climate change and reduce carbon emissions, each person in the U.S. uses over 19,000 lbs of fossil fuels per year.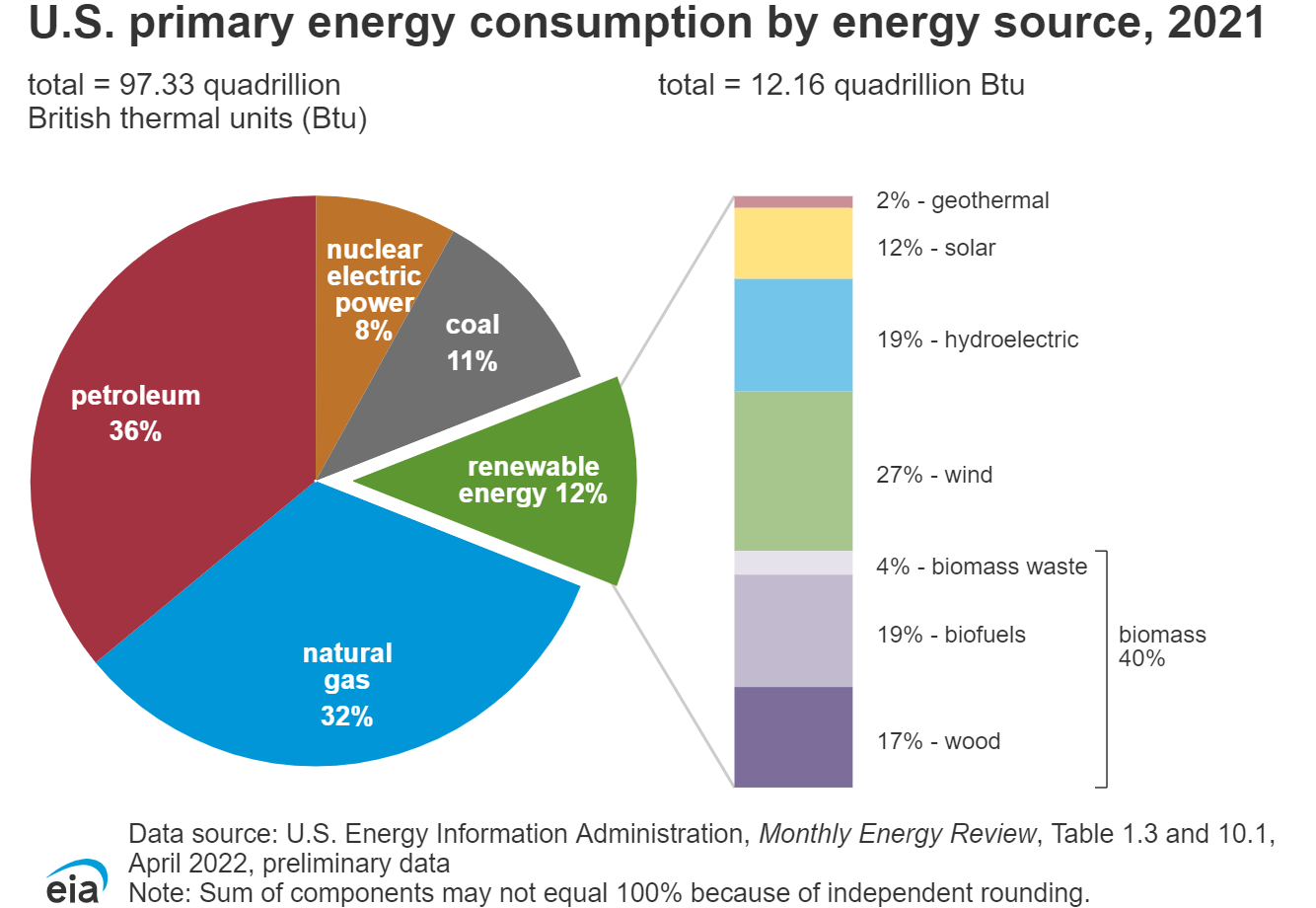 Gasoline is the most consumed petroleum product in the United States.
In 2021, finished motor gasoline consumption averaged about 369 million gallons per day, equal to about 44% of total U.S. petroleum use. Distillate fuel oil (20%), hydrocarbon gas liquids (17%), and jet fuel (7%) were the next most important uses.
Reliance on Other Countries
Over the past three decades, the United States has become reliant on foreign sources to meet domestic demand for minerals and fossil fuels. Today, the country is 100% import-reliant for 17 mineral commodities and at least 50% for 30 others.
In order to reduce the dependency on other countries, namely China, the Biden administration has been working to diversify supply chains in critical minerals. This includes strengthening alliances with other countries such as Australia, India, and Japan.
However, questions still remain about how soon these policies can make an impact, and the degree to which they can ultimately help localize and diversify supply chains.