Visualizing the Flow of U.S. Energy Consumption
Breaking Down America's Energy Consumption in 2020
The United States relies on a complex mix of energy sources to fuel the country's various end-sectors' energy consumption.
While this energy mix is still dominated by fossil fuels, there are signs of a steady shift to renewable energy over the past decade.
This radial Sankey diagram using data from the EIA (Energy Information Administration) breaks down U.S. energy consumption in 2020, showing us how much each sector relies on various energy sources.
The Balance of Energy Production and Consumption
In 2019 and now in 2020, America's domestic energy production has actually been greater than its consumption—a development that hasn't taken place since 1957.
Last year's numbers were severely impacted by the COVID-19 pandemic, seeing a 5% drop in energy production and a 7% drop in consumption compared to 2019. Total energy production and consumption for 2020 came in at 95.75 and 92.94 quads respectively.
The energy amounts are equalized and measured in quadrillion BTUs (British thermal units), also known as quads. A quad is a huge amount of energy, equivalent to 183 million barrels of petroleum or 36 million tonnes of coal.
So how is America's overall energy production and consumption split between energy sources?
U.S. Energy Production and Consumption Share by Source
| Energy Source | Percentage of U.S. Energy Production | Percentage of U.S. Energy Consumption |
| --- | --- | --- |
| Petroleum | 32% | 35% |
| Natural Gas | 36% | 34% |
| Renewable Energy | 12% | 12% |
| Coal | 11% | 10% |
| Nuclear | 9% | 9% |
Source: IEA
America's new margin of energy production over consumption has resulted in the country being a net total energy exporter again, providing some flexibility as the country continues its transition towards more sustainable and renewable energy sources.
Fossil Fuels Still Dominate U.S. Energy Consumption
While America's mix of energy consumption is fairly diverse, 79% of domestic energy consumption still originates from fossil fuels. Petroleum powers over 90% of the transportation sector's consumption, and natural gas and petroleum make up 74% of the industrial sector's direct energy consumption.
There are signs of change as consumption of the dirtiest fossil fuel, coal, has declined more than 58% since its peak in 2005. Coinciding with this declining coal dependence, consumption from renewable energy has increased for six years straight, setting record highs again in 2020.
However, fossil fuels still make up 79% of U.S. energy consumption, with renewables and nuclear accounting for the remaining 21%. The table below looks at the share of specific renewable energy sources in 2020.
Distribution of Renewable Energy Sources
| Renewable Energy Source | 2020 Energy Consumption in Quads | Share of 2020 Renewable Energy Consumption |
| --- | --- | --- |
| Biomass | 4.52 | 39% |
| Wind | 3.01 | 26% |
| Hydroelectric | 2.55 | 22% |
| Solar | 1.27 | 11% |
| Geothermal | 0.23 | 2% |
Source: IEA
The Nuclear Necessity for a Zero-Emission Energy Transition
It's not all up to renewable energy sources to clean up America's energy mix, as nuclear power will play a vital role in reducing carbon emissions. Technically not a renewable energy source due to uranium's finite nature, nuclear energy is still a zero-emission energy that has provided around 20% of total annual U.S. electricity since 1990.
Support for nuclear power has been growing slowly, and last year was the first which saw nuclear electricity generation overtake coal. However, this might not last as three nuclear plants including New York's Indian Point nuclear plant are set to be decommissioned in 2021, with a fourth plant scheduled for retirement in 2022.
It's worth noting that while other countries might have a higher share of nuclear energy in their total electricity generation, the U.S. still has the largest nuclear generation capacity worldwide and has generated more nuclear electricity than any other country in the world.
Converting Energy to Electricity
The energy produced by nuclear power plants doesn't go directly to its end-use sector, rather, 100% of nuclear energy in the U.S. is converted to electricity which is sold to consumers. Along with nuclear, most energy sources aside from petroleum are primarily converted to electricity.
Unfortunately, electricity conversion is a fairly inefficient process, with around 65% of the energy lost in the conversion, transmission, and distribution of electricity.
This necessary but wasteful step allows for the storage of energy in electrical form, ensuring that it can be distributed properly. Working towards more efficient methods of energy to electricity conversion is an often forgotten aspect of reducing wasted energy.
Despite the dip in 2020, both energy production and consumption in the U.S. are forecasted to continue rising. As Biden aims to reduce greenhouse gas emissions by 50% by 2030 (from 2005 emission levels), U.S. energy consumption will inevitably continue to shift away from fossil fuels and towards renewable and nuclear energy.
Visualizing the Range of Electric Cars vs. Gas-Powered Cars
With range anxiety being a barrier to EV adoption, how far can an electric car go on one charge, and how do EV ranges compare with gas cars?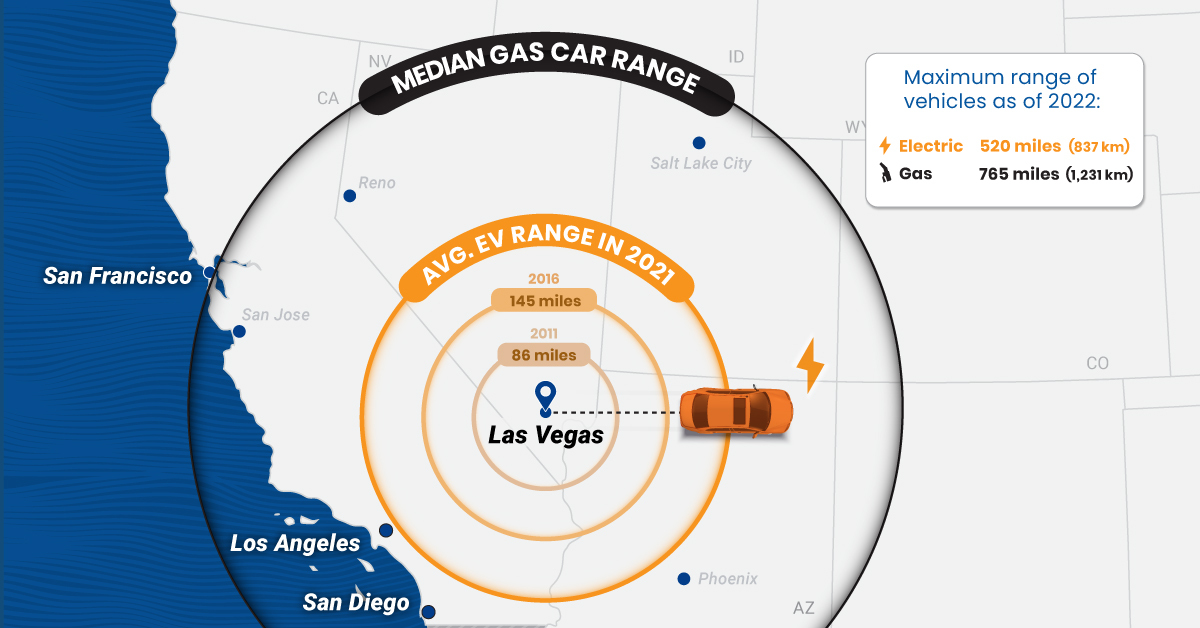 The Range of Electric Cars vs. Gas-Powered Cars
This was originally posted on Elements. Sign up to the free mailing list to get beautiful visualizations on natural resource megatrends in your email every week.
EV adoption has grown rapidly in recent years, but many prospective buyers still have doubts about electric car ranges.
In fact, 33% of new car buyers chose range anxiety—the concern about how far an EV can drive on a full charge—as their top inhibitor to purchasing electric cars in a survey conducted by EY.
So, how far can the average electric car go on one charge, and how does that compare with the typical range of gas-powered cars?
The Rise in EV Ranges
Thanks to improvements in battery technology, the average range of electric cars has more than doubled over the last decade, according to data from the International Energy Agency (IEA).
| Year | Avg. EV Range | Maximum EV Range |
| --- | --- | --- |
| 2010 | 79 miles (127 km) | N/A |
| 2011 | 86 miles (138 km) | 94 miles (151 km) |
| 2012 | 99 miles (159 km) | 265 miles (426 km) |
| 2013 | 117 miles (188 km) | 265 miles (426 km) |
| 2014 | 130 miles (209 km) | 265 miles (426 km) |
| 2015 | 131 miles (211 km) | 270 miles (435 km) |
| 2016 | 145 miles (233 km) | 315 miles (507 km) |
| 2017 | 151 miles (243 km) | 335 miles (539 km) |
| 2018 | 189 miles (304 km) | 335 miles (539 km) |
| 2019 | 209 miles (336 km) | 370 miles (595 km) |
| 2020 | 210 miles (338 km) | 402 miles (647 km) |
| 2021 | 217 miles (349 km) | 520 miles* (837 km) |
*Max range for EVs offered in the United States.
Source: IEA, U.S. DOE
As of 2021, the average battery-powered EV could travel 217 miles (349 km) on a single charge. It represents a 44% increase from 151 miles (243 km) in 2017 and a 152% increase relative to a decade ago.
Despite the steady growth, EVs still fall short when compared to gas-powered cars. For example, in 2021, the median gas car range (on one full tank) in the U.S. was around 413 miles (664 km)—nearly double what the average EV would cover.
As automakers roll out new models, electric car ranges are likely to continue increasing and could soon match those of their gas-powered counterparts. It's important to note that EV ranges can change depending on external conditions.
What Affects EV Ranges?
In theory, EV ranges depend on battery capacity and motor efficiency, but real-world results can vary based on several factors:
Weather: At temperatures below 20℉ (-6.7℃), EVs can lose around 12% of their range, rising to 41% if heating is turned on inside the vehicle.
Operating Conditions: Thanks to regenerative braking, EVs may extend their maximum range during city driving.
Speed: When driving at high speeds, EV motors spin faster at a less efficient rate. This may result in range loss.
On the contrary, when driven at optimal temperatures of about 70℉ (21.5℃), EVs can exceed their rated range, according to an analysis by Geotab.
The 10 Longest-Range Electric Cars in America
Here are the 10 longest-range electric cars available in the U.S. as of 2022, based on Environmental Protection Agency (EPA) range estimates:
| Car | Range On One Full Charge | Estimated Base Price |
| --- | --- | --- |
| Lucid Air | 520 miles (837 km) | $170,500 |
| Tesla Model S | 405 miles (652 km) | $106,190 |
| Tesla Model 3 | 358 miles (576 km) | $59,440 |
| Mercedes EQS | 350 miles (563 km) | $103,360 |
| Tesla Model X | 348 miles (560 km) | $122,440 |
| Tesla Model Y | 330 miles (531 km) | $67,440 |
| Hummer EV | 329 miles (529 km) | $110,295 |
| BMW iX | 324 miles (521 km) | $84,195 |
| Ford F-150 Lightning | 320 miles (515 km) | $74,169 |
| Rivian R1S | 316 miles (509 km) | $70,000 |
Source: Car and Driver
The top-spec Lucid Air offers the highest range of any EV with a price tag of $170,500, followed by the Tesla Model S. But the Tesla Model 3 offers the most bang for your buck if range and price are the only two factors in consideration.
Green Steel: Decarbonising with Hydrogen-Fueled Production
How will high emission industries respond to climate change? We highlight industrial emissions and hydrogen's role in green steel production.
The following content is sponsored by AFRY
Green Steel: Decarbonising with Hydrogen-Fueled Production
As the fight against climate change ramps up worldwide, the need for industries and economies to respond is immediate.
Of course, different sectors contribute different amounts of greenhouse gas (GHG) emissions, and face different paths to decarbonisation as a result. One massive player? Steel and iron manufacturing, where energy-related emissions account for roughly 6.1% of global emissions.
The following infographic by AFRY highlights the need for steel manufacturing to evolve and decarbonise, and how hydrogen can play a vital role in the "green" steel revolution.
The Modern Steel Production Landscape
Globally, crude steel production totalled 1,951 million tonnes (Mt) in 2021.
This production is spread all over the world, including India, Japan, and the U.S., with the vast majority (1,033 million tonnes) concentrated in China.
But despite being produced in many different places globally, only two main methods of steel production have been honed and utilised over time—electric arc furnace (EAF) and blast furnace basic oxygen furnace (BF-BOF) production.
Both methods traditionally use fossil fuels, and in 2019 contributed 3.6 Gt of carbon dioxide (CO2) emissions:
| Steel Production Method | Materials Utilised | CO2 Emissions (2019) |
| --- | --- | --- |
| EAF | Scrap | 0.5 Gt |
| BF-BOF | Scrap, iron ore, coke | 3.1 Gt |
That's why one of the main ways the steel industry can decarbonise is through the replacement of fossil fuels.
Hydrogen's Role in Green Steel Production
Of course, one of the biggest challenges facing the industry is how to decarbonise and produce "green" steel in an extremely competitive market.
As a globally-traded good with fine cost margins, steel production has been associated with major geopolitical issues, including trade disputes and tariffs. But because of climate change, there is also a sudden and massive demand for carbon-friendly production.
And that's where hydrogen plays a key role. Steel traditionally made in a blast furnace uses coke—a high-carbon fuel made by heating coal without air—as a fuel source to heat iron ore pellets and liquify the pure iron component. This expels a lot of emissions in order to get the iron hot enough to melt (1,200 °C) and be mixed with scrap and made into steel.
The green steel method instead uses hydrogen to reduce the iron pellets into sponge iron, metallic iron that can then be processed to form steel. This process is also done at high temperature but below the melting point of iron (800 – 1,200 °C), saving energy costs.
And by introducing non-fossil fuels to create iron pellets and renewable electricity to turn the sponge iron and scrap into steel, fossil fuels can be removed from the process, significantly reducing emissions as a result.
The Future of Green Steel Production
Given the massive global demand for steel, the need for hydrogen and renewable energy required for green steel production is just as significant.
According to AFRY and the International Renewable Energy Agency, meeting global steel production in 2021 using the green steel method would require 97.6 million tonnes of hydrogen.
And for a truly carbon-free transition to green steel, the energy industry will also need to focus on green hydrogen production using electrolysis. Unlike methods which burn natural gas to release hydrogen, electrolysis entails the splitting of water (H2O) into oxygen and hydrogen using renewable energy sources.
Full green steel production would therefore use green hydrogen, electrolysers running on renewables, and additional renewables for all parts of the supply chain:
| Steel Production Source | Annual Steel Production | Green Hydrogen Required | Electrolyser Capacity Required | Total Renewables Capacity Required |
| --- | --- | --- | --- | --- |
| Base Reference | 1 Mt | 50 kT | 0.56 GW | 0.7 GW |
| U.S. | 85.8 Mt | 4.3 Mt | 48 GW | 60 GW |
| Europe | 103 Mt | 5.2 Mt | 58 GW | 72 GW |
| China | 1032.8 Mt | 51.6 Mt | 581 GW | 726 GW |
| Global | 1951 Mt | 97.6 Mt | 1,097 GW | 1,371 GW |
Currently, green hydrogen production costs are higher than traditional fossil fuel methods, and are dependent on the levelised costs of renewable energy sources. This means they vary by region, but also that they will reduce as production capacity and subsidies for renewables and green hydrogen increase.
And many major European steel manufacturers are already leading the way with pilot and large scale facilities for green steel production. Germany alone has at least seven projects in the works, including by ArcelorMittal and ThyssenKrupp, two of the world's 10 largest steelmakers by revenue.
AFRY is a thought leadership firm that provides companies with advisory services and sustainable solutions, in their efforts to fight climate change and lead them towards a greater future.