How Tech is Changing How Healthcare Must Communicate With Patients
How Health Companies Must Communicate With Patients
From consumer-focused apps to groundbreaking 3d printing techniques, the healthcare industry is constantly in the process of being revolutionized by new technologies.
These changes are disrupting the status quo of how business has been done for years – and they are even forcing companies to pivot in the areas of business that aren't as traditionally driven by innovation or R&D.
One such area: how companies communicate with potential and active patients.
The Pivot to Content Strategy
Today's infographic comes to us from Publicis Health, and it shows that technology is changing the way that life sciences and pharmaceutical companies will need to market and inform consumers.
For an industry in which one-way communication has traditionally been the norm, a multitude of factors are converging to make it essential for healthcare companies to pivot to a new way of doing things. Instead of using a loudspeaker to broadcast their message, companies must listen to customers while inspiring authentic discussions.
A New Content Model
New media is driving more dynamic content than ever – and with a galaxy of content channels available, massive amounts of information are shared every minute on the internet.
But in this new environment, traditional one-way advertising is less effective. After all, it must compete against millions of user-generated posts shared on social platforms.
To add to the problem, consumers are becoming skeptical about the health information they find online:
86% of users are concerned about unreliable or inaccurate information on internet sources
30% of users had to checked out four or more websites in their search for information
71% were very concerned that a health-related website would give away or sell their data
How can health companies thrive in this new environment? How can they get the attention of customers, while still remaining credible and authentic?
The Strategic Roadmap
Healthcare marketers need to think about the spaces in which their brand will live, and the different conversations that will need to happen along a patient's journey.
To approach customers on a one-on-one basis with a pivot to content strategy, healthcare brands will need to follow the following framework:
1. Purpose: Guiding insight that pinpoints why people will want to use and share the content
2. Personas: An intimate guide to the people whom the content is designed for
3. Platforms: Where content will be the most effective for an audience and brand
4. Pillars: What topics and themes make up the content mix
5. Behaviors: Actions people need to take to help get to better health outcomes
6. Tactics: Sample visualizations of how the audience will be activated in platforms
7. ROI Design: Framework for measuring business success, mapped to existing strategic imperatives
A high-quality content strategy can have a far-reaching impact on the bottom line for healthcare companies, improving both health outcomes and business along the way.
This is part three of a seven part series. Stay tuned by subscribing to Visual Capitalist for free, as we go into these six forces in more detail in the future.
Charted: The Gen Z Unemployment Rate, Compared to Older Generations
COVID-19 has impacted everyone, but one generation is taking it harder than the others. This graphic reveals the Gen Z unemployment rate.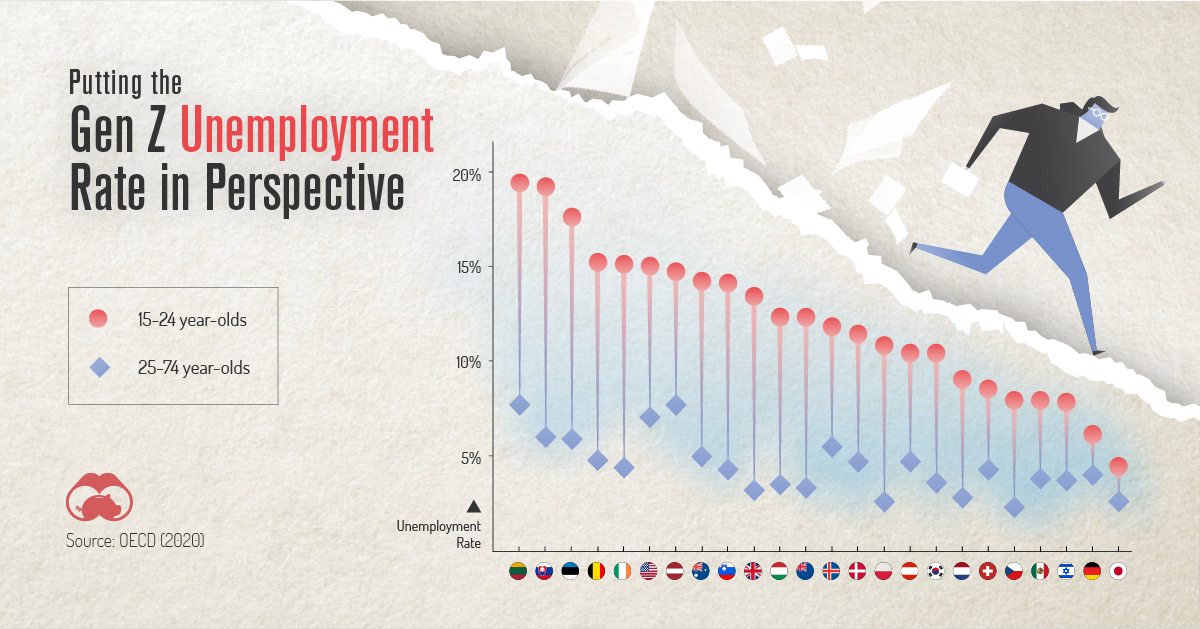 Putting the Gen Z Unemployment Rate in Perspective
There are more than 2 billion people in the Generation Z age range globally. These individuals, born between 1997 and 2009, represent about 30% of the total global population—and it's predicted that by 2025, Gen Z will make up about 27% of the workforce.
Due to the global pandemic, unemployment has been on the rise across the board—but Gen Z has been hit the hardest. This chart, using data from the OECD, displays the difference between the unemployment rate for Gen Zers and the rate for older generations.
Note: The OECD defines the 'unemployed' as people of legal working age who don't have work, are available to work, and have taken steps to find a job. The final figure is the number of unemployed people as a share of the total labor force.
The Generation Gap: Gen Z Unemployment
Compared to their older working-age counterparts, Baby Boomers, Gen X, and Millennials (Gen Y)—the most recent 2020 data shows that Gen Z has an unemployment rate of nearly 2x more in almost every OECD country.
| Country | Unemployment Rate (Gen Z) | Unemployment Rate (Millennial, Gen X, Boomer) |
| --- | --- | --- |
| 🇦🇺 Australia | 14.3% | 5.0% |
| 🇦🇹 Austria | 10.5% | 4.7% |
| 🇧🇪 Belgium | 15.3% | 4.8% |
| 🇨🇦 Canada | 20.0% | 7.9% |
| 🇨🇱 Chile | 24.8% | 9.6% |
| 🇨🇴 Colombia | 27.5% | 13.9% |
| 🇨🇿 Czech Republic | 8.0% | 2.3% |
| 🇩🇰 Denmark | 11.5% | 4.7% |
| 🇪🇪 Estonia | 17.7% | 5.9% |
| 🇫🇮 Finland | 21.0% | 6.0% |
| 🇫🇷 France | 20.1% | 6.8% |
| 🇩🇪 Germany | 6.2% | 4.0% |
| 🇭🇺 Hungary | 12.4% | 3.5% |
| 🇮🇸 Iceland | 11.9% | 5.5% |
| 🇮🇪 Ireland | 15.2% | 4.4% |
| 🇮🇱 Israel | 7.9% | 3.7% |
| 🇮🇹 Italy | 29.1% | - |
| 🇯🇵 Japan | 4.5% | 2.6% |
| 🇰🇷 South Korea | 10.5% | 3.6% |
| 🇱🇻 Latvia | 14.8% | 7.7% |
| 🇱🇹 Lithuania | 19.5% | 7.7% |
| 🇱🇺 Luxembourg | 22.4% | 5.6% |
| 🇲🇽 Mexico | 8.0% | 3.8% |
| 🇳🇱 Netherlands | 9.1% | 2.8% |
| 🇳🇿 New Zealand | 12.4% | 3.3% |
| 🇵🇱 Poland | 10.9% | 2.6% |
| 🇵🇹 Portugal | 22.9% | 5.9% |
| 🇸🇰 Slovakia | 19.3% | 6.0% |
| 🇸🇮 Slovenia | 14.2% | 4.3% |
| 🇪🇸 Spain | 38.3% | 14.0% |
| 🇸🇪 Sweden | 23.8% | 6.4% |
| 🇨🇭 Switzerland | 8.6% | 4.3% |
| 🇬🇧 United Kingdom | 13.5% | 3.2% |
| 🇺🇸 United States | 15.1% | 7.1% |
Note: For the purposes of this article, we are only considering the Gen Zers of legal working age—those born 1997-2006. The rest—Baby Boomers, Gen X, and Millennials—are those born between 1946–1996.
The timing for the youngest working generation could not be worse. Gen Z is just beginning to graduate college and high school, and are beginning to search for work and careers.
Gen Z is also an age group that is overrepresented in service industries like restaurants and travel–industries that were equally hard hit by the pandemic. In the U.S., for example, around 25% of young people work in the hospitality and leisure sectors. Between February and May 2020 alone, employment in these sectors decreased by 41%.
Countries like Spain are facing some of the biggest headwinds among OECD countries. The country already has a high unemployment rate for those aged 25-74, at 14%. But the unemployment rate for Gen Z is more than double that, at over 38%.
Implications For the Future
While it may be true throughout history that this age group is often less employed than older cohorts, the share of labor held by those aged 15-24 dropped significantly in 2020.
Note: This chart represents the data from G7 countries.
In terms of their future employment prospects, some economists are anticipating what they call 'scarring'. Due to longer periods of unemployment, Gen Z will miss out on formative years gaining experience and training. This may impact them later in life, as their ability to climb the career ladder will be affected.
Starting out slower can also hit earnings. One study found that long periods of youth unemployment can reduce lifetime income by 2%. Finally, it is also postulated that with the current economic situation, Gen Zers may accept lower paying jobs setting them on a track of comparatively lower earnings over their lifetime.
Overall, there are many future implications associated with the current unemployment rate for Gen Zers. Often getting your foot in the door after college or high school is one of the hardest steps in starting a career. Once you're in, you gain knowledge, skills, and the oh-so-coveted experience needed to get ahead.
The Kids are Alright?
One positive for Gen Z is that they have been found to be more risk averse and financially conscious than other generations, and were so even prior to COVID-19. Many of them were children during the 2008 Recession and became very cautious as a result.
They are also the first digital generation— the first to grow up without any memory of a time before the internet. Additionally, they have been called the first global generation. This could mean that they pioneer location-independent careers, create innovative revenue streams, and find new ways to define work.
Explained: The 3 Major COVID-19 Variants
New variants of COVID-19 are spreading fast around the world. Here's a look at the 3 major ones and how they differ from one another.
Explained: The 3 Major COVID-19 Variants
As billions of people gear up for widespread vaccination against COVID-19, another issue has reared its head. Three major COVID-19 variants have emerged across the globe—and preliminary research suggests these variants may be cause for concern.
But what makes them different from the original strain?
The following visualizations answer some key questions, including when these variants were first discovered, how far they've spread worldwide, and most importantly, their potential impact on the population.
Some Context: What is a Variant?
Before diving in, it's important to understand why viruses mutate in the first place.
To infect someone, a virus takes over a host cell and uses it to replicate itself. But nature isn't perfect, and sometimes, mistakes are made during the replication process—those mistakes are called mutations.
A virus with one or more mutations is referred to as a variant. Most of the time, variants do not affect a virus's physical structure, and in those instances, they eventually disappear. However, there are certain cases when a mutation impacts part of a virus's genetic makeup that does change its behavior.
According to the U.S. Centers for Disease Control (CDC) a change in behavior can alter:
Rate of transmission
Deadliness
Ability to potentially infect someone with natural or vaccine-induced immunity
Preliminary research has detected some of these changes in the three major COVID-19 variants—B.1.1.7, B.1.351, and P.1.
The 3 Major COVID-19 Variants
The three major variants emerged at different times, and in different parts of the world. Here's an overview of each variant, when they were discovered, and how far they've spread so far.
B.1.1.7
The B.1.1.7 variant was detected in the UK in the fall of 2020. By December 2020, it had spread across the globe, with cases emerging across Europe, North America, and Asia.
Currently, the variant has been reported in roughly 94 countries.
Early research suggests it's 50% more transmissible than other variants, and potentially 35% more deadly than the standard virus. Luckily, studies suggest that some of the existing vaccines work well against it.
B.1.351
In October 2020, the second major variant was discovered—B.1.351. It was first identified in South Africa, but by end of the year, it had spread to the UK, Switzerland, Australia, and Japan.
There are approximately 48 countries with reported cases, and research suggests several of the existing COVID-19 vaccines may not be as effective against this variant.
P.1
The P.1 variant was the last to arrive on the scene.
It was first discovered in January 2021, when Japan reported four cases of the variant, which was found in travelers who had arrived from Brazil.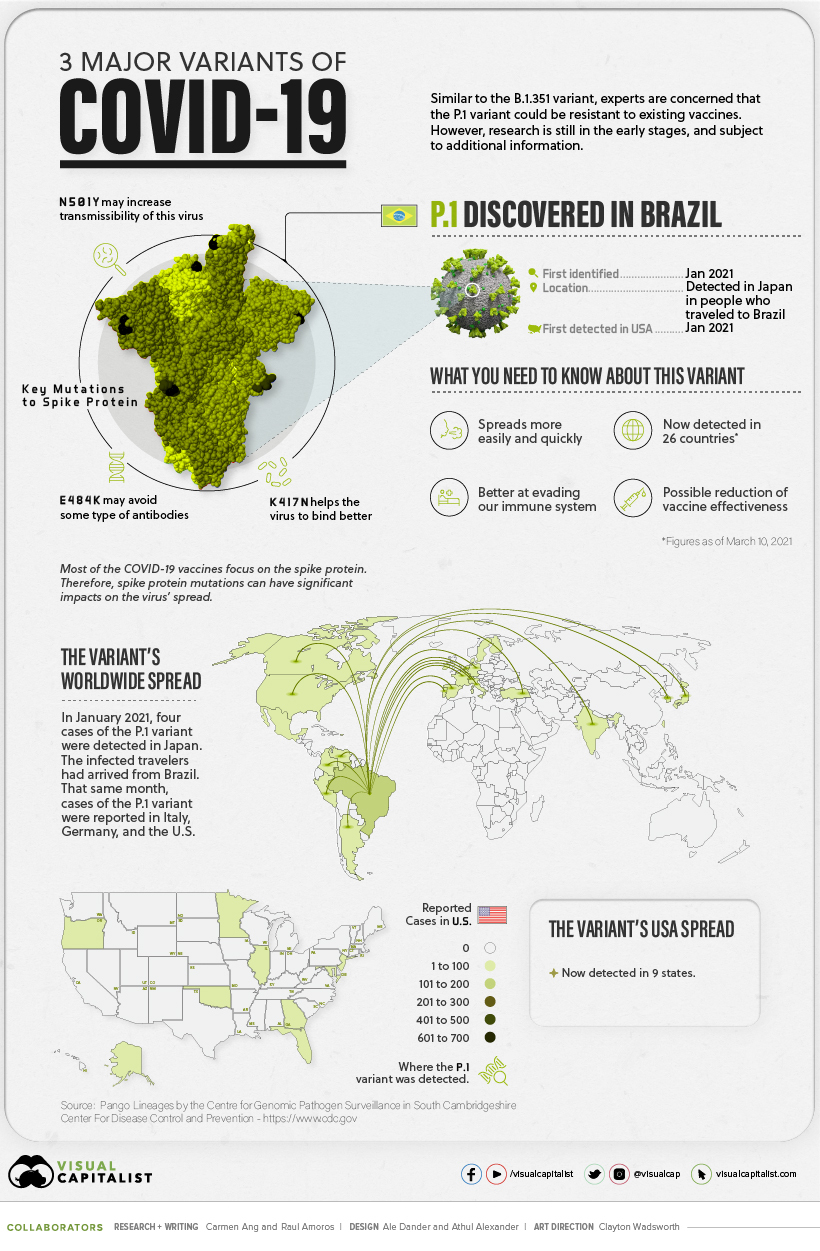 Approximately 25 countries have reported cases of the P.1 variant, and early research suggests this variant is not only more contagious, but could also have the ability to infect people with natural immunity who had already recovered from the original strain.
Still Early Days
While there have been preliminary studies showing a dip in vaccine effectiveness, some experts emphasize that it's too early to tell for certain. More data is needed to gain a deeper and more accurate understanding.
In the meantime, experts are emphasizing the importance of following our current public health strategies, which include physical distancing, vaccination, washing your hands, and using masks.