The Amazonification of Healthcare
The Amazonification of Healthcare
The digital age is no longer about just the product – it's equally about the customer experience.
In turn, businesses are competing on their ability to deliver quantifiable results to empowered consumers, who are:
Informed
Proactive
Demanding
Discerning
Cost-conscious
Naturally, empowered consumers have high expectations of the services and brands they choose to integrate into their lives – and Amazon's buying experience, which is ultra-fast, convenient, innovative, and driven by user reviews, is the perfect example of this trend in action.
This "Amazonification effect" is transforming every industry from retail to finance – and the healthcare industry is now set to change forever for both consumers and businesses.
Dreams of Amazonification
Today's infographic comes to us from Publicis Health, and it shows the shift occurring in the healthcare space to a new outcome-based economy that is powered by an increasingly digital and data-driven experience.
It's also led by the millennial generation, a group that is seeing buying power finally line up with their influence. These digital natives see no reason for the healthcare experience to be stuck in its old ways – they demand a fast, digital, convenient, and quantified version of healthcare along with ongoing relationships.
The ideal healthcare experience for this group looks something like this:
Convenient access
59% of U.S. healthcare consumers want their digital healthcare experience to mirror retail.
Digital channels
74% of millennial patients value the ability to book appointments and pay bills online.
Ongoing relationship
48% of healthcare consumers want to partner with their healthcare providers for personalized treatment.
Treating patients more like retail consumers will be a paradigm shift for healthcare – and it will require companies to invest in areas like big data to complete the patient experience.
An Ongoing Relationship
The patient-healthcare provider relationship is ever-changing.
As consumer demands grow, there is also an increased pressure on healthcare providers and pharma businesses to deliver. Patients no longer accept being told what they need, instead wanting to take more control of their health.
A more connected relationship with their healthcare provider can help achieve this goal. It's made up of four components:
Identify patient needs
Uncover evolving needs by employing self-reporting to understand patterns of change
Meet patient needs by enabling connected services for predictive interventions
Match real life experience to treatment decisions, by using data to get a 360-degree of the patient
This can lead not only to a better patient care experience, but also better outcomes.
The Supportive Care Trifecta
An effective supportive care platform simplifies the many moving pieces that must come together in the patient care process. It leverages the following trifecta:
1. Service design
Connects services and workflows for optimal end-to-end experience, while also giving patients with the resources to engage with their own healthcare.
2. Technology activation
Backbone for delivering patient care to each stakeholder that is supported by artificial intelligence (AI) technology for a seamless experience.
3. Data intelligence
Right dashboards contribute to unearth analytic insights, revealing unique patient stories for strategic, tailored treatment.
Connecting humans with health systems, a supportive care platform links all players and workflows involved. The result? Quantifiable outcomes, and a clear return on investment.
Adopting big data in healthcare can yield:
20%-30% in cost savings
35% rise in patient access
20% improvement in outcomes
30% growth in revenue
Why it Matters
The supportive care platform drives business value by aligning collective commitments of key players in the healthcare industry.

Stakeholder
Value
Outcomes
Patient
- Improved awareness
- Better engagement
- Personalized experience

- Increased survival rates
- Better quality of life

Healthcare providers
- Better delivery
- Improved efficiency
- Improved efficacy

- Reduced hospitalization rates
- More efficient, successful treatment
- Increased use of resources

Pharma
- Leading customer and patient insight
- Improved customer and patient credibility

- Improved adherence
- Detailed understanding of patients

The evolving needs of healthcare consumers call for building long-term relationships between patients and healthcare providers.
With the disruptive solution of an intelligence-powered care system, pharma companies can further these ongoing relationships and advance both patient and business outcomes.
This is part four of a seven part series. Stay tuned by subscribing to Visual Capitalist for free, as we go into these six forces in more detail in the future.
Charted: The Gen Z Unemployment Rate, Compared to Older Generations
COVID-19 has impacted everyone, but one generation is taking it harder than the others. This graphic reveals the Gen Z unemployment rate.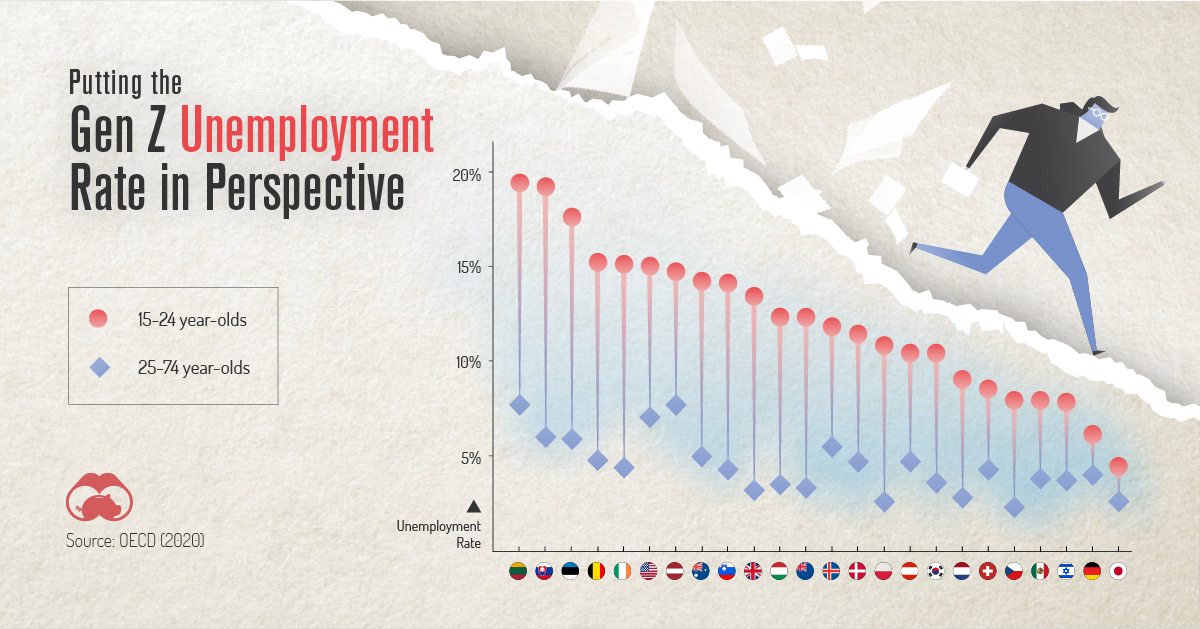 Putting the Gen Z Unemployment Rate in Perspective
There are more than 2 billion people in the Generation Z age range globally. These individuals, born between 1997 and 2009, represent about 30% of the total global population—and it's predicted that by 2025, Gen Z will make up about 27% of the workforce.
Due to the global pandemic, unemployment has been on the rise across the board—but Gen Z has been hit the hardest. This chart, using data from the OECD, displays the difference between the unemployment rate for Gen Zers and the rate for older generations.
Note: The OECD defines the 'unemployed' as people of legal working age who don't have work, are available to work, and have taken steps to find a job. The final figure is the number of unemployed people as a share of the total labor force.
The Generation Gap: Gen Z Unemployment
Compared to their older working-age counterparts, Baby Boomers, Gen X, and Millennials (Gen Y)—the most recent 2020 data shows that Gen Z has an unemployment rate of nearly 2x more in almost every OECD country.
| Country | Unemployment Rate (Gen Z) | Unemployment Rate (Millennial, Gen X, Boomer) |
| --- | --- | --- |
| 🇦🇺 Australia | 14.3% | 5.0% |
| 🇦🇹 Austria | 10.5% | 4.7% |
| 🇧🇪 Belgium | 15.3% | 4.8% |
| 🇨🇦 Canada | 20.0% | 7.9% |
| 🇨🇱 Chile | 24.8% | 9.6% |
| 🇨🇴 Colombia | 27.5% | 13.9% |
| 🇨🇿 Czech Republic | 8.0% | 2.3% |
| 🇩🇰 Denmark | 11.5% | 4.7% |
| 🇪🇪 Estonia | 17.7% | 5.9% |
| 🇫🇮 Finland | 21.0% | 6.0% |
| 🇫🇷 France | 20.1% | 6.8% |
| 🇩🇪 Germany | 6.2% | 4.0% |
| 🇭🇺 Hungary | 12.4% | 3.5% |
| 🇮🇸 Iceland | 11.9% | 5.5% |
| 🇮🇪 Ireland | 15.2% | 4.4% |
| 🇮🇱 Israel | 7.9% | 3.7% |
| 🇮🇹 Italy | 29.1% | - |
| 🇯🇵 Japan | 4.5% | 2.6% |
| 🇰🇷 South Korea | 10.5% | 3.6% |
| 🇱🇻 Latvia | 14.8% | 7.7% |
| 🇱🇹 Lithuania | 19.5% | 7.7% |
| 🇱🇺 Luxembourg | 22.4% | 5.6% |
| 🇲🇽 Mexico | 8.0% | 3.8% |
| 🇳🇱 Netherlands | 9.1% | 2.8% |
| 🇳🇿 New Zealand | 12.4% | 3.3% |
| 🇵🇱 Poland | 10.9% | 2.6% |
| 🇵🇹 Portugal | 22.9% | 5.9% |
| 🇸🇰 Slovakia | 19.3% | 6.0% |
| 🇸🇮 Slovenia | 14.2% | 4.3% |
| 🇪🇸 Spain | 38.3% | 14.0% |
| 🇸🇪 Sweden | 23.8% | 6.4% |
| 🇨🇭 Switzerland | 8.6% | 4.3% |
| 🇬🇧 United Kingdom | 13.5% | 3.2% |
| 🇺🇸 United States | 15.1% | 7.1% |
Note: For the purposes of this article, we are only considering the Gen Zers of legal working age—those born 1997-2006. The rest—Baby Boomers, Gen X, and Millennials—are those born between 1946–1996.
The timing for the youngest working generation could not be worse. Gen Z is just beginning to graduate college and high school, and are beginning to search for work and careers.
Gen Z is also an age group that is overrepresented in service industries like restaurants and travel–industries that were equally hard hit by the pandemic. In the U.S., for example, around 25% of young people work in the hospitality and leisure sectors. Between February and May 2020 alone, employment in these sectors decreased by 41%.
Countries like Spain are facing some of the biggest headwinds among OECD countries. The country already has a high unemployment rate for those aged 25-74, at 14%. But the unemployment rate for Gen Z is more than double that, at over 38%.
Implications For the Future
While it may be true throughout history that this age group is often less employed than older cohorts, the share of labor held by those aged 15-24 dropped significantly in 2020.
Note: This chart represents the data from G7 countries.
In terms of their future employment prospects, some economists are anticipating what they call 'scarring'. Due to longer periods of unemployment, Gen Z will miss out on formative years gaining experience and training. This may impact them later in life, as their ability to climb the career ladder will be affected.
Starting out slower can also hit earnings. One study found that long periods of youth unemployment can reduce lifetime income by 2%. Finally, it is also postulated that with the current economic situation, Gen Zers may accept lower paying jobs setting them on a track of comparatively lower earnings over their lifetime.
Overall, there are many future implications associated with the current unemployment rate for Gen Zers. Often getting your foot in the door after college or high school is one of the hardest steps in starting a career. Once you're in, you gain knowledge, skills, and the oh-so-coveted experience needed to get ahead.
The Kids are Alright?
One positive for Gen Z is that they have been found to be more risk averse and financially conscious than other generations, and were so even prior to COVID-19. Many of them were children during the 2008 Recession and became very cautious as a result.
They are also the first digital generation— the first to grow up without any memory of a time before the internet. Additionally, they have been called the first global generation. This could mean that they pioneer location-independent careers, create innovative revenue streams, and find new ways to define work.
Explained: The 3 Major COVID-19 Variants
New variants of COVID-19 are spreading fast around the world. Here's a look at the 3 major ones and how they differ from one another.
Explained: The 3 Major COVID-19 Variants
As billions of people gear up for widespread vaccination against COVID-19, another issue has reared its head. Three major COVID-19 variants have emerged across the globe—and preliminary research suggests these variants may be cause for concern.
But what makes them different from the original strain?
The following visualizations answer some key questions, including when these variants were first discovered, how far they've spread worldwide, and most importantly, their potential impact on the population.
Some Context: What is a Variant?
Before diving in, it's important to understand why viruses mutate in the first place.
To infect someone, a virus takes over a host cell and uses it to replicate itself. But nature isn't perfect, and sometimes, mistakes are made during the replication process—those mistakes are called mutations.
A virus with one or more mutations is referred to as a variant. Most of the time, variants do not affect a virus's physical structure, and in those instances, they eventually disappear. However, there are certain cases when a mutation impacts part of a virus's genetic makeup that does change its behavior.
According to the U.S. Centers for Disease Control (CDC) a change in behavior can alter:
Rate of transmission
Deadliness
Ability to potentially infect someone with natural or vaccine-induced immunity
Preliminary research has detected some of these changes in the three major COVID-19 variants—B.1.1.7, B.1.351, and P.1.
The 3 Major COVID-19 Variants
The three major variants emerged at different times, and in different parts of the world. Here's an overview of each variant, when they were discovered, and how far they've spread so far.
B.1.1.7
The B.1.1.7 variant was detected in the UK in the fall of 2020. By December 2020, it had spread across the globe, with cases emerging across Europe, North America, and Asia.
Currently, the variant has been reported in roughly 94 countries.
Early research suggests it's 50% more transmissible than other variants, and potentially 35% more deadly than the standard virus. Luckily, studies suggest that some of the existing vaccines work well against it.
B.1.351
In October 2020, the second major variant was discovered—B.1.351. It was first identified in South Africa, but by end of the year, it had spread to the UK, Switzerland, Australia, and Japan.
There are approximately 48 countries with reported cases, and research suggests several of the existing COVID-19 vaccines may not be as effective against this variant.
P.1
The P.1 variant was the last to arrive on the scene.
It was first discovered in January 2021, when Japan reported four cases of the variant, which was found in travelers who had arrived from Brazil.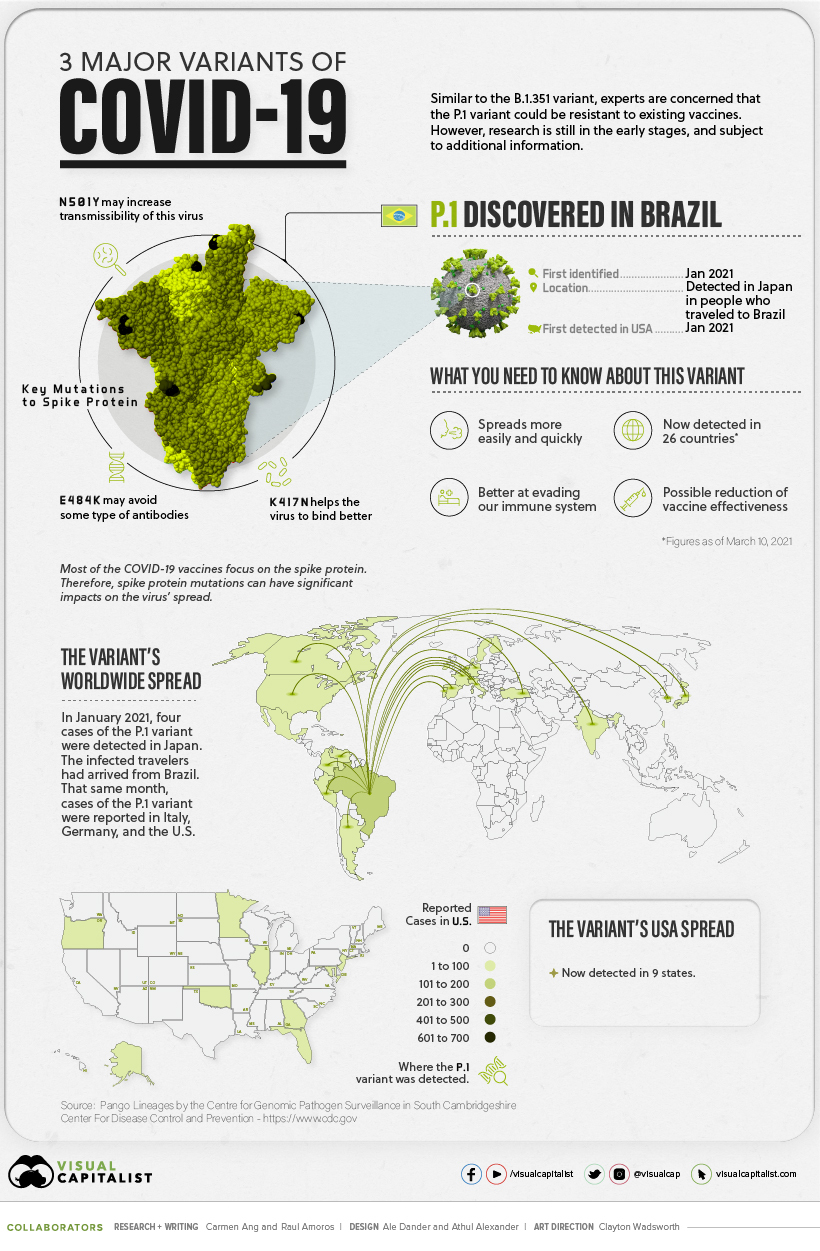 Approximately 25 countries have reported cases of the P.1 variant, and early research suggests this variant is not only more contagious, but could also have the ability to infect people with natural immunity who had already recovered from the original strain.
Still Early Days
While there have been preliminary studies showing a dip in vaccine effectiveness, some experts emphasize that it's too early to tell for certain. More data is needed to gain a deeper and more accurate understanding.
In the meantime, experts are emphasizing the importance of following our current public health strategies, which include physical distancing, vaccination, washing your hands, and using masks.