Our Impact on Climate Change and Global Land Use in 5 Charts
Our Impact on Climate Change and Land Use in 5 Charts
As the world population approaches the eight billion mark, it's becoming clear that we're impacting the planet in unprecedented ways.
Humans have made such dramatic changes to Earth's systems, from climate to geology, that many are suggesting we've entered into a new epoch – the Anthropocene.
To better understand the challenges of this era of wide-sweeping human impact on the planet, the Intergovernmental Panel on Climate Change (IPCC) has produced a massive report covering land use and climate change.
According to the IPCC, the situation is looking more dire by the year. Below are a few of the key insights buried within the 1,400+ pages of the massive report.
Shifting Global Land Use
The scale of land use and loss of biodiversity are unprecedented in human history.
According to the report, roughly two-thirds of the world's ice-free land is now devoted to human uses. Ecosystems, both forested and unforested, only account for about 16% of land today. Part of the reason for this dwindling supply of natural habitat is the rapid increase of agricultural activity around the world.
Since the dawn of the 20th century, global land use has shifted dramatically:
Not only has land use changed, but so has farming itself. In many parts of the world, increased yields will primarily come from existing agricultural land. For example, wheat yields are projected to increase 11% by the year 2026, despite the growing area only increasing by 1.8%. Rice production exhibits a similar trend, with 93% of the projected increase expected to come from increased yields rather than from area expansion. In some cases, intensive farming practices can degrade soil more than 100x faster than the time it takes for new soil to form, leaving fertilizers to pick up the slack.
One of the most dramatic changes highlighted in the report is the nearly eight-fold increase in the use of nitrogen-based fertilizers since the early 1960s. These types of fertilizers are having serious downstream effects on aquatic ecosystems, in some cases creating "dead zones" such as the one in the Gulf of Mexico.
In addition to the negative impacts outlined above, the simple act of feeding ourselves also accounts for one-third of our global greenhouse gas footprint.
Things are Heating Up
The past half-decade is likely to become the warmest five-year stretch in recorded history, underscoring the rapid pace of climate change. On a global scale, even a small increase in temperature can have a big impact on climate and our ecosystems.
For example, air can hold approximately 7% more moisture for every 1ºC increase, leading to an uptick in extreme rainfall events. These events can trigger landslides, increase the rate of soil erosion, and damage crops – just one example of how climate change can cause a chain reaction.
For the billions of people who live in "drylands", climate change is serving up a completely different scenario:
"Heatwaves are projected to increase in frequency, intensity and duration in most parts of the world and drought frequency and intensity is projected to increase in some regions that are already drought prone."
— IPCC report on Climate Change and Land, 2019
This is particularly worrisome as 90% of people in these arid or semiarid regions live in developing economies that are still very reliant on agriculture.
In addition to water scarcity, the IPCC has identified a number of other categories, including soil erosion and permafrost degradation. In all seven categories, our current global temperature puts us firmly in the moderate to high risk zone. These risks predict events with widespread societal impact, such as regional "food shocks" and millions of additional people exposed to wildfires.
This IPCC report makes one thing clear. In addition to tackling emissions in our cities and transportation networks, we'll need to substantially change the way we use our land and rethink our entire agricultural system if we're serious about mitigating the impact of climate change.
MegaMilk: Charting Consolidation in the U.S. Dairy Industry
This graphic charts the American dairy industry's shift in milk production from small commercial farms to fewer, larger farms.
MegaMilk: Charting the Consolidation of the Dairy Industry
Today's dairy industry looks very different to how it did just 30 years ago.
Milk production in the U.S. has increased by a whopping 50% over that time frame—yet, the total number of dairy farms has dropped by three-quarters.
Fewer and larger farms now have the lion's share of all U.S milk cow inventory. While they have the ability to produce more competitively priced dairy products and provide more value to consumers, it is causing financial devastation for small farmers.
The graphic above uses data from the USDA to chart the rapid consolidation of the American dairy industry between 1992 and 2017.
The End of the Small Dairy Farmer?
In the U.S., the dairy industry is one of the fastest consolidating industries in comparison to almost all other agricultural sectors.
Between 1992 and 2017, small commercial farms with 10-99 cows saw an average decline of 70%. These farms accounted for 48.5% share of all U.S. milk cows in 1992. In 2017, that number stood at just 12.2%.
Over time, small farm production has been replaced by that of bigger and more consolidated "megafarms"—a move that can be attributed to the many benefits that scale brings, such as lower costs of production and the potential to compete in the international market.
Share of U.S. milk cow inventory (by year)
Herd size
1992
1997
2002
2007
2012
2017
1-9 milk cows
0.9%
0.7%
0.6%
0.4%
0.4%
0.4%
10-49 milk cows
19.5%
13.8%
9.2%
6.8%
5.9%
3.6%
50-99 milk cows
29%
24.5%
19.1%
13.8%
11.1%
8.6%
100-199 milk cows
19%
18%
15.4%
12.8%
10.6%
9.4%
200-499 milk cows
13.7%
15.3%
14.7%
13.8%
12%
12%
500-999 milk cows
8%
10.2%
12.2%
12.5%
11.3%
10.7%
>999 milk cows
9.9%
17.5%
28.8%
39.9%
48.7%
55.2%
Total
100%
100%
100%
100%
100%
100%
The Need For a Survival Strategy
While small dairy farmers simply cannot keep up with larger farms encroaching on their turf, they also have fluctuations in dairy prices to contend with. Milk prices fell in 2018, narrowing the gap between milk prices and feed costs so much that another wave of farm closures ensued.
To make matters worse, many small dairy farmers are close to retirement age, and according to the USDA, exits are more likely if the farm operator is 60 or older.
Despite the hardship facing small dairy farmers, analysts suggest that consumer backlash against large-scale production could present opportunities for small dairy farmers to create premium artisanal products. However, such initiatives would be entirely dependent on the state of the economy and where consumer's values lie.
The Wider Implications
With milk production shifting to larger farms, a range of both direct and indirect impacts are being felt across the country.
For example, milk production is now predominantly focused in fewer states such as California and Wisconsin, which together accounted for almost 33% of all U.S. milk production in 2018.
In larger farms, the herds are typically confined to tight spaces— rather than grazing in pastures—making animal welfare an issue for many of these farms. Concern over waste contamination and air pollution also brings the environmental sustainability of larger farms into question as they come under more pressure to reduce their impact on the planet.
Changing Tastes
Looking beyond the production of milk, changing consumer preferences could result in the most transformative effects on both large and small scale dairy farmers.
While rising populations are increasing the demand for dairy, per capita milk consumption declined by 24% between 2000 and 2017 in the United States. Consequently, the largest dairy producer in the country, Dean Foods, filed for bankruptcy in 2019, followed by another major milk producer, Borden Dairy, just two months later.
Experts claim that changing consumer preferences, along with competition from other beverage categories, are responsible for 90% of the total dairy decline.
No Country for Old Farms
The confluence of changing economics and an aging population of farmers has brought the U.S. dairy farming industry to a tipping point, and the near future is likely to bring a fresh wave of dairy farm closures.
I don't see anything that would give them hope at this point. The best advice I can give to these folks, dairy farmers, is to sell out as fast as you can.
– Joe Schroeder, Farm Aid
As smaller farms continue to disappear from America's rural landscape, the impacts of consolidation will not only affect dairy farmers, but entire rural communities too.

Mapped: The Anatomy of Land Use in America
The U.S. covers an immense 3.8 million square miles—what is all this land currently used for, and what does that mean for the future?
Mapped: The Anatomy of Land Use in America
The United States is not just an economic and political giant on the global stage—the country also has one of the largest land masses at its disposal.
Altogether, the country spans 3.8 million square miles (9.8 million km²)—making it the third largest country in the world. Even without factoring Alaska and Hawaii into the calculations, the contiguous U.S. land mass can fit up to 30 European countries within it.
With this much ground to work with, it raises the natural question of how land actually gets used by America's economy. For example, what percentage of land is taken up by urban areas, and how much farmland and forests exist in comparison?
Today's maps from the McHarg Center put America's wide variety of land uses into perspective.
The Components of U.S. Land Use
As the U.S. prepares to add 100 million more people this century, the "2100 Project: An Atlas for the Green New Deal" provides a snapshot of U.S. land use (as of 2017), aimed at managing resources to support this future.
According to this data, here is a snapshot of land use in the Lower 48 States:

| Land type | Land use (%) | Land area |
| --- | --- | --- |
| Forests | 27% | 842,400 mi² |
| Shrubland | 24% | 748,800 mi² |
| Agriculture | 17% | 530,400 mi² |
| Grasslands and Pasture | 17% | 530,400 mi² |
| Wetlands | 5% | 156,000 mi² |
| Other | 5% | 156,000 mi² |
| Open Space | 3% | 93,600 mi² |
| Urban Areas | 2% | 63,400 mi² |
| Total | 100% | 3,120,000 mi² |
Let's dive into the specifics of three types of land: urban areas, forests, and agriculture.
Editor's note: click on any map below to see a large, high-resolution version, which will open in a new window.
Small But Mighty: U.S. Urban Areas
It's clear that even a little space goes a long way. Although urban areas take up only 2% of land, an overwhelming majority of Americans call cities their home. As of 2018, urbanites made up over 82% of the U.S. population.
Where people go, productivity often follows. In 2018, it's estimated that 31 county economies made up a whopping 32% of national GDP. Most of these counties were located in and around major cities, such as Los Angeles or New York.
Although urban areas are a small part of the overall land they're built on, they're integral to the nation's continued growth. According to research by the McKinsey Global Institute, it's estimated that by 2030, 60% of job growth could come from just 25 hubs.
Seeing Green: America's Vast Forests
On the flipside, forests account for over a quarter of land in the U.S., divided almost evenly between deciduous and evergreen trees. Many protected national and state parks can also be found in and around forests.
On the mainland, California and Oregon are the states with the most forested land—unfortunately, they have also been plagued by wildfires in recent, dry summer months.
Wetlands are also included in the map above, particularly around the southern tip of Florida, where Everglades National Park is located. Over the years, many wetlands were drained to make way for agriculture, particularly in the Great Lakes megaregion. As a result, it's estimated that their area today is only half of what they once used to be.
Home Grown: Agriculture in the U.S.
Last but not least, the final set of maps show where America grows its food. Agricultural, food, and related industries contributed $1.05 trillion (5.4%) to U.S. GDP in 2017.
Wheat, corn, and soybeans are the major crops grown in the U.S.—and cotton also makes the cut as a profitable non-food crop. Much of these crops feed not only Americans, but other parts of the world too. Soybeans, corn, and wheat are exported across the Pacific mainly to China and Japan.
Corn, in particular, is a unique crop with a myriad of uses, from food to fuels. Up to 40% of U.S. corn is turned into livestock feed, with cows consuming over half (56%) of this amount.
At present, the U.S. is the world's largest beef producer, followed by Brazil. In fact, beef production takes up 40% of total livestock-related land use domestically.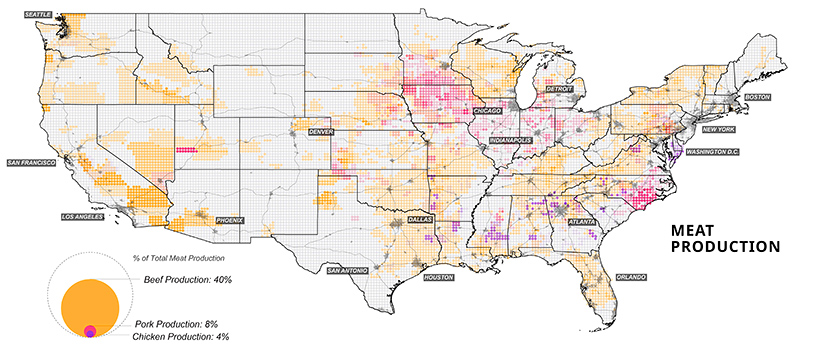 Although fewer American consumers are opting for meat in their diets, production has remained at high rates. Further, as incomes continues to increase worldwide, the global appetite for meat is set to rise along with it.
Future Land Use
The U.S. population is set to grow by 100 million more people over the coming decades, raising the pressure on limited U.S. land and natural resources. This pressure will be felt everywhere, from dense urban land to agricultural farmland.
How the land gets utilized will shape the country's future for years to come.