Cocoa: A Bittersweet Supply Chain
Click to view a larger version of this infographic
Cocoa: A Bittersweet Supply Chain
From bean to bar, the cocoa supply chain is a bittersweet one. While the end product is something most of us enjoy, this also comes with a human cost.
Based on how much cocoa comes from West Africa, it's likely that most of the chocolates we eat have a little bit of Cote d'Ivoire and Ghana in them. The $130B chocolate industry relies on cocoa farming for supply of chocolate's key ingredient. Yet, many cocoa farmers make less than $1/day.
The above graphic maps the major trade flows of cocoa and allows us to dive deeper into its global supply chain.
From Bean to Bar: Stages in the Cocoa Supply Chain
Cocoa beans go through a number of stages before being used in chocolate products.
Harvesting, Fermenting, and Drying
First, farmers harvest cocoa beans from pods on cacao plants. Next, they are fermented in heaps and covered with banana leaves. Farmers then dry and package the cocoa beans for domestic transportation.
Domestic Transportation, Cleaning, and Exporting
Domestic transporters carry packaged cocoa beans to either cleaning warehouses or processing factories. Cocoa beans are cleaned and prepared for exports to the chocolate production hubs of the world.
Processing and Chocolate Production
Processing companies winnow, roast, and grind cocoa beans and then convert them into cocoa liquor, cocoa butter, or cocoa cakes—which are mixed with other ingredients like sugar and milk to produce chocolate products.
Cocoa farming and trade are at the roots of the chocolate industry, and the consistent supply of cocoa plays a critical role in providing us with reasonably-priced chocolate.
So where exactly does all this cocoa come from?
The Key Nations in Cocoa's Global Supply Chain
Growing cocoa has specific temperature, water, and humidity requirements. As a result, the equatorial regions of Africa, Central and South America, and Asia are optimal for cocoa farming.
These regions host the biggest cocoa exporters by value.
| Rank (2019) | Exporting Country | Value (US$, millions) |
| --- | --- | --- |
| 1 | Côte d'Ivoire 🇨🇮 | $3,575 |
| 2 | Ghana 🇬🇭 | $1,851 |
| 3 | Cameroon 🇨🇲 | $680 |
| 4 | Ecuador 🇪🇨 | $657 |
| 5 | Belgium 🇧🇪 | $526 |
Côte d'Ivoire and Ghana are responsible for 70% of global cocoa production, and cocoa exports play a huge role in their economies. Although the majority of exporters come from equatorial regions, Belgium stands out in fifth place.
On the other hand, most of the top importers are in Europe—the Netherlands and Germany being the top two.
| Rank (2019) | Importing Country | Value (US$, millions) |
| --- | --- | --- |
| 1 | Netherlands 🇳🇱 | $2,283 |
| 2 | Germany 🇩🇪 | $1,182 |
| 3 | U.S. 🇺🇸 | $931 |
| 4 | Malaysia 🇲🇾 | $826 |
| 5 | Belgium 🇧🇪 | $719 |
In third place, the U.S. primarily sources its cocoa from Côte d'Ivoire, Ghana, and Ecuador. Mars, Hershey, Cargill, and Blommer—some of the world's biggest chocolate manufacturers and processors—are headquartered in the U.S.
Finally, it comes as no surprise that the biggest importers of cocoa beans are among the biggest chocolate exporters.
Rank (2019)
Country
Value of Chocolate Exports
(US$, millions)
1
Germany 🇩🇪
$4,924
2
Belgium 🇧🇪
$3,143
3
Italy 🇮🇹
$2,100
4
Netherlands 🇳🇱
$1,992
5
Poland 🇵🇱
$1,834
Not only is the Netherlands the biggest importer of beans, but it's also the biggest processor—grinding 600,000 tons annually—and the fourth largest exporter of chocolate products.
Belgium is another key nation in the supply chain, importing cocoa beans from producing countries and exporting them across Europe. It's also home to the world's largest chocolate factory, supporting its annual chocolate exports worth $3.1 billion.
Breaking Down the Cocoa Supply Chain: Who Gets What
Without farmers, both the cocoa and chocolate industries are likely to suffer from shortages, with domino effects on higher overall costs. Yet, they have little ability to influence prices at present.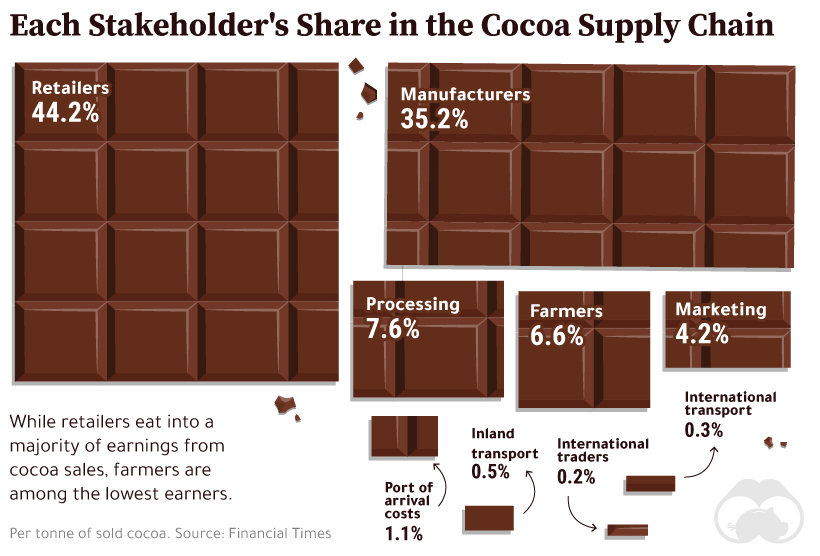 Farmers are among the lowest earners from a tonne of sold cocoa—accounting for just 6.6% of the value of the final sale.
Low incomes also translate into numerous other issues associated with cocoa farming.
The Bitter Side of Cocoa Farming
The World Bank has established the threshold for extreme poverty at $1.90/day. Cocoa farmers in Ghana make $1/day, while those in Côte d'Ivoire make around $0.78/day—both significantly below the extreme poverty line.
Farmers are often unable to bear the costs of cocoa farming as a result of low incomes. In turn, they employ children, who miss out on education, are exposed to hazardous working conditions, and get paid little or no wages.
| Country | Cocoa Farmers Making $1/day or less | Children in Cocoa Agriculture |
| --- | --- | --- |
| Côte d'Ivoire 🇨🇮 | 600,000 | 891,500 |
| Ghana 🇬🇭 | 800,000 | 708,400 |
To make matters worse, cocoa farming is primarily responsible for deforestation and illegal farming in Côte d'Ivoire and Ghana—adding environmental issues to the mix.
These interconnected problems call for action, so what is being done to fight them?
Combating Cocoa's Concerns
Mars, Nestlé, and Hershey—some of the world's biggest chocolate manufacturers—have made several pledges to eradicate child labor in cocoa farming over the last two decades, but haven't reached their targets.
In addition, organizations such as UTZ Certified, Rainforest Alliance, and Fairtrade are working to increase traceability in the supply chain by selling 'certified cocoa', sourced from farms that prohibit child labor.
More recently, Côte d'Ivoire and Ghana announced a fixed premium of US$400/tonne on cocoa futures, aiming to improve farmer livelihoods by creating a union for cocoa, also known colloquially as the "COPEC" for the industry.
While these initiatives have had some positive impacts, more still needs to be done to successfully eradicate large-scale child labor and poverty of those involved in cocoa's bittersweet supply chain.
Mapped: Food Production Around the World
Where does your favorite food come from? Here's an interactive look at global food production.

Creator Program
Mapping the World's Food Production
In a world of nearly 8 billion people, food security is one of the greatest challenges we face.
Roughly 700 million people suffer from hunger every day, lacking access to staple foods like maize, rice, and wheat. While many people often take the availability of food for granted, it's worth taking a moment to identify and acknowledge where the food we consume comes from.
From staple crops to exotic fruit, this interactive map from Our World in Data shows global food production using data from the United Nations Food and Agriculture Organization (FAO).
A Closer Look at Staple Food Production
Which countries produce the foods that we eat every day? Here's a look at the top producers of three of the world's most important staple foods.
Maize (Corn)
Corn or maize is the most widely-grown crop in the Americas, with uses in various industries. While the crop is native to Central America, it is grown in all parts of the world.
| Country | 2019 Production (million tonnes) | % of Global Production |
| --- | --- | --- |
| U.S. 🇺🇸 | 347.0 | 30.2% |
| China 🇨🇳 | 260.8 | 22.7% |
| Brazil 🇧🇷 | 101.1 | 8.8% |
| Argentina 🇦🇷 | 56.9 | 4.9% |
| Ukraine 🇺🇦 | 35.9 | 3.1% |
The U.S. is by far the largest corn producer and exporter, with large amounts of corn coming from the states of Iowa, Illinois, and Nebraska. Over 90 million acres of land is used to grow corn, an area nearly the size of Montana.
The U.S. is also the largest consumer of corn, followed by China, the second-largest producer and consumer.
Wheat
First domesticated in the Middle East, wheat is a versatile crop that grows well in temperate climates. Wheat is usually milled into flour, which is then used to make bread, pasta noodles, biscuits, and other common foods.
| Country | 2019 Production (million tonnes) | % of Global Production |
| --- | --- | --- |
| China 🇨🇳 | 133.6 | 17.4% |
| India 🇮🇳 | 103.6 | 13.5% |
| Russia 🇷🇺 | 74.5 | 9.7% |
| U.S. 🇺🇸 | 52.3 | 6.8% |
| France 🇫🇷 | 40.6 | 5.3% |
China and India combined for nearly 31% of global wheat production in 2019, with Russia, the U.S., and France producing smaller but significant amounts of the crop.
Rice
Chinese hunter-gatherers first cultivated rice 9,400 years ago along the banks of the Yangtze River. It's now the third most-produced crop in the world and a staple food for over 3.5 billion people, primarily in Asia.
| Country | 2019 Production (million tonnes) | % of Global Production |
| --- | --- | --- |
| China 🇨🇳 | 209.6 | 27.7% |
| India 🇮🇳 | 177.7 | 23.5% |
| Indonesia 🇮🇩 | 54.6 | 7.2% |
| Bangladesh 🇧🇩 | 54.6 | 7.2% |
| Vietnam 🇻🇳 | 43.5 | 5.8% |
It's no surprise that the countries with the biggest populations are the top producers of rice. Furthermore, 9 of the top 10 rice producers are in Asia, which is a testament to how important it is for people living in the region.
While maize, wheat, and rice are important staple foods, our diets are shaped by various factors, including geography and culture. Explore the origins of the foods you like using the above interactive visualization.
How to Use the Interactive
For an overview of food production for a particular crop, select the crop using the "Food" drop-down menu, and the map will update automatically. Countries with darker shades of green produce more of the crop, and vice versa. You can hover over countries to see more in-depth production statistics.
To zoom into a specific continent, use the drop-down menu on the right where "World" is selected, and select a region of your choice.
For a historical overview of food production, click the play icon on the bottom left corner of the map, and you'll see how the biggest producers of a crop changed over time.
By clicking the "Chart" button on the bottom left, and selecting the country (or countries) of your choice, you can see production trends over time. You can also look at the data in a tabular format by clicking on the "Table" button.
The World's Top Coffee Producing Countries
Coffee is the third most consumed beverage globally. Here we visualize the countries that have the highest coffee production in the world.
The World's Top Coffee Producing Countries
In many cities around the world, there's a café on every corner, so it comes as no surprise that coffee is one of the globes' top commodities. As the third most consumed beverage globally, after water and tea, coffee beans are in high demand almost everywhere.
The top producing nations each produce billions of kilograms of coffee beans that find their way into the hands of eager consumers. According to the International Coffee Organization, a total of 169.6 million 60-kilogram bags of coffee were produced worldwide in 2020.
So, why does the world universally love coffee so much?
For The Love of Coffee
As most coffee lovers would tell you, drinking coffee is a complex and nuanced experience—there's the rich aroma, the comforting warmth, and the loveliness of the ritual of sitting down with a fresh cup.
With the variety of ways it can be served and the jolt of caffeine it provides us, it's not hard to see why the world loves its coffee. In fact, we love the beverage so much that humans have conditioned themselves to associate the bitter taste of coffee with a bout of energy and positive reinforcement.
So, where does the journey of each cup of joe originate? Let's get to know the world's top coffee producing countries.
The World's Coffee Production Leaders
At the end of 2020, the top 10 biggest coffee-producing nations held 87% of the commodity's market share.
Here is a list of the top 20 largest coffee-producing nations in the world:
Rank
Country
Production in 2020
(Million 60-kg Bags)
Total Market Share
1
🇧🇷 Brazil
63.4
37.4%
2
🇻🇳 Vietnam
29.0
17.1%
3
🇨🇴 Colombia
14.3
8.4%
4
🇮🇩 Indonesia
12.0
7.1%
5
🇪🇹 Ethiopia
7.3
4.3%
6
🇭🇳 Honduras
6.1
3.6%
7
🇮🇳 India
5.7
3.4%
8
🇺🇬 Uganda
5.6
3.3%
9
🇲🇽 Mexico
4.0
2.4%
10
🇵🇪 Peru
3.8
2.2%
11
🇬🇹 Guatemala
3.7
2.2%
12
🇳🇮 Nicaragua
2.7
1.6%
13
🇨🇮 Côte d'Ivoire
1.8
1.1%
14
🇨🇷 Costa Rica
1.5
0.9%
15
🇹🇿 Tanzania
0.9
0.5%
16
🇰🇪 Kenya
0.7
0.4%
17
🇵🇬 Papua New Guinea
0.7
0.4%
18
🇱🇦 Laos
0.6
0.4%
19
🇸🇻 El Salvador
0.6
0.4%
20
🇹🇭 Thailand
0.6
0.4%
While some of the world's top coffee-producing nations are well known, others may come as a surprise. More than 70 countries produce coffee, but the majority of global output comes from just the top five producers: Brazil, Vietnam, Colombia, Indonesia, and Ethiopia.
Meet the Top Coffee Producing Countries
1. Brazil
Brazil is a true powerhouse of coffee production. The country single-highhandedly produces nearly 40% of the world's coffee supply.
Many areas in Brazil have a climate perfectly conducive to coffee farming. Coffee plantations cover about 27,000 square kilometers of Brazil, with the majority located in Minas Gerais, São Paulo, and Parana.
Brazil distinguishes itself from most other coffee-producing nations by drying the coffee cherries in the sun (unwashed coffee) rather than washing them.
The country is so influential to coffee production that the 60-kilogram burlap bags historically used to export beans from Brazil are still the worldwide standard for measuring production and trade.
2. Vietnam
Vietnam found a niche in the international market by focusing primarily on the less-expensive Robusta bean. Robusta beans can have up to twice as much caffeine as Arabica beans, giving the coffee a more bitter taste.
Though coffee has been grown in the region for well over a century, production skyrocketed through the 1990s after Vietnam's communist government introduced economic reforms (known as Đổi Mới).
Today, Vietnam accounts for more than 40% of the world's Robusta bean production.
Coffee cultivation in Vietnam is also extremely productive. The country's coffee yields are considerably higher than other top coffee-producing countries.
3. Colombia
A popular advertising campaign featuring a fictional coffee farmer named Juan Valdez helped brand Colombia as one of the most famous coffee-producing nations. A coveted drink of choice, Colombian coffee is prized for its aromatic, mild, and fruity flavors.
4. Indonesia
Some of the rarest coffees in the Western world originate in Indonesia, including Kopi Luwak—a type of bean that has been eaten and defecated by the Asian palm civet. Coffee made from these coffee beans might cost you anywhere between $35 to $100 per cup.
5. Ethiopia
Known for its full-flavored, down-to-earth, and full-bodied coffee beans, Ethiopia is the country that gave us the Arabica coffee plant. Today this type of coffee is considered to be the most widely sold in cafes and restaurants across the world.
All of these top producing countries are found in the so-called "Bean Belt", which is located between the Tropic of Cancer and the Tropic of Capricorn.
The Future of Coffee Production
With global temperatures on the rise, good coffee may become increasingly challenging to grow. To future-proof good and continued growth of coffee beans, finding newer and hybrid blends of coffee beans is essential.
Several studies and research missions have found wild species of coffee growing off the coast of Côte d'Ivoire and in certain regions of Sierra Leone, which could be the answer to our coffee production problems. Coffee from these coffee plants tasted similar to the famous Arabica bean and also grew at higher temperatures.
Though the future of coffee production around the world is somewhat uncertain, our collective love of the morning cup of coffee will drive innovative solutions, even in the face of changing climate patterns.