Cocoa: A Bittersweet Supply Chain
Click to view a larger version of this infographic
Cocoa: A Bittersweet Supply Chain
From bean to bar, the cocoa supply chain is a bittersweet one. While the end product is something most of us enjoy, this also comes with a human cost.
Based on how much cocoa comes from West Africa, it's likely that most of the chocolates we eat have a little bit of Cote d'Ivoire and Ghana in them. The $130B chocolate industry relies on cocoa farming for supply of chocolate's key ingredient. Yet, many cocoa farmers make less than $1/day.
The above graphic maps the major trade flows of cocoa and allows us to dive deeper into its global supply chain.
From Bean to Bar: Stages in the Cocoa Supply Chain
Cocoa beans go through a number of stages before being used in chocolate products.
Harvesting, Fermenting, and Drying
First, farmers harvest cocoa beans from pods on cacao plants. Next, they are fermented in heaps and covered with banana leaves. Farmers then dry and package the cocoa beans for domestic transportation.
Domestic Transportation, Cleaning, and Exporting
Domestic transporters carry packaged cocoa beans to either cleaning warehouses or processing factories. Cocoa beans are cleaned and prepared for exports to the chocolate production hubs of the world.
Processing and Chocolate Production
Processing companies winnow, roast, and grind cocoa beans and then convert them into cocoa liquor, cocoa butter, or cocoa cakes—which are mixed with other ingredients like sugar and milk to produce chocolate products.
Cocoa farming and trade are at the roots of the chocolate industry, and the consistent supply of cocoa plays a critical role in providing us with reasonably-priced chocolate.
So where exactly does all this cocoa come from?
The Key Nations in Cocoa's Global Supply Chain
Growing cocoa has specific temperature, water, and humidity requirements. As a result, the equatorial regions of Africa, Central and South America, and Asia are optimal for cocoa farming.
These regions host the biggest cocoa exporters by value.
| Rank (2019) | Exporting Country | Value (US$, millions) |
| --- | --- | --- |
| 1 | Côte d'Ivoire 🇨🇮 | $3,575 |
| 2 | Ghana 🇬🇭 | $1,851 |
| 3 | Cameroon 🇨🇲 | $680 |
| 4 | Ecuador 🇪🇨 | $657 |
| 5 | Belgium 🇧🇪 | $526 |
Côte d'Ivoire and Ghana are responsible for 70% of global cocoa production, and cocoa exports play a huge role in their economies. Although the majority of exporters come from equatorial regions, Belgium stands out in fifth place.
On the other hand, most of the top importers are in Europe—the Netherlands and Germany being the top two.
| Rank (2019) | Importing Country | Value (US$, millions) |
| --- | --- | --- |
| 1 | Netherlands 🇳🇱 | $2,283 |
| 2 | Germany 🇩🇪 | $1,182 |
| 3 | U.S. 🇺🇸 | $931 |
| 4 | Malaysia 🇲🇾 | $826 |
| 5 | Belgium 🇧🇪 | $719 |
In third place, the U.S. primarily sources its cocoa from Côte d'Ivoire, Ghana, and Ecuador. Mars, Hershey, Cargill, and Blommer—some of the world's biggest chocolate manufacturers and processors—are headquartered in the U.S.
Finally, it comes as no surprise that the biggest importers of cocoa beans are among the biggest chocolate exporters.
Rank (2019)
Country
Value of Chocolate Exports
(US$, millions)
1
Germany 🇩🇪
$4,924
2
Belgium 🇧🇪
$3,143
3
Italy 🇮🇹
$2,100
4
Netherlands 🇳🇱
$1,992
5
Poland 🇵🇱
$1,834
Not only is the Netherlands the biggest importer of beans, but it's also the biggest processor—grinding 600,000 tons annually—and the fourth largest exporter of chocolate products.
Belgium is another key nation in the supply chain, importing cocoa beans from producing countries and exporting them across Europe. It's also home to the world's largest chocolate factory, supporting its annual chocolate exports worth $3.1 billion.
Breaking Down the Cocoa Supply Chain: Who Gets What
Without farmers, both the cocoa and chocolate industries are likely to suffer from shortages, with domino effects on higher overall costs. Yet, they have little ability to influence prices at present.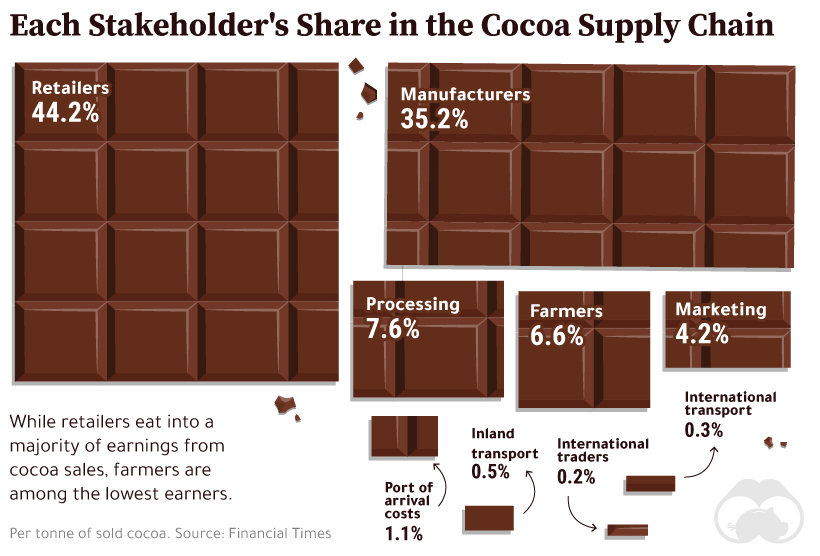 Farmers are among the lowest earners from a tonne of sold cocoa—accounting for just 6.6% of the value of the final sale.
Low incomes also translate into numerous other issues associated with cocoa farming.
The Bitter Side of Cocoa Farming
The World Bank has established the threshold for extreme poverty at $1.90/day. Cocoa farmers in Ghana make $1/day, while those in Côte d'Ivoire make around $0.78/day—both significantly below the extreme poverty line.
Farmers are often unable to bear the costs of cocoa farming as a result of low incomes. In turn, they employ children, who miss out on education, are exposed to hazardous working conditions, and get paid little or no wages.
| Country | Cocoa Farmers Making $1/day or less | Children in Cocoa Agriculture |
| --- | --- | --- |
| Côte d'Ivoire 🇨🇮 | 600,000 | 891,500 |
| Ghana 🇬🇭 | 800,000 | 708,400 |
To make matters worse, cocoa farming is primarily responsible for deforestation and illegal farming in Côte d'Ivoire and Ghana—adding environmental issues to the mix.
These interconnected problems call for action, so what is being done to fight them?
Combating Cocoa's Concerns
Mars, Nestlé, and Hershey—some of the world's biggest chocolate manufacturers—have made several pledges to eradicate child labor in cocoa farming over the last two decades, but haven't reached their targets.
In addition, organizations such as UTZ Certified, Rainforest Alliance, and Fairtrade are working to increase traceability in the supply chain by selling 'certified cocoa', sourced from farms that prohibit child labor.
More recently, Côte d'Ivoire and Ghana announced a fixed premium of US$400/tonne on cocoa futures, aiming to improve farmer livelihoods by creating a union for cocoa, also known colloquially as the "COPEC" for the industry.
While these initiatives have had some positive impacts, more still needs to be done to successfully eradicate large-scale child labor and poverty of those involved in cocoa's bittersweet supply chain.
Ranked: The World's Top Cotton Producers
As the most-used natural fiber, cotton has become the most important non-food agricultural product.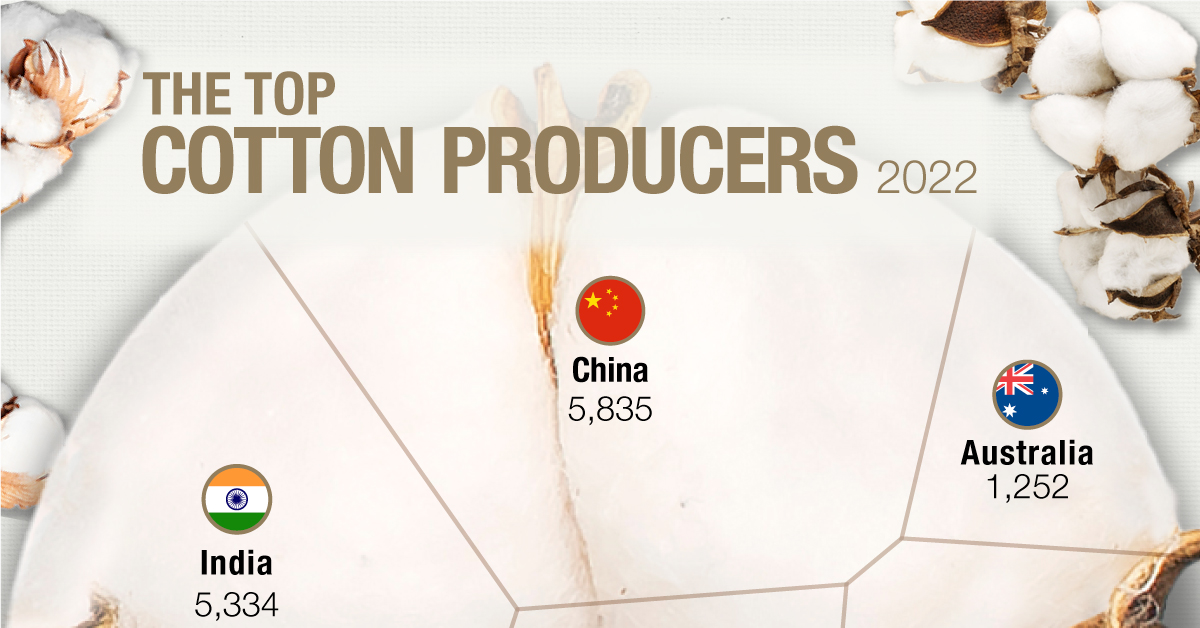 Ranked: The World's Top Cotton Producers
This was originally posted on Elements. Sign up to the free mailing list to get beautiful visualizations on natural resource megatrends in your email every week.
Cotton is present in our everyday life, from clothes to coffee strainers, and more recently in masks to control the spread of COVID-19.
As the most-used natural fiber, cotton has become the most important non-food agricultural product. Currently, approximately half of all textiles require cotton fibers.
The above infographic lists the world's top cotton producers, using data from the United States Department of Agriculture.
Fancy Fabric
Originating from the Arabic word "quton," meaning fancy fabric, cotton is a staple fiber made up of short fibers twisted together to form yarn.
The earliest production of cotton was around 5,000 B.C. in India, and today, around 25 million tons of cotton are produced each year.
Currently, five countries make up around 75% of global cotton production, with China being the world's biggest producer. The country is responsible for over 23% of global production, with approximately 89 million cotton farmers and part-time workers. Cotton's importance cannot be understated, as it is the primary input for the Chinese textile industry along with many other nations' textile industries.
| Top Cotton Producers | 2020/2021 (metric tons) | 2021/2022 (metric tons) |
| --- | --- | --- |
| 🇨🇳 China | 6,445,000 | 5,835,000 |
| 🇮🇳 India | 6,009,000 | 5,334,000 |
| 🇺🇸 United States | 3,181,000 | 3,815,000 |
| 🇧🇷 Brazil | 2,356,000 | 2,504,000 |
| 🇦🇺 Australia | 610,000 | 1,252,000 |
| 🇵🇰 Pakistan | 980,000 | 1,306,000 |
| 🇹🇷 Turkey | 631,000 | 827,000 |
| 🌐 Other | 4,059,000 | 4,282,000 |
| Total | 24,271,000 | 25,155,000 |
The United States is the leading global exporter of cotton, exporting three-fourths of its crop with China as the top buyer.
Despite its importance for the global economy, cotton production faces significant sustainability challenges.
The Controversy Over Cotton
Cotton is one of the largest users of water among all agricultural commodities, and production often involves applying pesticides that threaten soil and water quality.
Along with this, production often involves forced and child labor. According to the European Commission, child labor in the cotton supply chain is most common in Africa and Asia, where it comes from small-holder farmers.
In 2020, U.S. apparel maker Patagonia stopped sourcing cotton from the autonomous territory of Xinjiang because of reports about forced labor and other human rights abuses against Uighurs and other ethnic minorities.
L Brands, the parent company of Victoria's Secret, has also committed to eliminating Chinese cotton from its supply chain. Whether these changes in supply chains impact China's cotton production and its practices, cotton remains essential to materials found across our daily lives.
Mapped: Where Does Our Food Come From?
Did you know that over two-thirds of national crops originated from somewhere else? Over time the food that built national diets has evolved.
Where Does Our Food Come From?
Did you know that over two-thirds of national crops originated from somewhere else?
Humans have been selecting and growing crops for specific traits since the origins of agriculture some 10,000 years ago, shaping where and what crops are grown today.
Now our food system is completely global and many of the world's top producers of staple crops are in countries far from their historical origin. For example, Brazil is now the largest soybean producer in the world, though the crop is originally from East Asia.
The above infographic by Brazil Potash shows the historical origins of crops before they were domesticated across the globe and the main producers of our staple crops today.
Producers Of Staple Crops Today
Staple crops are those that are the most routinely grown and consumed. These can vary between countries depending on availability.
In 2020, sugarcane, maize, wheat, and rice made up around 50% of global crop production.
But when the production and distribution of staple crops are threatened, the consequences can be felt globally. Let's take a look at the countries that were the top three producers of some of our staple crops in 2020.
| Crop | Country | Percentage of Global Production |
| --- | --- | --- |
| Sugar Cane | 🇧🇷Brazil | 40.5% |
| Sugar Cane | 🇮🇳India | 19.9% |
| Sugar Cane | 🇨🇳China | 5.8% |
| Maize | 🇺🇸U.S. | 30.9% |
| Maize | 🇨🇳China | 22.4% |
| Maize | 🇧🇷Brazil | 8.9% |
| Wheat | 🇨🇳China | 17.6% |
| Wheat | 🇮🇳India | 14.1% |
| Wheat | 🇷🇺Russia | 11.3% |
As you can see from the data above, Brazil is the world's largest producer of sugarcane and one of the top three producers of maize.
The Future of Food Security
Global food security depends on staple crops and the countries that produce them. As the global population increases, so does the need to grow more crops.
The FAO estimates that by 2050 the world will need to increase its food output by around 70% in order to feed an ever-growing population.
Early food security solutions were transplanting crops from other regions to supplement diets. Now crop yields must increase as the next evolution in strengthening our food security. Fertilizers are a vital step in this process and are an essential ingredient in the future of global food security. They provide vital nutrients that increase crop production and strengthen nutrition security.
Brazil Potash extracts vital potash ore from the earth for it to return to the earth as fertilizer, fortifying food and helping to maintain continuous growth in the agricultural sector.
Click here to learn more about fertilizer and food production in Brazil.