IMO 2020: The Big Shipping Shake-Up
IMO 2020: The Big Shipping Shake-Up
Over 90% of all global trade takes place on our oceans.
Unfortunately, the network of 59,000 vessels powering international commerce runs on sulfur-laden bunker fuel, and resulting emissions are causing problems on dry land.
As today's infographic by Breakwave Advisors demonstrates, new emissions regulations taking effect in 2020 will have a big impact on the world's massive fleet of marine shipping vessels.
The Regulatory Impact
The International Maritime Organization (IMO) – the UN agency responsible for ensuring a clean, safe, and efficient global shipping industry – will be implementing new regulations that will have massive impact on maritime shipping.
The regulations, dubbed IMO 2020, will enforce a 0.5% sulfur emissions cap worldwide starting January 1, 2020 ─ a dramatic decrease from the current emissions cap of 3.5%.
Here are a few ways marine fuel will likely be affected by these regulations:
High-sulfur fuel oil will drop in price as the demand drops dramatically after January 1, 2020
Diesel, a low-sulfur fuel oil, will be in higher demand and should see a price increase
Refiners should also expect higher profits as refining runs increase to satisfy the new regulations
The Economic Impact
IMO 2020 will be one of the most dramatic fuel regulation changes ever implemented, with a significant impact on the global economy.
New regulations are certain to influence freight rates ─ the fees charged for delivering cargo from place to place. These rates can fluctuate depending on:
Time and distance between ports
Weight and density of the cargo
Freight classification
Mode of transport
Tariffs and taxes
Fuel costs
Rising fuel costs means rising freight rates, with much of these costs being passed to consumers.
In a full compliance scenario, we estimate the total impact to consumer wallets in 2020 could be around US$240 billion.
─ Goldman Sachs
The Environmental Impact
Not surprisingly, the world's 59,000 transport ships, oil tankers, and cargo ships have a consequential impact on the environment.
Bunker fuel accounts for 7% of transportation oil consumption (~3.5 million barrels/day). Burning this fuel generates about 90% of all sulfur oxide and dioxide (SOx and SO2) emissions globally. In fact, the world's 15 largest ships produce more SOx and SO2 emissions than every car combined.
These sulfur emissions can cause several harmful side effects on land ─ acid rain, smog, crop failures, and many respiratory illnesses such as lung cancer and asthma.
Changing Currents in the Shipping Sector
As IMO 2020's implementation date nears, shippers have a few courses of action to become compliant and manage costs.
1) Switch to low-sulfur fuel
Bunker fuel use in the shipping industry was 3.5 million barrels per day in 2018, representing roughly 5% of global fuel demand.
Annual bunker fuel costs are predicted to rise by US$60 billion in 2020, a nearly 25% increase from 2019. Price increases this significant will directly impact freight rates ─ with no guarantee that fuel will always be available.
2) Slower Travel, Less Capacity
The costs of refining low-sulfur fuel will increase fuel prices. To offset this, shippers often travel at slower speeds.
For example, large ships might burn 280-300 metric tons of high-sulfur fuel oil (HSFO) a day at high speeds, but only 80-90 metric tons a day at slower speeds. Slower travel may cut costs and help reduce emissions, but it also decreases the capacity these vessels can transport due to longer travel times, which shrinks overall profit margins.
3) Refueling Detours
Adequate fuel supply will be a primary concern for shippers once IMO 2020 takes effect. Fuel shortages would cause inefficiencies and increase freight rates even more, as ships would be forced to detour to refuel more often.
4) Installing Scrubbers
A loophole of IMO 2020 is that emissions are regulated, not the actual sulfur content of fuel itself.
Rather than burning more expensive fuel, many shippers may decide to "capture" sulfur before it enters the environment by using scrubbers, devices that transfer sulfur emissions from exhaust to a disposal unit and discharges the emissions.
With IMO 2020 looming, only 1% of the global shipping fleet has been retrofitted with scrubbers. Forecasts for scrubber installations by mid-2020 run close to 5% of the current ships on the water.
There are a few reasons for such low numbers of installations. First, scrubbers are still somewhat unproven in maritime applications, so shippers are taking a "wait and see" approach. As well, even if a ship does qualify for a retrofit, cost savings won't take effect until several years after installation. On the plus side, ships with scrubbers installed will still be able to use the existing, widely-available supply of bunker fuel.
Moving Forward
No matter which route shippers choose to take, the short-term impact is almost certainly going to mean higher freight rates for the marine shipping industry.
Visualizing the Accumulation of Human-Made Mass on Earth
The amount of human-made (or anthropogenic) mass, has now exceeded the weight of all life on Earth, including humans, animals, and plants.
Visualizing the Accumulation of Human-Made Mass on Earth
This was originally posted on Elements. Sign up to the free mailing list to get beautiful visualizations on natural resource megatrends in your email every week.
The world is not getting any bigger but the human population continues to grow, consuming more and more resources and altering the very environment we rely on.
In 2020, the amount of human-made mass, or anthropogenic mass, exceeded for the first time the dry weight (except for water and fluids) of all life on Earth, including humans, animals, plants, fungi, and even microorganisms.
In this infographic based on a study published in Nature, we break down the composition of all human-made materials and the rate of their production.
A Man-made Planet
Anthropogenic mass is defined as the mass embedded in inanimate solid objects made by humans that have not been demolished or taken out of service—which is separately defined as anthropogenic mass waste.
Over the past century or so, human-made mass has increased rapidly, doubling approximately every 20 years. The collective mass of these materials has gone from 3% of the world's biomass in 1900 to being on par with it today.
While we often overlook the presence of raw materials, they are what make the modern economy possible. To build roads, houses, buildings, printer paper, coffee mugs, computers, and all other human-made things, it requires billions of tons of fossil fuels, metals and minerals, wood, and agricultural products.
Human-Made Mass
Every year, we extract almost 90 billion tons of raw materials from the Earth. A single smartphone, for example, can carry roughly 80% of the stable elements on the periodic table.
The rate of accumulation for anthropogenic mass has now reached 30 gigatons (Gt)—equivalent to 30 billion metric tons—per year, based on the average for the past five years. This corresponds to each person on the globe producing more than his or her body weight in anthropogenic mass every week.
At the top of the list is concrete. Used for building and infrastructure, concrete is the second most used substance in the world, after water.
| Human-Made Mass | Description | 1900 (mass/Gt) | 1940 (mass/Gt) | 1980 (mass/Gt) | 2020 (mass/Gt) |
| --- | --- | --- | --- | --- | --- |
| Concrete | Used for building and infrastructure, including cement, gravel and sand | 2 | 10 | 86 | 549 |
| Aggregates | Gravel and sand, mainly used as bedding for roads and buildings | 17 | 30 | 135 | 386 |
| Bricks | Mostly composed of clay and used for constructions | 11 | 16 | 28 | 92 |
| Asphalt | Bitumen, gravel and sand, used mainly for road construction/pavement | 0 | 1 | 22 | 65 |
| Metals | Mostly iron/steel, aluminum and copper | 1 | 3 | 13 | 39 |
| Other | Solid wood products, paper/paperboard, container and flat glass and plastic | 4 | 6 | 11 | 23 |
Bricks and aggregates like gravel and sand also represent a big part of human-made mass.
Although small compared to other materials in our list, the mass of plastic we've made is greater than the overall mass of all terrestrial and marine animals combined.
As the rate of growth of human-made mass continues to accelerate, it could become triple the total amount of global living biomass by 2040.
Can We Work It Out?
While the mass of humans is only about 0.01% of all biomass, our impact is like no other form of life on Earth. We are one of the few species that can alter the environment to the point of affecting all life.
At the current pace, the reserves of some materials like fossil fuels and minerals could run out in less than 100 years. As a result, prospectors are widening their search as they seek fresh sources of raw materials, exploring places like the Arctic, the deep sea, and even asteroids.
As the world population continues to increase, so does the pressure on the natural environment. It is an unavoidable fact that consumption will increase, but in an era of net-zero policies and carbon credits, accounting for the human impact on the environment will be more important than ever.
A Deep Dive Into the World's Oceans, Lakes, and Drill Holes
A unique and entertaining graphic that compares the depth of the world's lakes and oceans, as well as the deepest holes ever drilled.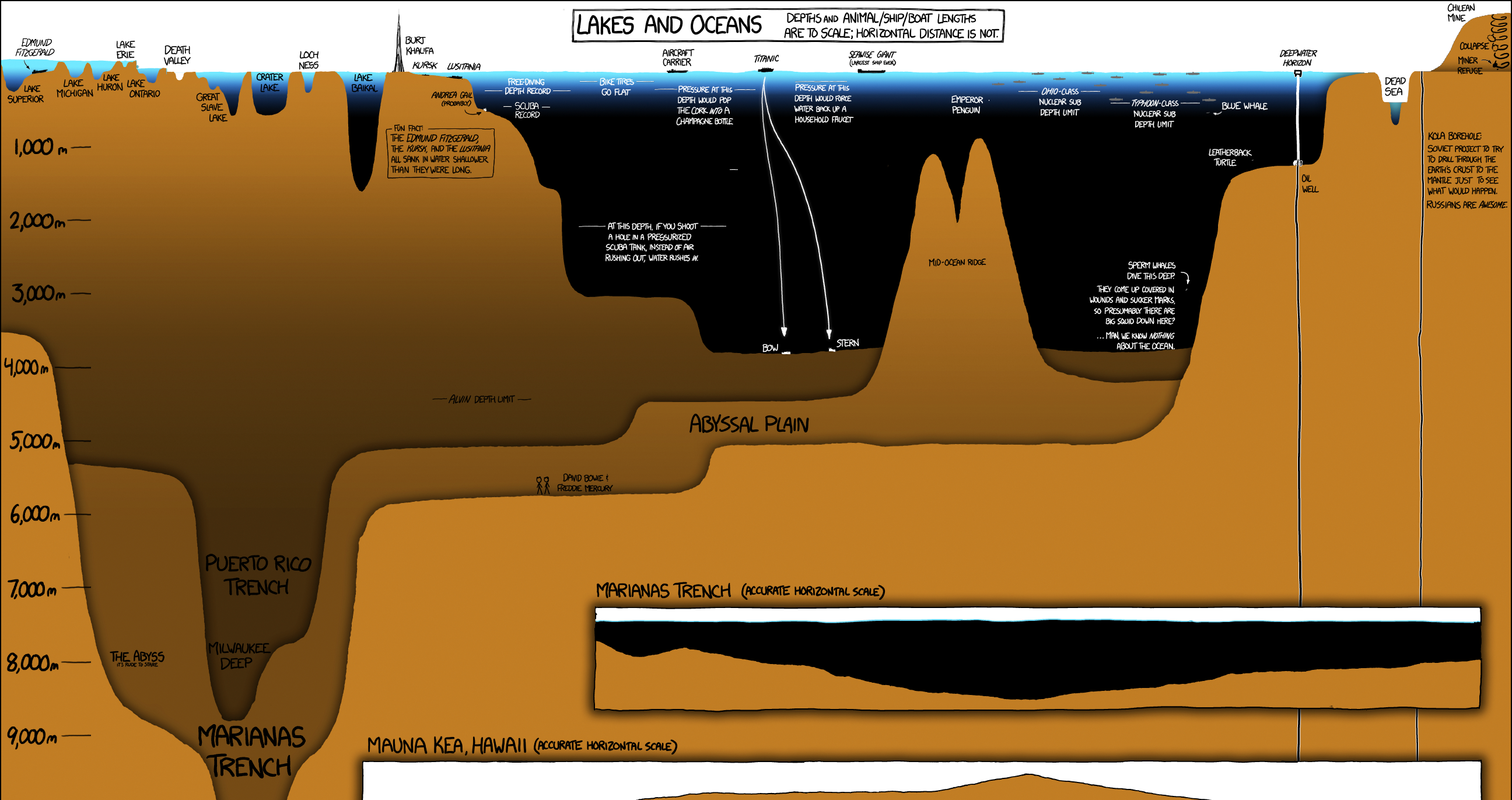 Today's chart is best viewed full-screen. Explore the high resolution version by clicking here.
Sailors have been circumnavigating the high seas for centuries now, but what could be found beneath the sunlit surface of the ocean remained a mystery until far more recently. In fact, it wasn't until 1875, during the Challenger expedition, that humanity got it's first concrete idea of how deep the ocean actually was.
Today's graphic, another fantastic piece by xkcd, is a unique and entertaining look at everything from Lake Superior's ice encrusted shoreline down to blackest, inhospitable trench (which today bears the name of the expedition that first discovered it).
The graphic is packed with detail, so we'll only highlight a few points of interest.
Deep Thoughts with Lake Baikal
Deep in Siberia, abutting a mountainous stretch of the Mongolian border, is the one of the most remarkable bodies of water on Earth: Lake Baikal. There are a number of qualities that make Lake Baikal stand out.
Depth: Baikal, located in a massive continental rift, is the deepest lake in the world at 1,642m (5,387ft). That extreme depth holds a lot of fresh water. In fact, an estimated 22% of all the world's fresh water can be found in the lake.
Age: Baikal (which is listed as a UNESCO World Heritage Site) is estimated to be over 25 million years old, making it the most ancient lake on the planet.
Clarity: Interestingly, the water in the lake is exceptionally clear. In winter, visibility can extend over 30m (98ft) below the surface.
Biodiversity: The unique ecosystem of Lake Baikal provides a home for thousands of plant and animal species. In fact, upwards of 80% of those species are endemic, meaning they are unique to that region.
Who is Alvin?
Since 1964, a hard-working research submersible named Alvin has been helping us better understand the deep ocean. Alvin explored the wreckage of RMS Titanic in 1986, and helped confirm the existence of black smokers (one of the weirdest ecosystems in the world).
Though most of the components of the vessel have been replaced and upgraded over the years, it's still in use today. In 2020, Alvin received an $8 million upgrade, and is now capable of exploring 99% of the ocean floor.
We know more about the surface of Venus than the bottom of the ocean. The potential for discovery is huge.– Anna-Louise Reysenbach, Professor of Microbiology, PSU
The Ocean's Deepest Point
The deepest point in the ocean is the Mariana Trench, at 11,034 meters (36,201 feet).
This trench is located in the Pacific Ocean, near Guam and the trench's namesake, the Mariana Islands. While the trench is the most extreme example of ocean depths, when compared to surface level distance, it's depth is shorter than Manhattan.
Obviously, the context of surface distance is wildly different than vertical distance, but it serves as a reminder of how narrow the "explorable" band of the Earth's surface is.
Polymetallic Nodules
The ancient Greek word, ábyssos, roughly means "unfathomable, bottomless gulf". While there is a bottom (the abyssopelagic zone comprises around 75% of the ocean floor), the enormous scale of this ecosystem is certainly unfathomable.
Objectively, the abyssal plain is not the prettiest part of the ocean. It's nearly featureless, and lacks the panache of, say, a coral reef, but there are still some very compelling reasons we're eager to explore it. Resource companies are chiefly interested in polymetallic nodules, which are essentially rich manganese formations scattered about on the sea bottom.
Manganese is already essential in steel production, but demand is also getting a substantial lift from the fast-growing electric vehicle market. The first company to find an economical way to harvest nodules from the ocean floor could reap a significant windfall.
Drill Baby, Drill
Demand for resources can force humans into some very inhospitable places, and in the case of Deepwater Horizon, we chased oil to a depth even surpassing the famed Marianas Trench.
Drilling that far below the surface is a complicated endeavor, and when the drill platform was put into service in 2001, it was hailed as an engineering marvel. To this day, Deepwater Horizon holds the record for the deepest offshore hole ever made.
After the rig's infamous explosion and subsequent spill in 2010, that depth record for drilling may stand the test of time.