Animated Map: The History of U.S. Counties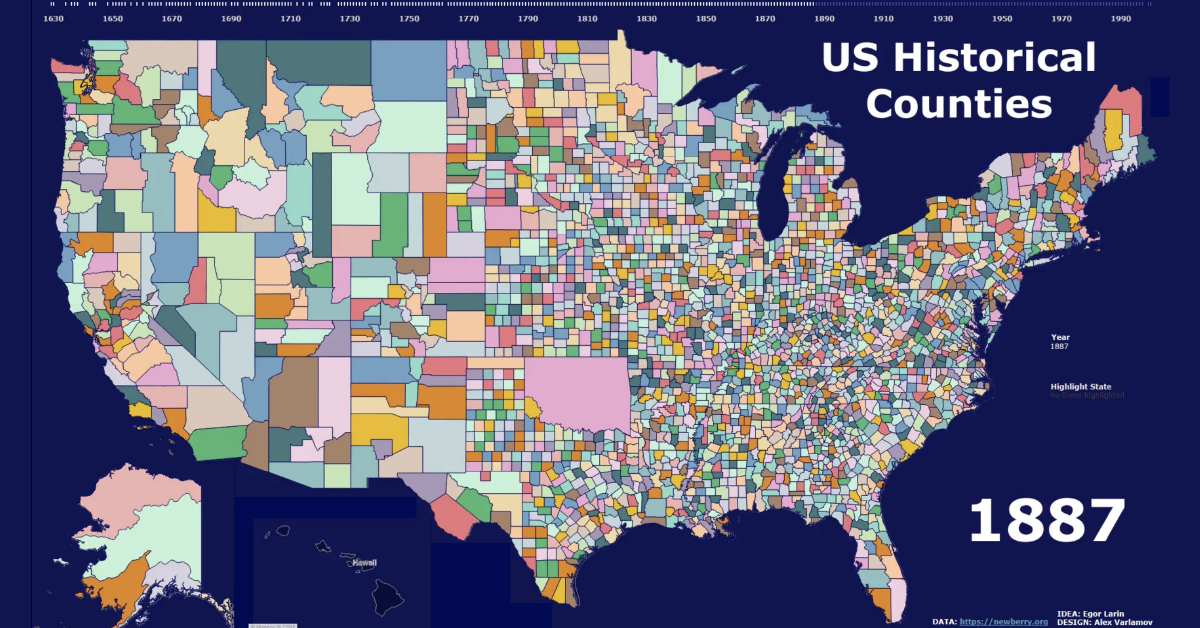 Animated Video: The History of U.S Counties
Did you know that there are 3,142 different counties in the U.S. today?
Going as far back as the 1600s, English settlers arriving in the New World envisioned counties as a means of accessible government—a county seat was meant to be within a day's buggy ride for every citizen.
While the role of counties in local government has remained significant in modern times, their boundaries have changed drastically over the years.
This animated map by Alexander Varlamov visualizes the history of U.S. county borders, and how these jurisdictions have evolved over time.
County Equivalents
Before diving in, it's important to note a few county-equivalents that function similarly but go by different names:
Boroughs/Census areas: Alaska is made up of 19 boroughs, but the majority of its landmass is not included in them. Rather, it's officially labeled by the Alaskan government as the unorganized borough.
Parishes: Instead of counties, Louisiana uses the term parishes because of its French and Catholic heritage.
Independent cities: These are cities that operate outside their surrounding county's jurisdiction. There are 41 independent cities in the U.S. and 38 of them are in Virginia.
Over 300 Years of Growth
The number of counties in the U.S. has increased dramatically since the early days of American history. Here's a look at their growth since 1790:
| Year | Number of Counties and Parishes |
| --- | --- |
| 1790 | 292 |
| 1850 | 1621 |
| 1870 | 2247 |
| 1900 | 2713 |
| 1920 | 3041 |
The first county was established in 1634, over 100 years before the first Census was taken (and long before America gained independence). It was created in James City, Virginia—an interesting location, considering Virginia now has the highest concentration of independent cities.
Why does Virginia have so many independent cities? The state's separation of counties and cities dates back to the early 1700s. With a rural population and low productivity, it was difficult to establish town centers. After several attempts, the General Assembly gave up. Independent cities were established instead.
Short-lived Counties
Counties as a political organization have been around for hundreds of years, but some individual counties haven't lasted long.
For instance, Bullfrog County in Nevada was established in 1987 and dissolved just two years later. During its brief existence, it had no population and no infrastructure—and its primary purpose was simply to prevent Yucca Mountain from becoming a nuclear waste dump.
While Bullfrog County has since been dissolved, the controversy around the nuclear waste site is ongoing as of 2020.
Continual Change
The latest official county, Broomfield Country, was established in Colorado in 2001.
Although it's been decades since the last county was created, there have been continual boundary changes and status updates—sometimes for political reasons. For instance, the Supreme Court recently ruled that half of Oklahoma is within a Native American reservation. While this doesn't necessarily change ownership, it does affect jurisdiction and county authority.
Though the lines on the map are more or less static now, the invisible lines of county jurisdiction will continue to change and evolve over time.

Slices of the Pie: Mapping Territorial Claims in Antarctica
Antarctica is the most inhospitable region on Earth, but that hasn't stopped countries from making territorial claims. This maps shows them all.
Slices of the Pie: Mapping Territorial Claims in Antarctica
For the 55% of the world's population who reside in cities, land is viewed as a precious commodity—every square foot has a value attached to it. As the global population continues to rise toward the eight billion mark, it can seem like humans have laid claim to every available corner of the earth.
While this is mostly true, there is one place on the planet that is vast, empty, and even partially unclaimed: Antarctica.
Today's map, originally created by the CIA World Factbook, visualizes the active claims on Antarctic territory, as well as the location of many permanent research facilities.
The History of Antarctic Territorial Claims
In the first half of the 20th Century, a number of countries began to claim wedge-shaped portions of territory on the southernmost continent. Even Nazi Germany was in on the action, claiming a large swath of land which they dubbed New Swabia.
After WWII, the Antarctic Treaty system—which established the legal framework for the management of the continent—began to take shape. In the 1950s, seven countries including Argentina, Australia, Chile, France, New Zealand, Norway, and the United Kingdom claimed territorial sovereignty over portions of Antarctica. A number of other nations, including the U.S. and Japan, were engaged in exploration but hadn't put forward claims in an official capacity.
| Territorial claims in Antarctica | Territory name | Area of claim |
| --- | --- | --- |
| 🇦🇺 Australia | Australian Antarctic Territory | 3,663,915 mi² (5,896,500 km²) |
| 🇳🇴 Norway | Queen Maud Land | 1,677,702 mi² (2,700,000 km²) |
| 🇬🇧 United Kingdom | British Antarctic Territory | 1,062,171 mi² (1,709,400 km²) |
| 🇦🇷 Argentina | Argentine Antarctica | 908,194 mi² (1,461,597 km²) |
| 🇨🇱 Chile | Chilean Antarctic Territory | 776,874 mi² (1,250,258 km²) |
| 🇳🇿 New Zealand | Ross Dependency | 279,617 mi² (450,000 km²) |
| 🇫🇷 France | Adélie Land | 268,432 mi² (432,000 km²) |
Despite the remoteness and inhospitable climate of Antarctica, the idea of claiming such large areas of landmass has proven appealing to countries. Even the smallest claim on the continent is equivalent to the size of Iraq.
A few of the above claims overlap, as is the case on the Antarctic Peninsula, which juts out geographically from the rest of the continent. This area is less remote with a milder climate, and is subject to claims by Argentina, Chile, and the United Kingdom (which governs the nearby Falkland Islands).
Interestingly, there is still a large portion of Antarctica that remains unclaimed today. Just east of the Ross Ice Shelf lies Marie Byrd Land, a vast, remote territory that is by far the largest unclaimed land area on Earth.
While Antarctica has no official government, it is administered through yearly meetings known as the Antarctic Treaty Consultative Meetings. These meetings involve a number of stakeholders, from member nations to observer organizations.
Frontage Theory: Another Way to Slice it
Of course, critics could argue that current claims are arbitrary, and that there is a more equitable way to partition land in Antarctica. That's where Frontage Theory comes in.
Originally proposed by Brazilian geopolitical scholar Therezinha de Castro, the theory argues that sectors of the Antarctic continent should be distributed according to meridians (the imaginary lines running north–south around the earth). Wherever straight lines running north hit landfall, that country would have sovereignty over the corresponding "wedge" of Antarctic territory.
The map below shows roughly how territorial claims would look under that scenario.
While Brazil has obvious reasons for favoring this solution, it's also a thought experiment that produces an interesting mix of territorial claims. Not only do nearby countries in Africa and South America get a piece of the pie, but places like Canada and Greenland would end up with territory adjacent to both of the planet's poles.
Leaving the Pie Unsliced
Thanks to the Antarctic Treaty, there is no mining taking place in Antarctica, and thus far no country has set up a permanent settlement on the continent. Aside from scattered research stations and a few thousand researchers, claims in the region have a limited impact.
For the near future at least, the slicing of the Antarctic pie is only hypothetical.

The World's Most Searched Consumer Brands
From Apple to Zara, this unique map showcases which popular consumer brands were searched for the most around the world.
The World's Most Searched Consumer Brands
View the high resolution of this infographic by clicking here.
Strong brands create an emotional link with consumers, and tech brands are no exception.
In fact, Google, Amazon, Netflix, and even eBay rank as some of the most searched consumer brands worldwide. It's hard to imagine life without these household names, but how do brand preferences shift and change across internet searches worldwide?
This graphic from Business Financing compiles 12 months of data from the Google Keyword Planner and other sources, to uncover the world's most searched consumer brands.
Note: Due to data constraints, a number of countries on the map do not have sufficient information available.
In Tech We Trust
By far, the world's most searched consumer brand is Google, which seems very convenient.
It ranks at the top in 100 countries—that's nearly half of all countries on the planet. With over 90 billion visits monthly, Google has unparalleled dominance in brand loyalty and website traffic.
Top 3 Most Searched Consumer Brands
Google: 100 countries
Netflix: 45 countries
Amazon: 30 countries
Netflix, falling in second, ranks highest in 45 countries including Turkey, Brazil, and South Korea. In third, Amazon is the most popular in 30 countries. The only non-tech company in the top five is IKEA, in fifth place, after eBay.
Gaming the System
When it comes to sub-sectors of consumer brands, the gaming space tells an interesting story.
Namely, it is Epic Games—creator of Fortnite and Grand Theft Auto—that dominates global charts by a considerable margin. Founded in Potomac, Maryland, the company ranks at the top for 141 countries globally.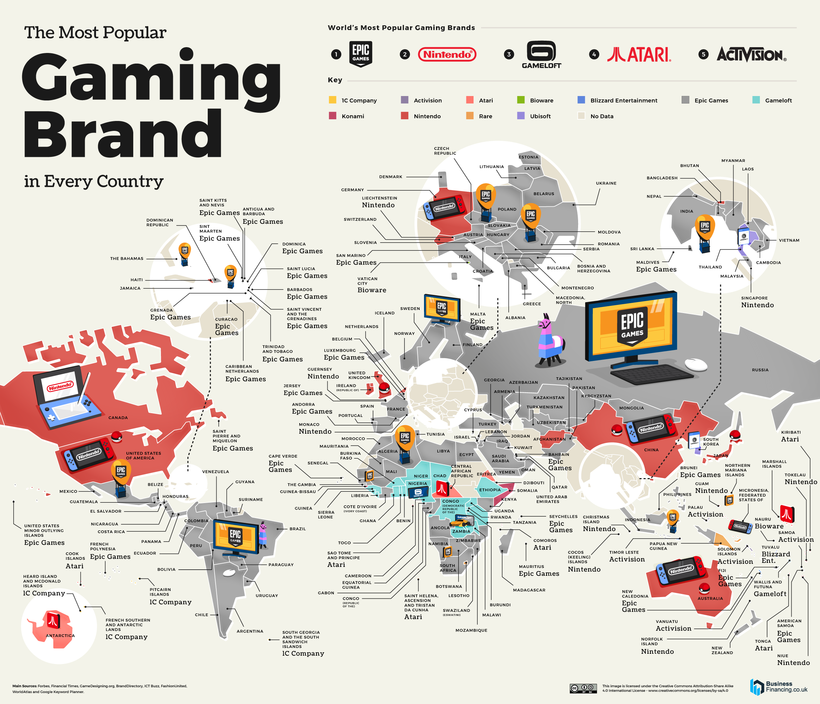 View the high resolution of this infographic by clicking here.
Additionally, Nintendo tops the list of 24 countries including Japan, Haiti, and Canada, while Paris-based Gameloft comes next in line.
Fast Fashion: Shoe Dog At the Top
Since its founding in 1964, Nike has become a remarkable brand builder. In fact, Nike is the most searched fashion brand among 49 countries.
Interestingly, founder Phil Knight only began to fully understand branding power after the company reached $1 billion in revenues. After a series of failures and missteps in the mid-1980s, Nike switched its focus from marketing and manufacturing, to instead, zeroing in on the consumer.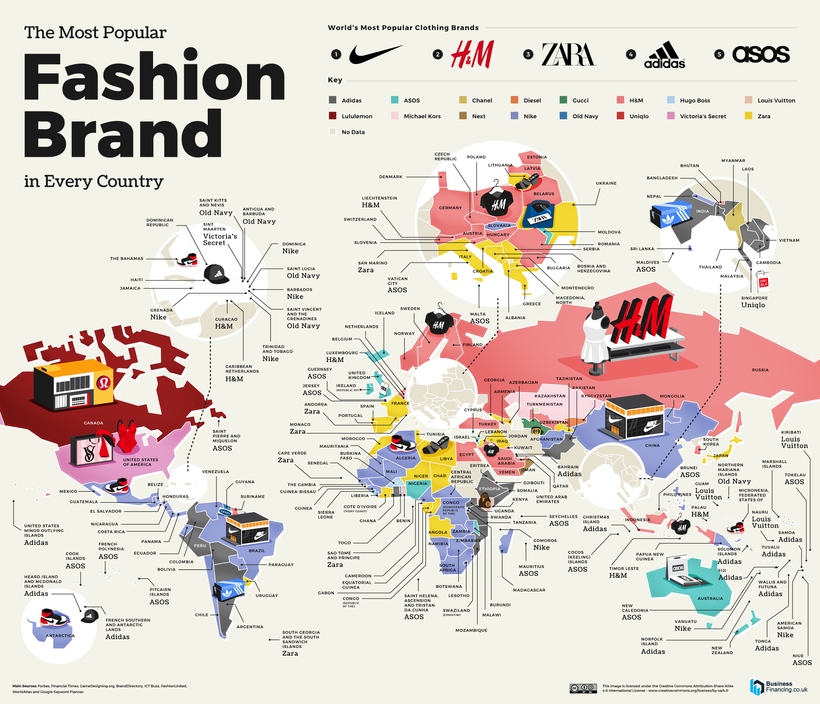 View the high resolution of this infographic by clicking here.
Like Nike, Swedish retailer H&M has a long history dating back to 1947. Prior to the pandemic, the fast-fashion retailer operated 5,000 stores globally. Since pandemic tailwinds, however, H&M plans to close 250 physical stores in 2021 and focus more on online sales.
Big Macs are Here to Stay
When you look closer at the most searched fast food chains, McDonald's ranks highest on a global level, but not by far.
KFC comes in second, topping the list of 65 countries including Russia, Peru, and Thailand. Meanwhile, Pizza Hut, which is owned by the same parent company as KFC, attracted the highest number of searches in America.

View the high resolution of this infographic by clicking here
On the other hand, Antarctica curiously ranks Baskin Robbins at the top, but this could be influenced from a low volume of searches in the region.
Consumer Brand Outliers
If there's one recurring trend across the top consumer brands, it's that they are unsurprisingly dominated by big players concentrated in America.
However, notable outliers are present. In China, search engine Baidu ranks as the top consumer brand on the internet. On the other hand, the Vatican's most-searched gaming company is Canada-based BioWare, which developed the Mass Effect series (no pun intended).
Meanwhile, in Saint Helena—the island where Napoleon was exiled and later died—has Burger King as its most searched fast food brand. As it happens, the remote island appears to have no Burger King, or any other fast food chains. Kenya's top fashion brand is Louis Vuitton, while Turkmenistan's is Gucci.
Despite these differences, many consumer preferences, at least according to search volume, appear strikingly similar on global levels. As many of these multinational brands continue to gain even greater market share, the implications for the global consumer will be interesting to watch in the next year, or even decade.