Animation: How the European Map Has Changed Over 2,400 Years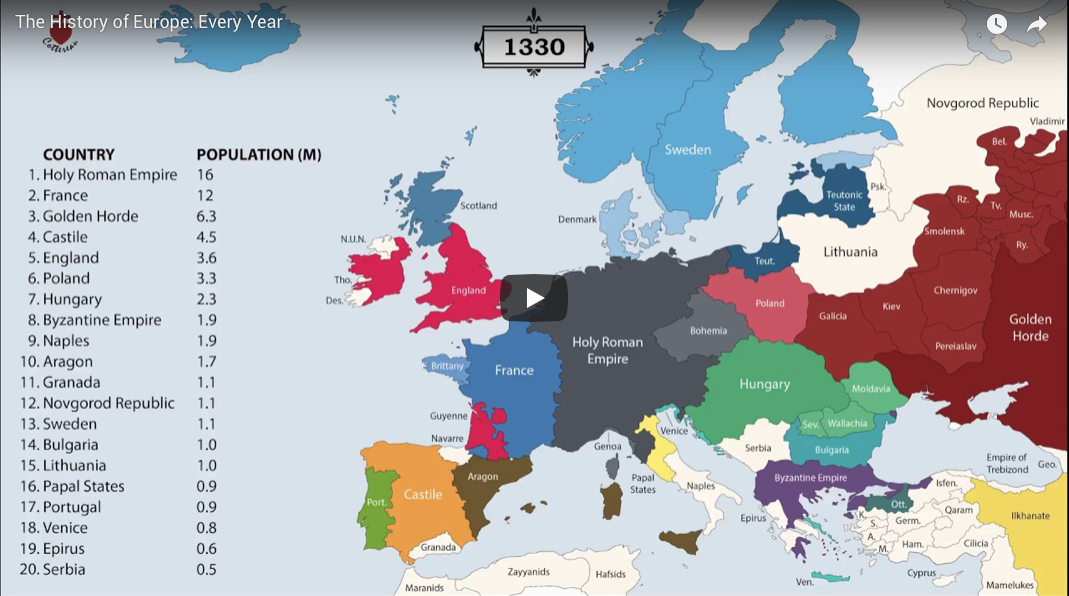 How the European Map Has Changed Over 2,400 Years
The history of Europe is breathtakingly complex. While there are rare exceptions like Andorra and Portugal, which have had remarkably static borders for hundreds of years, jurisdiction over portions of the continent's landmass has changed hands innumerable times.
Today's video comes to us from YouTube channel Cottereau, and it shows the evolution of European map borders starting from 400 BC. Empires rise and fall, invasions sweep across the continent, and modern countries slowly begin to take shape (with the added bonus of an extremely dramatic instrumental).
Below are nine highlights and catalysts that shifted the dividing lines of the European map:
146 BC – A Year of Conquest
146 BC was a year of conquest and expansion for the Roman Republic. The fall of Carthage left the Romans in control of territory in North Africa, and the ransack and destruction of the Greek city-state of Corinth also kickstarted an era of Roman influence in that region. These decisive victories paved the way for the Roman Empire's eventual domination of the Mediterranean.
117 AD – Peak Roman Empire
The peak of the Roman Empire is one of the more dramatic moments shown on this animated European map. At its height, under Trajan, the Roman Empire was a colossal 1.7 million square miles (quite a feat in an era without motorized vehicles and modern communication tools). This enormous empire remained mostly intact until 395, when it was irreparably split into Eastern and Western regions.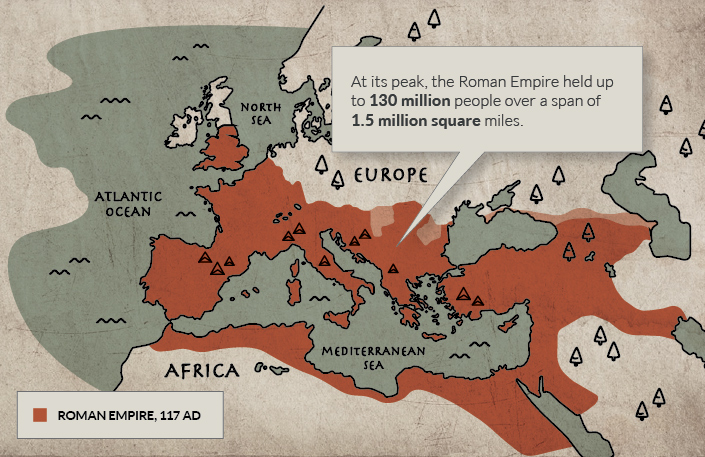 370 AD – The Arrival of the Huns
Spurred on by severe drought conditions in Central Asia, the Huns reached Europe and found a Roman Empire weakened by currency debasement, economic instability, overspending, and increasing incursions from rivals along its borders. The Huns waged their first attack on the Eastern Roman Empire in 395, but it was not until half a century later – under the leadership of Attila the Hun – that hordes pushed deeper into Europe, sacking and razing cities along the way. The Romans would later get their revenge when they attacked the quarreling Goths and Huns, bouncing the latter out of Central Europe.
1241 – The Mongol Invasion of Europe
In the mid-13th century, the "Golden Horde" led by grandsons of Genghis Khan, roared into Russia and Eastern Europe sacking cities along the way. Facing invasion from formidable Mongol forces, central European princes temporarily placed their regional conflicts aside to defend their territory. Though the Mongols were slowly pushed eastward, they loomed large on the fringes of Europe until almost the 16th century.
1362 – Lithuania
Today, Lithuania is one of Europe's smallest countries, but at its peak in the middle ages, it was one of the largest states on the continent. A pivotal moment for Lithuania came after a decisive win at the Battle of Blue Waters. This victory stifled the expansion of the Golden Horde, and brought present-day Ukraine into its sphere of influence.
1648 – Kleinstaaterei
The end of the Holy Roman Empire highlights the extreme territorial fragmentation in Germany and neighboring regions, in an era referred to as Kleinstaaterei.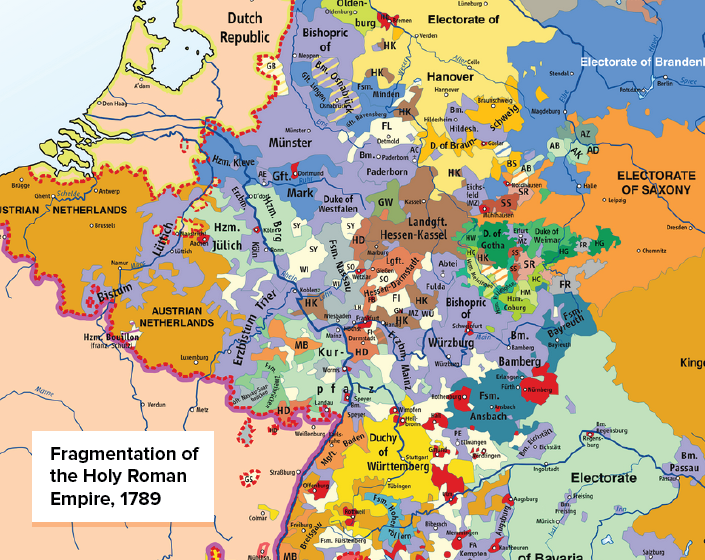 Even as coherent nation states formed around it, the Holy Roman Empire and its remnants wouldn't coalesce until Germany rose from the wreckage of the Franco-Prussian War in 1871. Unification helped position Germany as a major power, and by 1900 the country had the largest economy in Europe.
1919 – The Ottoman Empire
The Ottoman Empire – a fixture in Eastern Europe for hundreds of years – was in its waning years by the beginning of the 20th century. The empire had ceded territory in two costly wars with Italy and Balkan states, and by the time the dust cleared on WWI, the borders of the newly minted nation of Turkey began at the furthest edge of continental Europe.
1942 – Expanding and Contracting Germany
At the furthest extent of Axis territory in World War II, Germany and Italy controlled a vast portion of continental Europe. After the war, however, Germany again became fragmented into occupation zones – this time, overseen by the United States, France, Great Britain, and the Soviet Union. Germany would not be made whole again until 1990, when a weakening Soviet Union loosened its grip on East Germany.
1991 – Soviet Dissolution
In the decades following WWII, the political boundaries of the European map remained relatively stable – that is, until the dissolution of the Soviet Union in 1991. Almost overnight, the country's entire western border splintered into independent nations. When the dust settled, there were 15 breakaway republics, six of which were in Europe.
Bonus: If you liked the video above, be sure to watch this year-by-year account of who ruled territories across Europe.

Flowchart: Are You Working for a Toxic Boss?
Most people have had bad bosses, but is your boss toxic? This flowchart helps you discover if you have a toxic boss and what to do about it.
Flowchart: Are You Working for a Toxic Boss?
The experience of less-than-ideal work situations are common, and the global pandemic has likely heightened challenges for bosses and employees alike. How can mediocre or outright hostile leadership impact your ability to work well?
This flowchart from Resume.io helps you figure out if you've got a toxic boss weighing you down. It covers seven archetypes of toxic bosses, and how to respond to each one.
The 7 Types of Toxic Bosses
Barbara Kellerman, a professor of public leadership at the Harvard Kennedy School identifies seven types of toxic bosses that can exist.
| Number | Toxic Boss Type | Description |
| --- | --- | --- |
| #1 | Incompetent Boss | Unable or unwilling to do their job well |
| #2 | Rigid Boss | Confuses inflexibility with strength |
| #3 | Intemperate Boss | Lacks self-knowledge and self-control |
| #4 | Callous Boss | Lacks empathy and kindness |
| #5 | Corrupt Boss | Steals or cheats to promote their own interests |
| #6 | Insular Boss | Is cliquish or unreachable |
| #7 | Evil Boss | Causes pain to further their sense of power and dominance |
Some bosses simply don't have the capacity to do their jobs, which makes it more difficult for their employees. Others can be corrupt or callous, creating a highly unmotivating work environment.
But how many people are in this situation?
To give a few quick examples, around 13% of all employees in Europe work under a toxic boss. In the U.S., a whopping 75% say they have left a job primarily because of a bad boss.
What's so Bad about a Bad Boss?
Bosses can make or break your job experience. Having a toxic boss can cause your quality of work to suffer, which can then trickle down to impact your overall career.
In fact, Harvard Business Review found that a toxic work environment can lead to decreased motivation and employee disengagement. This has significant knock-on effects such as:
37% higher absenteeism
60% more errors in their work
18% lower productivity
According to the same study, this can cause companies to have 16% lower profitability and a 65% lower share price over time.
The physical side effects are not to be underestimated, either. One Swedish study found that a bad boss who increases your job strain can, in tandem, increase your chance of cardiac arrest by 50%. Additionally, a study out of Stanford found that mismanagement in the American workplace and subsequent stress could potentially be responsible for 120,000 deaths per year.
Tips to Deal with a Toxic Boss
Bad bosses can hurt the company, the overall work environment, and can impact your professional growth and personal health.
So, what can you do about it?
| Number | Toxic Boss Type | Solution |
| --- | --- | --- |
| #1 | Incompetent Boss | Use initiative |
| #2 | Rigid Boss | Use the power of persuasion |
| #3 | Intemperate Boss | Look for opportunities |
| #4 | Callous Boss | Ask for a 1-on-1 meeting |
| #5 | Corrupt Boss | Find co-workers who share your concerns |
| #6 | Insular Boss | Offer them opportunities to open up |
| #7 | Evil Boss | Take a stand |
Different kinds of bosses require different approaches, and some simply aren't worth putting up with. For instance, taking initiative with an incompetent boss is one relatively easy solution, but having a 1-on-1 with a callous boss takes more effort. An evil boss requires intervention from HR.
If you don't have a toxic boss, consider yourself lucky. Here are two ways to keep your working relationship strong:
Take initiative
Keep up open communication
Ask for constant feedback so you know where you stand
Under-promise and over-deliver
What Can Bosses Do?
Toxic bosses can have disastrous consequences on employees and companies. According to one Gallup survey, at minimum, 75% of the reasons for voluntary turnover can be influenced by managers.
After looking at some of the ways employees can address toxic bosses, how can bosses ensure their work environment is healthy? Harvard Business Review recommends four main things:
Encourage social connections
Show empathy
Go out of your way to help
Encourage employees to talk to you—especially about their problems
The future of work may be changing, with remote work becoming more popular and feasible. This can pose problems in creating a strong work culture.
However, if bosses and employees can work together to foster a positive and healthy work environment, everyone, including the bottom line, will benefit.
Figures of Speech: 40 Ways to Improve your Writing
Figures of speech are important literary tools that can help improve your writing. Here are 40 different types, and how to use them.
Figures of Speech: 40 Ways to Improve your Writing
View the high resolution of this infographic by clicking here.
Figurative speech plays an important role in our ability to communicate with one another. It helps create compelling narratives, and evoke emotion in readers.
With this in mind, this periodic table graphic by Visual Communication Guy groups the 40 different figures of speech into two distinct categories—schemes and tropes.
What's the difference between the two, and how can they help improve your writing?
Types of Schemes
In linguistics, a scheme is language that plays with sentence structure to make a sentence smoother, or even more persuasive, using syntax, word order, or sounds.
Here are four different ways that schemes fiddle with sentence structure.
Balance
This is especially important when trying to make a sentence smoother. A good example of balance is parallelism, which is when you use the same grammatical form in at least two parts of a sentence.
Not parallelism: "She likes reading, writing, and to paint on the weekends."
Parallelism: "She likes reading, writing, and painting on the weekends."
Word Order
Changing the position of words can have an impact on the way a sentence is understood. For instance, anastrophe is the deliberate reordering of words in a sentence to either emphasize a certain point, or distinguish a character as different.
An example of anastrophe: "The greatest teacher, failure is." -Yoda
Omission and/or Inclusion
Omissions and inclusions are useful in order to build suspense or add emotional expression to text. For example, an ellipsis is a form of punctuation that uses three dots (…) to either replace a word in a sentence or indicate a break in speech or an incomplete thought.
Example of an ellipsis: "I was thinking of calling her Susie. Well, at least I was until…never mind. Forget I said anything."
Repetition
Similar to the other types of schemes, repetition allows you to emphasize a certain point you want the reader to pay attention to, but it's also used to create rhymes and poetry.
A well-known literary device, alliteration uses the same consonant sound at the start of each word in a sentence. It doesn't necessarily have to be the same letter, so long as the sound is the same.
A popular example is this nursery rhyme: "Peter Piper picked a peck of pickled peppers."
Another example: Phillip's feet. (different letter, but same sound)
Types of Tropes
While schemes play around with the mechanics of a sentence, tropes stray from the literal or typical meanings to evoke emotion, and keep a reader engaged and interested.
Tropes help create an alternative sense of reality, using these five strategies.
Reference
These are literary devices that help paint a deeper picture of a concept, using a reference to something related, but different.
Metaphors and similes are common examples of references, but a lesser-known type of reference is a synecdoche, which is when a small part of something is used in reference to the thing as a whole.
An example of a synecdoche: "Check out my new wheels." (where wheels refer to a car)
Wordplay & Puns
This type of literary device plays with sounds or meaning to add depth to a sentence. For instance, a syllepsis uses one word to create parallels between two separate thoughts, while an onomatopoeia is a figure of speech that uses words (either real or made-up) or even letters to describe a sound.
An example of a syllepsis: "When I address Fred I never have to raise either my voice or my hopes." – E.B. White
An example of an onomatopoeia: "Ding-dong" (the sound of a doorbell)
Substitutions
This is when someone replaces a word or thought with something else. For instance, anthimeria is the use of a word in a grammatical form it's not generally used in, while periphrasis is when someone intentionally elaborates on a point, instead of expressing it succinctly.
An anthimeria: "I could use a good sleep." (Sleep is normally a verb, but here it's used as a noun)
Example of a periphrasis: Instead of saying, "It's cold outside." you say, "The temperature of the atmosphere when I exited my home this morning was quite chilly and exceptionally uncomfortable."
Overstatement and/or Understatement
These are intentionally exaggerated, or downplayed situations that aren't meant to be taken literally. A hyperbole is an example of an overstatement, while litotes are the opposite—deliberate understatements.
An example of a hyperbole: I'm so hungry, I could eat a horse.
While a litotes looks like this: It's not rocket science.
Inversions
This type of literary technique uses contradictory ideas and indirect questions for dramatic effect, or to emphasize a point. For instance, an oxymoron is when two contradictory words are used back-to-back.
An example of an oxymoron: Act natural
Using Figures of Speech to Craft Content
First, let's just address it…Yes, I did use alliteration in the above header, and yes, now I'm using an ellipsis in this sentence.
Because let's face it—in the age of information overload, writing articles that are interesting and compelling to readers is a top priority for online content creators. And using figurative language is a good way to keep readers attention.
So, if you're a content creator yourself (or simply looking to beef up your knowledge on linguistics), hopefully this graphic has helped you on that journey.