Histomap: Visualizing the 4,000 Year History of Global Power
Imagine creating a timeline of your country's whole history stretching back to its inception.
It would be no small task, and simply weighing the relative importance of so many great people, technological achievements, and pivotal events would be a tiny miracle in itself.
While that seems like a challenge, imagine going a few steps further. Instead of a timeline for just one country, what about creating a graphical timeline showing the history of the entire world over a 4,000 year time period, all while having no access to computers or the internet?
An All-Encompassing Timeline?
Today's infographic, created all the way back in 1931 by a man named John B. Sparks, maps the ebb and flow of global power going all the way back to 2,000 B.C. on one coherent timeline.
View a high resolution version of this graphic

Histomap, published by Rand McNally in 1931, is an ambitious attempt at fitting a mountain of historical information onto a five-foot-long poster. The poster cost $1 at the time, which would equal approximately $18 when accounting for inflation.
Although the distribution of power is not quantitatively defined on the x-axis, it does provide a rare example of looking at historic civilizations in relative terms. While the Roman Empire takes up a lot of real estate during its Golden Age, for example, we still get a decent look at what was happening in other parts of the world during that period.
The visualization is also effective at showing the ascent and decline of various competing states, nations, and empires. Did Sparks see world history as a zero-sum exercise; a collection of nations battling one another for control over scarce territory and resources?
Timeline Caveats
Crowning a world leader at certain points in history is relatively easy, but divvying up influence or power to everyone across 4,000 years requires some creativity, and likely some guesswork, as well. Some would argue that the lack of hard data makes it impossible to draw these types of conclusions (though there have been other more quantitative approaches.)
Another obvious criticism is that the measures of influence are skewed in favor of Western powers. China's "seam", for example, is suspiciously thin throughout the length of the timeline. Certainly, the creator's biases and blind spots become more apparent in the information-abundant 21st century.
Lastly, Histomap refers to various cultural and racial groups using terms that may seem rather dated to today's viewers.
The Legacy of Histomap
John Spark's creation is an admirable attempt at making history more approachable and entertaining. Today, we have seemingly limitless access to information, but in the 1930s an all encompassing timeline of history would have been incredibly useful and groundbreaking. Indeed, the map's publisher characterized the piece as a useful tool for examining the correlation between different empires during points in history.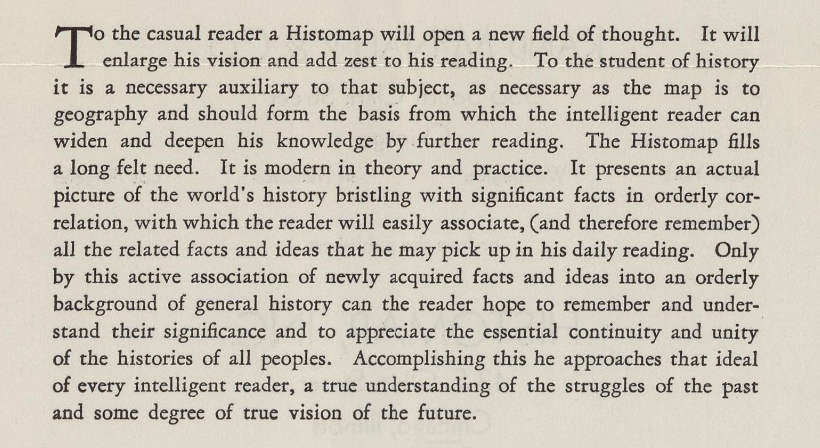 Critiques aside, work like this paved the way for the production of modern data visualizations and charts that help people better understand the world around them today.
Without a map who would attempt to study geography? –John B. Sparks
This post was first published in 2017. We have since updated it, adding in new content for 2021.
Support the Future of Data Storytelling
Sorry to interrupt your reading, but we have a favor to ask. At Visual Capitalist we believe in a world where data can be understood by everyone. That's why we want to build the VC App - the first app of its kind combining verifiable and transparent data with beautiful, memorable visuals. All available for free.
As a small, independent media company we don't have the expertise in-house or the funds to build an app like this. So we're asking our community to help us raise funds on Kickstarter.
If you believe in data-driven storytelling, join the movement and back us on Kickstarter!
Thank you.
The Elemental Composition of the Human Body
Of the 118 chemical elements found on Earth, only 21 make up the human body. Here we break down the elemental composition of the average human.
The Elemental Composition of a Human Body
This was originally posted on Elements. Sign up to the free mailing list to get beautiful visualizations on natural resource megatrends in your email every week.
The human body is a miraculous, well-oiled, and exceptionally complex machine. It requires a multitude of functioning parts to come together for a person to live a healthy life—and every biological detail in our bodies, from the mundane to the most magical, is driven by just 21 chemical elements.
Of the 118 elements on Earth, just 21 of them are found in the human body. Together, they make up the medley of divergent molecules that combine to form our DNA, cells, tissues, and organs.
Based on data presented by the International Commission on Radiological Protection (ICRP), in the above infographic, we have broken down a human body to its elemental composition and the percentages in which they exist.
These 21 elements can be categorized into three major blocks depending on the amount found in a human body, the main building block (4 elements), essential minerals (8 elements), and trace elements (9 elements).
The Elemental Four: Ingredients for Life
Four elements, namely, oxygen, carbon, hydrogen, and nitrogen, are considered the most essential elements found in our body.
Oxygen is the most abundant element in the human body, accounting for approximately 61% of a person's mass. Given that around 60-70% of the body is water, it is no surprise that oxygen and hydrogen are two of the body's most abundantly found chemical elements. Along with carbon and nitrogen, these elements combine for 96% of the body's mass.
Here is a look at the composition of the four elements of life:
| Element | Weight of Body Mass (kg) | Percentage of Body Mass (%) |
| --- | --- | --- |
| Oxygen | 43 kg | 61.4% |
| Carbon | 16 kg | 22.9% |
| Hydrogen | 7.0 kg | 10.0% |
| Nitrogen | 1.8 kg | 2.6% |
Values are for an average human body weighing 70 kg.
Let's take a look at how each of these four chemical elements contributes to the thriving functionality of our body:
Oxygen
Oxygen plays a critical role in the body's metabolism, respiration, and cellular oxygenation. Oxygen is also found in every significant organic molecule in the body, including proteins, carbohydrates, fats, and nucleic acids. It is a substantial component of everything from our cells and blood to our cerebral and spinal fluid.
Carbon
Carbon is the most crucial structural element and the reason we are known as carbon-based life forms. It is the basic building block required to form proteins, carbohydrates, and fats. Breaking carbon bonds in carbohydrates and proteins is our primary energy source.
Hydrogen
Hydrogen, the most abundantly found chemical element in the universe, is present in all bodily fluids, allowing the toxins and waste to be transported and eliminated. With the help of hydrogen, joints in our body remain lubricated and able to perform their functions. Hydrogen is also said to have anti-inflammatory and antioxidant properties, helping improve muscle function.
Nitrogen
An essential component of amino acids used to build peptides and proteins is nitrogen. It is also an integral component of the nucleic acids DNA and RNA, the chemical backbone of our genetic information and genealogy.
Essential and Supplemental Minerals
Essential minerals are important for your body to stay healthy. Your body uses minerals for several processes, including keeping your bones, muscles, heart, and brain working properly. Minerals also control beneficial enzyme and hormone production.
Minerals like calcium are a significant component of our bones and are required for bone growth and development, along with muscle contractions. Phosphorus contributes to bone and tooth strength and is vital to metabolizing energy.
Here is a look at the elemental composition of essential minerals:
| Element | Weight of Body Mass (g) | Percentage of Body Mass (%) |
| --- | --- | --- |
| Calcium | 1000 g | 1.43% |
| Phosphorus | 780 g | 1.11% |
| Potassium | 140 g | 0.20% |
| Sulphur | 140 g | 0.20% |
| Chlorine | 100 g | 0.14% |
| Sodium | 95 g | 0.14% |
| Magnesium | 19 g | 0.03% |
| Iron | 4.2 g | 0.01% |
Values are for an average human body weighing 70 kg.
Other macro-minerals like magnesium, potassium, iron, and sodium are essential for cell-to-cell communications, like electric transmissions that generate nerve impulses or heart rhythms, and are necessary for maintaining thyroid and bone health.
Excessive deficiency of any of these minerals can cause various disorders in your body. Most humans receive these minerals as a part of their daily diet, including vegetables, meat, legumes, and fruits. In case of deficiencies, though, these minerals are also prescribed as supplements.
Biological Composition of Trace Elements
Trace elements or trace metals are small amounts of minerals found in living tissues. Some of them are known to be nutritionally essential, while others may be considered to be nonessential. They are usually in minimal quantities in our body and make up only 1% of our mass.
Paramount among these are trace elements such as zinc, copper, manganese, and fluorine. Zinc works as a first responder against infections and thereby improves infection resistance, while balancing the immune response.
Here is the distribution of trace elements in our body:
| Element | Weight of Body Mass (mg) | Percentage of Body Mass (%) |
| --- | --- | --- |
| Fluorine | 2600 mg | 0.00371% |
| Zinc | 2300 mg | 0.00328% |
| Copper | 72 mg | 0.00010% |
| Iodine | 13 mg | 0.00002% |
| Manganese | 12 mg | 0.00002% |
| Molybdenum | 9.5 mg | 0.00001% |
| Selenium | 8 mg | 0.00001% |
| Chromium | 6.6 mg | 0.00001% |
| Cobalt | 1.5 mg | 0.000002% |
Values are for an average human body weighing 70 kg.
Even though only it's found in trace quantities, copper is instrumental in forming red blood cells and keeping nerve cells healthy. It also helps form collagen, a crucial part of bones and connective tissue.
Even with constant research and studies performed to thoroughly understand these trace elements' uses and benefits, scientists and researchers are constantly making new discoveries.
For example, recent research shows that some of these trace elements could be used to cure and fight chronic and debilitating diseases ranging from ischemia to cancer, cardiovascular disease, and hypertension.
Iconic Infographic Map Compares the World's Mountains and Rivers
This iconic infographic map is an early and ambitious attempt to compare the world's tallest mountains and longest rivers.
Today, highly detailed maps of our planet's surface are just a click away.
In times past, however, access to information was much more limited. It wasn't until the 1800s that comparison diagrams and maps became widely accessible, and people found new ways to learn about the world around them.
The image above, published by J.H. Colton in 1849, is believed to be the first edition of the iconic mountains and rivers infographic map. This comparison chart concept would see a number of iterations over the years as it appeared in Colton's world atlases.
Inspiring a Classic Infographic Map
A seminal example of this style of infographic was produced by Alexander von Humboldt in 1805. The diagram below is packed with information and shows geographical features in a way that was extremely novel at the time.
In 1817, the brothers William and Daniel Lizars produced the first comparative chart of the world's mountains and rivers. Breaking up individual natural features into components for comparison was a very innovative approach at that time, and it was this early French language prototype that lead to the Colton's versions we're familiar with today.
Digging into the Details
As is obvious, even at first glance, there is a ton of detail packed into this infographic map.
Firstly, rivers are artificially straightened and neatly arranged in rows for easy comparison. Lakes, mountain ranges, and cities are all labeled along the way. This unique comparison brings cities like New Orleans and Cairo side by side.
Of course, this visualization was based on the best available data at the time. Today, the Nile is widely considered to be the world's longest river, followed by the Amazon and Yangtze.
Over on the mountain side, there are more details to take in. The visualization includes volcanic activity, notes on vegetation, and even the altitude of selected cities and towns.
Above are a few of South America's high-altitude population centers, including La Paz, which is the highest-elevation capital city in the world.
In the legend, many of the mountains are simply named "peak". While this generic labeling might seem like a throwback to a time when the world was still being explored, it's worth noting that today's second tallest mountain is still simply referred to as K2.
What details do you notice while exploring this iconic infographic map?