Histomap: Visualizing the 4,000 Year History of Global Power
Imagine creating a timeline of your country's whole history stretching back to its inception.
It would be no small task, and simply weighing the relative importance of so many great people, technological achievements, and pivotal events would be a tiny miracle in itself.
While that seems like a challenge, imagine going a few steps further. Instead of a timeline for just one country, what about creating a graphical timeline showing the history of the entire world over a 4,000 year time period, all while having no access to computers or the internet?
An All-Encompassing Timeline?
Today's infographic, created all the way back in 1931 by a man named John B. Sparks, maps the ebb and flow of global power going all the way back to 2,000 B.C. on one coherent timeline.
View a high resolution version of this graphic

Histomap, published by Rand McNally in 1931, is an ambitious attempt at fitting a mountain of historical information onto a five-foot-long poster. The poster cost $1 at the time, which would equal approximately $18 when accounting for inflation.
Although the distribution of power is not quantitatively defined on the x-axis, it does provide a rare example of looking at historic civilizations in relative terms. While the Roman Empire takes up a lot of real estate during its Golden Age, for example, we still get a decent look at what was happening in other parts of the world during that period.
The visualization is also effective at showing the ascent and decline of various competing states, nations, and empires. Did Sparks see world history as a zero-sum exercise; a collection of nations battling one another for control over scarce territory and resources?
Timeline Caveats
Crowning a world leader at certain points in history is relatively easy, but divvying up influence or power to everyone across 4,000 years requires some creativity, and likely some guesswork, as well. Some would argue that the lack of hard data makes it impossible to draw these types of conclusions (though there have been other more quantitative approaches.)
Another obvious criticism is that the measures of influence are skewed in favor of Western powers. China's "seam", for example, is suspiciously thin throughout the length of the timeline. Certainly, the creator's biases and blind spots become more apparent in the information-abundant 21st century.
Lastly, Histomap refers to various cultural and racial groups using terms that may seem rather dated to today's viewers.
The Legacy of Histomap
John Spark's creation is an admirable attempt at making history more approachable and entertaining. Today, we have seemingly limitless access to information, but in the 1930s an all encompassing timeline of history would have been incredibly useful and groundbreaking. Indeed, the map's publisher characterized the piece as a useful tool for examining the correlation between different empires during points in history.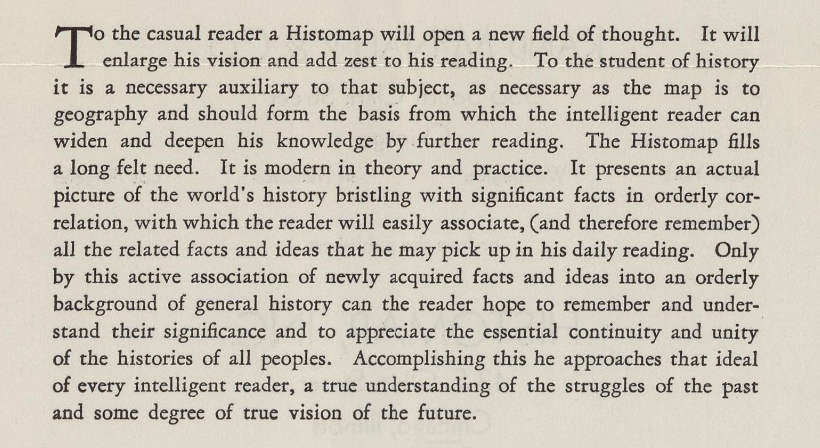 Critiques aside, work like this paved the way for the production of modern data visualizations and charts that help people better understand the world around them today.
Without a map who would attempt to study geography? –John B. Sparks
This post was first published in 2017. We have since updated it, adding in new content for 2021.
Visualizing Two Decades of Reported Hate Crimes in the U.S.
Hate crimes across the U.S. have been on the rise since 2014. Here's a look at the most common types of offenses over the years.

Creator Program
Visualizing Two Decades of Reported Hate Crimes in the U.S.
Across the U.S., thousands of hate crimes are committed each year, with many different motivating biases.
In 2020 alone, more than 10,000 unique hate crime incidents were reported to the Federal Bureau of Investigation (FBI)—and it's likely that thousands more were committed that didn't get reported to law enforcement.
What are the most commonly reported motivating biases, and how have hate crime rates evolved over the years? This graphic uses data from the FBI to visualize two decades of reported hate crime incidents across America.
What is Considered a Hate Crime?
Before diving in, it's important to determine what constitutes a hate crime.
According to the U.S. Department of Justice, a hate crime is a crime that's "committed on the basis of the victim's perceived or actual race, color, religion, national origin, sexual orientation, gender, gender identity, or disability."
These types of crimes are a threat to society, as they have a broader impact on communities than other types of crimes do. This is because hate crimes can foster fear and intimidate large groups of people or marginalized communities, making them feel unwelcome, unsafe, or othered.
Hate Crimes on the Rise
Hate crimes have been rising across the U.S. in nearly every year since 2014. By 2020, reported crimes across America reached record-level highs not seen in over two decades.
| Year | Number of Reported Incidents | % Change (y-o-y) |
| --- | --- | --- |
| 2001 | 9730 | 18.4% |
| 2002 | 7485 | -23.1% |
| 2003 | 7545 | 0.8% |
| 2004 | 7685 | 1.9% |
| 2005 | 7411 | -3.6% |
| 2006 | 7715 | 4.1% |
| 2007 | 7625 | -1.2% |
| 2008 | 8039 | 5.4% |
| 2009 | 6613 | -17.7% |
| 2010 | 6633 | 0.3% |
| 2011 | 6299 | -5.0% |
| 2012 | 6594 | 4.7% |
| 2013 | 6044 | -8.3% |
| 2014 | 5599 | -7.4% |
| 2015 | 5871 | 4.9% |
| 2016 | 6276 | 6.9% |
| 2017 | 7321 | 16.7% |
| 2018 | 7170 | -2.1% |
| 2019 | 7892 | 10.1% |
| 2020 | 10299 | 30.5% |
And sadly, these figures are likely a vast undercount. Law enforcement submit this data to the FBI of their own volition, and in 2020, thousands of agencies did not submit their crime statistics.
Race-Related Hate Crimes are Most Common
Historically, the most reported hate crimes in the U.S. are related to race. In 2020, about 66% of incidents were motivated by discrimination against the victim's race or ethnicity.
| Type of Bias | Total Number of Crimes (2020) | % of Total |
| --- | --- | --- |
| Race/Ethnicity | 6793 | 66.0% |
| Religion | 1626 | 15.8% |
| Sexual Orientation | 1311 | 12.7% |
| Other | 569 | 5.5% |
| Total | 10299 | -- |
While race is the most commonly reported hate crime, incidents related to gender and gender identity are on the rise—in 2020, there was a 9% increase in gender-related incidents, and a 34% increase in gender identity-related incidents, compared to 2019 figures.
Visualizing the Relationship Between Cancer and Lifespan
New research links mutation rates and lifespan. We visualize the data supporting this new framework for understanding cancer.
A Newfound Link Between Cancer and Aging?
A new study in 2022 reveals a thought-provoking relationship between how long animals live and how quickly their genetic codes mutate.
Cancer is a product of time and mutations, and so researchers investigated its onset and impact within 16 unique mammals. A new perspective on DNA mutation broadens our understanding of aging and cancer development—and how we might be able to control it.
Mutations, Aging, and Cancer: A Primer
Cancer is the uncontrolled growth of cells. It is not a pathogen that infects the body, but a normal body process gone wrong.
Cells divide and multiply in our bodies all the time. Sometimes, during DNA replication, tiny mistakes (called mutations) appear randomly within the genetic code. Our bodies have mechanisms to correct these errors, and for much of our youth we remain strong and healthy as a result of these corrective measures.
However, these protections weaken as we age. Developing cancer becomes more likely as mutations slip past our defenses and continue to multiply. The longer we live, the more mutations we carry, and the likelihood of them manifesting into cancer increases.
A Biological Conundrum
Since mutations can occur randomly, biologists expect larger lifeforms (those with more cells) to have greater chances of developing cancer than smaller lifeforms.
Strangely, no association exists.
It is one of biology's biggest mysteries as to why massive creatures like whales or elephants rarely seem to experience cancer. This is called Peto's Paradox. Even stranger: some smaller creatures, like the naked mole rat, are completely resistant to cancer.
This phenomenon motivates researchers to look into the genetics of naked mole rats and whales. And while we've discovered that special genetic bonuses (like extra tumor-suppressing genes) benefit these creatures, a pattern for cancer rates across all other species is still poorly understood.
Cancer May Be Closely Associated with Lifespan
Researchers at the Wellcome Sanger Institute report the first study to look at how mutation rates compare with animal lifespans.
Mutation rates are simply the speed at which species beget mutations. Mammals with shorter lifespans have average mutation rates that are very fast. A mouse undergoes nearly 800 mutations in each of its four short years on Earth. Mammals with longer lifespans have average mutation rates that are much slower. In humans (average lifespan of roughly 84 years), it comes to fewer than 50 mutations per year.
The study also compares the number of mutations at time of death with other traits, like body mass and lifespan. For example, a giraffe has roughly 40,000 times more cells than a mouse. Or a human lives 90 times longer than a mouse. What surprised researchers was that the number of mutations at time of death differed only by a factor of three.
Such small differentiation suggests there may be a total number of mutations a species can collect before it dies. Since the mammals reached this number at different speeds, finding ways to control the rate of mutations may help stall cancer development, set back aging, and prolong life.
The Future of Cancer Research
The findings in this study ignite new questions for understanding cancer.
Confirming that mutation rate and lifespan are strongly correlated needs comparison to lifeforms beyond mammals, like fishes, birds, and even plants.
It will also be necessary to understand what factors control mutation rates. The answer to this likely lies within the complexities of DNA. Geneticists and oncologists are continuing to investigate genetic curiosities like tumor-suppressing genes and how they might impact mutation rates.
Aging is likely to be a confluence of many issues, like epigenetic changes or telomere shortening, but if mutations are involved then there may be hopes of slowing genetic damage—or even reversing it.
While just a first step, linking mutation rates to lifespan is a reframing of our understanding of cancer development, and it may open doors to new strategies and therapies for treating cancer or taming the number of health-related concerns that come with aging.